Minnesota's Sano among top performers in Minors Friday
Twins No. 2 prospect launches two homers for Double-A, including one in 10th inning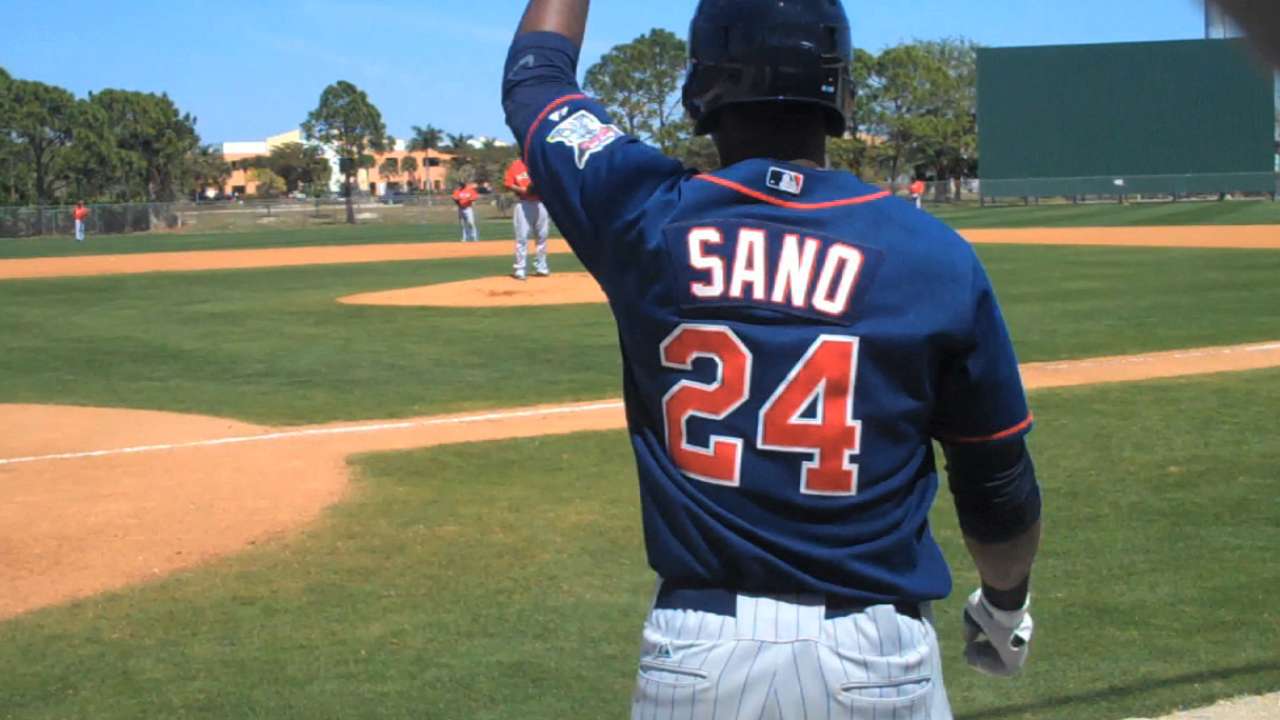 Twins No. 2 prospect Miguel Sano has displayed considerable power throughout his time in the Minor Leagues. He did so twice Friday, nine innings apart.
Sano launched two home runs for Double-A Chattanooga in the club's 7-5 win over Birmingham on Friday night. His first homer, a first-inning solo shot to left field, gave the Lookouts a 1-0 lead.
Nine innings later, the Lookouts and Barons entered extra innings in a 5-5 tie. Sano came to the plate with no outs and a man on and promptly sent a two-run blast to left field to give Chattanooga the lead it wouldn't relinquish.
Sano, baseball's No. 12 overall prospect, finished the night 3-for-5 with a strikeout, raising his average to .231 on the year.
More standout performances from Top 100 prospects on Friday
• Indians No. 1 prospect (No. 4 overall) Francisco Lindor went 3-for-6 with a triple and three RBIs as Triple-A Columbus beat Pawtucket, 6-5, in 13 innings. Lindor's triple knocked in two runs in the eighth to begin the Clippers' comeback. He's now hitting .273/.353/.379 on the year.
• Red Sox No. 3 prospect (No. 19 overall) Henry Owens put together his first scoreless start of the season Friday, holding Columbus to three hits and a walk while striking out five in six shutout innings. Owens lowered his ERA to 3.41 but did not factor into the decision.
• Phillies No. 2 prospect (No. 36 overall) Aaron Nola continued his dominant season Friday by throwing six scoreless innings and winning his fourth straight game for Double-A Reading. Nola held Erie to four hits and a walk, improving to 5-2 with a 1.77 ERA. After a shaky season opener, Nola has gone at least six innings and allowed two runs or less in each of his last six starts.
• Royals No. 1 prospect (No. 39 overall) Raul A. Mondesi returned to the field Friday, his first game since Double-A Northwest Arkansas' season opener on April 9. Mondesi, who had been sidelined by a lower back injury, went 1-for-5 with a strikeout.
• Cubs No. 4 prospect (No. 47 overall) Kyle Schwarber hit his second home run in the last four games for Double-A Tennessee. Schwarber finished the game 3-for-4 with three runs and three RBIs as the Smokies won, 9-4. The 2014 first-round pick is now batting .333/.444/.618 with seven homers and 20 RBIs.
• Rockies No. 3 prospect (No. 57 overall) David Dahl went 4-for-6 with three RBIs and his 12th stolen base of the season for Double-A New Britain. Dahl, a first-round pick in 2012, is batting .285/.315/.416 with three homers in 32 games this year. He has raised his average 63 points since May 1 and is in the midst of an eight-game hitting streak.
• Mets No. 3 prospect (No. 64 overall) Steven Matz continued to dominate for Triple-A Las Vegas. The lefty allowed two runs on three hits, walked two and struck out nine over 7 2/3 innings. Matz lowered his ERA on the year to 1.80 but lost as the 51s only managed one run against Sacramento.
• Braves No. 2 prospect (No. 67 overall) Matt Wisler pitched another solid game for Triple-A Gwinnett, holding Louisville to two runs (one earned) on six hits and two walks over 5 2/3 innings. Wisler also got it done with his bat, going 1-for-2 with his first career RBIs, although the Braves lost, 5-4.
• Dodgers No. 3 prospect (No. 89 overall) Grant Holmes picked up his second win of the season, striking out seven over six shutout innings for Class A Great Lakes. The right-hander held South Bend to two hits and two walks, lowering his ERA to 3.58.
• Tigers No. 1 prospect (No. 94 overall) Steven Moya went 3-for-5 with a home run and a double for Triple-A Toledo. The homer was his first of the year, a go-ahead, two-run homer in the eighth that gave the Mud Hens a 4-3 lead. His three RBIs tied his season-high.
Other notable performances from around the Minor Leagues
• Cubs No. 7 prospect Duane Underwood continued his strong start for Class A Advanced Myrtle Beach, holding Carolina scoreless over five innings. Underwood, who struck out three, has allowed one earned run or less in each of his first six starts.
• Yankees No. 8 prospect Eric Jagielo went 1-for-3 for Double-A Trenton, but his one hit was a big one -- his seventh homer of the season and his third in the last eight games. The former first-rounder out of Notre Dame is batting .294/.381/.588 this year.
• White Sox No. 8 prospect Trey Michalczewski went 2-for-5 with two RBIs for Class A Advanced Winston Salem. The Dash third baseman hit his third homer of the year, improving his batting line to .273/.347/.455.
• Mariners No. 12 prospect Tyler O'Neill put together another multi-homer game Friday, his second in the past week, as he went 2-for-3 with two solo homers for Class A Bakersfield. O'Neill is hitting just .246, but he's made up for it with a team-high nine homers.
• Astros No. 14 prospect Tony Kemp went 3-for-5 with two RBIs as Double-A Corpus Christi beat Frisco, 7-6. It was Kemp's third straight three-hit game.
• Reds No. 14 prospect Jon Moscot pitched seven strong innings for Triple-A Louisville, allowing two runs on seven hits and a walk while striking out two. Moscot has pitched at least five innings in each of his six starts this year, recording a 2.39 ERA along the way.
• Royals No. 14 prospect Brandon Downes enjoyed a perfect day at the plate, going 5-for-5 with 10 total bases for Class A Lexington. Downes notched three doubles and a triple but only one RBI, raising his average from .216 to .252 in the Legends' 9-3 win over Savannah.
• Rays No. 16 prospect Boog Powell went 3-for-5 with two runs and his first homer of the year for Double-A Montgomery. Powell, acquired this offseason from the A's, has hit .330/.414/.400 through his first 30 games.
• Padres No. 23 prospect Elliot Morris permitted one run on six hits and struck out seven over six innings of work for Double-A San Antonio. But Morris suffered the loss, his third despite a 3.08 ERA, as Midland shut out San Antonio in a 4-0 win.
Adam Berry is a reporter for MLB.com. Follow him on Twitter at @adamdberry. This story was not subject to the approval of Major League Baseball or its clubs.