Mets stick with Flores at short despite errors
Herrera's injury creates opportunity, but club wants infielder's bat in lineup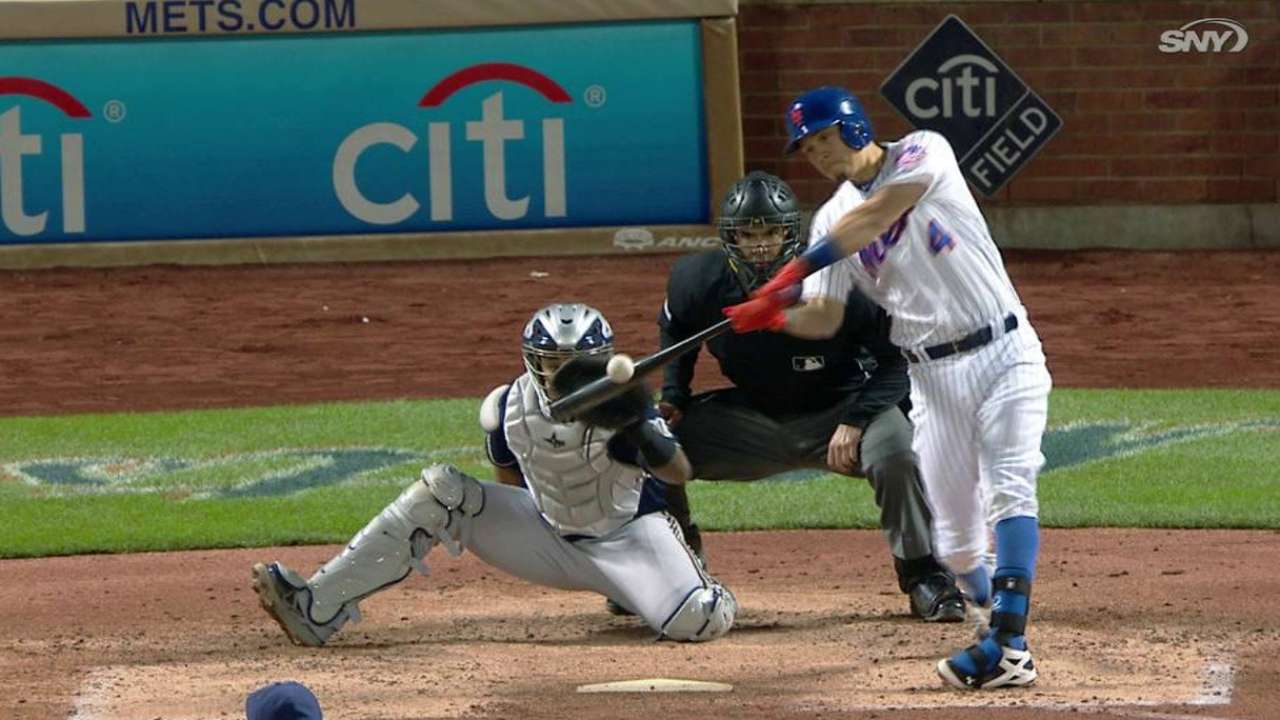 NEW YORK -- Injury created another ill-conceived opportunity Friday night for the Mets at Citi Field. A few hours before the game, Dilson Herrera fractured his right middle finger, leaving the Mets without a second baseman (to go with their starting third baseman, catcher, three starting pitchers and a bushel of relievers -- but who's counting?).
With Herrera out indefinitely, the Mets could have shifted Wilmer Flores to second or third base and called up shortstop prospect Matt Reynolds to replace him, thereby ending an experiment that has cost them often this season. Flores' throwing error in Friday's 7-0 loss to the Brewers, the Mets' fifth straight defeat, was his ninth of the season and second in two games.
Instead, the team decided to replace Herrera with Eric Campbell, a tried-and-true utility man. The Mets will shift Daniel Murphy back to second, start Campbell at third and keep Flores at shortstop, where his nine errors rank third amongst 73 big leaguers who have spent time at short this season.
The Mets have stuck by Flores for 36 games. They're not going to bail on him now, with the team in the midst of a five-game skid.
"We're concerned that it's getting to Wilmer, and that's my daily challenge as part of this job is to make sure it doesn't get in there too ingrained," manager Terry Collins said. "He's got to be able to play through it."
All winter, the Mets stuck by Flores, even as trade rumors swirled regarding four-time All-Star Troy Tulowitzki and others. Some of that gossip received new life this week, and the Mets were quick to stand by Flores then. One Mets official noted after Friday's game that calling up Reynolds, who has cooled off somewhat after a blistering start at Triple-A Las Vegas, might have only fractured Flores' psyche further.
The Mets refuse to do that because regardless of Flores' defensive shortcomings, they believe they possess a standout offensive player in the making. Flores recorded one of the Mets' three hits in Friday's loss, and he would have had two had Ryan Braun not robbed him with a diving catch in the right-center-field gap. Over his last 23 games, Flores is batting .273 with five home runs and an OPS north of .800 -- numbers that make him one of the National League's most productive offensive shortstops.
It's just that the defensive lapses are hard to ignore. While Lucas Duda might absorb some blame for Friday's error, straying off the first-base bag in a situation where he might have been able to stretch for Flores' throw, the miscues are piling up to such an extent that Collins is worried about his shortstop's mindset.
Flores, for his part, admitted that it is difficult to stay positive in his situation. But he can at least take some solace in the Mets' faith in him.
Reynolds is not coming. Tulowitzki is not coming. Shortstop is Flores' position to own, for better or for worse.
"There's going to be good times and bad times," Flores said. "You just have to learn how to get through it."
Anthony DiComo is a reporter for MLB.com. Follow him on Twitter @AnthonyDiComo and Facebook, and listen to his podcast. This story was not subject to the approval of Major League Baseball or its clubs.