Morneau still dealing with neck stiffness
Rockies first baseman hopes to return to lineup Saturday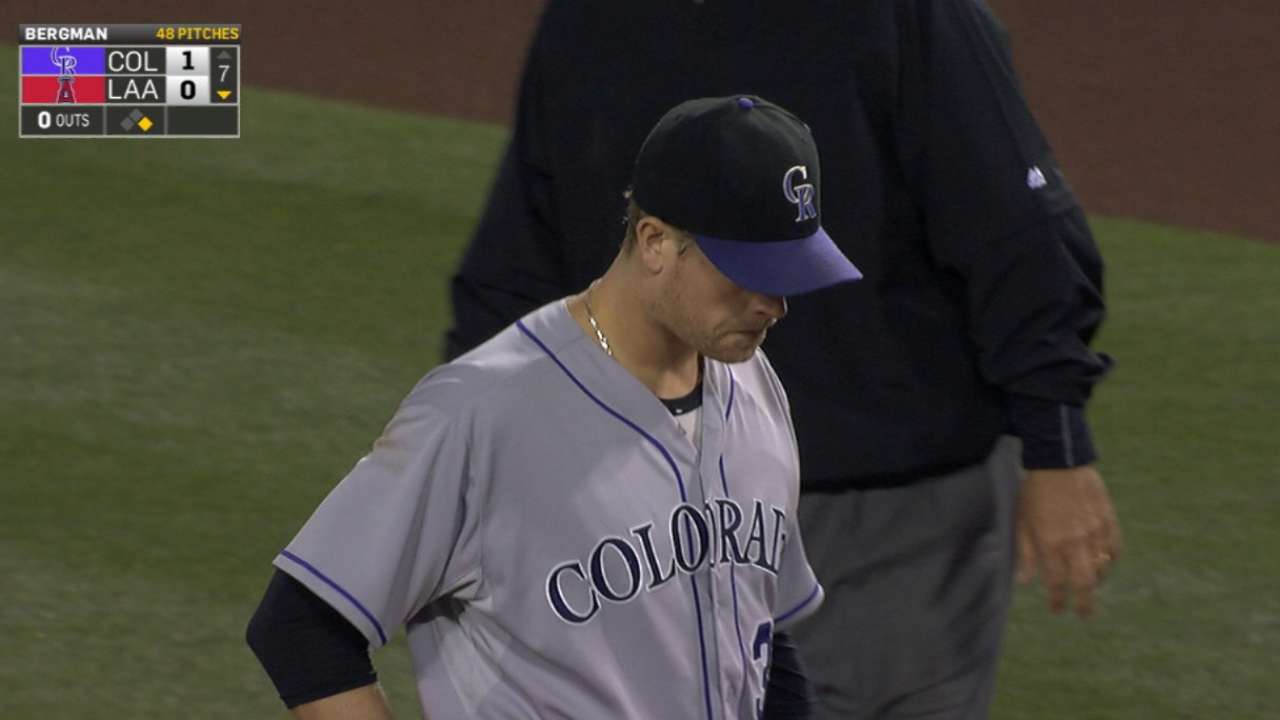 LOS ANGELES -- Rockies first baseman Justin Morneau had hoped the neck stiffness he suffered a couple of games ago would subside well enough for him to be available off the bench Friday night and return to the starting lineup Saturday.
Morneau was not used in the Rockies' 6-4 loss.
Chances were the left-handed hitting Morneau would not have started Friday, even if healthy, because the Dodgers started lefty ace Clayton Kershaw. But Morneau suffered neck stiffness after diving for a grounder in Wednesday night's loss to the Angels and was not well enough to play Thursday. Rosario started Thursday, and homered and singled off Dodgers lefty starter Brett Anderson.
"It's nice having 'The Bull' [Rosario] here as an option," said Morneau, who turned 34 Friday. "It's given me a couple of days to get it right."
Morneau, hitting .354 (17 for 48) with six multi-hit games since April 24, hopes to lend his experience and perspective to a club that has struggled recently.
"The thing I've learned as I've gotten older in my career is one win doesn't erase 10 losses and one loss isn't any different than any other loss," Morneau said. "We were talking about it the other day after we lost some tough ones. And I said you have to remember it's just one game, no matter how good or bad it is that's all it is. You come back the next day and try to win, and that's how you get on good streaks."
Worth noting
• Rockies manager Walt Weiss hopes to return to the team Saturday. He has missed the last three games since undergoing an appendectomy before Wednesday night's game against the Angels.
Bench coach Tom Runnells, who has run the team in Weiss' absence, said he spent 45 minutes with Weiss before going to the park Friday and said the skipper is bouncing back nicely.
"If it's up to Walt, he will be here, but it's not just up to Walt," Runnells said. "There are trainers and doctors to consult."
• Rockies lefty Yohan Flande, called up Thursday, said beginning the year at Double-A New Britain (5-0, 1.36 ERA) was a boon to his career. Flande went 0-6 with a 5.19 ERA in 16 games, 10 starts, for the Rockies last season. He said New Britain manager Darin Everson and pitching coach Dave Burba helped him address a habit of opening his body too soon and leaving his arm behind, and encouraged him to hone his sinker.
It's not clear how Flande will be used. Righty Jordan Lyles was hit on the right hand by a line drive Wednesday night. He'll throw a bullpen session on Friday, which will go a long way toward whether he can start on Monday night against the Phillies. If not, Flande is a candidate.
If he doesn't start, Flande could be used in the bullpen.
Thomas Harding is a reporter for MLB.com. Follow him on Twitter @harding_at_mlb, and like his Facebook page. This story was not subject to the approval of Major League Baseball or its clubs.