Raburn OK from hitting wall after stellar catch
Left fielder makes spectacular grab before being removed for precautionary reasons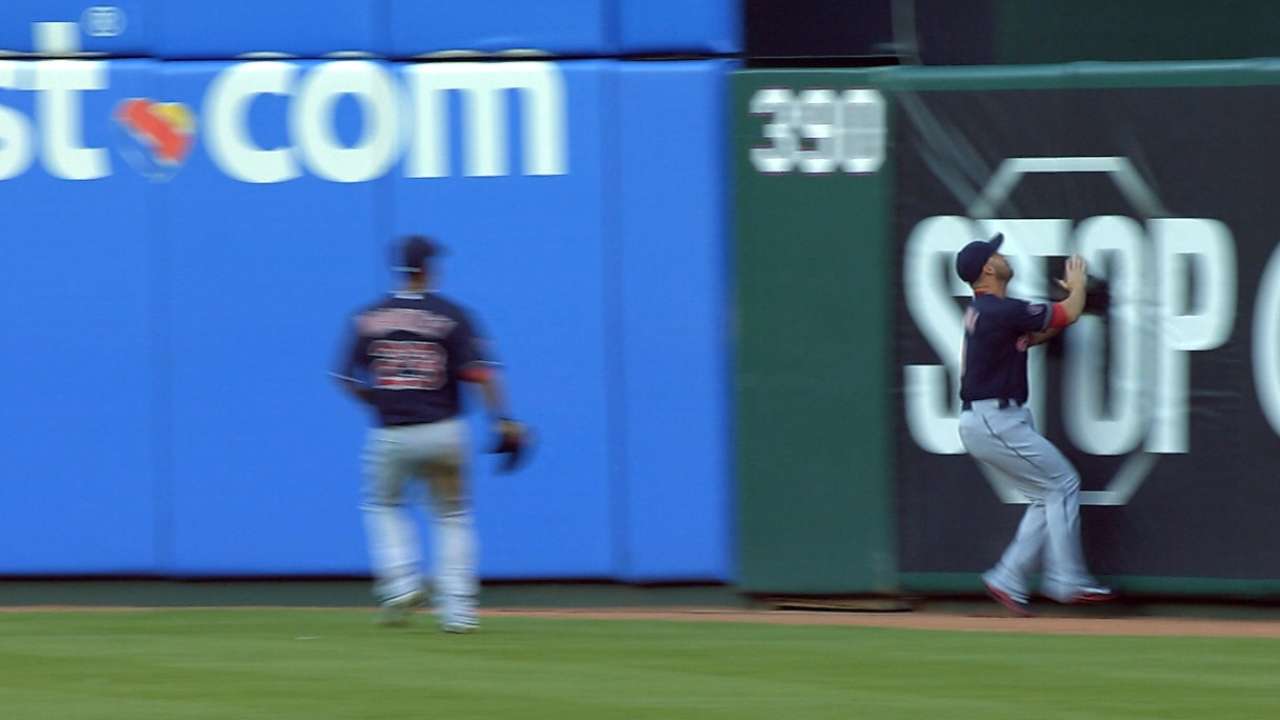 ARLINGTON -- Ryan Raburn didn't know the wall was there until his face was firmly planted in it. He didn't know he had caught the ball until he tumbled onto his back and found it in his glove.
But he did know, before the play, he was willing to give himself up to make the catch. And that's what he did.
With two men on and no outs in the second inning, the Indians were already trailing, 3-2, when the Rangers' Shin-Soo Choo sent a Bruce Chen sinker deep into the left-center field gap. Raburn raced to the warning track and made a spectacular over-the-shoulder catch to rob Choo of extra bases and likely save two runs from scoring.
"That's obviously the play of the game," Indians manager Terry Francona said. "At that point in the game, if he doesn't make the play, we're looking at a big inning. That was a great catch. He obviously sacrificed himself. He hit the wall hard."
Chen then got Elvis Andrus to ground into an inning-ending 4-6-3 double play and the Indians eventually came away with an 8-3 win over the Rangers in Friday's series opener at Globe Life Park.
"You just give it your best effort and hopefully you have a few more steps than you actually do," Raburn said. "That's part of the game. I've played it my whole career all out. I think my body is paying the price, but that's the only way I know how to do it."
Raburn left the game in the fifth for precautionary reasons due to a left knee contusion. The right-handed-hitting Raburn said he would be available tomorrow if needed. But the Rangers are sending right-handers to the mound in each of the last two games this series in Colby Lewis and Nick Martinez. The Indians will face southpaws in every game in the ensuing four-game road series against the White Sox beginning Monday.
"I think he's OK," Francona said. "We might as well let him get some ice on that thing because he's been helping us too much."
Despite going 0-for-3 and leaving halfway through the game, Raburn made his mark. That catch was the closest the Rangers came to scoring the rest of the game. Chen exited with one out in the third and the Indians' bullpen tossed 6 2/3 scoreless innings, not allowing a non-inherited runner to advance past second base in the victory.
"If he doesn't make that catch, we do not win that game," Nick Swisher said. "That was a huge, game-changing play for us. ... That was a total team win tonight. That was a great building block for us because this hasn't really gone our way so far. That catch that Raburn had turned everything around. That was a huge, huge play."
Christian Corona is a contributor to MLB.com. This story was not subject to the approval of Major League Baseball or its clubs.