MLB.com Columnist
Fred Zinkie
DraftKings Picks: Butler, Springer, Greinke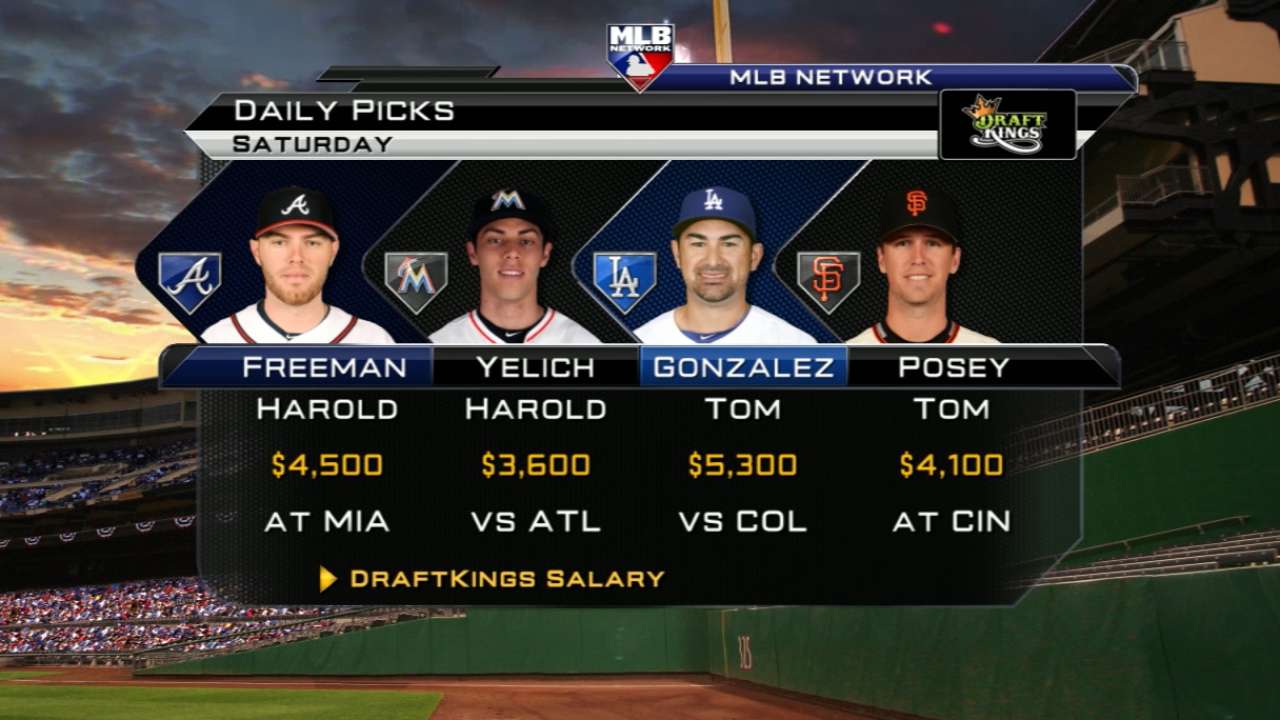 Welcome to DraftKings fantasy baseball, the Official Daily Fantasy Game of Major League Baseball.
The players listed below could provide difference-making stats for DraftKings participants on Saturday.
Billy Butler (A's): With a lifetime .911 OPS against left-handers (.766 vs. righties), the slugger could be in an advantageous position when he steps in the batter's box against White Sox lefty John Danks (career 1.33 WHIP) on Saturday.
Marcus Semien (A's): Semien has been among the most productive middle infielders this season, with six homers, six steals and a .307 batting average. On Saturday, the shortstop could improve on his career .794 OPS against lefties (.715 vs. right-handers) at the expense of Danks (career 4.30 ERA).
Jason Kipnis (Indians): The second baseman could score multiple runs from his usual perch atop the lineup on Saturday, when he brings his career .794 OPS against right-handers (.650 vs. lefties) into a matchup with Rangers righty Colby Lewis (career 4.73 ERA, 1.38 WHIP).
Michael Brantley (Indians): With a .330 batting average, four homers and five steals, Brantley has been among the most productive American League outfielders this season. On Saturday, he could improve on his lifetime .299/.350/.438 slash line against right-handers when he faces Lewis. In his career, the righty hurler has allowed left-handed hitters such as Brantley to compile an .825 OPS (.723 opponents' OPS to righty hitters).
Brandon Moss (Indians): Having belted 83 of his 96 career homers against right-handers, Moss could put one of Lewis' offerings into the outfield seats at hitter-friendly Globe Life Park in Arlington. DraftKings participants could choose to stack a lineup with lefty Indians hitters such as Moss and third baseman Lonnie Chisenhall.
Colby Rasmus (Astros): The outfielder has long fared best against right-handers, off whom he has posted a lifetime .789 OPS (.645 vs. lefties). Rasmus also has hit 99 of his 122 career long balls vs. opposite-sided hurlers, and he could add to that total on Saturday, when he faces homer-prone Blue Jays right-hander Marco Estrada (career 1.4 HR/9 rate).
George Springer (Astros): Having hit 18 round-trippers across 295 career at-bats against right-handers, Springer is another candidate to take the homer-prone Estrada deep on Saturday. Springer could have an affordable DraftKings price tag due to his .190 batting average, but his five homers and 10 steals show that he could contribute without accumulating many base knocks.
Salvador Perez (Royals): The catcher has compiled notable career splits, with an .846 OPS against left-handers in comparison to a .710 mark vs. righties. He could excel on Saturday against Yankees southpaw CC Sabathia, who has posted a 4.92 ERA since the outset of the 2013 season.
Chris Davis (Orioles): Davis could rip a round-tripper on Saturday, when he brings his career .850 OPS against right-handers (.732 vs. lefties) into a home matchup against Angels righty Matt Shoemaker at hitter-friendly park Camden Yards. The right-handed hurler has compiled a career 1.3 HR/9 rate and he allowed 10 homers through six starts this season.
Adam Jones (Orioles): At his offense-friendly home venue on Saturday, Jones could improve on his lifetime .284/.321/.476 slash line against righties when he greets the struggling and homer-prone Shoemaker.
Jimmy Paredes (Orioles): Paredes has been a pleasant early-season surprise, with a .364 batting average, five homers and 18 RBIs across 88 at-bats. On Saturday, he could help DraftKings participants as a third baseman or an outfielder when he brings his career .740 OPS against right-handers (.486 vs. lefties) up against Shoemaker in an offense-inducing environment.
Howie Kendrick (Dodgers): On Saturday, the second baseman could improve on his lifetime .795 OPS against left-handers (.745 vs. righties) at the expense of Rockies southpaw Jorge De La Rosa (career 4.67 ERA, 1.45 WHIP). In his career, the lefty starter has allowed right-handed hitters such as Kendrick to post an .802 OPS (.628 opponents' OPS vs. lefty hitters).
Max Scherzer (Nationals): The right-hander has fared well as the Nats' ace, with a 1.99 ERA, a 0.93 WHIP and 55 whiffs across 49 2/3 innings. He could continue to compile quality innings on Saturday, when he faces the Padres at spacious Petco Park. Working in Scherzer's favor is the fact that San Diego's two most effective hitters -- Justin Upton and Matt Kemp -- do their best work against lefties.
Zack Greinke (Dodgers): Since joining the Dodgers at the outset of the 2013 season, Greinke has produced an overall 2.55 ERA that factors in his 2.39 mark at his pitcher-friendly home park. On Saturday, he could continue to dominate at Dodger Stadium against a Rockies lineup that experiences a stark efficiency dropoff away from Coors Field. In doing so, the right-hander could earn a win in a seemingly advantageous matchup against De La Rosa.
Jesse Chavez (A's): The right-hander has made a successful return to the Oakland rotation by allowing nine earned runs (11 total) through four starts. On Saturday, Chavez could have more success at his spacious home park against a White Sox lineup that ranks last in the American League with 114 runs scored. Additionally, he seemingly has the advantage to earn a win while opposing Danks, who has posted a 5.12 ERA this season.
Danny Salazar (Indians): With a career 10.8 K/9 rate, the right-hander possesses the strikeout ability that DraftKings participants seek in a high-upside starter. On Saturday, Salazar could compile whiffs and quality frames when he faces a Rangers lineup that ranks 27th in the Majors with a .645 OPS against right-handers.
All statistics are accurate through the completion of Thursday's games.
Fred Zinkie is the lead fantasy baseball writer for MLB.com. Follow him on Twitter at @FredZinkieMLB.
This story was not subject to the approval of Major League Baseball or its clubs.