Bridich: Nothing's changed with Tulo's status
Rockies GM says speculation about shortstop is a 'media production'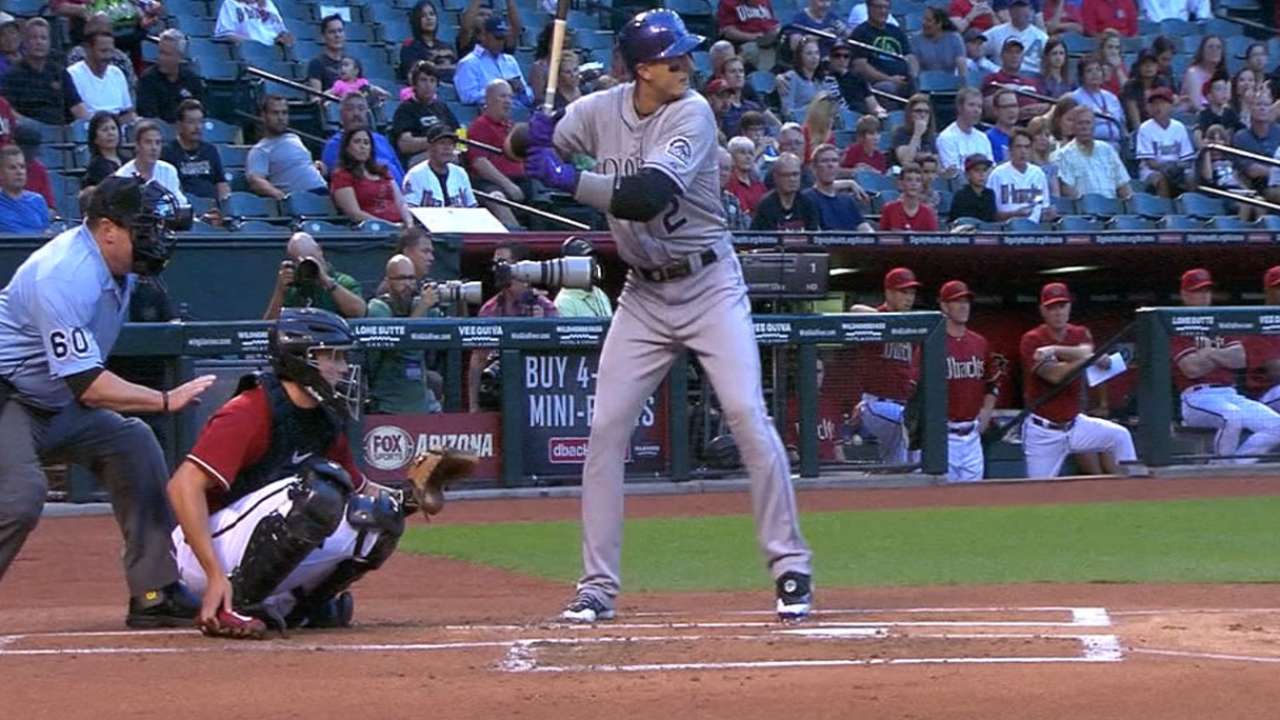 LOS ANGELES -- Rockies general manager Jeff Bridich called this week's news cycle highlight -- whether shortstop Troy Tulowitzki would demand a trade -- "a media production."
"What's gone on the last few days, especially the last 72 hours, really has a been a media production, more than anything else," Bridich said in a meeting with the media Friday afternoon at Dodger Stadium. "It started with a couple of articles coming out of the East Coast -- MLB.com and another one on NewYorkPost.com. Since then, it's really been mostly a media production."
Specifically, Bridich was referring to a story in the New York Post on Tuesday that quoted Tulowtizki's agent, Paul Cohen, raising the possibility that Tulowitzki may demand a trade. MLB.com columnist Dan O'Dowd, the Rockies' former general manager, suggested that the surprising Mets deal young pitching to the Rockies for Tulowitzki.
The speculation is borne of the Rockies' struggles -- they ended an 11-game losing streak Thursday night. But Bridich believes there's still time to turn it around this year -- which means Tulowitzki is part of that process. Tulowitzki told the media Thursday that he would not push for a trade, that Cohen was standing up for his career, but was not ordered to speculate about a deal, and that trying to force a trade would be unfair to his teammates.
"Really nothing's changed," Bridich said. "This is not a product of Troy Tulowitzki the last few days. In terms of the story, it's not a product of the Rockies organization. It's really a product of people trying to create news.
"The most frustrating part is that when you get right down to it, it's not something the player needs to face every single day in terms of the constant questioning, the badgering. Troy is a guy that comes to work every single day with the intent of preparing to win that game. My hunch is that if we had a very different two weeks, if our record was as it was in April, then we wouldn't be talking about this right now."
Hours after Bridich spoke to the media, Tulowitzki suffered left quadriceps tightness and left the game against the Dodgers before the Rockies took the field defensively for the bottom of the third.
Tulowitzki is under contract through 2020. There is not a no-trade provision or language that would allow him to seek a trade; the only trade-related language is if he is dealt, he receives a $2 million relocation bonus and a no-trade clause with his new team.
"The reality is that at any point in any player's day they can come to the organization and ask for a trade, I suppose," Bridich said. "But the reality is that Troy doesn't have control of this, and neither does his agent. That's the contract. That's another reason why he decided he wants to come to work every day and focus on trying to make us the best team we can be."
Bridich said, as has been the case since he succeeded O'Dowd in October, he and Tulowitzki and Cohen have stayed in contact. The Rockies have said since the offseason that they will listen to other teams, but are not seeking a deal, and the situation has not changed.
Thomas Harding is a reporter for MLB.com. Follow him on Twitter @harding_at_mlb, and like his Facebook page. This story was not subject to the approval of Major League Baseball or its clubs.