Cubs relive 10th in 12th, but this time, they prevail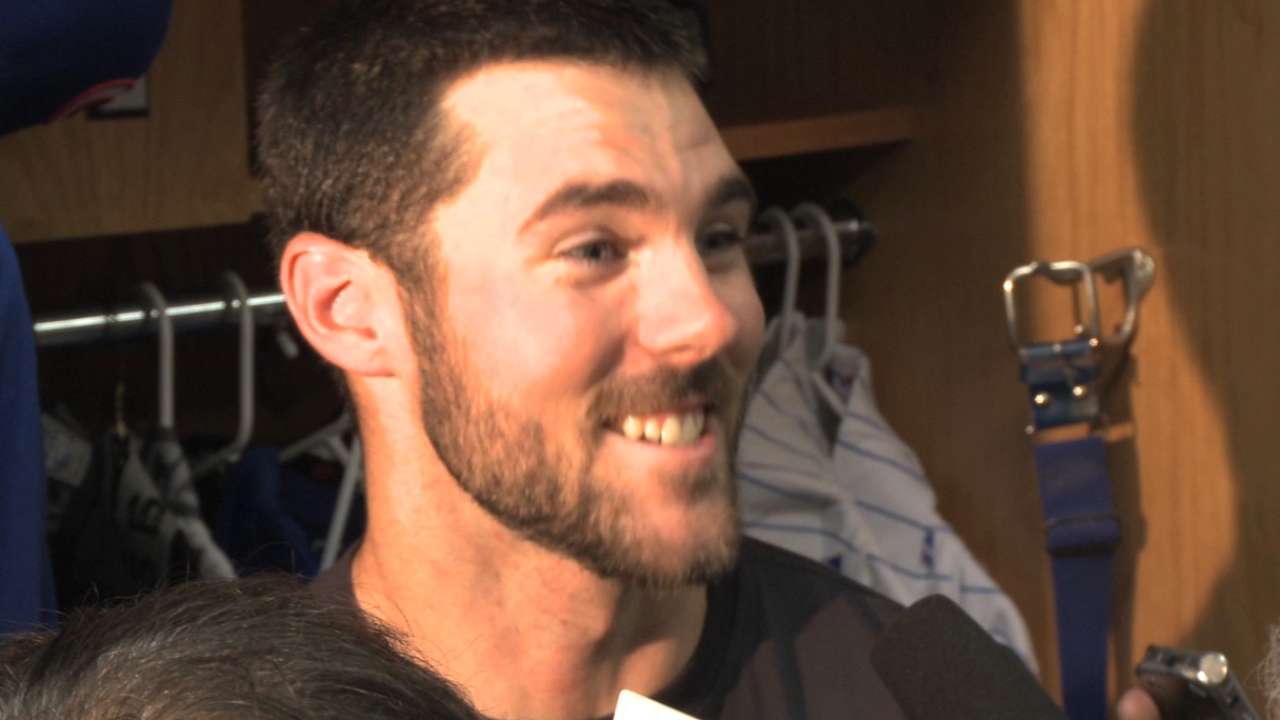 CHICAGO -- The Cubs were unable to capitalize in the 10th inning. They had another chance -- in eerily similar circumstances -- in the 12th. This time, it worked out.
With the bases loaded in the 12th, Matt Szczur lofted a fly ball to shallow right field. Pirates outfielder Gregory Polanco tripped as he pursued the ball, which fell for the game-winning single in the Cubs' 11-10 victory over the Pirates on Friday.
Szczur had the same opportunity in the 10th. He went to the plate with the bases loaded with one out after Starlin Castro and Miguel Montero singled and Bucs closer Mark Melancon intentionally walked Jorge Soler. Szczur also hit a fly ball to shallow right field. That time, Polanco caught it and then threw out Castro at home by a wide margin as he tried to tag up and score from third base.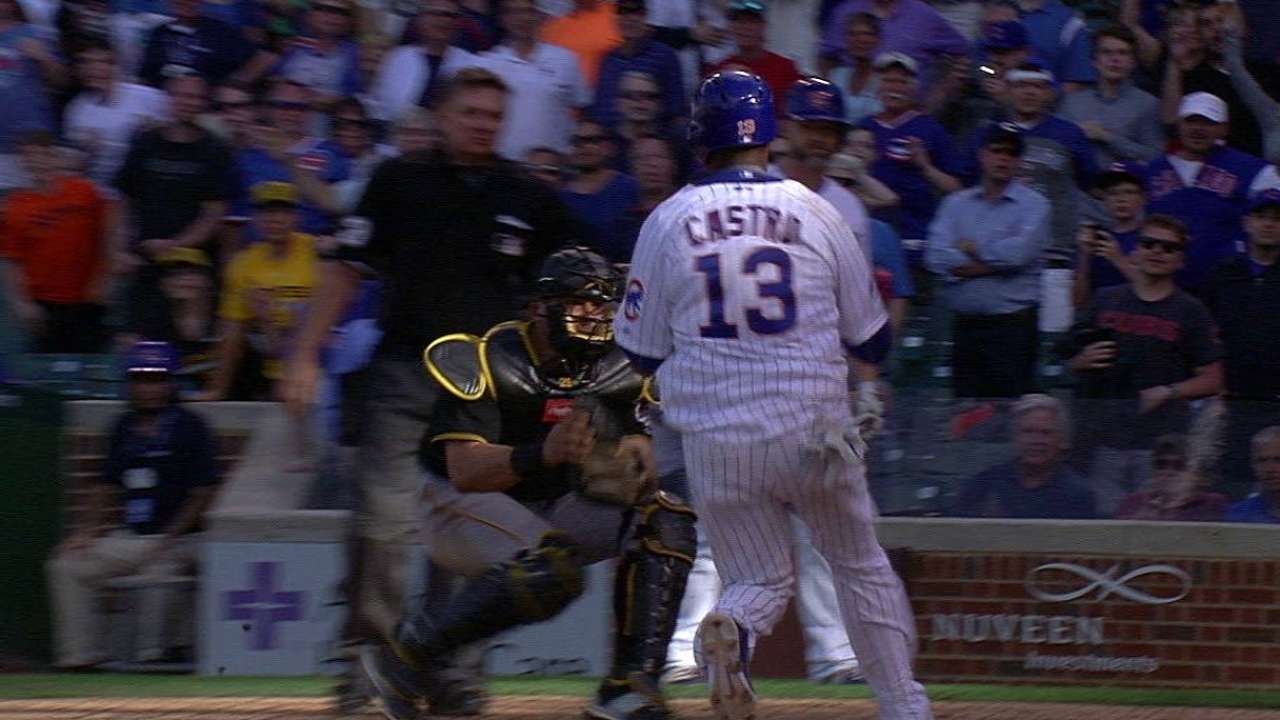 Two innings later, Castro walked, Montero singled, and Radhames Liz intentionally walked Soler to bring up Szczur with one out.
Talk about déjà vu.
"I told myself, 'I've got to do it this time,' and I ended up doing the same exact thing," Szczur said. "I was like, 'You got to be kidding me.'
"I was really running down to first base shaking my head."
Instead, Polanco fell, and the Cubs won their fifth straight. They improved to 4-1 in extra-inning games.
If Polanco had caught the ball, Cubs manager Joe Maddon said Castro would have been sent from third to try to score again. He stood behind the decision to send Castro in the 10th.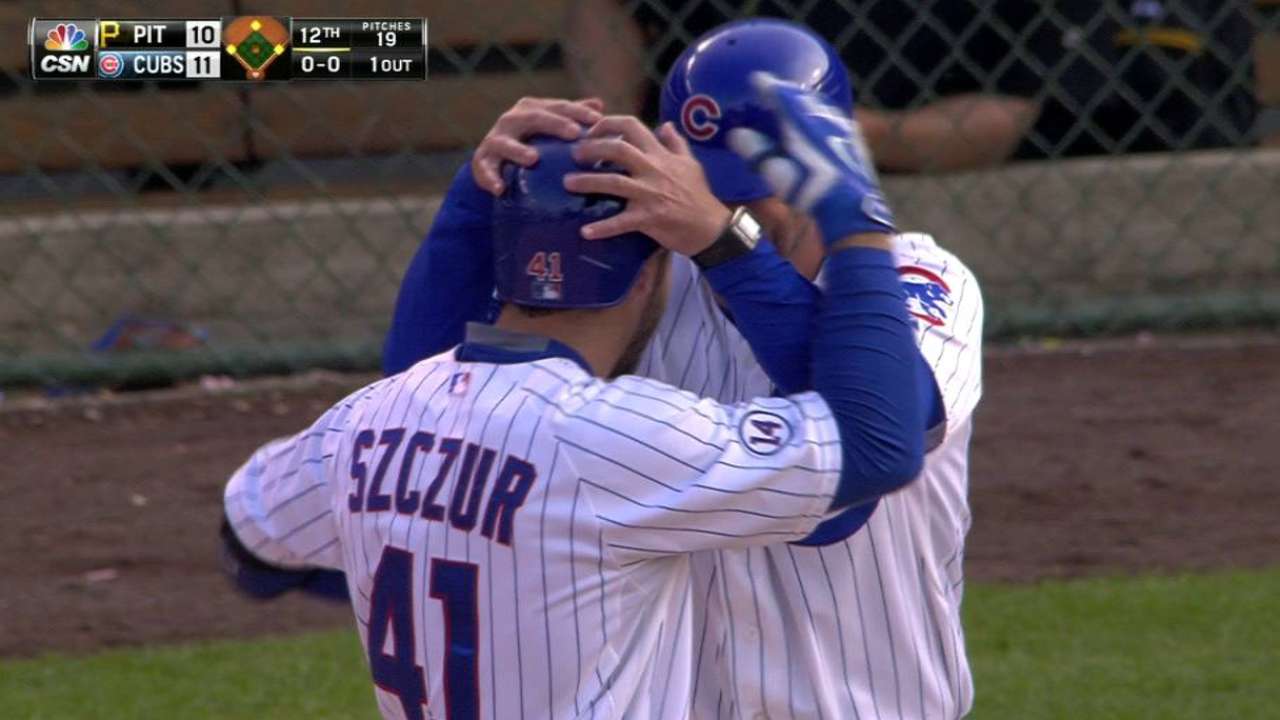 "He easily could have airmailed that thing, and then all of a sudden, you're happy," Maddon said. "I was very, very good with the decision."
Castro saw Polanco fall as he headed home.
"It's easier. It's easier, because you have no one to throw to make you out," Castro said. "We're having fun. We don't quit. We go up there and never give it away."
Sarah Trotto is a contributor to MLB.com. This story was not subject to the approval of Major League Baseball or its clubs.