'Game of Thrones' star takes BP with Phillies
Iceland native Bjornsson plays role of The Mountain on hit TV series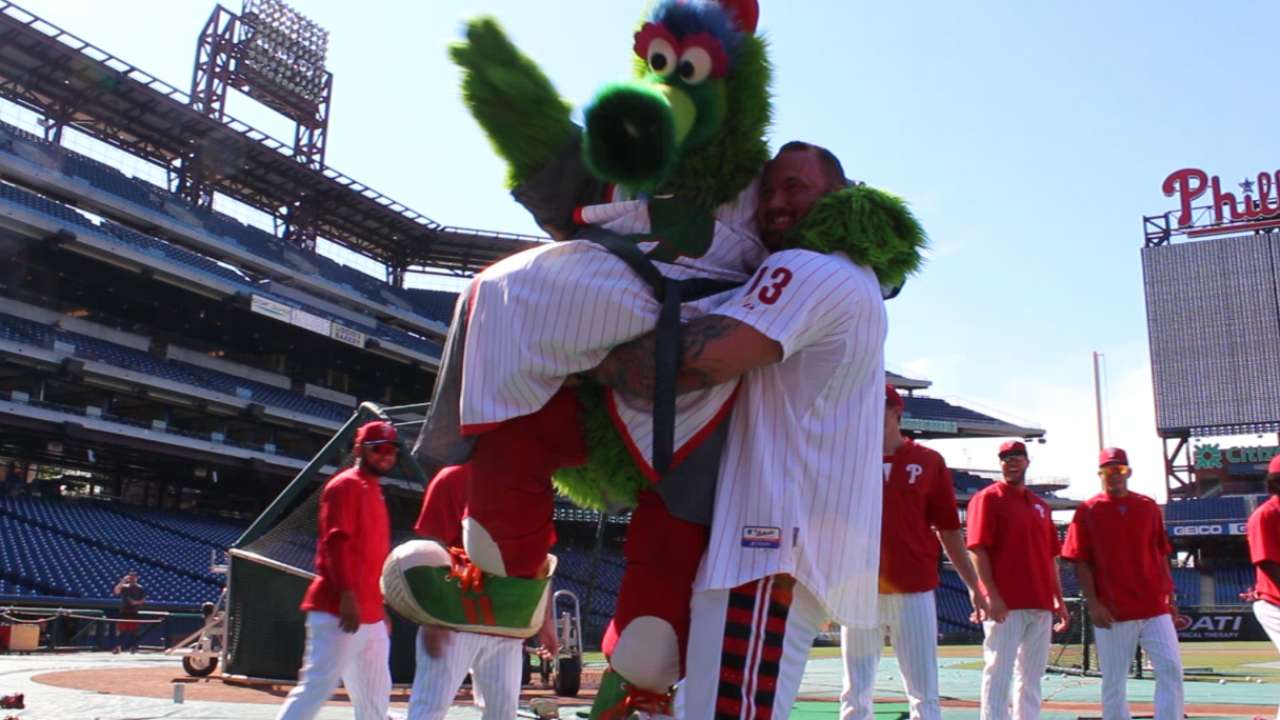 PHILADELPHIA -- The Mountain might be the most feared man in Westeros, but he learned Friday at Citizens Bank Park that crushing skulls is easier than crushing baseballs.
Hafpor Julius Bjornsson is an actor on the wildly popular TV show "Game of Thrones," where he plays Gregor Clegane (also known as The Mountain). The 6-foot-9, 425-pound Icelander had an unforgettable fight scene in Season 4, where he crushed the head of the character Oberyn Martell in a trial by combat.
"Every day," said the good-natured Bjornsson, when asked how often he is asked to pretend to squish somebody's head in a photo opportunity. "Every day. A few times, maybe."
Bjornsson showed up before the Phillies' series opener against Arizona because he is in town for the Philadelphia Renaissance Faire's "Preview Weekend" on Saturday and Sunday. He is playing King Thor of Laxardal.
"I love to try new things," he said about taking batting practice with the Phillies. "It was a lot of fun."
Bjornsson had never played baseball before, so Friday was literally the first time he had ever tried to swing a bat to hit a baseball.
It was not easy.
"Everything was the first time today," he said.
That included a Philadelphia delicacy, too.
"First time I had cheesesteak," he said.
Todd Zolecki is a reporter for MLB.com. Read his Phillies blog The Zo Zone, follow him on Twitter and listen to his podcast. This story was not subject to the approval of Major League Baseball or its clubs.