Bryce hits 13th homer as Nats rout Padres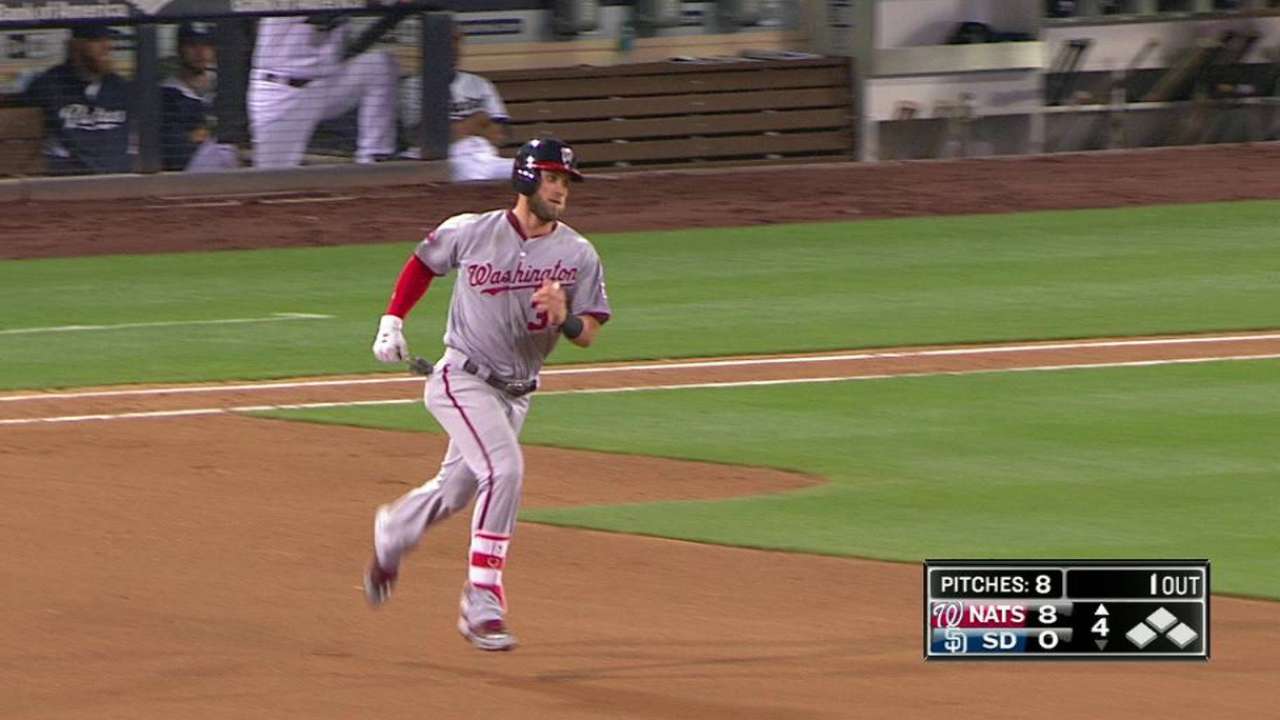 SAN DIEGO -- The Nationals were acting like Murderers' Row on Friday night as they pounded the Padres, 10-0, at Petco Park.
Bryce Harper made the most noise in Washington's 16-hit attack. He hit his National League-leading 13th home run and was one of four with two RBIs behind Jordan Zimmermann. The right-hander took advantage of the situation, striking out six over six innings to earn his third win of the season.
The Padres collected seven hits but put runners in scoring position only once, when they had the bases loaded with no outs in the fifth. But Zimmermann got out of the inning unscathed.
"Zimmermann, he's got a good arm," Padres manager Bud Black said. "He's got a couple good years now of pretty good production. He has a sneaky fastball that stays true with velocity. He was on his game tonight. We just couldn't square the ball up."
In their last 17 games, the Nationals are hitting .311 with a .370 on-base percentage. They are 13-4 during that stretch and have moved within a half-game of the first-place Mets.
"We were going to [start hitting]. I think everybody knew that," Harper said. "We are such a good team. We have so much fun out there. One through nine is such a good lineup. Even our pitcher rakes. It's a lot of fun going in and playing games every single day. We are going to score runs, we need to do things to help our pitchers win ballgames. It's going to be fun."
MOMENTS THAT MATTERED
Nats score early and often: The Nationals scored four runs in the first inning, three runs in the third and one in the fourth, sixth and seventh. Harper, Ian Desmond, Danny Espinosa and Ryan Zimmerman and had two RBIs apiece.
"The first inning was indicative of our club," manager Matt Williams said. "[Denard Span] got a base hit, [Yunel Escobar] had a great, long at-bat and worked a base hit. Then you have to be careful with the guys in the middle of the lineup, especially everybody is being careful with Harp. It provides us a bigger inning. That's what we want, put pressure on the opposing team. It worked good for us tonight." More >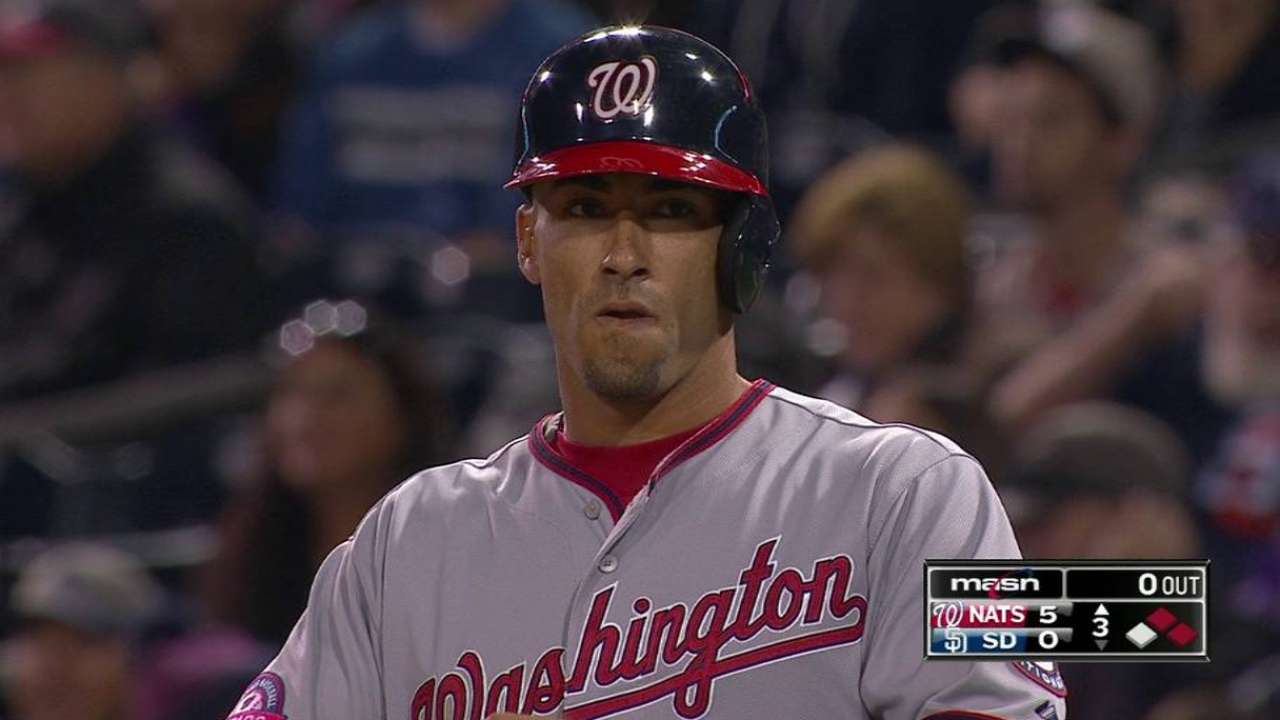 Despaigne in despair: After serving up eight runs in five innings in his last outing, Odrisamer Despaigne allowed seven runs in just three innings in this one. Despaigne, who entered the game 4-1 with a 2.11 ERA at Petco Park, gave up four consecutive hits to open the game and walked in a run before recording an out.
"My control has been a little off, a little inconsistent," Despaigne said through an interpreter. "One time it's my fastball that is off, then another time my curveball. It's just a matter of consistency." More >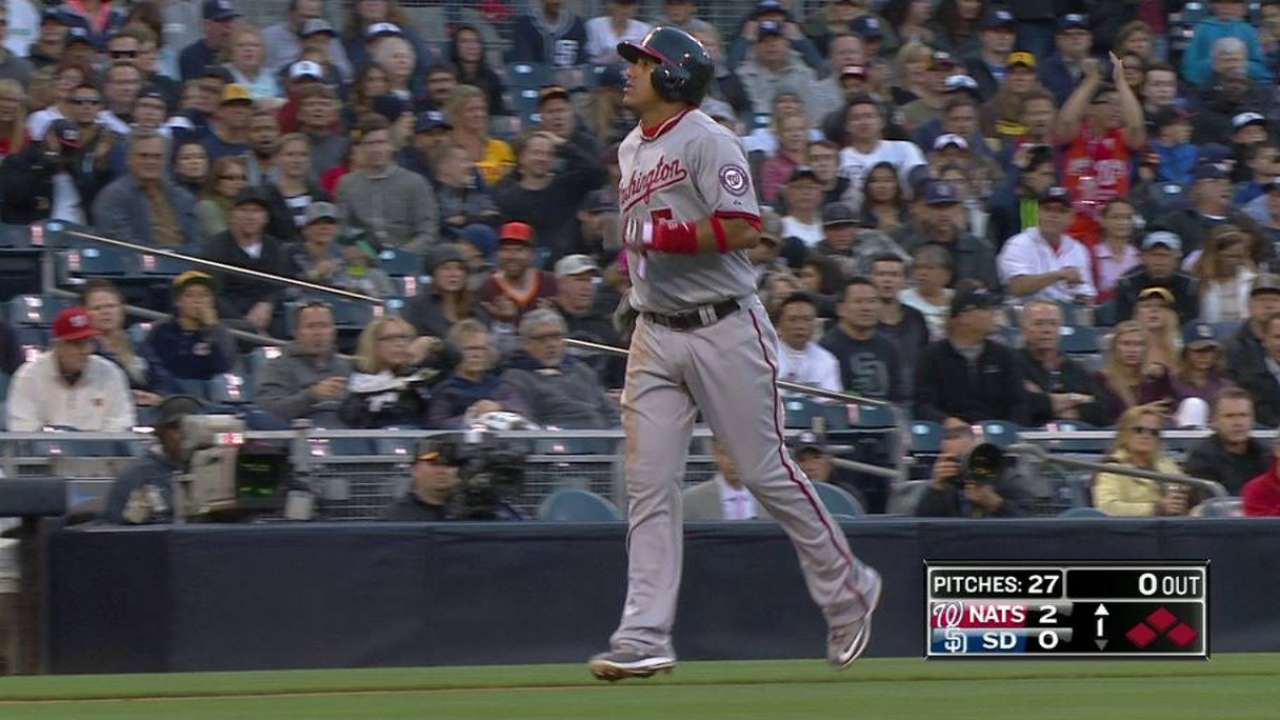 J-Zim has his way at Petco: Zimmermann allowed six hits and struck out six while increasing his scoreless-innings streak at Petco Park to 15 innings. The last time Zimmermann took the mound in San Diego, on June 8 last season, he spun a two-hit shutout and struck out a career-high 12.
"I don't know what it is," Zimmermann said. "I had a few good starts here. My numbers are pretty good. I was just good with the fastball tonight. I had good command of it. I was able to throw it inside with a purpose. It opened up the slider and the curveball."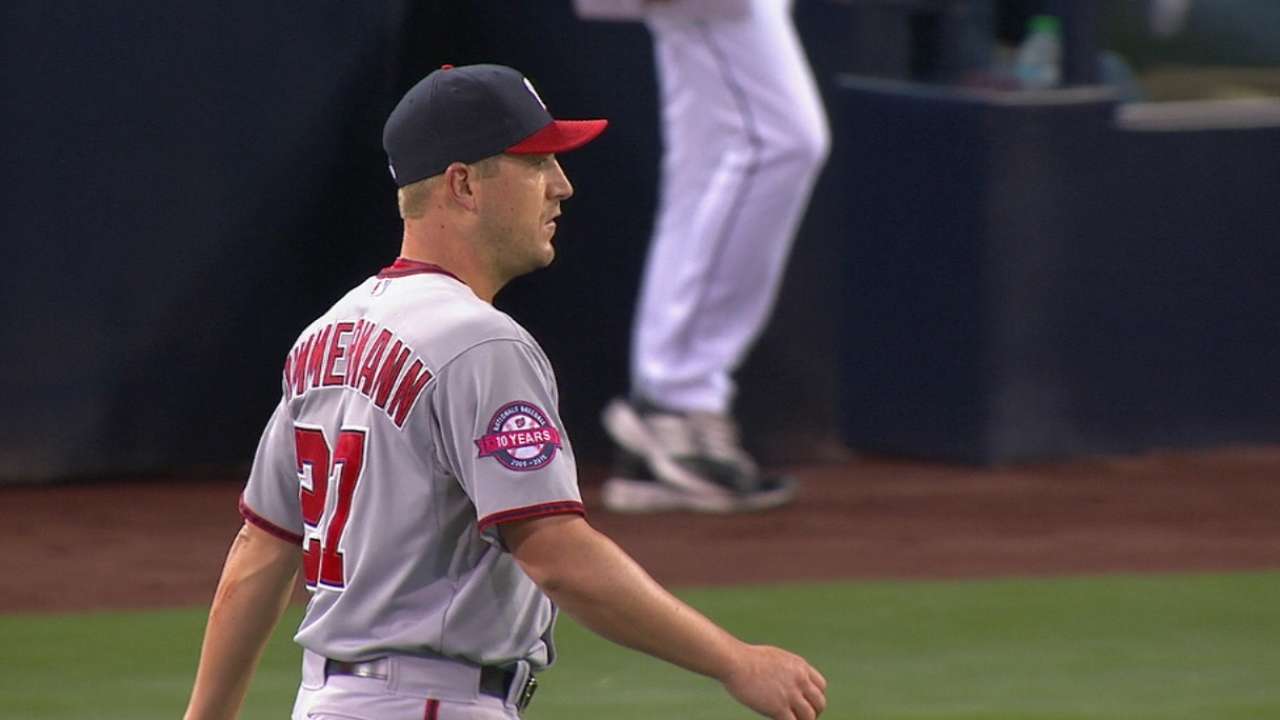 Punchless Pads: The San Diego offense, which ranks third in the NL in runs scored, was shut out for the sixth time this season, and the fourth time in 11 games. Derek Norris went 1-for-4 to continue his success against his former organization. He's now 7-for-16 against the Nationals, who drafted him in the fourth round in 2007.
SOUND SMART WITH YOUR FRIENDS
Thirty-seven games into 2015, Harper has matched his home run total from last season (100 games).
WHAT'S NEXT
Nationals: Right-hander Max Scherzer (3-3, 1.99 ERA) makes his second start of the week on Saturday night at Petco Park. In his last outing, Scherzer allowed one run on five hits in seven innings while striking out six D-backs.
Padres: Andrew Cashner (1-6, 3.07) takes the mound for the Padres, looking to snap his four-game losing streak. Casher has allowed two earned runs or fewer in 21 straight home starts, a Major League record. Game time is 5:40 p.m. PT.
Watch every out-of-market regular-season game live on MLB.TV.
Bill Ladson is a reporter for MLB.com. Tim Powers is a contributor to MLB.com. This story was not subject to the approval of Major League Baseball or its clubs.