Counsell glad Segura is unhappy to go on DL
Brewers manager welcomes shortstop's passion as he deals with fractured pinkie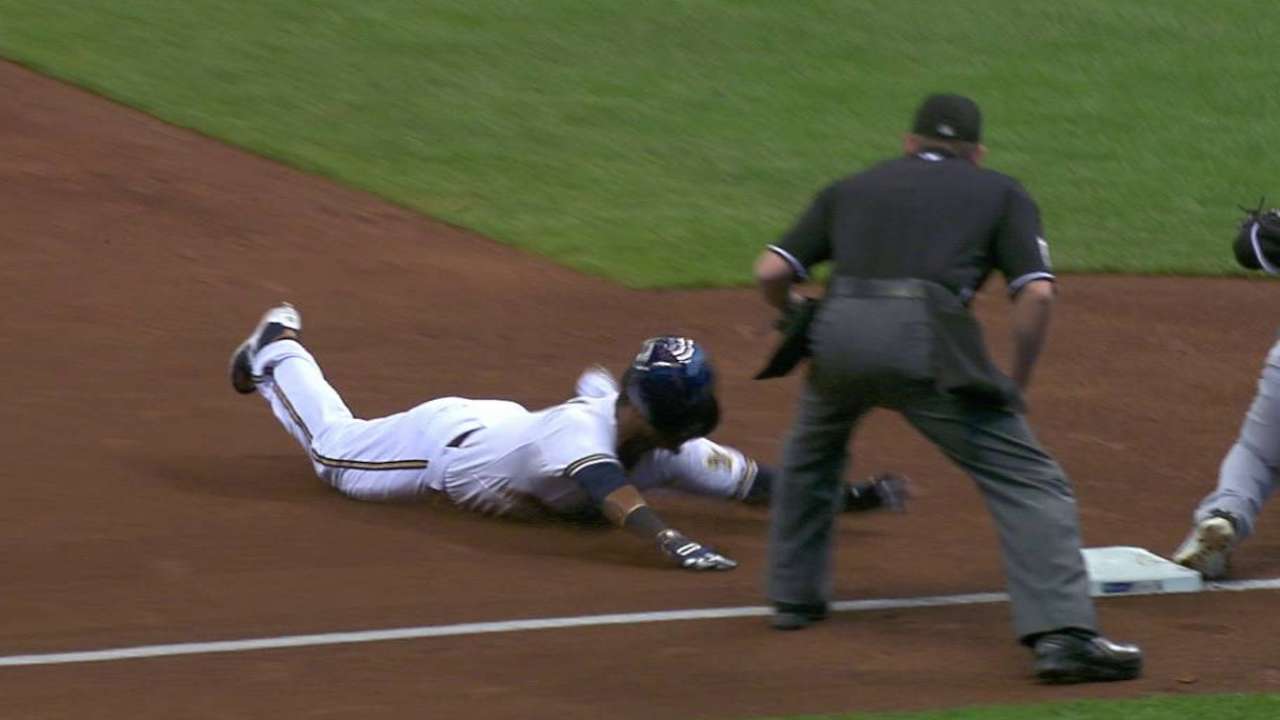 NEW YORK -- Brewers shortstop Jean Segura "strongly" voiced displeasure about being placed on the disabled list with a fractured right pinkie finger, according to manager Craig Counsell, who welcomed the pair's frank conversation on the matter.
The Brewers made the roster move Thursday, recalling infielder Luis Sardinas from Triple-A Colorado Springs, after an X-ray revealed a fracture within the joint of Segura's finger. Segura told club officials he believes he can play through the pain, but doing so would risk a more serious break that could require surgery and a lengthy absence.
"I understand his position and I'm glad he voiced it strongly," Counsell said. "I am. It makes you like, 'This is a guy we want here.' But it's just too dangerous for him to play."
Hector Gomez started at shortstop on Friday against the Mets, and he will share time with Sardinas, Counsell said.
Segura traveled with the team and was wearing a padded cover on the fractured finger. He had hoped that such protective measures might allow him to continue playing in spite of the break.
"Maybe use something for sliding or whatever so I can keep playing my game," Segura said. "But they make that decision, and I have to take it. I don't have any choice.
"I tell them, 'Give me some days to see how it feels.' ... But I trust the decision that they made, because it's a fracture and if you get something again, it's going to be losing two or more months [as opposed to] maybe 15 days or three weeks. I don't know. I just feel disappointed. I love this game so much. I don't think anybody cares as much for this game as I do. I do the best I can no matter what, and I'm always ready to play this game and help my team win some ballgames. I just want to be out there and I want to be healthy."
Segura has endured a painful start to the season. Before he fractured his finger sliding into third base on the Brewers' last homestand, he twice was hit in the head by pitches.
"Look, when there's a broken bone and a player says, 'I don't care. I'm still playing' -- and he's serious. This isn't, like, eyewash stuff. He's serious," Counsell said. "It meant something to him. That means something to me. I know that, and it means something to everyone in there [in the clubhouse]. It just does.
"He's been hit in the head twice this year and he's missed one game. You don't have to say any more. I guess maybe I should have expected [the tough discussion about the DL] a little bit. It's what you come to expect from him almost, that he's going to go out there. You have to battle to take him out of there."
Adam McCalvy is a reporter for MLB.com. Follow him on Twitter @AdamMcCalvy, like him on Facebook and listen to his podcast. This story was not subject to the approval of Major League Baseball or its clubs.