MLB.com Columnist
Anthony Castrovince
ASG debate: Brantley or Cain in AL outfield?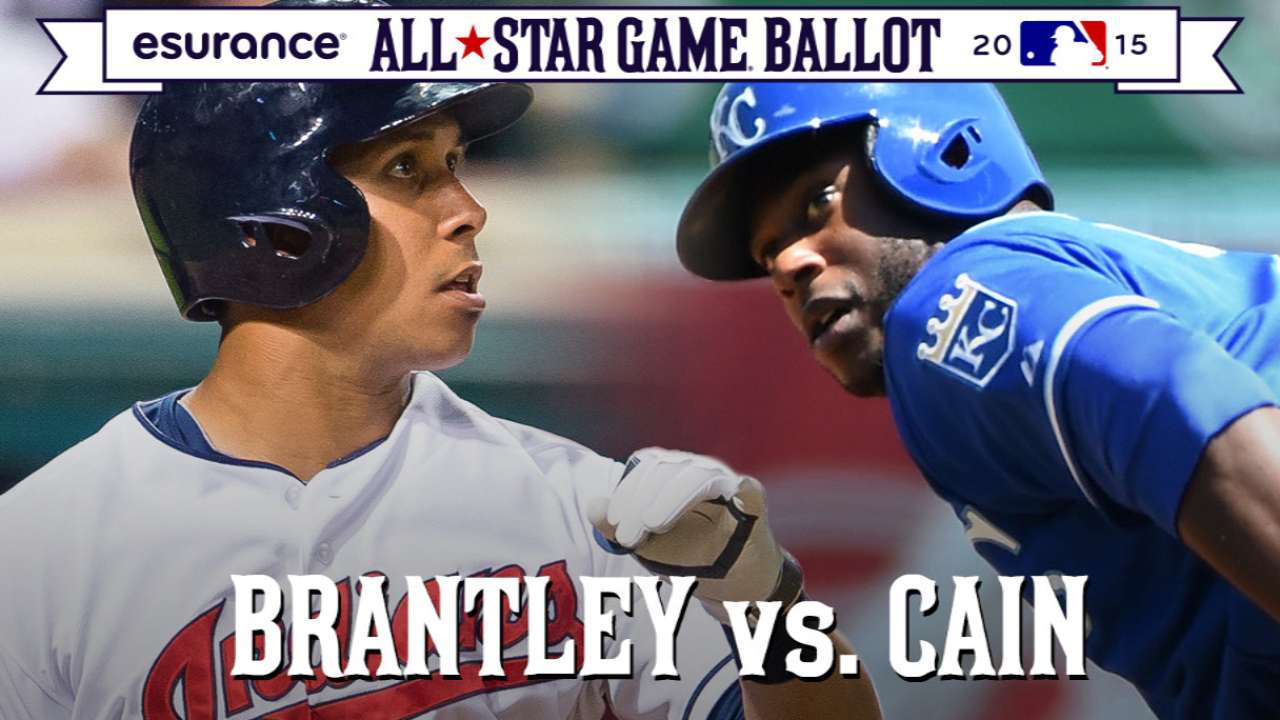 ***We will be doing daily ASG debates until balloting ends on July 2. We will frequently be pitting one player against another and have a writer make a case for one of them, but that doesn't mean there aren't other great candidates for that position. In fact, your comments could spark a new debate for us to tackle. So let us know what you think!***
There are guys like Bryce Harper and Kris Bryant who spend the early portion of their careers merely trying to catch up to all the outlandish feats prescribed for them. And then there are guys like Michael Brantley and Lorenzo Cain, who become superstars much more surreptitiously.
On the 2015 Esurance All-Star ballot, Brantley and Cain are two of the more interesting options in the American League outfield. It could be that your ballot simply doesn't have room for both of them, and so both of these relatively late-bloomers will get a closer inspection here.
Brantley is a real rarity: A former "player to be named" in a high-profile trade who went on to finish third in the AL MVP voting last year. The Indians, though, always saw star potential in Brantley, even if he wasn't the headline acquisition when they traded CC Sabathia to the Brewers years ago.
Last year, Brantley broke out in a big way, earning not just those MVP votes but also his first appearance on the AL roster at the Midsummer Classic. And this year, even as his team has struggled to meet expectations, Brantley has only built upon his expanded profile. He has battled a lower back issue that first sprung up in Spring Training, but playing through pain hasn't prevented Brantley, who turned 28 on Friday, from performing at an All-Star-caliber level.
Through Thursday, Brantley had a .330/.403/.528 slash line with four homers, nine doubles and 18 RBIs. His .932 OPS was fifth best among AL outfielders.
But that's not what's amazing. What's amazing is how efficient Brantley has been with his swings. Per Inside Edge, Brantley has swung at just 37.1 percent of pitches thrown to him (the ninth-lowest rate among qualified batters) and has put the ball in play on 69.5 percent of those swings (the best such rate in a year in which the league average is 40.5 percent). Brantley has struck out in just more than four percent of his plate appearances, the best rate in baseball.
Cain can't quite match that strikeout stinginess, but few can match the unmistakable athleticism that makes him such a dynamic defender in center field, where it seems no fly ball in that spacious Kauffman Stadium outfield is uncatchable for Cain. In fact, FanGraphs rates Cain's defensive value as the highest of any position player in baseball thus far in this 2015 season.
And Cain has evolved into a total package. His offensive numbers this season -- a .312/.370/.456 slash line through 31 games -- are the best of his career.
Not bad for a guy who famously did not play organized baseball before his sophomore year of high school, and only then because he didn't make the basketball team and his mom wouldn't allow him to play football.
Cain is undoubtedly pleased with the direction his athletic career has taken -- and so, too, are the Royals.
An All-Star honor would only add to Cain's incredible story, which has helped turn the Royals into a legitimate AL powerhouse. But giving Cain the edge over Brantley requires a particularly heavy emphasis on the defensive metrics over the offensive ones -- and Brantley, it must be noted, is no defensive slouch himself.
So it says here that Brantley is most deserving of your clicks at the moment. But both of these late-blooming superstars are worthy of celebration.
Anthony Castrovince is a reporter for MLB.com. Read his columns and follow him on Twitter at @Castrovince. This story was not subject to the approval of Major League Baseball or its clubs.