Pujols backs stellar Weaver to top O's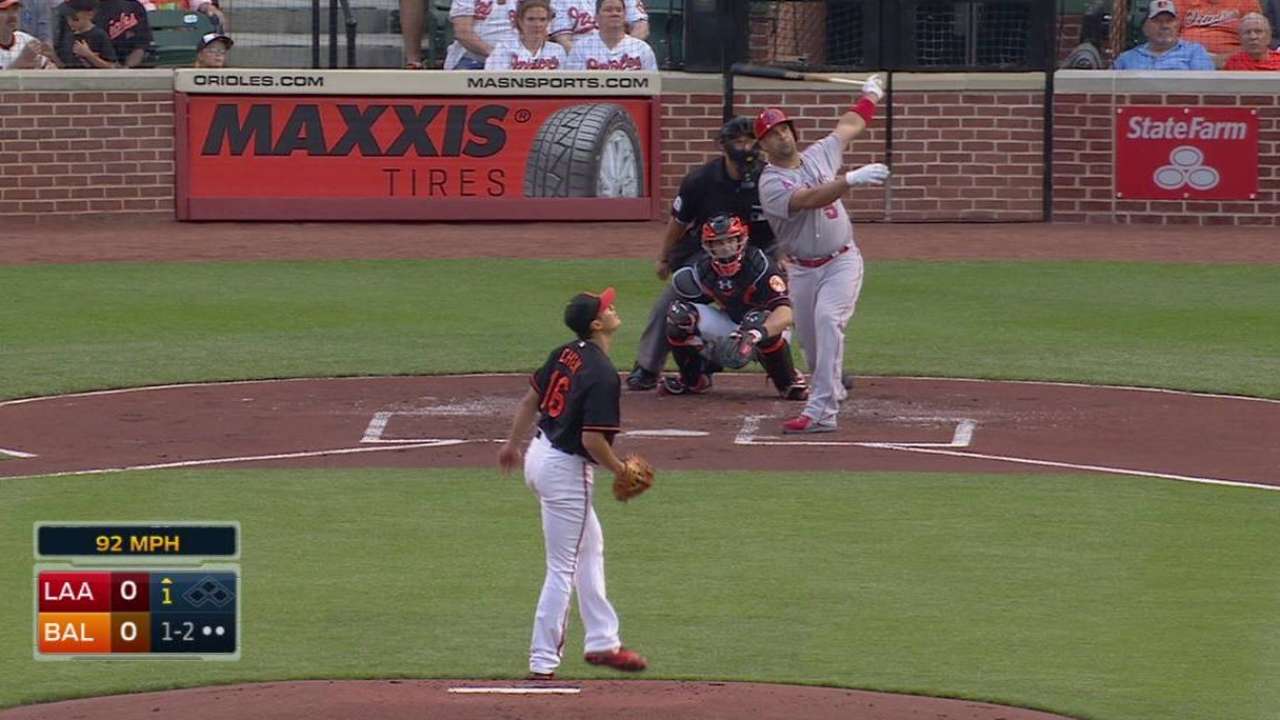 BALTIMORE -- Jered Weaver put together another strong start, and Albert Pujols gave him an early edge with a solo home run, as the Angels began a 10-game road trip with a 3-1 win over the Orioles on Friday night at Camden Yards. It was the Halos' fourth straight victory and seventh in nine games, and at 18-17, they moved above the .500 mark for the first time since they were 2-1.
Weaver, who threw his seventh career shutout last Friday against the Astros, extended his scoreless-innings streak to 16 before J.J. Hardy led off the eighth with a line-drive homer to left-center. Still, Weaver allowed only one run on three hits over 7 1/3 innings, with one walk and three strikeouts. It was another strong performance for an Angels rotation that entered the day with the best ERA in the Majors since April 21.
"It was good for the most part," Weaver said of his stuff. "Got away with a couple pitches they popped up, but mixed in the offspeed, and fastball command was pretty good. Defense played well behind me, [catcher Carlos Perez] called a great game, and we were able to scratch a couple runs against a guy that threw the ball real well as well. So good win."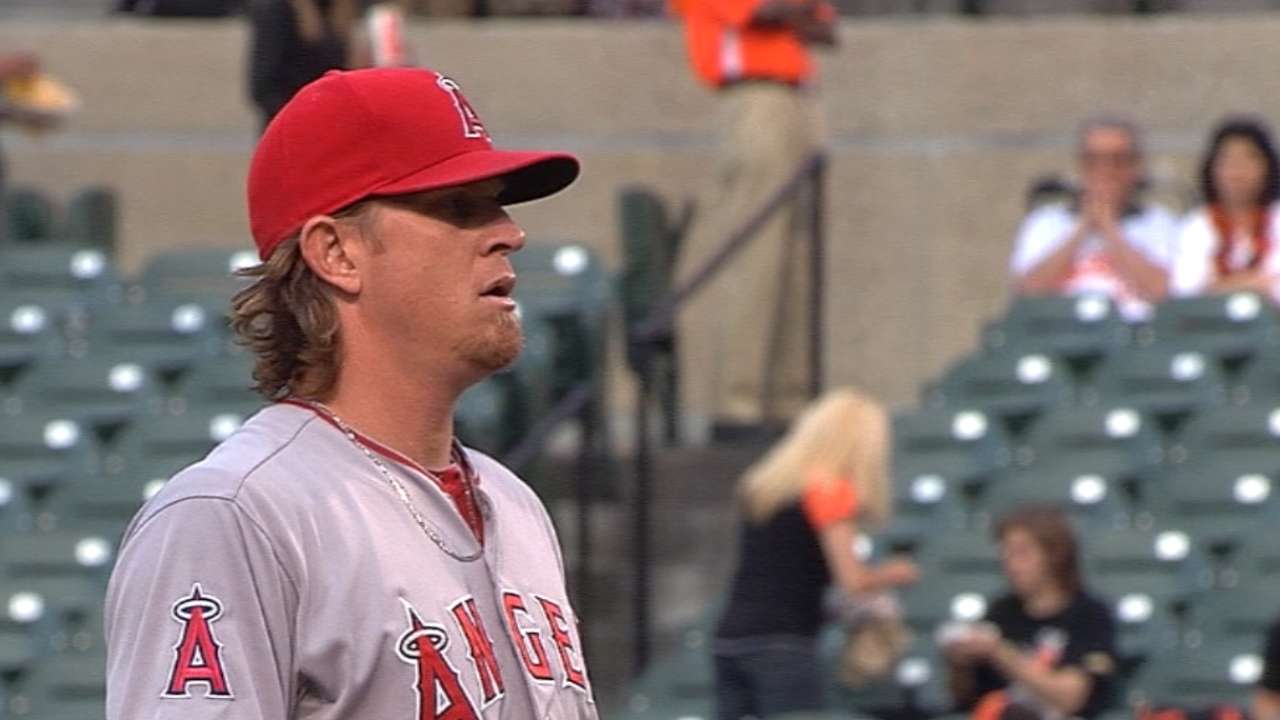 Pujols' solo homer in the first was one of the few blemishes against Baltimore left-hander Wei-Yin Chen, who posted his fourth straight quality start by holding the Angels to two runs on five hits over seven-plus innings, tying a season high with seven strikeouts. Chen also gave up a run in the second, when Erick Aybar hit a leadoff double, moved up on a ground ball and scored on Carlos Perez's sacrifice fly.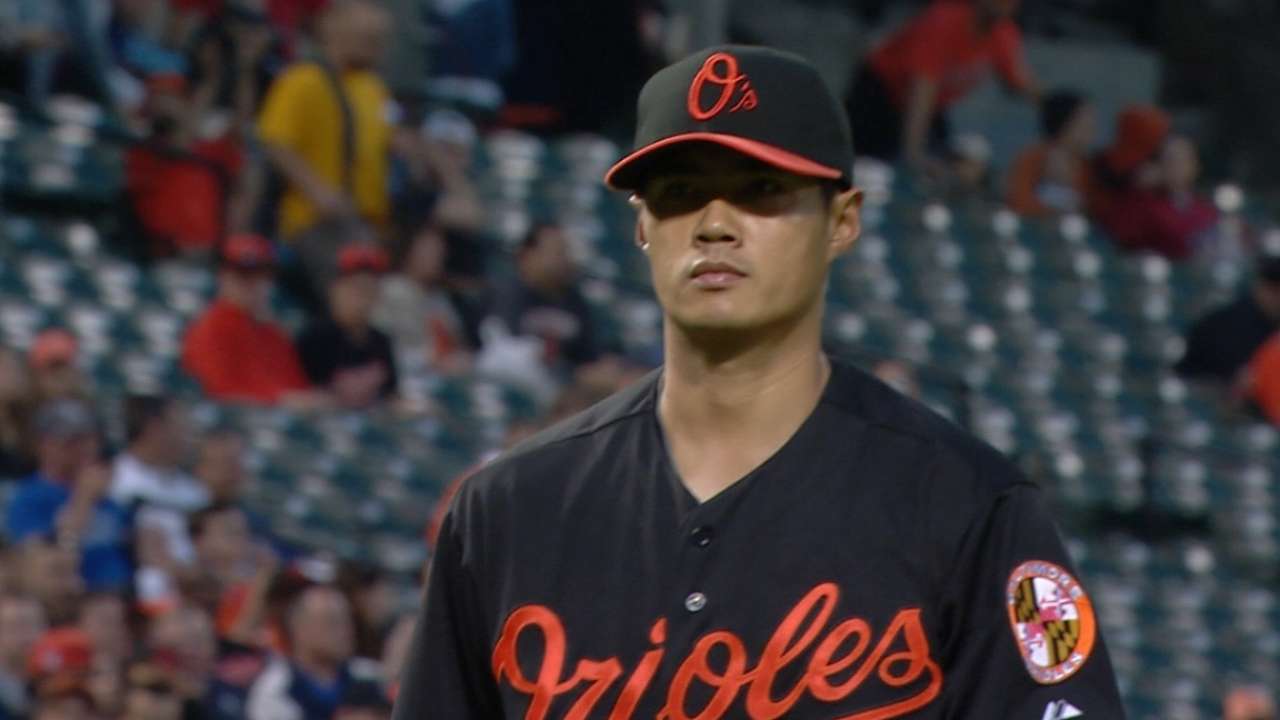 MOMENTS THAT MATTERED
Pujols goes deep: With two outs in the first inning, Pujols fell behind Chen, 0-2. But he continued to battle, fouling off two pitches and taking a ball before getting a fastball down and in. Pujols whacked it into the left-field seats for his sixth homer of the season, giving the Angels the early 1-0 lead. The blast also was No. 526 of Pujols' career, putting him eight away from tying Jimmie Foxx for 17th on the all-time list.
"It wasn't really a bad pitch, but in that at-bat, I pitched one pitch to the same location, so he already saw a pitch in that location," Chen said through an interpreter. "He made me pay. All I can do is try to make an adjustment not to make the same mistake again."
Flashing the leather: The Angels had one gaffe in the field, courtesy of Weaver, who couldn't get a handle on Hardy's oddly-spinning squibber in the fifth, then threw wildly to first, allowing Hardy to take second. Otherwise, the gloves did their job to help protect a slim lead.
Third baseman David Freese made a couple of nice plays, including one to charge Alejandro De Aza's bunt in the sixth. The infield turned a key 4-6-3 double play on Davis in the seventh, erasing a leadoff single. And both center fielder Mike Trout and right fielder Kole Calhoun made highlight grabs, Trout leaping for a deep drive on the warning track in the first and Calhoun diving for a sinking liner in the fourth.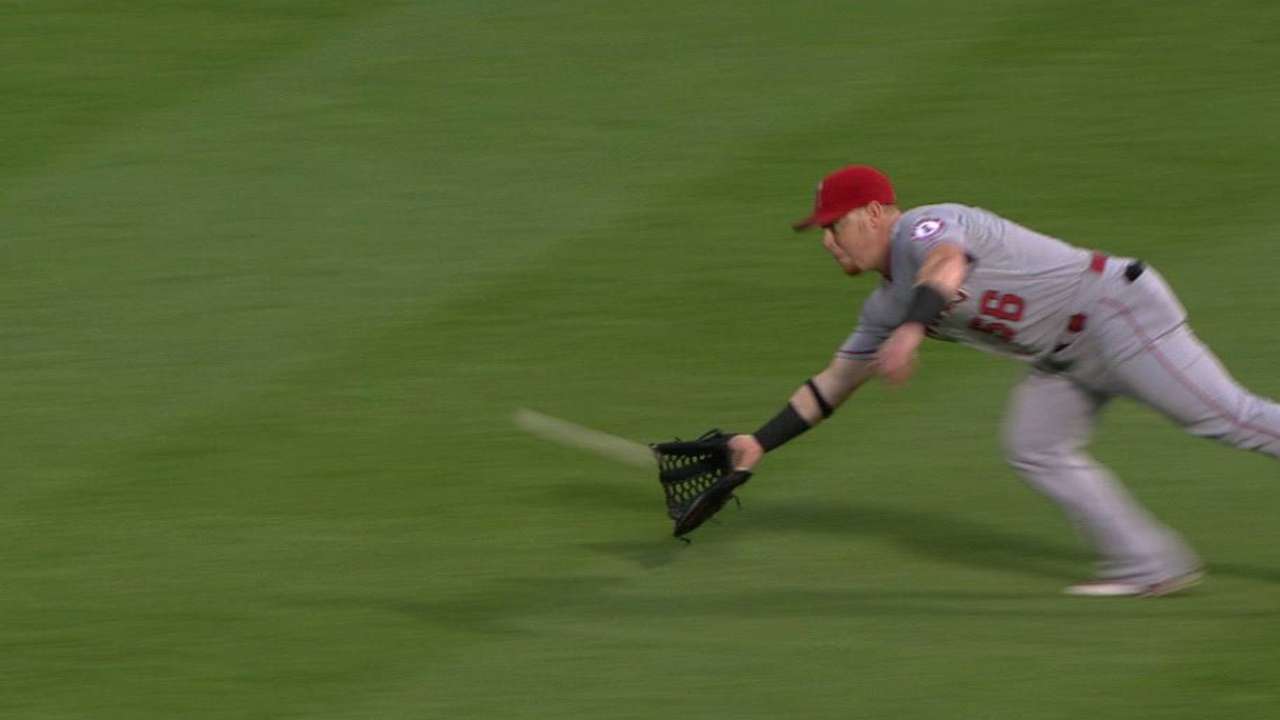 "Made some nice plays," Angels manager Mike Scioscia said. "We showed some range in the outfield. With [left fielder Collin Cowgill] and Kole and Mike out there, it gives us an outfield that can cover some ground, and we did tonight."
Just missed it: With one out and Adam Jones on first in the bottom of the ninth, Davis faced closer Huston Street. Davis connected hard with an 0-1 pitch, but Trout hauled it in on the warning track in left-center.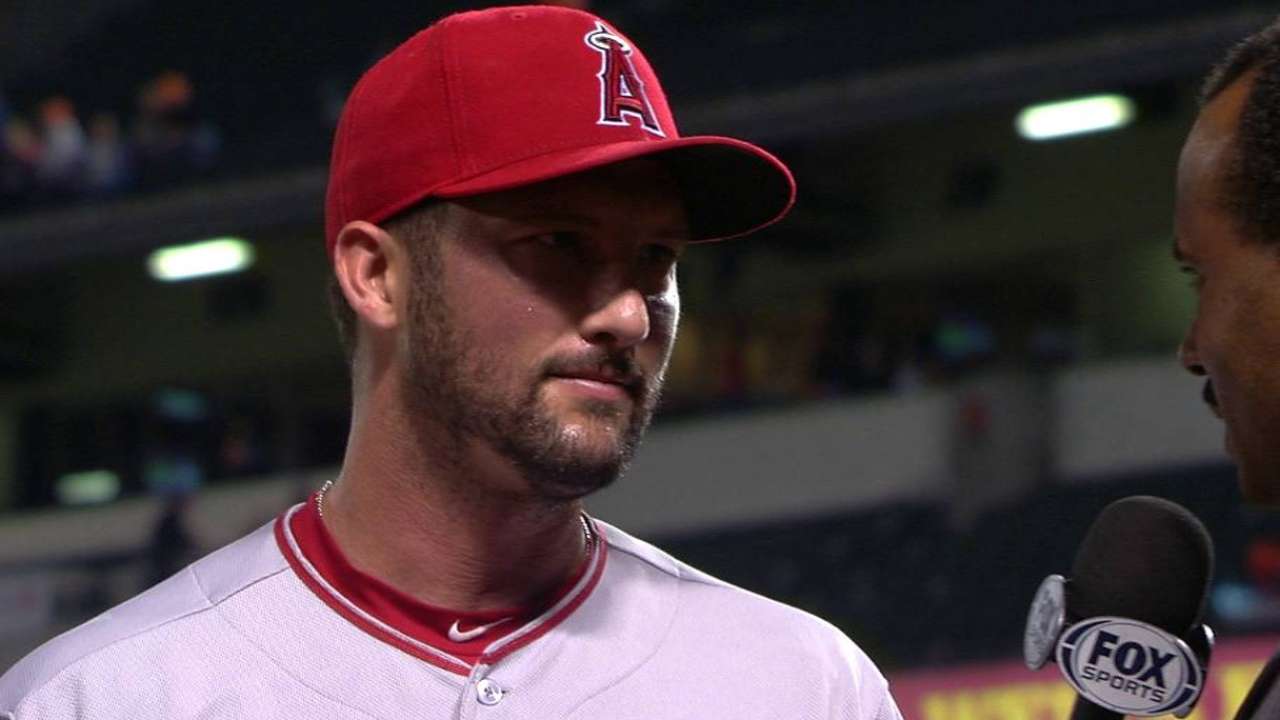 "You never know here -- the ball keeps going," Scioscia said. "But it didn't look like he got full extension on it. I think he choked his swing a little bit. I was pretty sure that one was staying in the park."
Twin killing: After the Orioles mustered just one hit over the first six innings against Weaver, Jones led off the seventh inning of a 2-0 game with a bunt single. Davis hit next, but on a 1-0 curveball, he grounded into a 4-6-3 double play. Delmon Young then struck out to end the inning. More >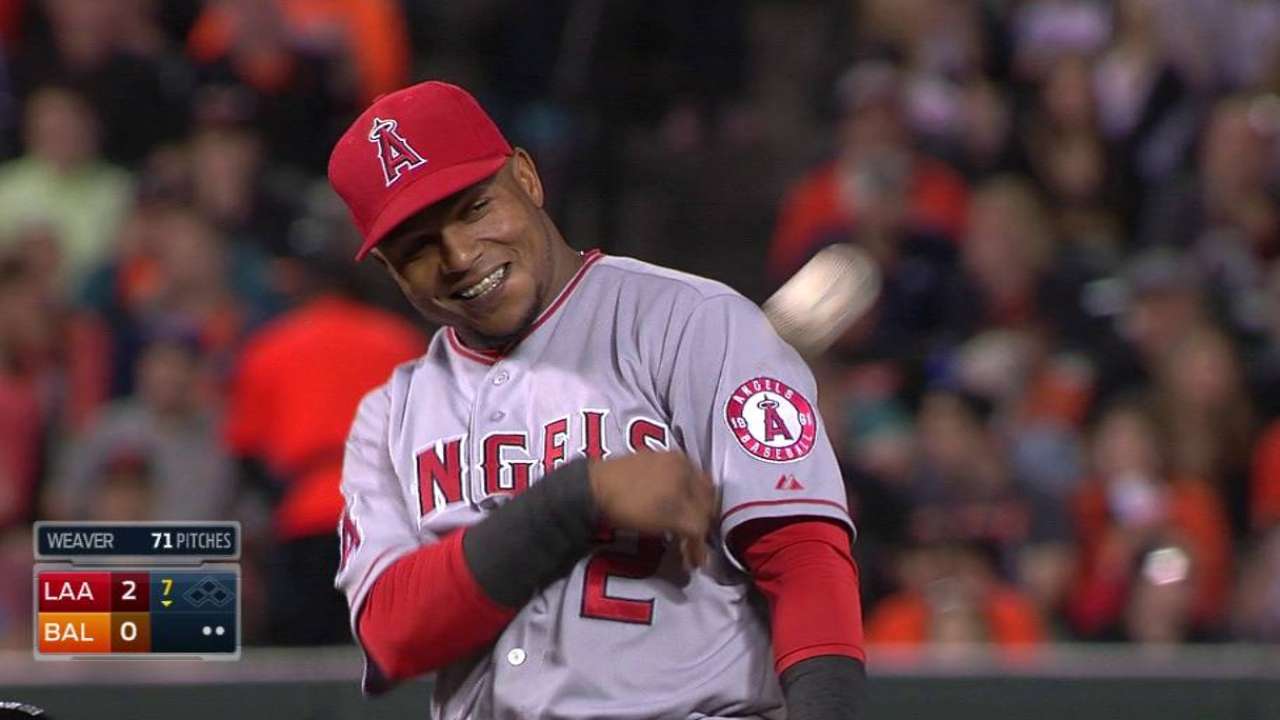 QUOTABLE
"No. The people who think it's a good game are just trying to get out of here before three hours. We're trying to win here. Anything that ends with an L on our side isn't enjoyable." -- Orioles manager Buck Showalter, on whether he enjoyed the brisk pace of Friday's game, which took just two hours and 23 minutes
WHAT'S NEXT
Angels: Right-hander Matt Shoemaker will try to bounce back from a tough start as he takes the ball in the second game of this three-game set, at 4:05 p.m. PT on Saturday. Shoemaker, who is 0-3 with an 8.05 ERA over his past four outings, surrendered six earned runs and three homers over only three innings against the Astros last Saturday.
Orioles: Ubaldo Jimenez (3-2, 2.41 ERA) moves up a day on full rest to start in place of of right-hander Bud Norris, who the team believes has bronchitis. Manager Buck Showalter said that either Norris or Chris Tillman will start Sunday's series finale. Jimenez has allowed more than three runs in just one of his six 2015 starts.
Watch every out-of-market regular season game live on MLB.TV.
Andrew Simon is a reporter for MLB.com. Follow him on Twitter @AndrewSimonMLB. Harvey Valentine is a contributor to MLB.com. This story was not subject to the approval of Major League Baseball or its clubs.