Banister plans on keeping Detwiler in rotation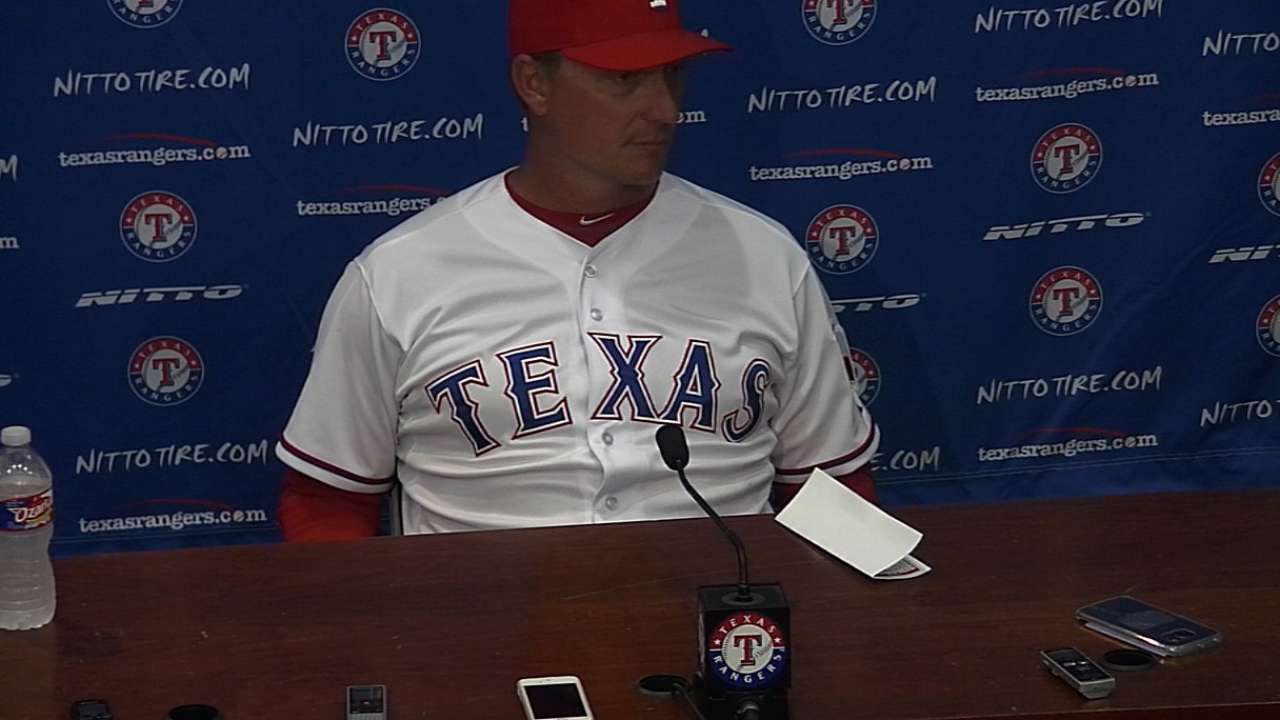 ARLINGTON -- Rangers manager Jeff Banister said he's constantly evaluating his team, but for now, there aren't any plans to move left-hander Ross Detwiler from the starting rotation.
Detwiler spent all of last season coming out of the bullpen for the Nationals. Since coming to Texas this season, Detwiler is 0-5 with a 6.95 ERA in seven starts. On Thursday, Detwiler took the loss after allowing three earned runs and nine hits while throwing a career-high 108 pitches in five innings.
"I have a hard time with a guy who threw two very good games," Banister said. "He's had seven starts. Three early, got sideways on him in one inning. The three on the back side of that -- two he pitched very well.
"Yesterday he gives up three runs, scatters nine hits. I think he got barreled three times, so it wasn't like he was getting pounded all over the yard. Long counts, tough time not putting away hitter. I feel like not using the breaking ball was part of that."
The Rangers skipped Detwiler in the rotation in late April after his cold start to the season. He followed that by allowing two earned runs in 5 1/3 innings against Seattle, then allowed only one earned run in seven innings against Houston on May 4.
With an off-day coming on Monday, skipping Detwiler is a possible option, but Banister said there are more factors that weigh into that decision.
"We also know that [Yovani Gallardo] is a much better pitcher when he has an extra day," Banister said. "Colby [Lewis], when he has an extra day, [Wandy] Rodriguez when he has an extra day. ... I think it would really be prudent with us if we continue to look at the entire scope rather than just focus in on one guy.
"This is about the management of all 25 and each individual guy within that. Do we look at [skipping Detwiler]? Absolutely. But we look at all of that and see what fits best for everybody."
Worth noting
• Rangers pitching coach Mike Maddux missed Friday's game against Cleveland to attend his daughters' commencement ceremonies. Maddux has one daughter graduating with a master's degree from Baylor on Friday night, and another daughter graduating from SMU on Saturday morning. Andy Hawkins will serve as pitching coach, and Minor League pitching coordinator Danny Clark will be the bullpen coach.
• Shortstop Elvis Andrus entered Friday's game having hit safely in 43 of his 44 career games against the Indians.
• Second baseman Rougned Odor and outfielder Jake Smolinski were both sent to Triple-A Round Rock this week, and both made a splash Thursday night in the Express' 8-3 win against Omaha. Odor was 1-for-3 with a home run, and Smolinksi was 3-for-4 with a homer.
Cody Stavenhagen is an associate reporter for MLB.com. This story was not subject to the approval of Major League Baseball or its clubs.