Blanks delivers in first game back in outfield
Veteran makes first start in left field with Rangers, plays clean defense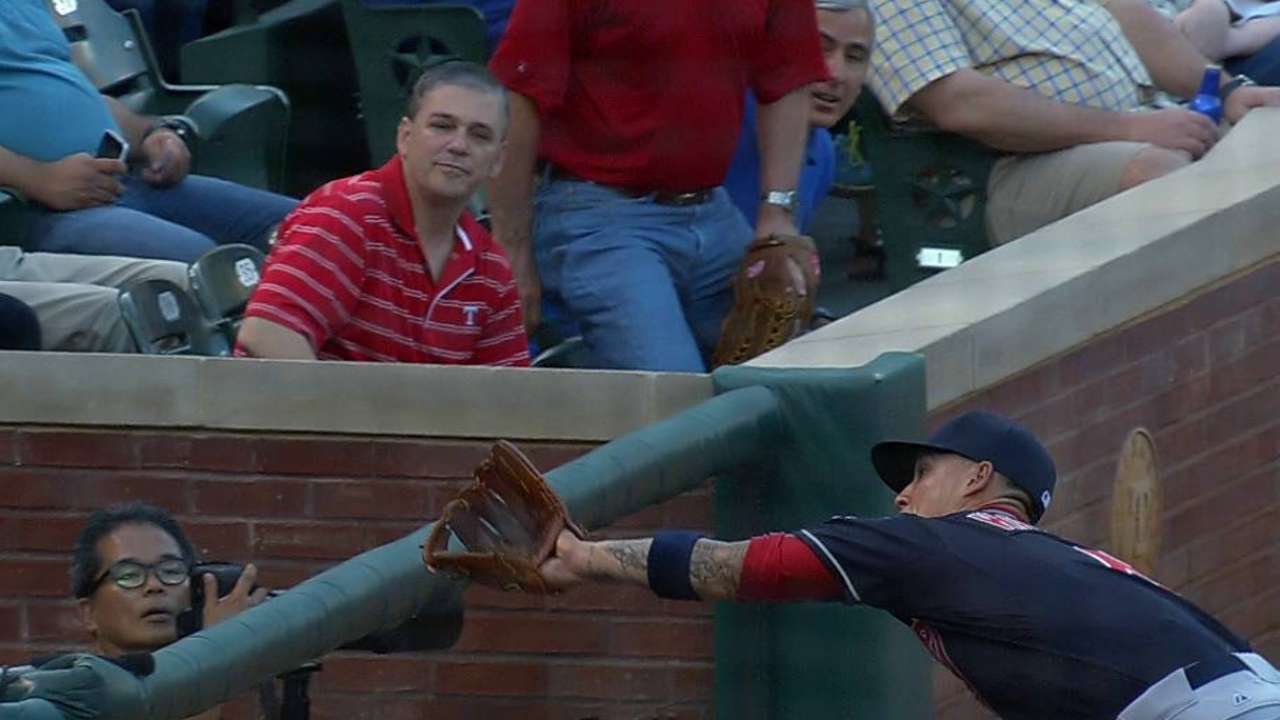 ARLINGTON -- Kyle Blanks walked around the Rangers' clubhouse on Friday night with a thick wrap around his left foot after playing left field for the first time as a Ranger.
There were concerns about the foot soreness that kept him out of the lineup the past two days and comes as a product of being 6-feet-6 and 265. There were concerns about him playing left after not working in the outfield all season.
But there was also the promise of his bat, and in the Rangers' 8-3 loss to the Indians, he showed why that bat is worth getting in the lineup. Blanks went 2-for-4 and raised his season average to .327. He also played a clean left field and showed no signs of rust, even though Friday's pregame was the first time he has taken fly balls since coming to Texas.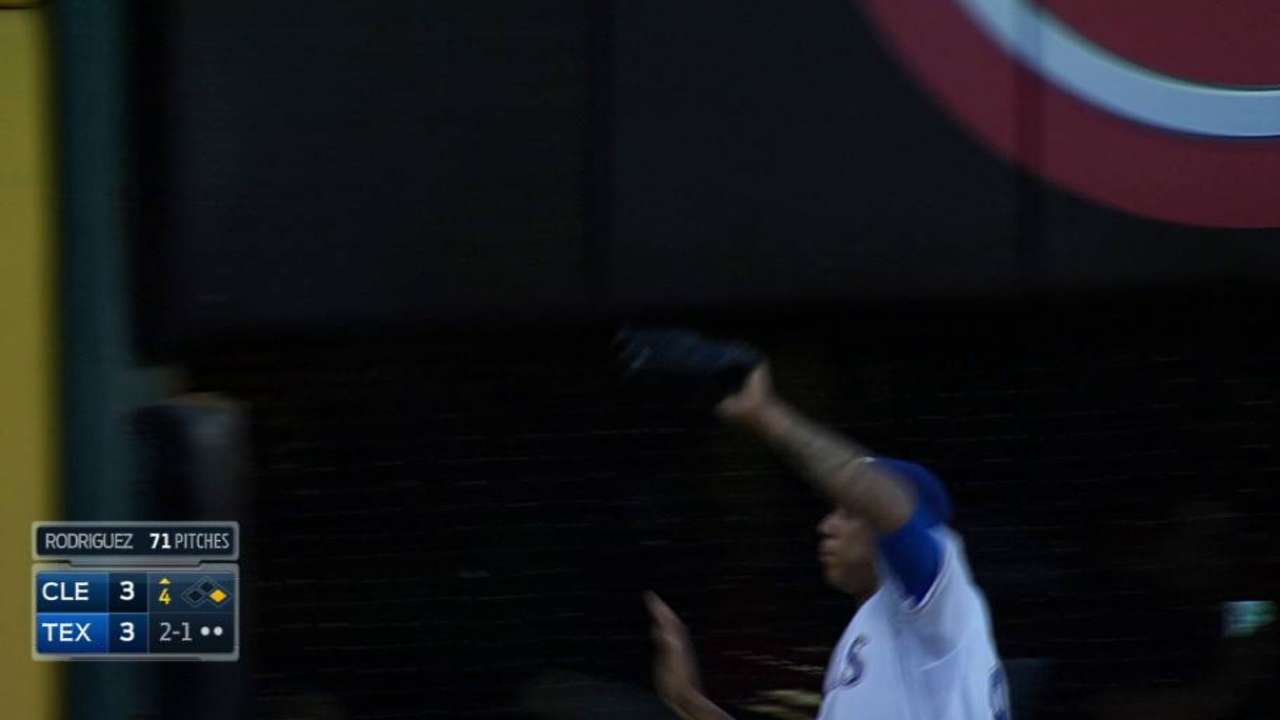 And despite the wrap, Blanks said he felt fine and is "still in one piece."
"I've played far more out there than at first, so as long as I get acclimated before the game, it really hasn't been much of an issue," Blanks said.
Blanks played 169 games in the outfield in his career before Friday, but had only played first base and designated hitter in his first year with the Rangers. Mitch Moreland's return from the disabled list this week meant manager Jeff Banister had to get creative in order to keep Blanks in the lineup along with Moreland and Prince Fielder. This process is easier with center fielder Leonys Martin still day to day with a left wrist injury.
Blanks' soreness kept him from getting work in the outfield even after discussing it with Banister, but his pregame work Friday was enough for Banister to put him in the lineup.
"We wanted to get him out there before putting him in the lineup," Banister said. "It wouldn't be fair to just shove him out in left field without getting some work out there, plus I wanted to know how his legs felt, how he felt and how his feet felt."
On Friday, Blanks hit fifth, and he replaced the struggling Carlos Peguero in left field. Peguero is hitless in his past 15 at-bats, striking out nine times.
Blanks' versatility could also help him after the imminent arrival of outfielder Josh Hamilton, who is in a rehab stint with Triple-A Round Rock. Hamilton is scheduled to move to Double-A Frisco where he will play Saturday, Sunday, Tuesday and Wednesday before being reevaluated.
"It helps all players to be versatile, especially a guy like Kyle Blanks," Banister said. "… You swing the bat well, it's nice for me to be able to maneuver and keep players in the lineup if they are versatile enough to be able to play different positions."
Cody Stavenhagen is an associate reporter for MLB.com. This story was not subject to the approval of Major League Baseball or its clubs.