'Back to normal' Bradley ready to take mound
Right-hander starting Saturday in first game since liner struck face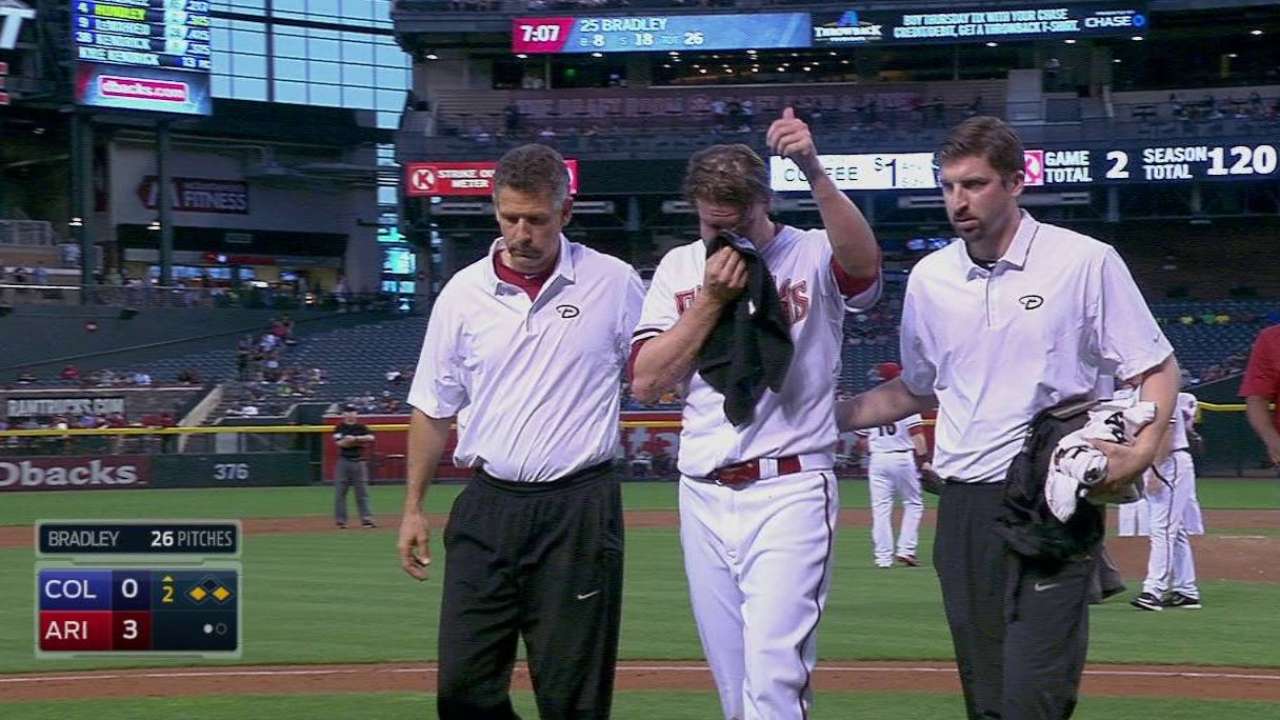 PHILADELPHIA -- D-backs right-hander Archie Bradley realizes there is no hiding from the fact he got hit in the face by a 115-mph line drive the last time he took the mound in a game, so he once again watched a replay of it Friday morning.
Bradley, who suffered a slight sinus fracture on the play April 28, will be activated from the 15-day disabled list in time to start Saturday night's game with the Phillies.
"Now, it's just routine," said Bradley, the D-backs' top prospect. "Just back to normal, like it never happened. I'm sure I'll still think about it sometimes here and there, but I feel like when it comes to game time, it's just going to be trying to focus on the game plan and focus on trying to get them out."
Bradley, 22, threw a simulated game this past week at Chase Field, and infielder Cliff Pennington hit a ball back up through the box and Nick Ahmed hit one that nearly clipped Bradley's feet.
That, along with his football background -- he was a standout high school quarterback and turned down a scholarship offer at the University of Oklahoma to sign with the D-backs -- is what Bradley believes helped him bounce back quickly.
"I think that's the biggest thing is I've been hit many times under the chin making a throw and had to get back up, and I feel like it's just similar to that," Bradley said of playing football. "Same mentality, you've just got to be tough, wipe it from your memory and just keep playing. It's one of those freak things. If it happens again, it just happens. That was my main point, physically I'm not scared of it happening and mentally I'm not either, and I think that's the kind of wall you have to get over. Where are you at mentally? Where are you at in your mind? Are you scared? And you can't be scared when you're out there trying to get guys out."
Steve Gilbert is a reporter for MLB.com. Read his blog, Inside the D-backs, and follow him on Twitter @SteveGilbertMLB. This story was not subject to the approval of Major League Baseball or its clubs.