Cunningham makes immediate impact in debut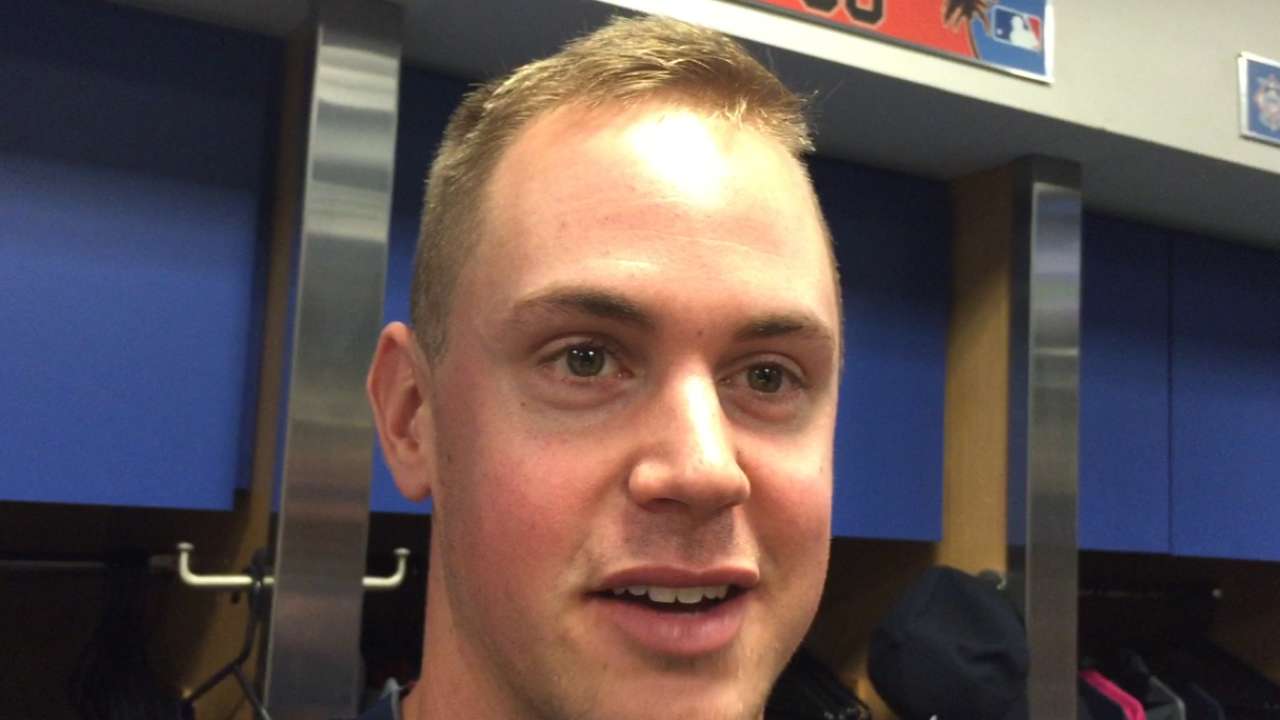 MIAMI -- Instead of sulking about the fact that he did not earn a spot on the Opening Day roster, Todd Cunningham spent the past month preparing himself for the opportunity the Braves were glad they provided him on Friday night at Marlins Park.
Playing in just his ninth Major League game and first since 2013, Cunningham looked like a seasoned veteran. The versatile outfielder displayed his defensive skills in the first inning and then capped a three-hit performance with an eight-inning RBI single that proved decisive for the Braves in a 5-3 win over the Marlins.
"I got a couple knocks early and just kept getting them," Cunningham said. "I wish they were all that easy."
When Cunningham was recalled from Triple-A Gwinnett on Thursday to fill the roster spot created by Kelly Johnson going on the disabled list, it was assumed he would get regular playing time.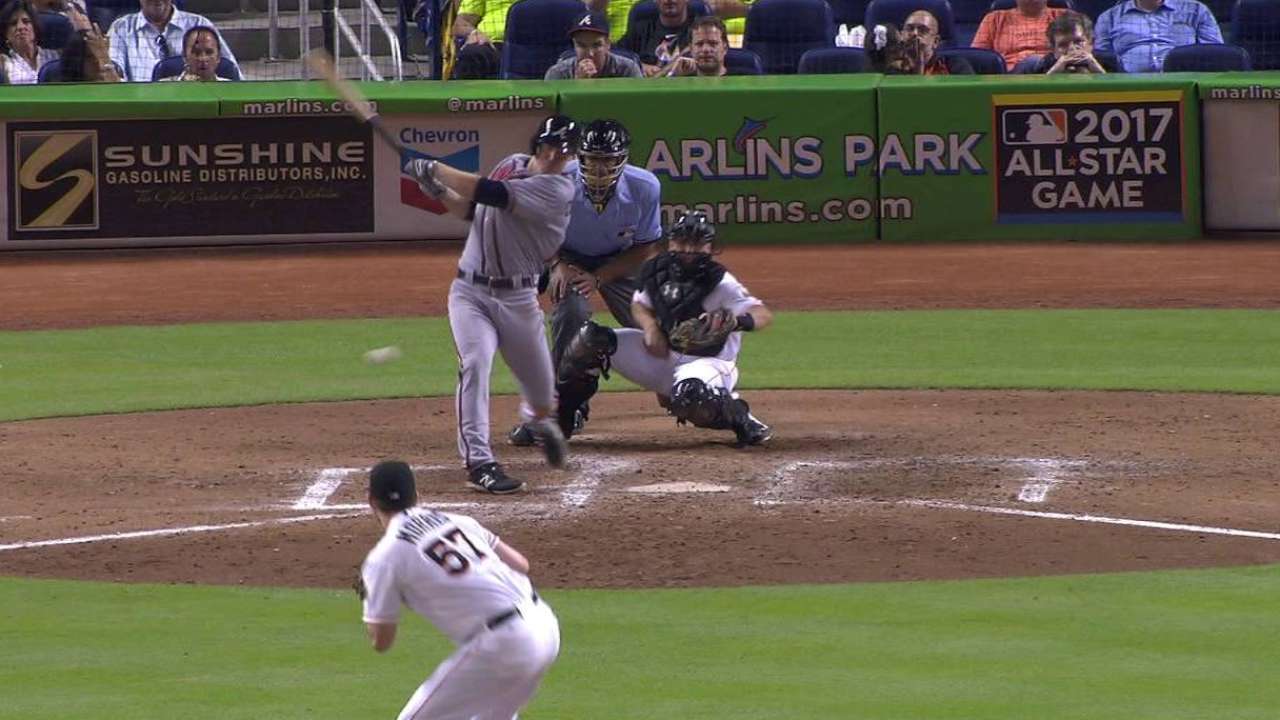 But as he completed this successful season debut for Atlanta, it became even more apparent why he could prove quite valuable while platooning with Jonny Gomes in left field or getting an occasional start in center field.
"He's not necessarily just a left fielder," Braves manager Fredi Gonzalez said. "He's a guy who can play all three positions. We've always known that he's one of the best defenders we have in our organization."
Cunningham immediately made his presence known when he raced into the left-center-field gap to rob Martin Prado of a run-producing extra-base hit during Julio Teheran's 26-pitch first inning.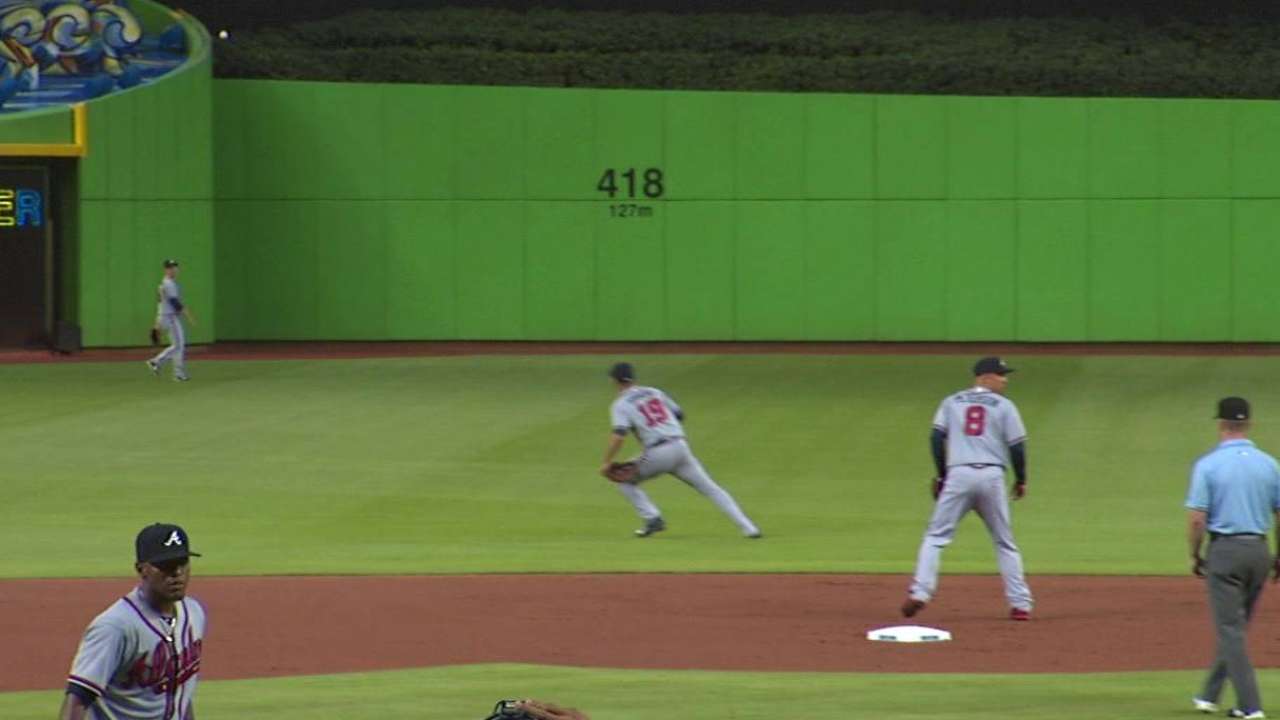 "I got impressed right there," Teheran said. "I didn't expect him to get that ball."
While Cunningham, the Braves' No. 26 prospect, has long been considered a skilled defensive outfielder, there have been some concerns about his offensive potential. But it did not take him long to show that the .342 batting average he had produced over his past 21 games with Gwinnett was not necessarily a fluke.
After producing a second-inning single that put him in position to score on Teheran's two-run single off Marlins starter David Phelps, Cunningham combined with Cameron Maybin to notch consecutive doubles in the fourth inning.
He then capped his impressive debut by recording the first RBI of his career with the eighth-inning single that he sent through the middle of the infield against Bryan Morris.
"I don't get fired up very often, but I think I made a fist pump or a hand clap or something," the mild-mannered Cunningham said. "I was pretty excited."
Mark Bowman is a reporter for MLB.com. Listen to his podcast. This story was not subject to the approval of Major League Baseball or its clubs.