Braun, Lohse team up to take down Mets
NEW YORK -- Ryan Braun's scorching month continued Friday night at Citi Field, where his two homers and diving catch led Kyle Lohse and the Brewers to a 7-0 win over the Mets.
Still reeling from their four-game sweep to the Cubs at Wrigley Field this week, the Mets fell into a quick hole when starter Bartolo Colon served up a quartet of doubles in the second and third innings, in addition to Braun's first homer. They never recovered, losing their fifth straight and for the 13th time in 20 games.
"It gets you kind of stunned when you've got one of your best pitchers out there and you look up and, bang, you're behind," Mets manager Terry Collins said. "We were behind fast. Fast and furious."
The Brewers, meanwhile, have recorded eight of their 13 wins since the start of May. Much of that has been thanks to Braun, who went deep again in the eighth to total seven homers and 17 RBIs in his past 16 games. Lohse, who entered the night with a 7.03 ERA in seven starts, joined the party with eight scoreless innings, holding the Mets hitless until the fifth.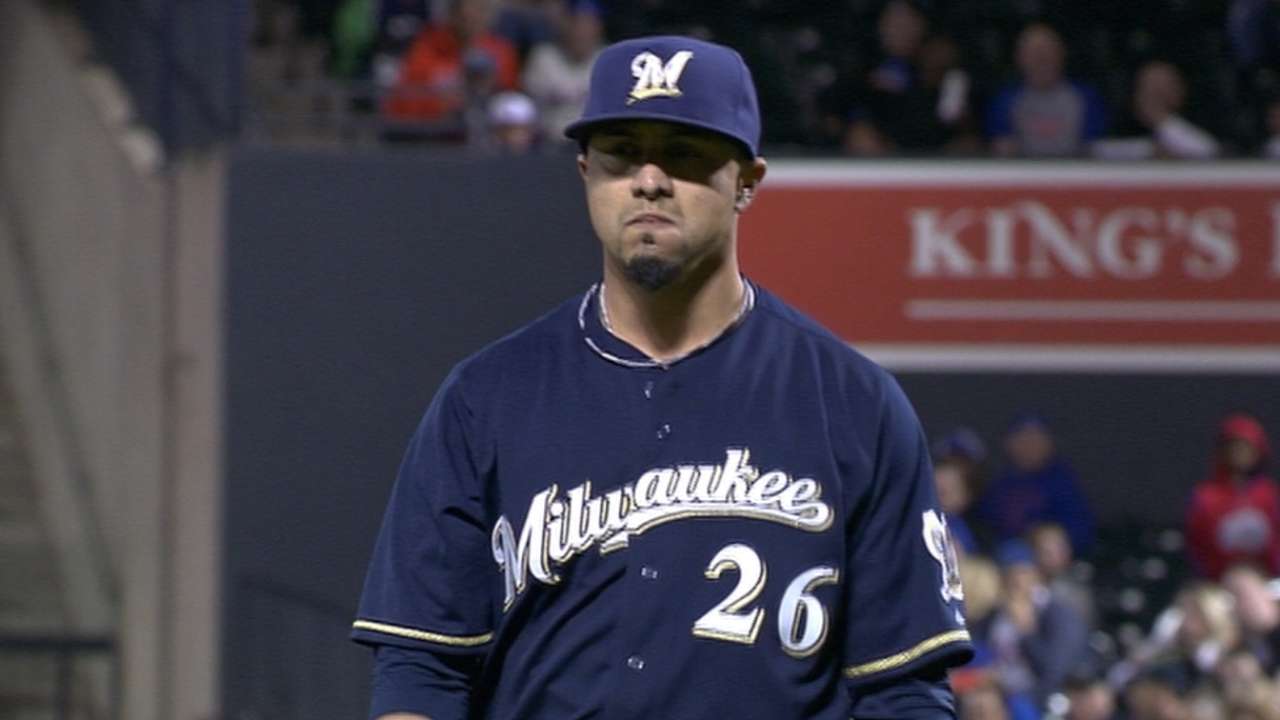 "We've had plenty of nights like this, but ultimately, we've been on the other side of them," Braun said. "It's nice to have one like this where things go so well on both sides of the ball. We've been playing better the last couple weeks, much better baseball, much more consistent baseball."
MOMENTS THAT MATTERED
Braun's brawn: The Brewers took full advantage of the opportunity that Wilmer Flores' throwing error to open the third inning gave them, following that play up with back-to-back doubles off Colon. The next batter, Braun, launched a two-run homer into the second left-field deck to open up a 5-0 lead. Braun homered again in the eighth to make it 7-0. More >
Braun's catch: A half-inning earlier, Braun ranged back toward the warning track for a diving catch that robbed Flores of a hit. The save stood out when Lohse continued to carve his way through the Mets lineup, allowing no hits until Flores punched a single to center field leading off the fifth inning. Lohse didn't surrender his second hit until the seventh.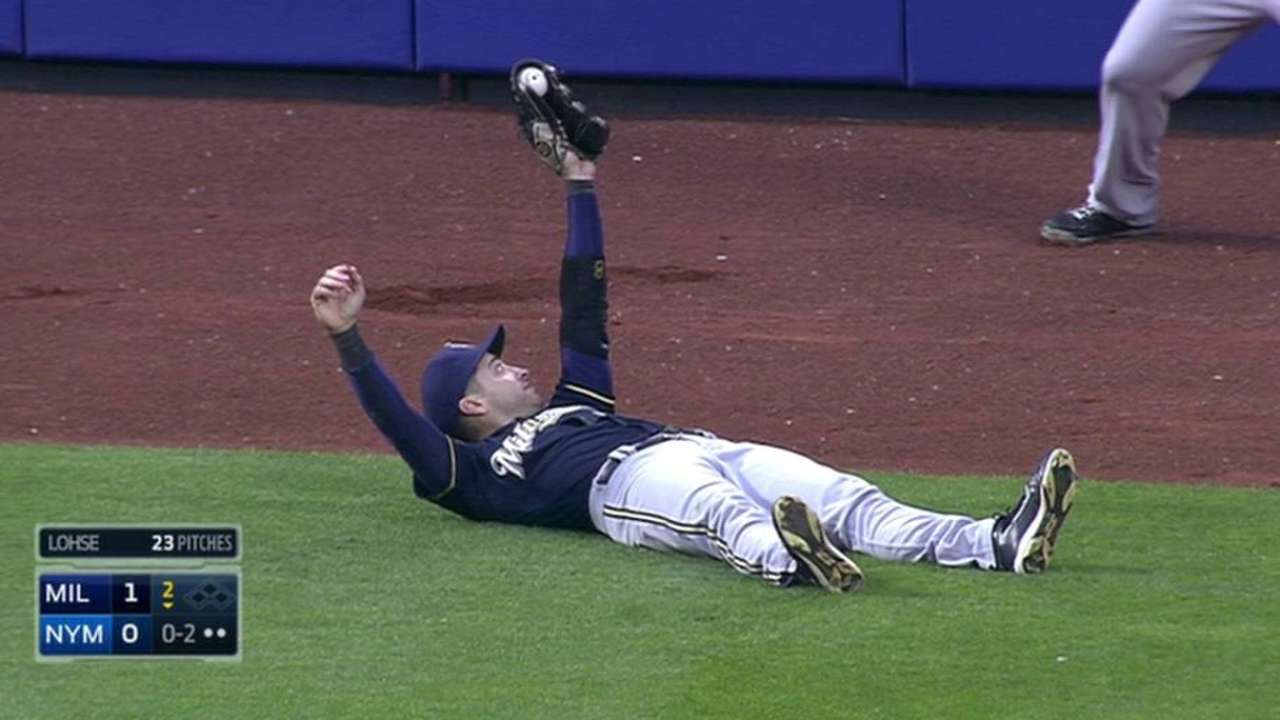 "What stands out most is how Kyle threw the ball," Braun said "He was great. Dominant." More >
Ebb and Flo': Another rocky night in the field thrust Flores' status as the Mets' undisputed starting shortstop further into question. It was Flores' second error in two games that sparked the Brewers' most productive rally, though the shortstop also recorded the Mets' first hit -- and would have had one three innings earlier, had Braun not robbed him. More >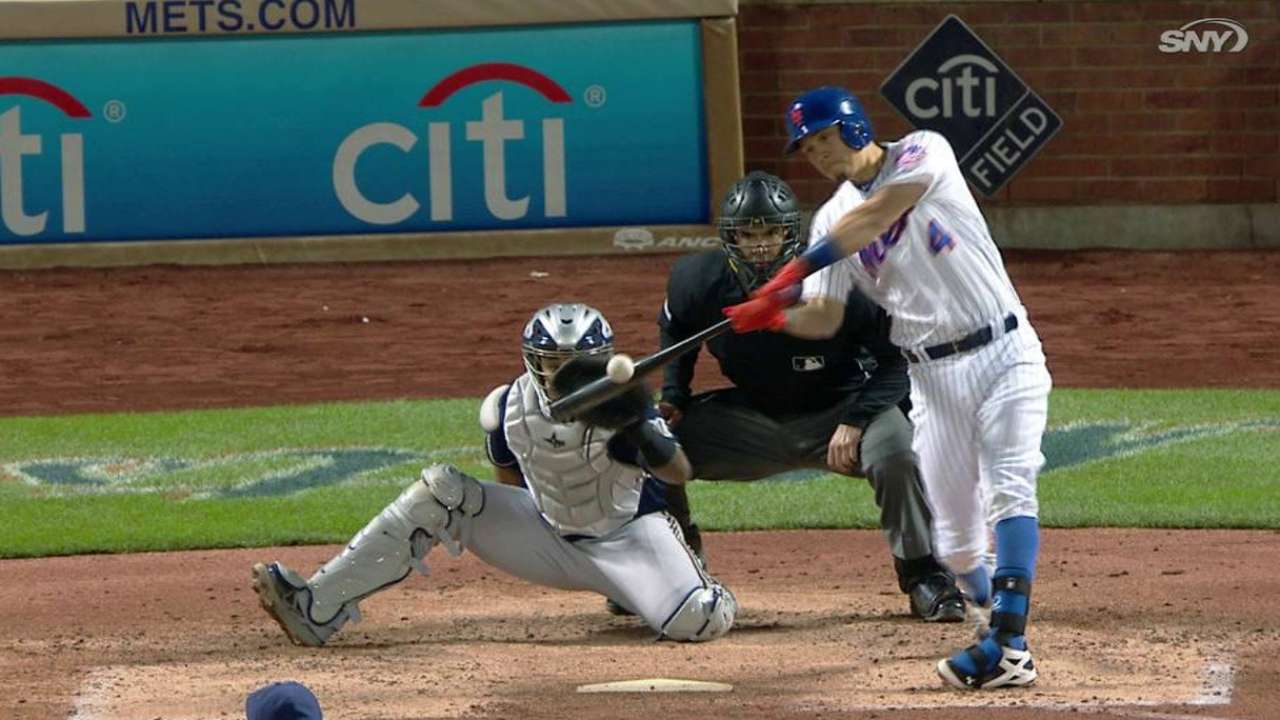 SOUND SMART WITH YOUR FRIENDS
Meet the Mets? Sounds good to the Brewers, who have won 24 of the last 38 meetings between the teams and are 14-6 (.700) at Citi Field, the best mark here of any Mets opponent.
Despite his struggles, Colon still delivered five more innings without a walk, moving within seven outs of Bret Saberhagen's 21-year-old franchise record of 47 2/3 innings. Colon has walked just one of the 207 batters he has faced this season.
SUCCESSFUL RETURN
The Brewers' offense got a boost from the return of third baseman Aramis Ramirez, who went 3-for-4 after missing six games with lower back tightness. With second baseman Scooter Gennett struggling since his return from the disabled list and catcher Jonathan Lucroy and shortstop Jean Segura currently on the DL, a healthy Ramirez would help.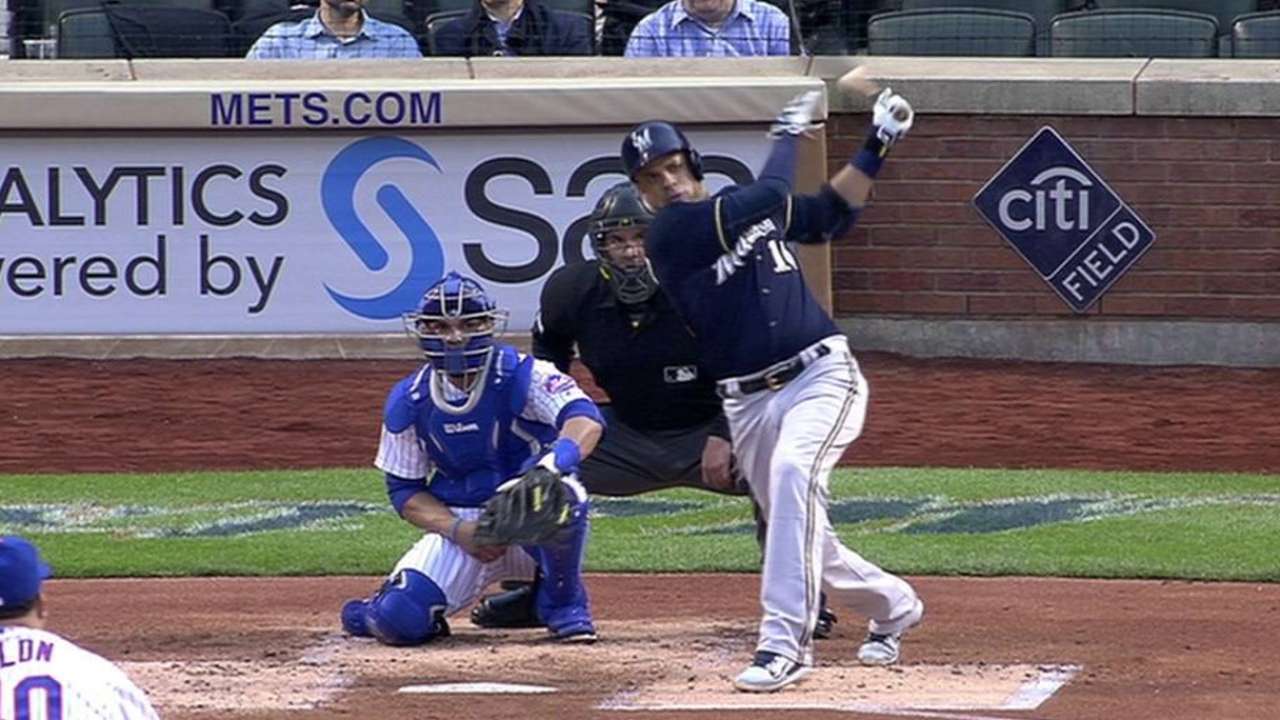 WHAT'S NEXT
Brewers: Right-hander Matt Garza starts for Milwaukee when the series continues Saturday night at 6:10 p.m. CT at Citi Field. He is 1-0 with a 1.64 ERA in his three previous starts against New York's National League club, including an eight-inning, two-hit, one-run outing for the Brewers last July. Garza has made four straight quality starts.
Mets: After opening the season 2-1 with a 0.93 ERA, right-hander Jacob deGrom has since gone 1-3 with a 5.64 mark. He'll look to right things Saturday in a 7:10 p.m. ET game against the Brewers at Citi Field.
Watch every out-of-market regular-season game live on MLB.TV.
Anthony DiComo is a reporter for MLB.com. Follow him on Twitter @AnthonyDiComo and Facebook, and listen to his podcast. Adam McCalvy is a reporter for MLB.com. Follow him on Twitter @AdamMcCalvy, like him on Facebook and listen to his podcast. This story was not subject to the approval of Major League Baseball or its clubs.