Lacking slider, Pineda roughed up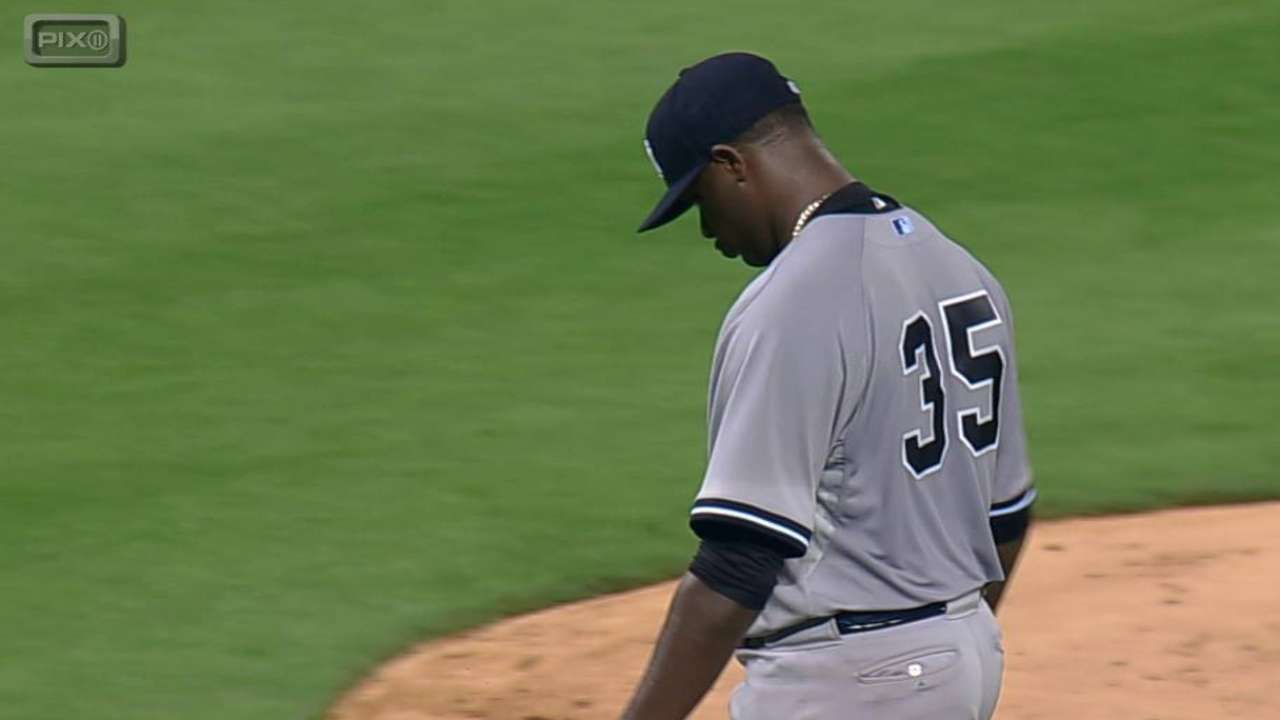 KANSAS CITY -- Michael Pineda followed one double-digit moment with another in successive starts, but unlike that 16-strikeout performance against the Orioles last Sunday afternoon, this was one he'd rather forget.
Without his good slider to keep the Royals off-balance, Pineda tied a career high by surrendering 10 hits and was chased in a six-run sixth inning, watching from the clubhouse as the Royals continued piling on in a 12-1 rout of the Yankees on Friday night at Kauffman Stadium.
"This lineup is pretty aggressive," Pineda said. "My slider is not the best today. I'll continue fighting, you know? I like to get the strikeouts, but for me, my biggest thing is getting deep in the game and getting outs. Today is not my best day, but it happens sometimes."
Pineda battled to keep the Royals to two runs through the first five innings before the contest got out of hand in the sixth, which started with the Yanks trailing, 2-1. Visited on the mound by manager Joe Girardi after a leadoff Alex Gordon double and a groundout, Pineda was challenged to get a strikeout with the infield in.
Pineda was unable to finish off Omar Infante, who launched a long run-scoring triple to deep center field. No. 9 hitter Paulo Orlando followed with a run-scoring single to left field, and that was it for Pineda, who ended the night charged with five runs in 5 1/3 innings.
"I didn't think he had his slider tonight," Girardi said. "You take one of their big pitches away, it's going to be more difficult. We've seen other teams try to approach him aggressively, too."
Girardi said that giving the Royals an extra out cost them more; David Carpenter induced an Alcides Escobar grounder on the only pitch he threw, but second baseman Stephen Drew tossed it wildly to Didi Gregorius for what was scored a fielder's choice, and seven more Royals came to the plate in the inning.
The loss extended the Yankees' losing streak to a season-high four games, and though they notched three extra-base hits -- an improvement over the zeros and ones that they have been popping up over the rest of the skid -- Girardi said that the pitching is what will keep his club going.
"It's not unusual," Girardi said. "You always talk about, what sustains you during the course of the season is pitching. Hitting can come and go. Right now it's not here, and we've got to find it."
Bryan Hoch is a reporter for MLB.com. Follow him on Twitter @bryanhoch, on Facebook and read his MLBlog, Bombers Beat. This story was not subject to the approval of Major League Baseball or its clubs.