MLB.com Columnist
Marty Noble
Harper's homer outburst stirs memories of Howard's huge week
Senators' enormous slugger hit 10 in six games during May 1968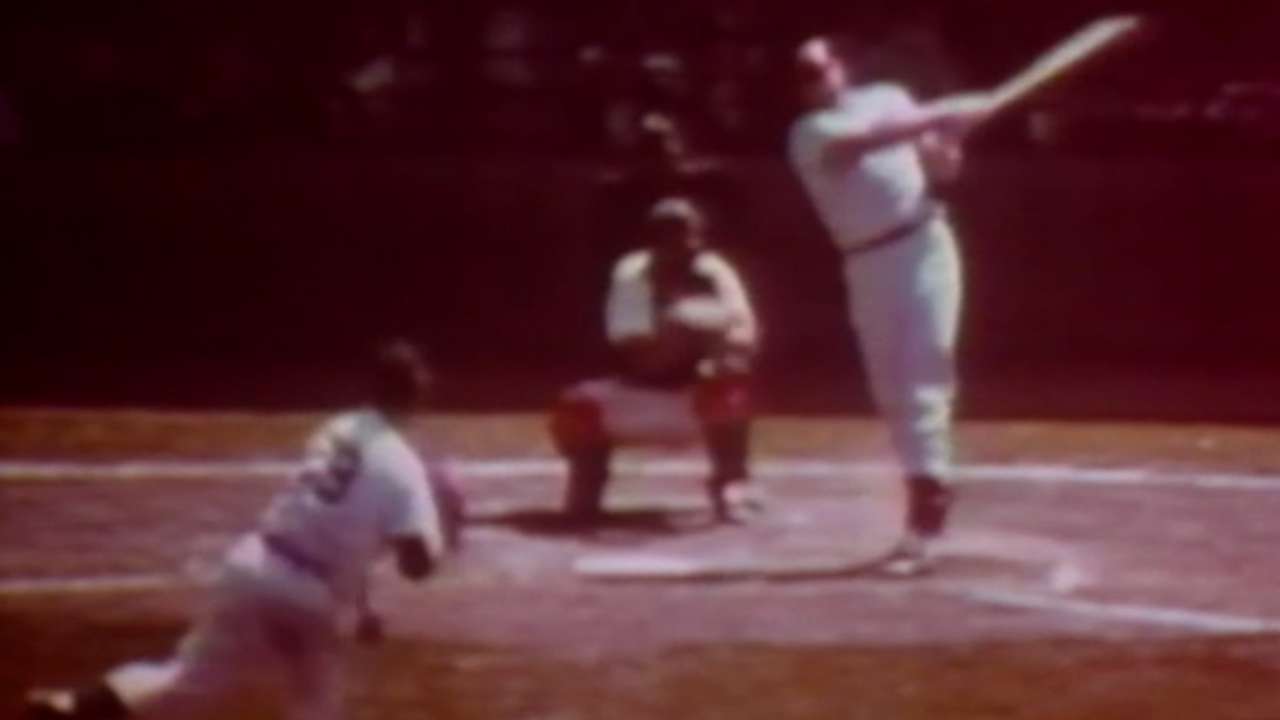 The mound was more than a bump then, and those who stood on it appeared particularly tall that year, 1968. It was the Year of the Pitcher. To read Bob Gibson's ERA, a microscope was required. And six other starters produced ERAs lower than 2.00. Thirteen of the 20 big league teams had ERAs lower than 3.00. The leagues batted .243 (National) and .230 (American). And those 20 teams produced 82 1-0 games. The only run in the All-Star Game was unearned. Had Carl Yastrzemski produced one fewer hit, the American League would have been without a .300 hitter.
From Fenway to L.A., the game was unbalanced, batting orders were unplugged, managers were unnerved and pitchers were unsympathetic. It was unprecedented, and hitters said, unfair.
For seven days in May, however, some members of the pitchers' fraternity were battered; they were all but unable to retire one man -- or keep him in the ballpark, for that matter. They were mere pawns in a preposterous power play by the game's reigning Paul Bunyon. For seven days that featured six remarkable games of the Washington Senators, Frank Howard treated pitchers like the Lilliputians they appeared to be when all 6-foot-8 inches of him stood in the batter's box.
Forty-seven years ago this weekend, Howard was in the midst of a performance that underscored the nickname he earned during his seven-plus seasons in D.C. -- The Capital Punisher. He hit 10 home runs in six games. Yes, 10 in six. In a span of seven days, he hit one more home run than 13 other bona fide sluggers -- Henry Aaron, Dick Allen, Ernie Banks, Willie Horton, Reggie Jackson, Harmon Killebrew, Mickey Mantle, Willie Mays, Willie McCovey, Ron Santo, Billy Williams, Jimmy Wynn and Yaz -- hit combined.
"I had my 10-game run that year and a few other shorter ones," Howard says these days. "But those guys were more consistent than I was."
But hotter? No! Eliminating the fruitless at-bats that immediately preceded or followed the outburst, Howard hit the 10 homers, plus a double and two singles, in merely 16 at-bats. Moreover, five of the homers were hit against two of the better pitchers in the American League, Mickey Lolich and Sudden Sam McDowell.
"Well, you know every dog has his day," Howard says. His words of characteristic modesty can't diminish the grandeur of what he had accomplished.
"I think I gave up the first one and the 10th one," Lolich said this week, forgetting he actually was responsible for Nos. 9 and 10, hit at Tiger Stadium in Detroit. "The only one anyone talks to me about was the last one. He hit it over the roof in left field. It kept going and going. I just have to say, with anyone else hitting, the pitcher has to throw pretty hard for a ball to go that far. And I had a good fastball. But Frank could have hit it out of anywhere. And he was hot then."
Hot doesn't cover it. Howard was sizzling. He batted .542 with a 1.833 slugging percentage in the six games (24 at-bats over all]. He drove in 17 runs and scored 10. Just as remarkable -- or foolish -- he was walked once, and not intentionally.
"It almost didn't make sense what he did that week," the late Eddie Brinkman, Howard's close friend and Senators roommate, said in 1983. "But nobody could've been that surprised. He had so much power, and he worked so hard. That week was just a reward for all the hours he'd put in."
Whether or not it made sense, that week made history. And today, even after challenges from Shawn Green, Don Mattingly, Jim Thome, Graig Nettles and Barry Bonds, Howard stands alone with 10 home runs in six games. After hitting six in three games last week, Bryce Harper -- The Capital Punisher Jr. -- approached the gigantic target who is his D.C. baseball ancestor, and caused us to remember the big Senators slugger. Harper finished with seven homers in his six-game stretch.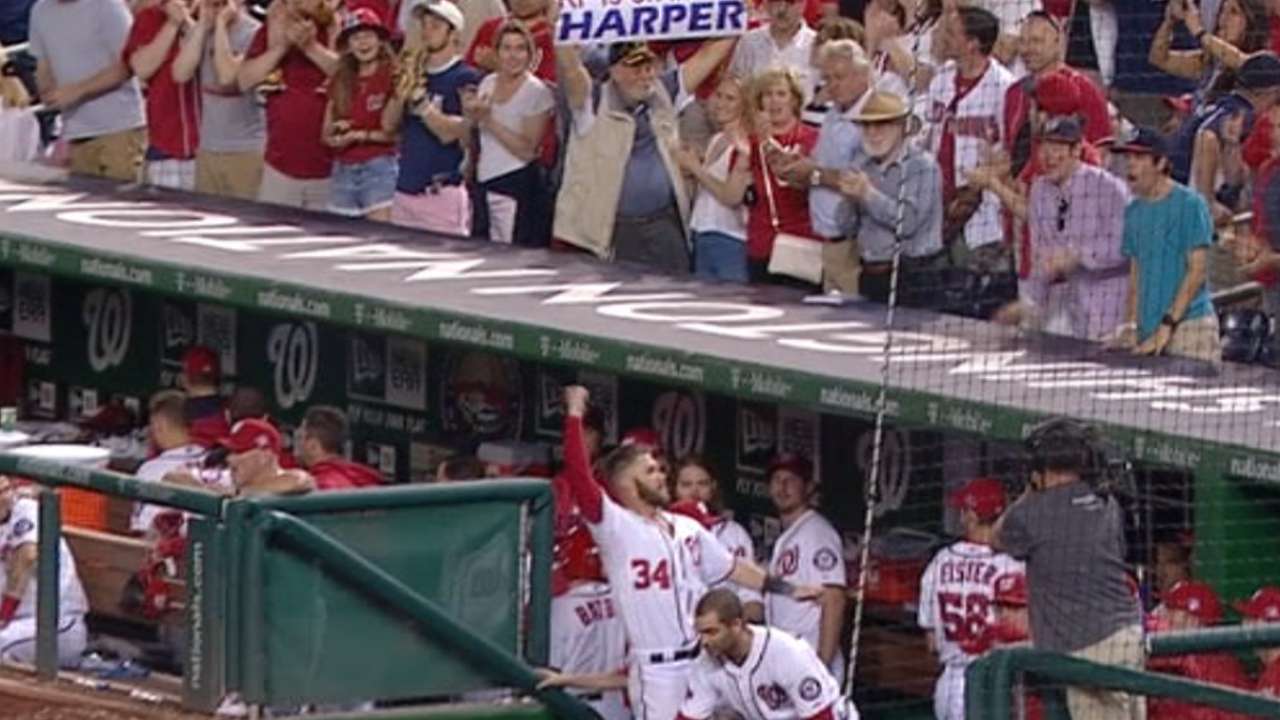 The game too often is reduced to numbers now. Not so much in 1968. But numbers routinely were applied to Howard. They preceded his name in print -- 6-8, 315 pounds. His dimensions served as a compound first name, much as they were for the late umpire "6-foot-6 Lee Weyer."
His primary nickname was Hondo. But his size and production prompted other names. The Capital Punisher was perfect and clever. Washington Monument wasn't bad. John Stearns, a Mets catcher while Howard was a Mets coach in the early 1980s, called him Hondopolis "because he's as big as a city."
Size always distinguished Howard, but those who came to know him personally discovered that graciousness, gentleness and good nature were his greatest attributes. He was a brute in the batter's box, and if someone crossed the line of acceptable behavior in his presence, he could become a menacing giant.
"We were going to have a good [brawl] with the Indians one day," said Lolich, a Tigers teammate late in Howard's career. "But Hondo ran out to get between us. He said, 'Anyone starts anything, they deal with me.' We went back to the dugouts."
No one with any sense of self-preservation crossed Frank Howard. Might was right.
"When he was with Detroit [in 1972 and '73], they had a bunch of big boys over there," the late George Bamberger said years ago, recalling a time when he was the Orioles' pitching coach. "They had Willie Horton, those two bruisers [Ike and Gates Brown] and [Bill] Freehan. We had Boog [Powell], Don Baylor and Elrod [Hendricks]. They had us in numbers and they had Hondo. He was the big difference. You'd see tough guys back down if Hondo got riled."
Howard also was a savage rebounder and the leading scorer for Ohio State from 1956-58. Even in basketball, few rivaled his size, strength and willingness to mix it up. He wasn't easily boxed out.
Moreover, Howard played both sports with energy and zest as uncommon as his size. As remarkable as his power was, it was 100-percent natural. He was a big, performance-enhanced lug, fueled by legendary breakfasts and late-night snacks and a work ethic second to none. Howard could handle a big dinner, too. While he worked as a coach with the Mets, the club published a cookbook with recipes from team personnel. Club vice president Jim Nagourney suggested one for Howard: "Slaughter a herd of beef. Season to taste."
In his time with the Mets, Howard routinely doubled up on breakfast. "Ma'am," he would say, "do it again." And those were the years he was trimming down to a mere 295 pounds. He would have a postgame salad and nothing more. And he worked relentlessly even then to stay fit.
"I can't imagine what he packed away when he played," Bamberger said. "They must have given him double meal money."
* * * * *
As a player, Howard regularly did things that stunned eye witnesses. While with the Dodgers, his first team, Howard crushed a double off the distant left-center field wall at Yankee Stadium against Whitey Ford in the 1963 World Series. Legend has it that shortstop Tony Kubek jumped for the line drive that carried 460 feet. Kubek had a better tale to use on Ford: "Ya know, Slick, if I just got my glove down in time, I would've had it."
When Howard, a tireless coach, hit fungoes to outfielders in Spring Training, he had to move as far as possible behind the plate, otherwise his fly balls would carry over fences 450 feet away.
When, in 2005, the Nationals moved into RFK Stadium in Washington, where Howard had played with the Senators, we once again got to take notice of two seats in the upper deck in center field that were marked because his ferocious swing had sent baseballs to those remote points. When Carlos Delgado, a well-muscled and accomplished slugger, was told of the marked seats, he assured teammates he could duplicate Howard's feat -- "if I hit from second base," he said.
The last of Howard's 10 in six, the one against Lolich at Tiger Stadium, was one of only three home runs ever hit to that neighborhood beyond the left-field stands.
"I was proud of that one," Howard says. "It had some big league carry to it. I had some pretty good swings over the years against left-handers [Lolich and McDowell threw left-handed]. And every once in a while I'd hit one off a righty."
He hit 382 home runs in his 16 seasons, 228 against right-handers. Roughly two-thirds of his at-bats came against them. Five of the 10 in those six games were against lefties.
"I got him out pretty good for a while," Lolich said. "But you couldn't throw him a fastball. He'd hit it nine miles. I'd throw him a lollipop curve. We had a signal for it. Freehan would call for it. Before I threw it, I'd peek over my shoulder to third, and [third baseman Don] Wert's eyes would be wide open. 'A hot one might be coming your way, Donnie.'"
* * * * *
Howard, now 78, was 31 years old when he pulverized the American League for seven days en route to winning the AL home run championship. Playing for the last-place Senators, he hit 44 that year. He hit 48 the next year and a league-leading 44 the one after that, totaling 136 from 1968-70. He hit singles, too. His batting average in that three-year sequence was .284. "I hit triples, ya know," he said Wednesday from his home outside D.C. And he did: he hit 35 in his career. But then again, he needed only 12 steps to cover the 270 feet from home to third. And what sensible third baseman would get in his way?
He retired from the game in 2008 after working for the Yankees as a two-league Baltimore-Washington scout. He's had some health issues. He wore out his knees and hips and one of his elbows, and the sun badly burned the skin on his ears. So he has a number of replacement parts. "I'm like the $6 Million Man without the $6 million," he says.
He remains larger than life, though when his phone rang last week and he was asked, "Is this Hondopolis?" his reply was, "What's left of him."
What's left is a pleasant and content near octogenarian with a legacy of kindness, off-the-charts strength and dozens of anecdotes folks love to tell and hear and find unfathomable. "I always say that fella Ripley might have to give me my own chapter in his book," Howard says. "I had God-given talent, and I was fortunate enough to do some big things."
"You could always depend on Hondo to one-up you," former Mets pitcher and Cubs general manager Ed Lynch said. "He never says a word about all he's done. But he is bigger, stronger, nicer -- and more modest -- than anyone else. Hondo doesn't live like most of us. His world is different ... and not just because he has to bend to reach a doorknob.
"If he can't find a parking space, he can just get out of his car and pick up another and take the spot. But he's too nice to do that ... thank God."
Marty Noble is a columnist for MLB.com. This story was not subject to the approval of Major League Baseball or its clubs.