MLB.com Columnist
Phil Rogers
Griffey, Manfred meet with Boys and Girls Club
Former slugger, new Commissioner speak at organization's 109th national conference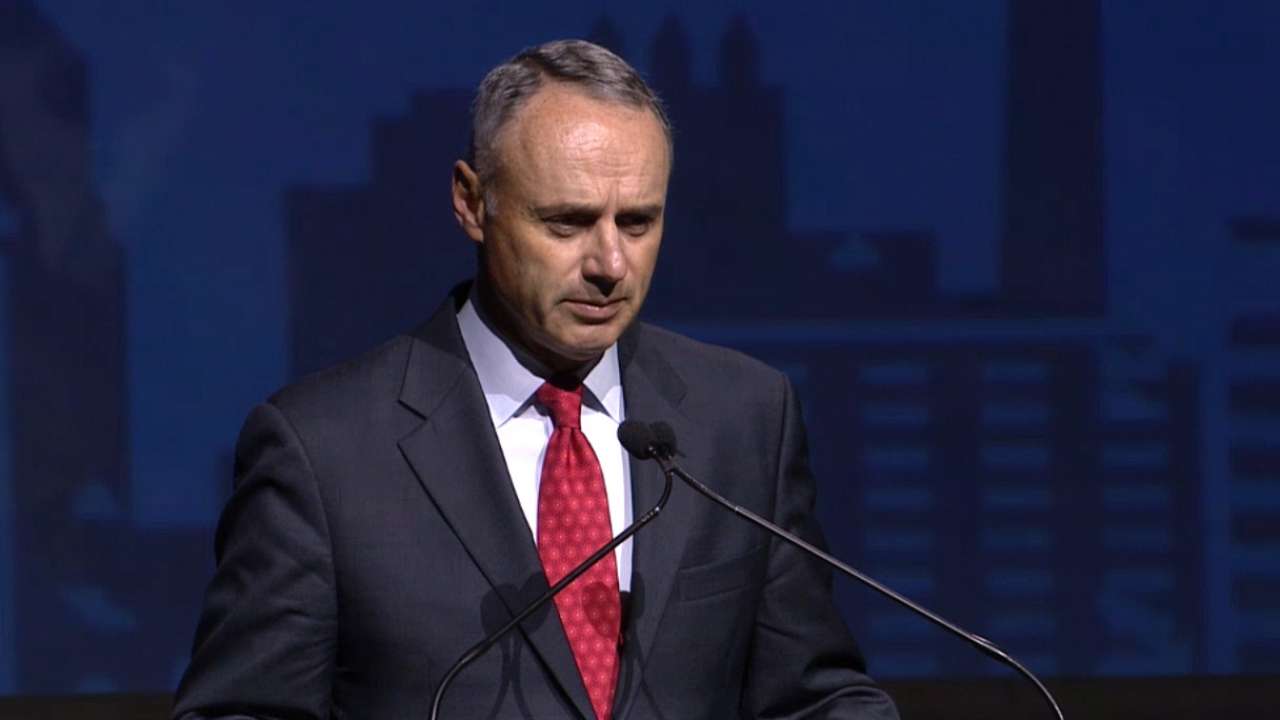 CHICAGO -- Ken Griffey Jr., one of baseball's greatest center fielders of all-time, and Commissioner Rob Manfred figure to share a stage in Cooperstown, N.Y., only 14 months from now. But before Griffey appears on a Hall of Fame ballot for the first time, he and Manfred are working together to increase an already strong bond between baseball and the Boys & Girls Clubs of America.
Manfred was a keynote speaker at Friday morning's general session of the Boys & Girls Club's 109th national conference, held at the Chicago Hilton. He was introduced by Griffey, whose relationship with the organization began when he donated the van he received for winning the MVP Award at the 1992 All-Star Game in San Diego.
While that was a meaningful donation, it was not as personal as the one his wife, Melissa, made for him five years ago.
Griffey, who was 19 when he debuted for the 1989 Mariners, returned to Seattle in his 21st season to finish his career. He would stay for one more year after hitting 19 home runs in a limited role in 2009, but he was batting .184 at the end of May the next season, which prompted him to abruptly retire.
Griffey hopped in his car one morning and started the 3,072-mile drive from Seattle to his home in Florida, with few knowing he wouldn't be at Safeco Field that night. Only after he had put many miles behind him did he call his agent and the team to tell them he had decided to quit.
Griffey said on Friday that he had only been home in Orlando, Fla., for four days when he awoke one morning to find a van from the Boys & Girls Clubs of Central Florida parked in his driveway.
"I asked my wife why there was a van outside our house," Griffey said. "She said, 'I just donated all your baseball equipment to the Boys & Girls Club. I said, 'I'll get even one day. I'm going to have a van come and pick up all your shoes.' I'm still trying to work that out."
Griffey told the general session about a time when then-MLB disciplinarian Frank Robinson -- the godfather of one of his three children -- had fined him $10,000 after he was ejected from a game. He appealed the fine, but not in the way most players would.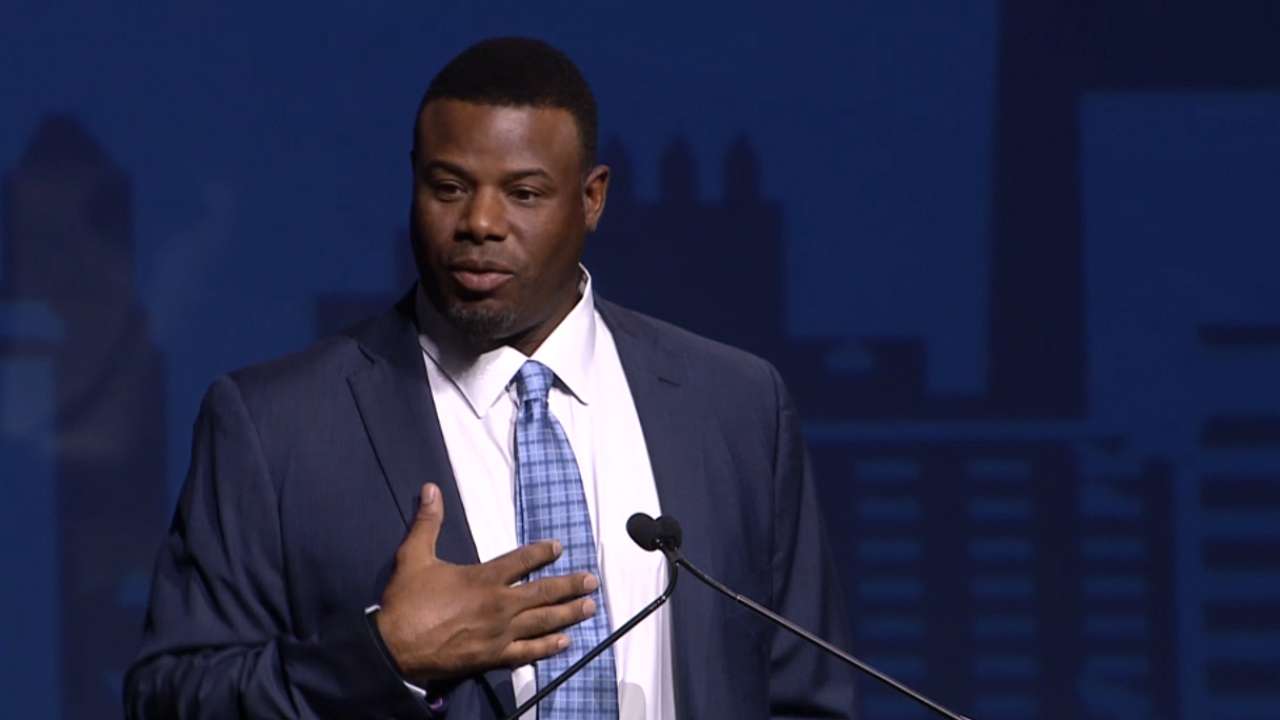 "The more I talked to him, the more the fine was increasing," Griffey said.
Rather than pay MLB directly, Griffey said he worked out a deal to contribute to the Boys & Girls Club of Greater Cincinnati. He said the Reds, his team at the time, agreed to match his payment, and then he successfully appealed to Nike to match the combined payment. Thus a $10,000 fine grew into a $40,000 donation for a great cause.
Jack L. Stahl, chairman of the board for the Boys & Girls Clubs of America, speaks proudly about how his organization currently connects with about 4 million children and teenagers through its various programs, most in education, sports or the arts.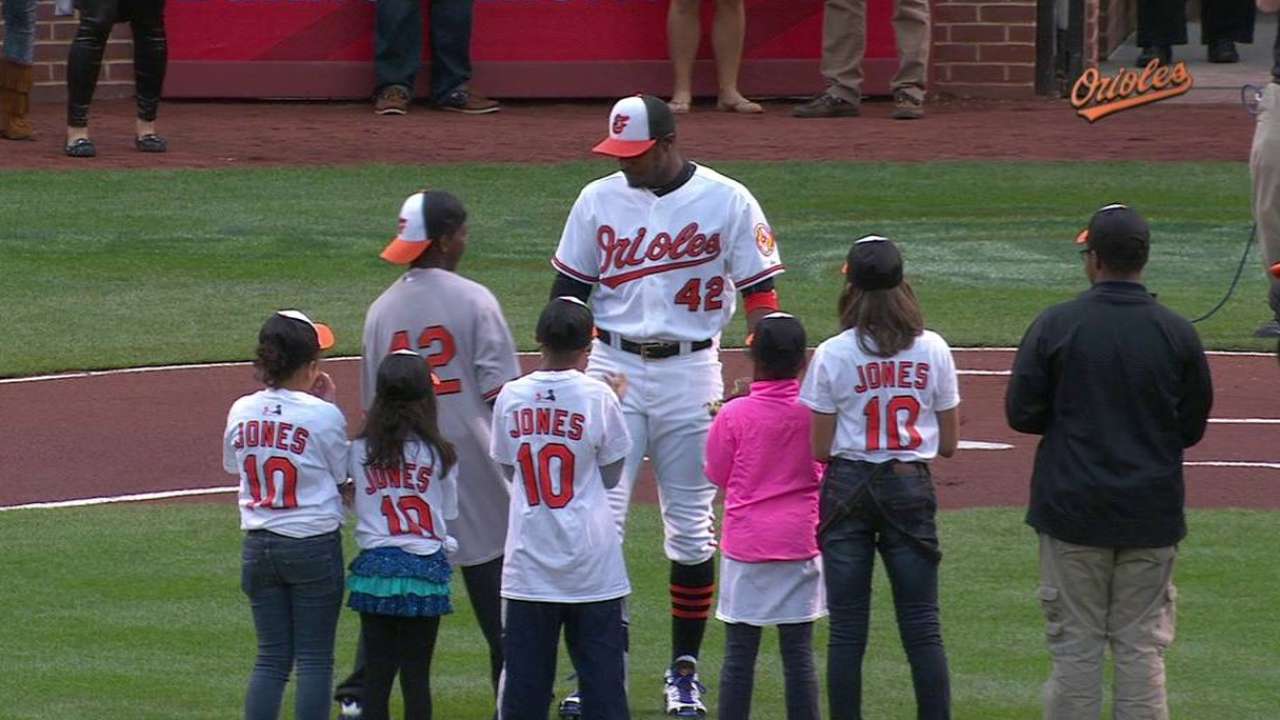 Major League Baseball Charities has been a Boys & Girls Club partner since 1997. MLB COO Tony Petitti is joining Griffey on the board of governors as baseball seeks to play an even bigger role.
"We've had a two-decade relationship that we see as mutually beneficial," Manfred said. "It's based on shared values, like service, personal growth, education, leadership and -- maybe most importantly -- sportsmanship. Without the Boys & Girls Clubs, we would not have Hall of Famers Frank Robinson, Tom Glavine, Joe Morgan, our [Chicago] hero Frank Thomas and Tony La Russa."
In the four months since Manfred replaced Bud Selig as Commissioner, he has made it clear that he believes the sport's biggest priority is appealing as much as possible to a young audience.
"No institution can stand still," Manfred said. "One of the big focuses for us in my short time here has been outreach to young people. Why is that? The two strongest predictors of whether you're a baseball fan are whether you played the game as a kid and how old you are when someone takes you to a Major League ballpark for the first time. We have to be competitive in the youth's space.
"Kids have far more alternatives than we did as young kids. It used to be that every spring, you played baseball. Now kids have all sorts of choices in every season. We need to be competitive in that space."
Stahl cited the historic support that MLB has given the Boys & Girls Club. It has produced and broadcast 50 public service announcements, and it provides advertising in ballparks. Manfred played a montage of clips from those PSA and said a new PSA is in the works featuring Rays pitcher Chris Archer.
While at the Hilton, Manfred also commented on several other issues.
• Manfred has visited with players and team executives from 22 teams during his introductory tour and has scheduled visits with the remaining eight, with the last of those set for mid-June. He said the support for MLB's pace-of-play measures has been gratifying.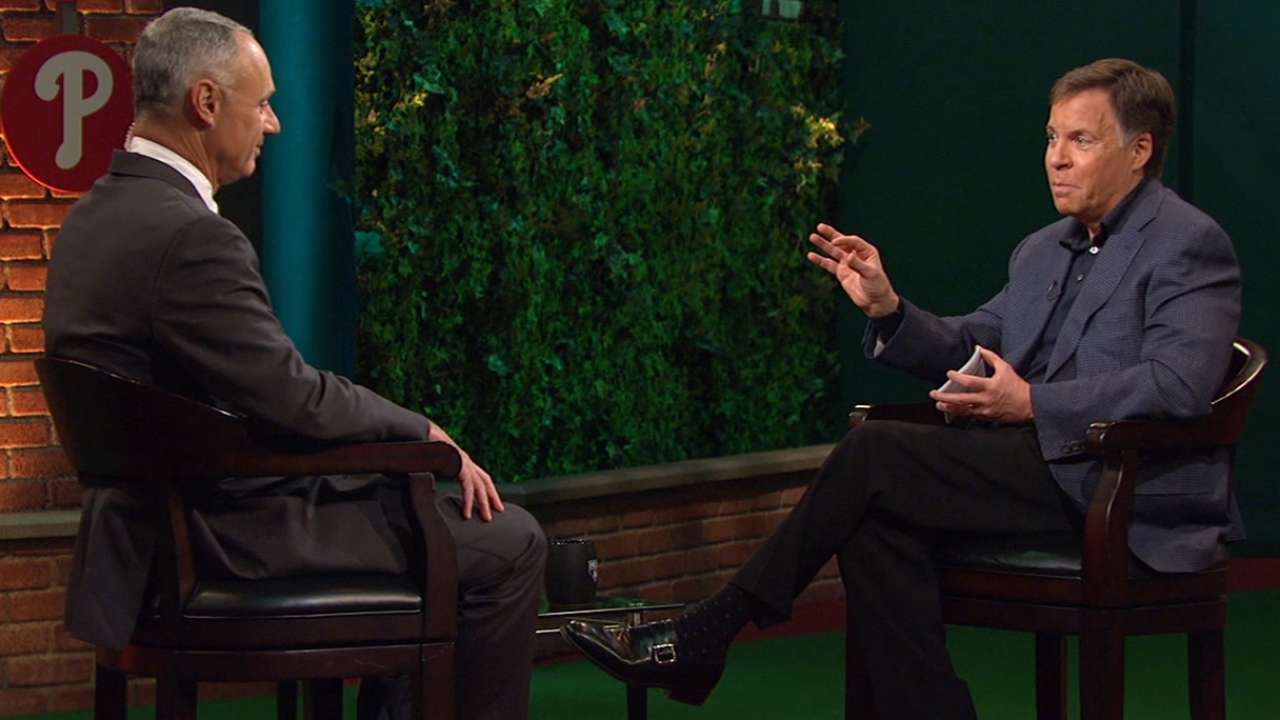 "The single biggest takeaway from the conversations with the players has been the level of cooperation we've gotten on the pace-of-game issues," Manfred said. "I think the players understand that pace of game is a fan-responsive initiative. We've tried to reinforce that during the conversation, and I feel like there's been a very positive response from the players."
• Manfred is intrigued by having the Astros in first place after six consecutive losing seasons.
"I find that to be one of the most interesting and exciting things in the game," he said. "I think Houston is a great example of a market facing some obstacles but still finding a strategy within the system to get better, and really to get better in a hurry, when you think about it."
• Manfred is likewise happy to see the Cubs above .500 after five consecutive losing seasons.
"A large-market iconic franchise like the Cubs playing well is good for the sport," he said. "Just like we want to see small markets show they can be competitive -- Kansas City is a great example of that -- it's good for the game and healthy for the sport when our iconic big-market teams play well."
• Manfred expects another season in which most teams will be within sight of a postseason spot entering the final push in September.
"It is early, but it looks like we're going to have some good races," he said. "That's great for us, obviously."
• Manfred has been delighted by the emergence of Bryce Harper at the same time that talented newcomers Kris Bryant, Joc Pederson, Jorge Soler, Carlos Rodon and Noah Syndergaard are making their impact.
"You have to keep in mind how young [Harper, 22] is still," Manfred said. "It takes time for people to reach their full potential. He's one of a group of players who is very interesting from a fan perspective. It looks like he's going to be a great, great player on the field."
• There will be no significant updates on the stadium issues in Oakland and Tampa-St. Petersburg at next week's Owners Meetings.
"There's nothing that will happen in the Owners Meetings that will move those issues," Manfred said. "We continue to work closely with the local ownership in both those markets and are committed to the idea that we need a resolution to both of those stadium issues."
Phil Rogers is a columnist for MLB.com. This story was not subject to the approval of Major League Baseball or its clubs.