Shields, Ross supply starts the Padres need
Manager Black seeking strong efforts throughout the rotation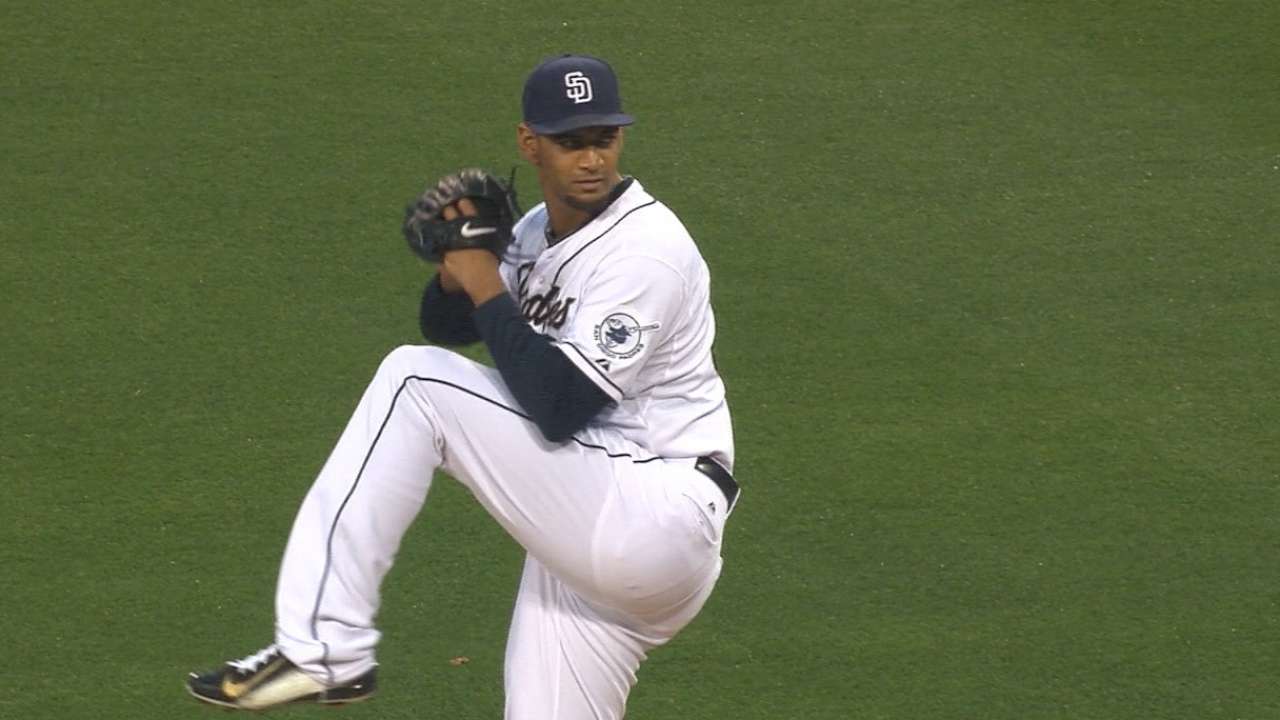 Bill Center, longtime sportswriter for U-T San Diego, is an employee of the Padres.
The Padres are two-fifths of the way toward addressing one of manager Bud Black's biggest concerns over the first month of the season.
"We haven't gotten on that roll all the way through a turn of the rotation," Black said Thursday afternoon.
San Diego actually leads the Major Leagues with 21 quality starts in 36 games. But "quality start" is somewhat misleading. Allowing three runs in six innings is a 4.50 ERA -- not exactly dominant.
Black wants more from his starting rotation. He wants his starters to give him five straight games where they take command of the game. That's how winning streaks are launched. He has two.
James Shields allowed one run on six hits and three walks with nine strikeouts over six innings in the Padres' 4-2 win in Seattle on Wednesday. A night later, Tyson Ross overcame a one-hour and 56-minute rain delay at Petco Park to allow two runs on five hits and three walks with six strikeouts in five-plus innings.
Now it's up to Andrew Cashner, Ian Kennedy and Odrisamer Despaigne.
"We're not getting the consistent starting pitching yet," said Black. "Pitching, including the bullpen has been the frustrating part. The stuff is good. The execution is not where it needs to be. We'll get rolling."
Shields and Ross have rolled the past two nights in two games in which San Diego never trailed. Shields opened with four straight scoreless innings. Ross opened with three straight scoreless innings.
Six pitches and one strikeout into Thursday's game, Ross's work was interrupted by the fifth -- and longest -- rain delay in Petco Park history. He returned when the game resumed to throw another 78 pitches in a yeoman effort that saved the rotation and/or bullpen.
From the scorebook
• Ross now owns a 2.22 ERA in 33 games (24 starts) at Petco Park. It is the fourth-lowest ERA in Petco Park history behind Mike Adams (1.28), Cashner (2.05) and Luke Gregerson (2.05). Over his last 11 starts at Petco Park dating back to last June 21, Ross is 7-3 with a 2.31 ERA, allowing two or fewer earned runs in nine of those outings. However, Ross is 9-11 overall in 23 starts since last June 21, despite a 2.88 ERA.
• Infielder Cory Spangenberg doubled his career home run total with two in Thursday night's game. The two were also his first home runs in a non-pinch-hitting role. He became the fourth rookie in Padres history to hit multiple home runs in a game and the first since Tommy Medica last Aug. 1. Spangenberg is 4-for-8 with the two homers, three RBIs and three runs scored in his last two starts and is hitting .360 (9-for-25) in his last eight games. He is hitting .333 (12-for-36) this month, with a triple, two homers, three RBIs, eight runs scored, four steals and seven walks for a .442 on-base percentage, a .611 on-base percentage and a 1.053 OPS.
• Catcher Derek Norris came within one RBI of his career high Thursday night while driving in five runs for the fourth time in his career. He opened the game with a three-run homer in the first and hit a two-run triple in the second to mark only the seventh time in Padres history -- and the first time since Nick Hundley on April 22, 2010 -- that a San Diego catcher had a triple and a homer in the same game.
• Thursday's rain delay was the first at Petco Park in 337 games dating back to April 8, 2011, against the Dodgers. It was the fifth rain delay at Petco Park and the sixth time a game had been delayed at the Padres' downtown home. On June 2, 2009, San Diego's game vs. Houston was delayed when bees swarmed around a folding chair down the left-field foul line.