New chapter for Getz in behind-the-scenes gig
Former Royals second baseman seizes chance to work in player development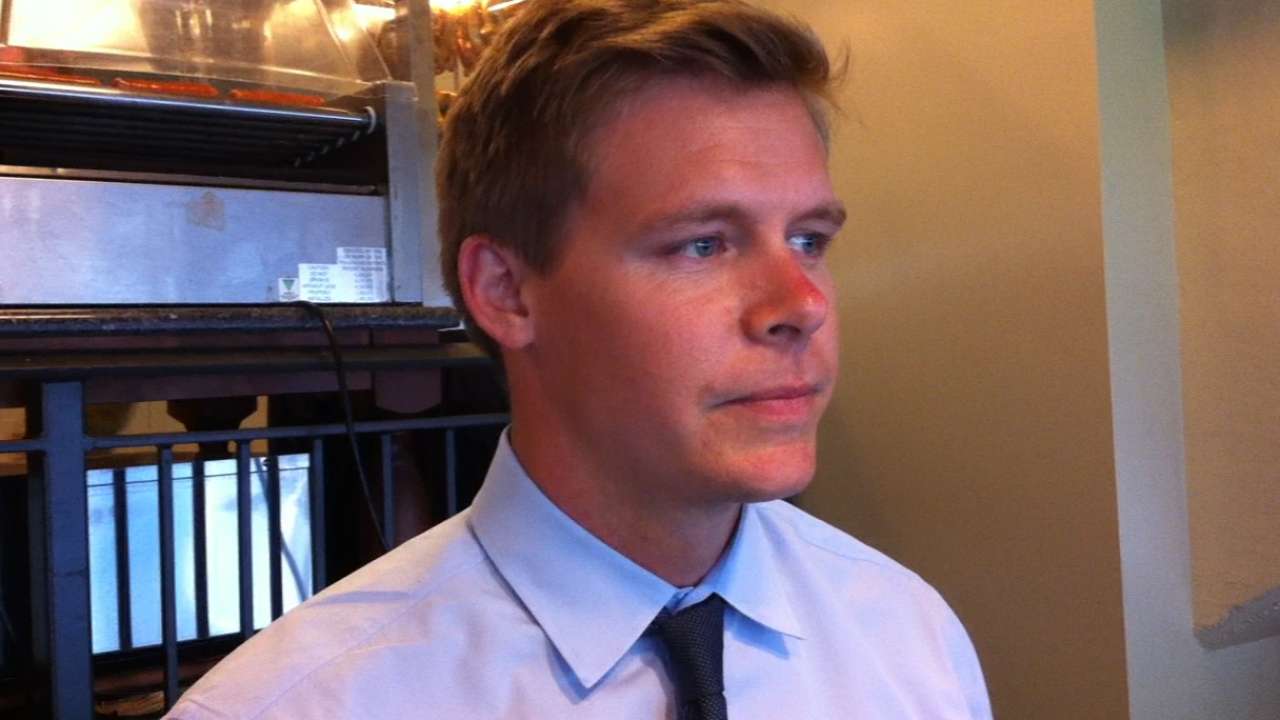 KANSAS CITY -- Sometime in early May last season, seven-year veteran and former Royals second baseman Chris Getz examined his life and decided his playing days in baseball were done.
Getz, who played for the Royals from 2010-13, was not re-signed by Kansas City after that 2013 season as the club instead signed Omar Infante to a four-year deal.
Getz was disappointed to not return to the Royals, and he wound up signing with Toronto. But after being shuffled between the Blue Jays' big league club and their Triple-A affiliate in Buffalo early last season, he had simply had enough.
"It was a combination of things -- the way the offseason went, my age [31], we were about to have a baby, injuries," Getz said. "The opportunity window was getting smaller. I was spending more time in Triple-A and I just reached a point where I was looking forward to doing other things.
"I wasn't getting the enjoyment I once did, and I didn't have the desire I once had. I couldn't pinpoint why. But I knew it was time to turn the page on that and start working on something else."
Getz and his wife, Nicole, contemplated what to do next. He talked to Royals general manager Dayton Moore, vice president J.J. Picollo and assistant general manager Jin Wong about potential opportunities. There was discussion about Getz joining Kansas City's broadcast booth.
And there was discussion about Getz joining the Royals' front office, a notion that intrigued Getz, known as a cerebral player on the field.
Soon after the 2014 World Series, Moore called to offer Getz a position as a baseball operations assistant in player development. Getz said yes.
"While I was playing, I thought about doing something like this," Getz said. "Granted, I didn't think it would happen as quickly as it did. I certainly had interest in it."
Getz also had interest in coaching. But he became fascinated with the player development side of the game.
Each day, Getz gets reports from the Royals' Minor League teams and relays it to Ronnie Richardson, director of Minor League operations.
"I like it," Getz said. "I travel to see the teams, look over the production and health of the players."
Meanwhile, Getz and Nicole have settled back into life in Kansas City, where they had made a home for four years, along with their infant son, Luke. Nicole gave her husband's career decision a big thumbs up.
"She is learning, just like me," Getz said. "But we really like Kansas City."
Nicole, incidentally, has had her moment in the big leagues as well -- she was a contestant on the reality show "Amazing Race" back in 2013, an experience neither one likely will soon forget. She finished sixth.
"When she was on, it was the first time I had ever watched the show," Getz said. "They filmed it in June. I wasn't able to talk to her at all during filming. Someone from the show would talk to me every Wednesday just to let me know she was OK.
"Then I had to sign a contract that I wouldn't say anything about who won until the show aired and was over."
And now, could Getz be on his own amazing race toward a seat in the general manager's chair someday?
"I have no idea," he said, laughing. "It's tough to say. I'm really learning a lot about this side of the game.
"Maybe. I'm just trying to find things I'm passionate about. I really like scouting and player development. And I like just being involved."
Jeffrey Flanagan is a reporter for MLB.com. Follow him on Twitter at @FlannyMLB. This story was not subject to the approval of Major League Baseball or its clubs.