Victorino flashes vintage self in breakout night
Dazzling double play, home run prove crucial in win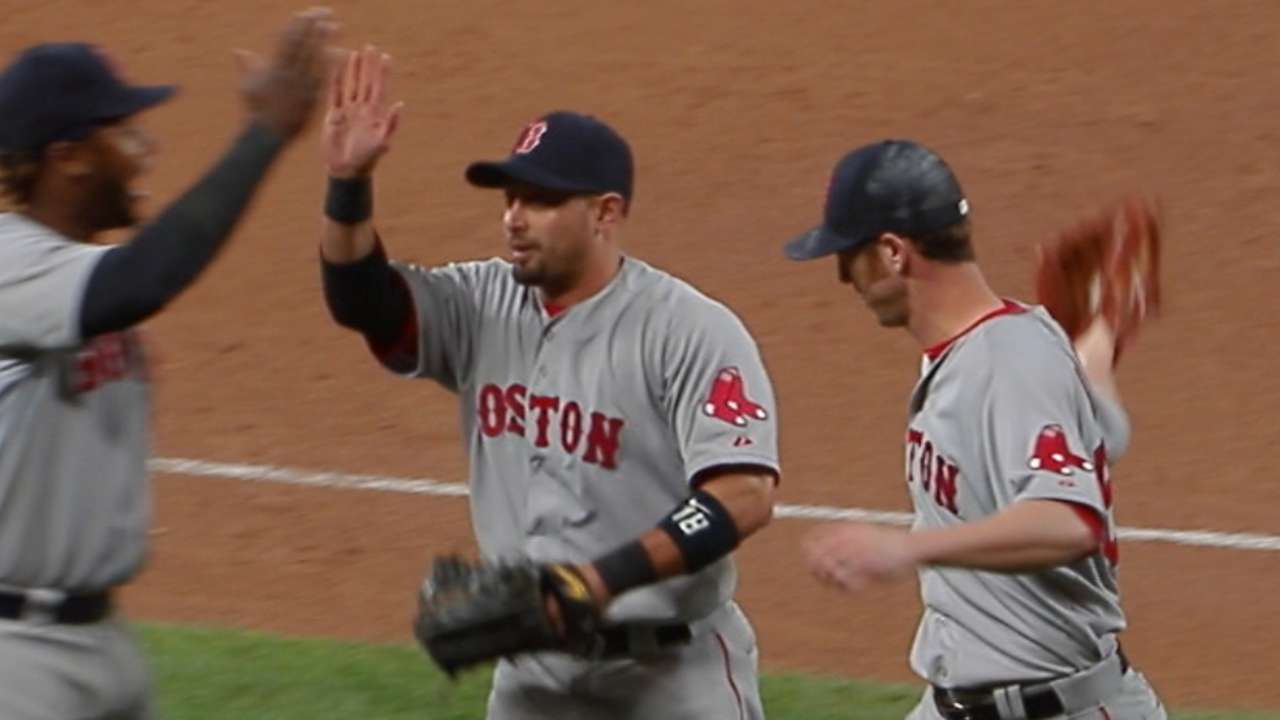 SEATTLE -- An eventually exhilarating play started with Shane Victorino going on a full sprint to the wall in right. He then made an acrobatic reach and really had no clue if the ball was going to land in his glove.
But it did, and Victorino still had another play to make, firing to first to nail baserunner Chris Taylor for a spectacular double play that ended the seventh inning.
It was the play for the Red Sox in a 2-1 victory over the Mariners on Thursday night. And it will undoubtedly go down as one of the highlight-reel plays of the season.
"I threw my glove up there and it landed in my glove. Honestly, when that ball was hit, I tried to get the best route, tried to get to the ball as quick as I could, and there was a point where I just jumped in the air and hoped it landed in my glove," Victorino said. "When I felt it go in my glove, I told myself, turn back around and see what was going on. Saw Taylor at second and tried to make the best throw. I'll be the first to say I definitely got lucky on that play."
And when it was completed by first baseman Mike Napoli, Victorino fired his right arm forward in triumph.
Suddenly, all the hours Victorino had spent in the training room since his back surgery last August had become worthwhile.
"You know, I was definitely excited," Victorino said. "That's the kind of emotion that I wish I could do every day. Obviously I haven't been [able to], the last year and a half, but as I said, it's about tonight and coming back off the DL, moving forward, that's what I'm focused on. I'm trying to bring emotion every night.
"It's always easy to bring emotion when you make a great play like that, but like I said, just watching these guys, not being out there, it's been eating at me. It's about being out there, being healthy, and having fun doing it. I'm excited."
Earlier in the game, Victorino drilled a solo homer off Roenis Elias that snapped a scoreless while also belting a single and drawing a walk.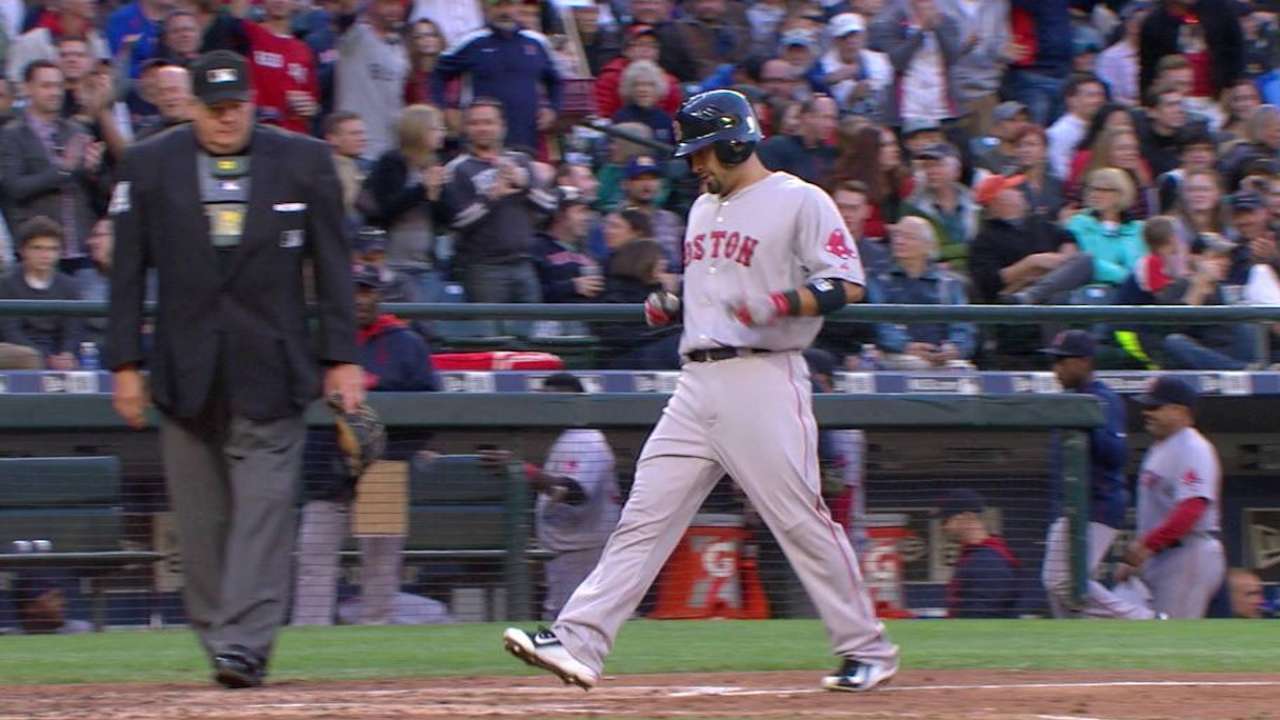 These were the type of moments Red Sox manager John Farrell envisioned at the beginning of Spring Training when he said that if "fully healthy and fully capable," Victorino would be his right fielder.
"Tonight was a flashback to two years ago for Vic," Farrell said. "You give him a lot of credit for all he's been through physically. To see him come back and play an all-around game as he did tonight, on base three times. He backspins a fastball from Elias for the home run. He's a difference-maker when he's on the field and when he's healthy."
As hard as Victorino is working to be that player he was in 2013, he acknowledges that it's a work in progress.
For now, he'll play against lefties with certainly the chance to prove that he should play more.
"It definitely feels great," Victorino said. "You say impact the game on both sides, and that's what I love. There's no better way to explain it. I love to be able to do that. When you're injured, you can't. As I said, I'm not making any excuses of why things haven't happened to this point.
"I'm getting my opportunity still, even with the results that have happened. I'm just taking one game at a time and look forward and try to be the best player I can be. It's getting better, and knock on wood, and hopefully it stays that way."
Ian Browne is a reporter for MLB.com. This story was not subject to the approval of Major League Baseball or its clubs.