Rox hope game-winner starts CarGo hot streak
Slumping outfielder feels huge relief after snapping club's skid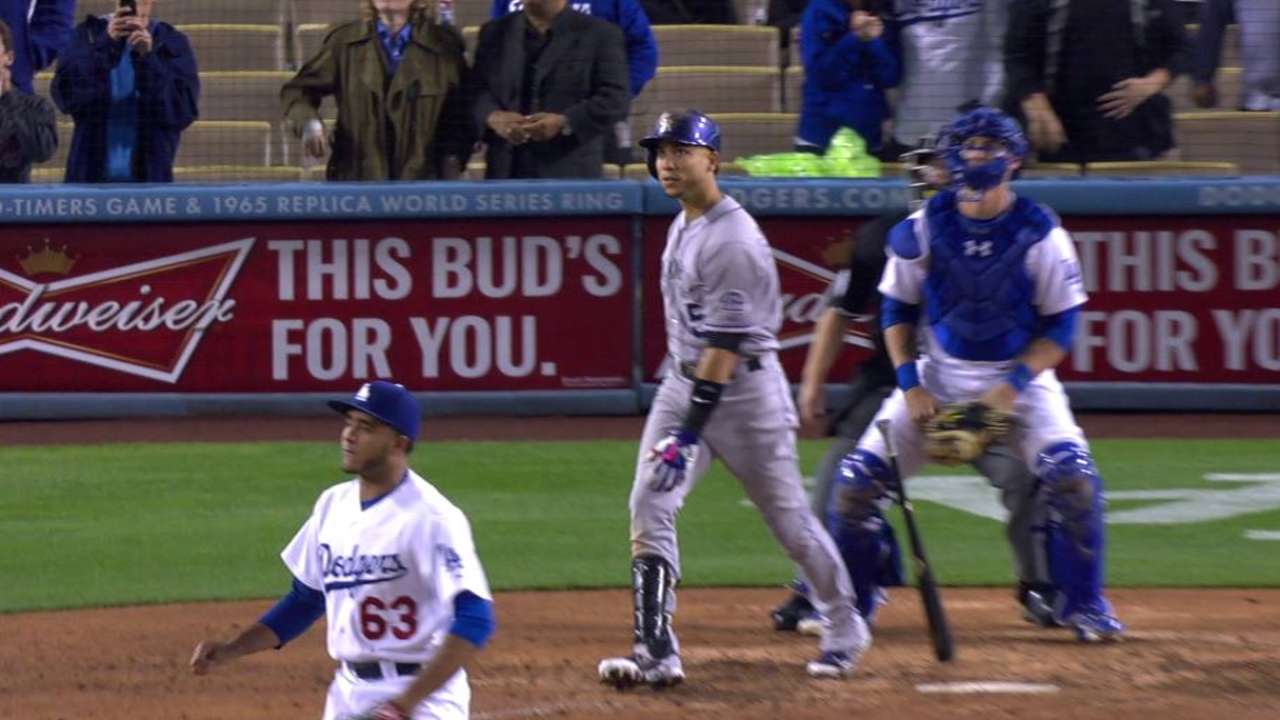 LOS ANGELES -- Carlos Gonzalez's violent swing, gentle bat drop and confident sashay out of the batter's box, which has been missing most of the year, showed up at a needed time. His three-run, ninth-inning homer gave the Rockies a 5-4 victory over the Dodgers on Thursday night to end a losing streak at 11 games.
"It feels like you dropped 500 pounds out of your body," Gonzaelz said before breaking into the grin and laugh that had also been missing, not only from his face but from the collective countenance of his team.
The Rockies had lost 11 straight going into Thursday's game, which had a 1-hour, 25-minute rain delay in the sixth inning. Because the Rockies endured three rainouts and a rain-shortened game during their last homestand, it had been 16 days since the last victory.
Had Gonzalez had not swatted Yimi Garcia's 94-mph fastball into the right-center-field seats, the Rockies would enter Friday against Dodgers ace Clayton Kershaw trying to avoid matching the franchise's record losing streak, set in the club's inaugural year of 1993.
"That's the last thing we want everybody to write or talk about," Gonzalez said. "We want to change that."
Gonzalez has been emblematic of a club with exponentially more ability than their 2015 ledger shows.
The homer was just Gonzalez's third, and his first since April 25. If not for the big ninth-inning swing, after singles by Nick Hundley and Drew Stubbs, Gonzalez would be forcing himself to believe his walks in his third and fourth plate appearances were positives. But before that, against Dodgers lefty starter Brett Anderson, he grounded out and fanned to raise his strikeout total to 28, in just 104 at-bats.
The objective truth is that Gonzalez finished Thursday with a .194 batting average. But when a hitter like Gonzalez can send Garcia's angry fastball 427 feet as if it's no big deal, folks look past the cold facts and believe they're witnessing a hitter turn hot.
"He has shown some signs, but it's funny with hitters like that -- hopefully something like this will relax them and get that confidence back," said Rockies bench coach Tom Runnells, who ran the club while manager Walt Weiss recovers from an appendectomy he underwent Wednesday.
Rockies teammate Wilin Rosario, who homered and singled off Anderson before the delay to help keep his team competitive, predicted a Gonzalez hot streak.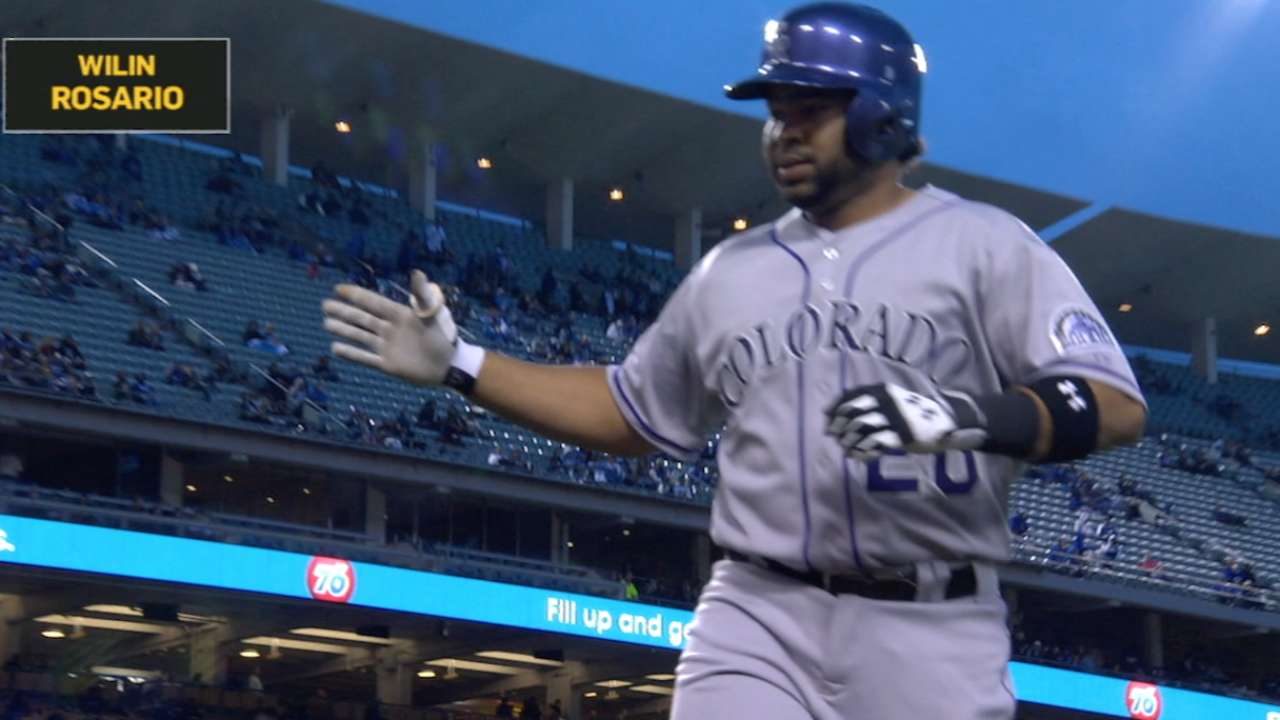 "That guy can turn around, and we've got a demonstration, what he did tonight," Rosario said.
The dream scenario would be Gonzalez's homer starts a hot streak. The slump is reminiscent of 2009, when the Rockies called up Gonzalez from Triple-A on June 5 and watched him hit .223 with 30 strikeouts in his first 114 plate appearances. From July 31 to season's end he hit .320, the next year he won the National League batting title, and he earned All-Star Game trips in 2012 and 2013 before injuries marred last season.
But for now, enjoying Thursday's swing is enough.
"That's why we keep battling every day," Gonzalez said. "It doesn't matter how bad you do, when that happens, that's what it's all about."
Thomas Harding is a reporter for MLB.com. Follow him on Twitter @harding_at_mlb, and like his Facebook page. This story was not subject to the approval of Major League Baseball or its clubs.