Hutchison's outing good, but not good enough
Fans 9, hands over two-run lead to bullpen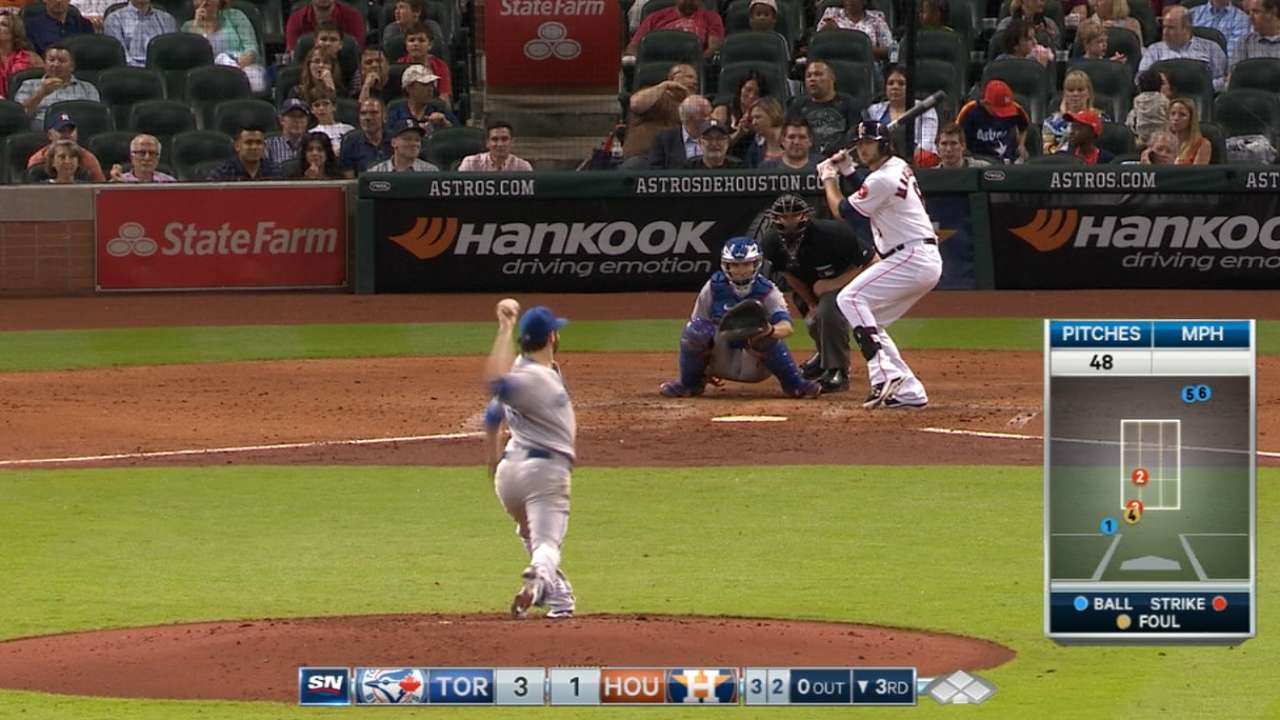 HOUSTON -- For six innings Thursday night, it looked like the exact kind of night Blue Jays starter Drew Hutchison needed.
One inning later, it was all spoiled.
Toronto couldn't back up Hutchison's six innings of two-run ball, unable to run away with the game in the top of the seventh before the bullpen surrendered a two-run lead in the frame's bottom half during a 6-4 loss against the Astros at Minute Maid Park.
"It was all set up," said Blue Jays manager John Gibbons. "We really felt nice going into that seventh inning and on. Just didn't work out."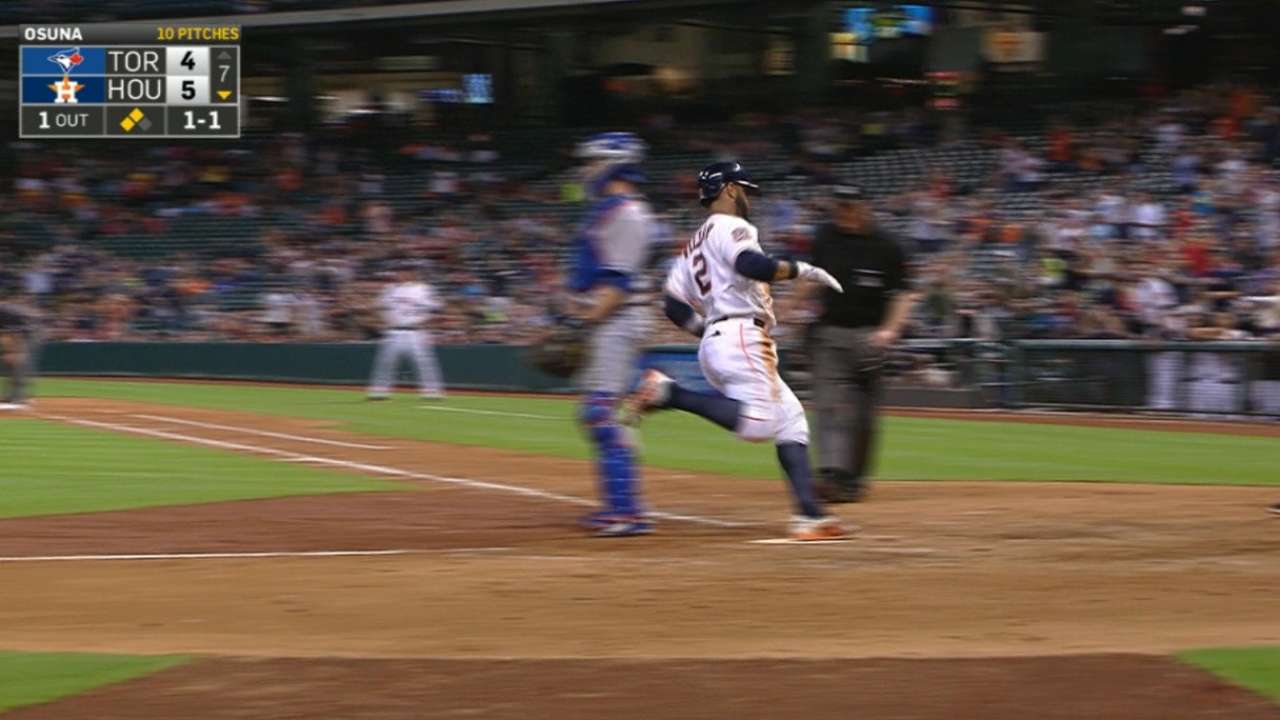 Lefty Aaron Loup ran into tough luck with some seeing-eye pokes, sure, but there's no good way to slice a three-hit, four-run effort in which an out wasn't recorded.
"It's tough, regardless of how you cut it," Loup said.
Preston Tucker's double halved the lead following a walk to Chris Carter and a broken-bat single by Jason Castro. The real blow was Jonathan Villar's chopper that bounded into the right-field corner for a go-ahead double. Gibbons was more frustrated with the walk than the fortuitous hits.
"That's baseball sometimes," the manager said. "The walk hurt, the one to Carter. That kind of set everything up, and you had some guys at the bottom of the order who had been struggling against lefties, but they came through tonight."
Gibbons spoke before the game about wanting to see some sort of consistency out of the highly-touted Hutchison with the season in full bloom. He mostly got his wish.
After a 27-pitch first inning, including three baserunners and an earned run, Hutchison was electric the rest of the way. He pinpointed his fastball, was able to confidently throw the changeup and even managed to utilize his hot-and-cold slider.
"I made good pitches, had kind of a long inning there in the first, but I did a good job coming back and getting into that rhythm," Hutchison said.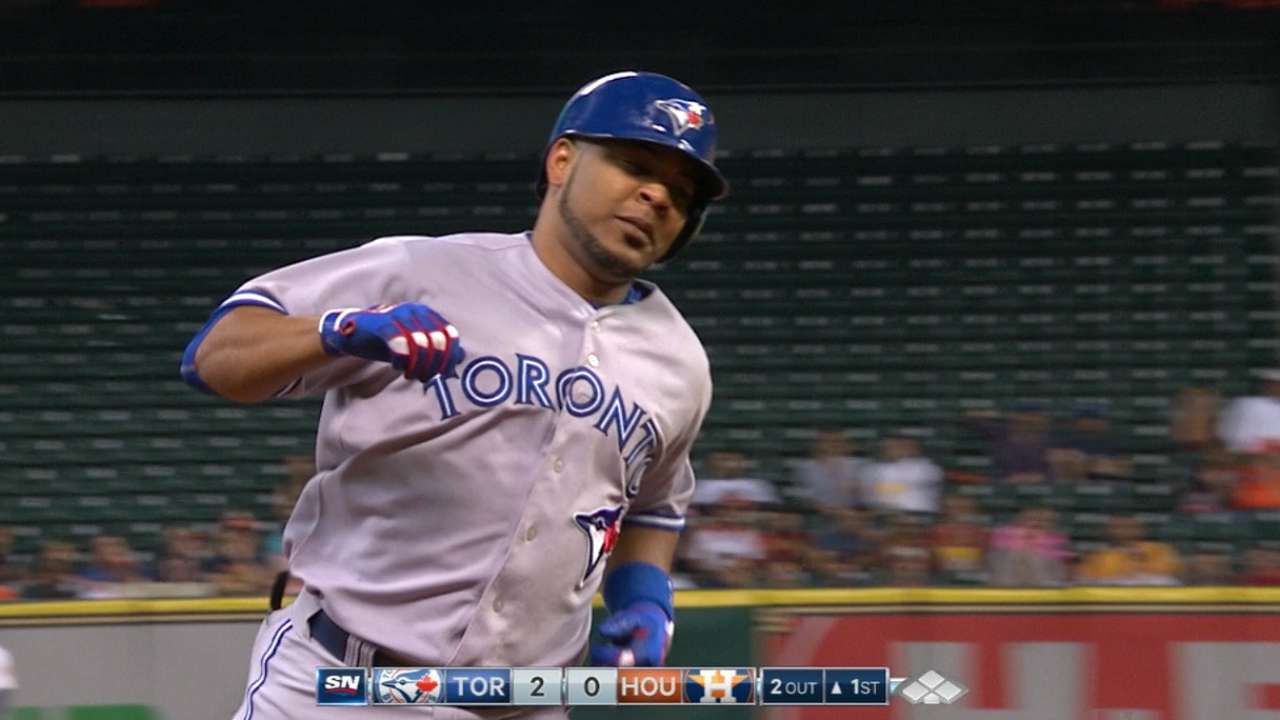 "I had real good fastball command tonight. Down and away, in and out and up at eye level -- it worked. [I] found my slider after the fourth inning and got some outs with it."
Hutchison is still 3-0 on the season after the no-decision, yet Thursday's season-high nine-strikeout effort was only the third time in eight 2015 starts he's lasted six innings. All encouraging signs from an individual perspective, but Toronto's bullpen stood in sharp contrast to Houston's, which produced 2 2/3 innings of scoreless ball after a dogged Roberto Hernandez start.
"They're good down there," Gibbons said. "They went out and brought some guys in for that purpose, to [lock a game down]. Good, solid bullpen."
Toronto's own relief woes may not have hurt much if the offense, which mostly coasted off back-to-back solo homers in the first inning, had eked out more insurance runs earlier in the seventh.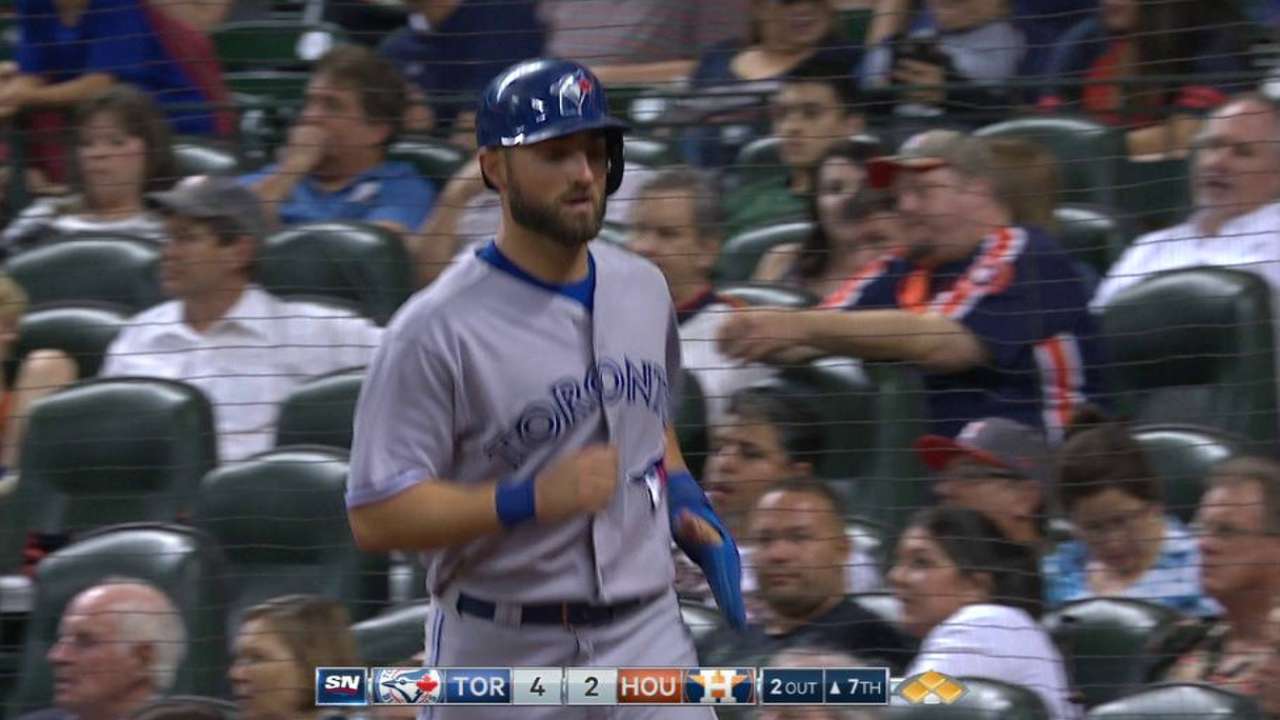 The Blue Jays put men on second and third with no outs and a 3-2 lead in hand. Only Ezequiel Carrera came through with a sacrifice fly.
"We scored one run. That's never easy," Gibbons said. "You're not necessarily guaranteed more than that. We felt pretty good punching an insurance run across. You never feel like you have enough."
Hutchison tried to make sure it was more than enough. Loup wasn't so lucky.
"I just didn't do the job tonight," Loup said.
Chris Abshire is a contributor to MLB.com. This story was not subject to the approval of Major League Baseball or its clubs.