Roache among top performers in Minors Thursday
Brewers' No. 14 prospect launches two homers, notches four RBIs for Brevard County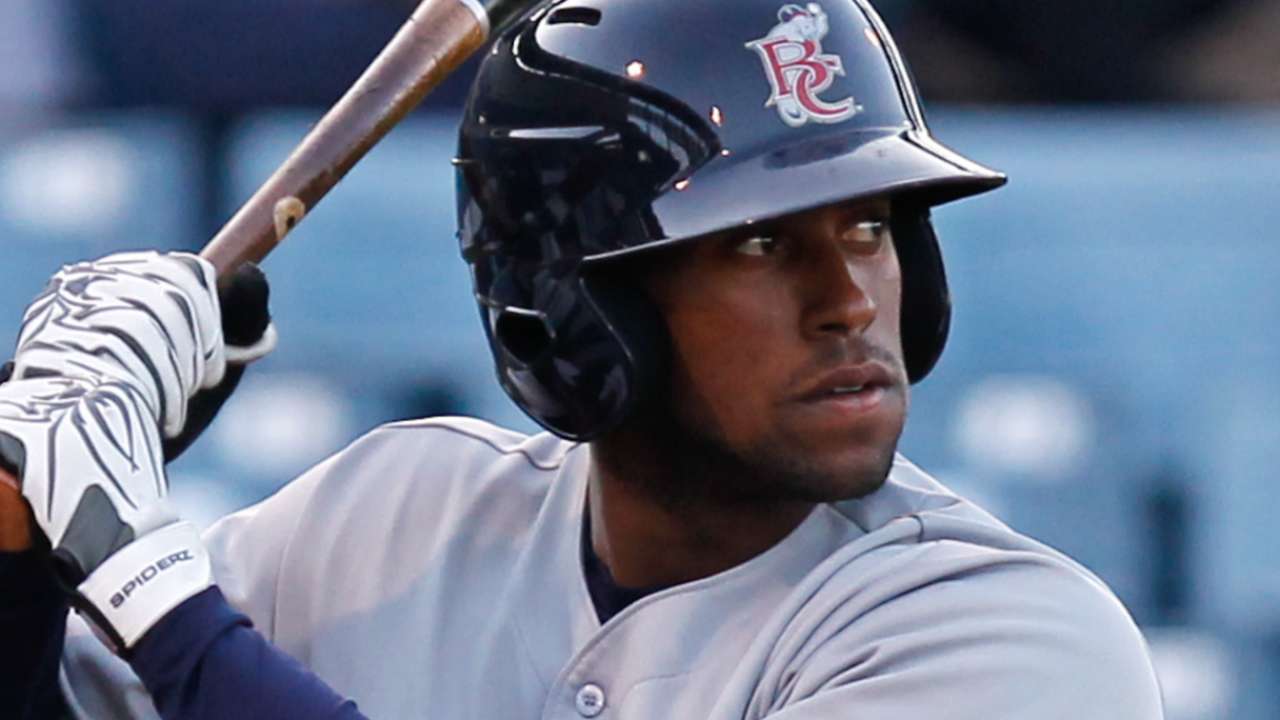 Victor Roache is beginning to instill fear in the hearts of Florida State League pitchers.
The Brewers' No. 14 prospect went 4-for-6 with two home runs and four RBIs for Class A Advanced Brevard County on Thursday night, continuing an impressive streak in which he's gone 12-for-26 over the past six games.
Selected in the first round of the 2012 Draft, Roache currently has career-highs in batting average (.315), on-base percentage (.382) and slugging percentage (.600). His eight home runs and 28 RBIs put him on pace to blow by his previous highs in those categories, too.
If there's something Roache needs to work on, it's avoiding strikeouts. He fanned twice on Thursday, marking the 11th straight game he has struck him out. Eight of those contests have included multiple whiffs, and he has not walked since May 7.
For now, his bat is hot enough to excite fans about his potential.
More standout performances from Top 100 prospects on Wednesday night
• Nationals No. 1 prospect (No. 6 overall) Lucas Giolito struck out 11 batters and gave up one earned run over six innings for Class A Advanced Potomac. Despite the impressive line, the 6-foot-6 righty picked up the loss as the Nats fell, 1-0, to Wilmington. Giolito's improved following his less than stellar season debut on May 8, when he gave up five earned runs in 4 1/3 innings. He's now 0-2 with a 5.23 ERA.
• Rockies No. 3 prospect (No. 58 overall) David Dahl ripped his second home run in as many games for Double-A New Britain. The center fielder went 3-for-4 with a solo shot on Thursday night, and extended his hitting streak to 11 games. Dahl is now hitting .267/.299/.405 with three homers and 12 RBIs on the year.
Other notable performances from around the Minor Leagues
• Royals No. 26 prospect Cody Reed outdueled Nationals top prospect Lucas Giolito with six innings of shutout ball. The southpaw picked up his first win since April 16 in the process, striking out nine while walking none. Reed is now 3-2 with a 1.69 ERA, and has only given up two earned runs in his past four starts (19 2/3 total innings).
• Rays No. 18 prospect Ryne Stanek won his second start in a row with a commanding performance for Class A Advanced Charlotte. The righty had a season-high nine strikeouts to baffle Clearwater in a 5-1 victory, and gave up just three hits in seven innings. Stanek still hasn't given up more than two earned runs in a game this season, and has only given up two total in his past four starts (24 total innings). He's 2-2 with a 1.63 ERA on the year.
• Indians No. 10 prospect Bobby Bradley continues to rake for Class A Advanced Lake County. Two days after launching two homers and five RBIs, the first baseman hit a three-run blast during the Captains' 8-4 win over Fort Wayne. Bradley has now hit in four straight games, going 6-for-14 with three homers and nine RBIs in that span. He has four dingers and 12 RBIs in 13 Class A Advanced games this year.
• Cardinals No. 12 prospect Luke Weaver made his season debut an excellent one. Last year's first-round Draft pick for the Cardinals delivered a strong five-inning performance for Class A Advanced Palm Beach, giving up five hits and one unearned run. Weaver also struck out two and walked two on the night in a no-decision.
• Rangers No. 30 prospect Hanser Alberto slugged his second home run of the season while extending his hitting streak to seven games. The Double-A Round Rock shortstop is hitting 12-for-29 (.414) with six RBIs during that stretch, and improved his season line to .276/.288/.388.
• Pirates No. 30 prospect Stetson Allie hit his second home run in four games for Double-A Altoona. The outfielder has also collected RBIs in each of those contests, and currently sits at six homers and 22 RBIs on the year.
• Orioles No. 10 prospect Mike Yastrzemski swatted his first home run of the season. The Double-A Bowie center fielder now has three extra-base hits and five RBIs in his past four games. On the season, he's hitting .290/.347/.406 with the one homer and 15 RBIs.
• Nationals No. 25 prospect Taylor Hill picked up his third win of the season for Triple-A Syracuse. The righty gave up five hits and one run -- along with four strikeouts against no walks -- in eight innings of work. Hill is now 3-1 with a 4.14 ERA on the year.
• Yankees No. 7 prospect Gary Sanchez is suddenly packing a wallop for Double-A Trenton. The catcher went 2-for-4 with a three-run double on Thursday, capping a five-day run that's included 10-for-23 hitting, two homers and 11 RBIs. On the year, he's sitting at three home runs and 17 RBIs.
• Cubs No. 8 prospect Billy McKinney went 2-for-4 with two doubles and three RBIs in his debut for Double-A Tennessee. He finished his run with Class A Advanced Myrtle Beach with three straight two-hit games, and an RBI in 10 of his final 11 games. Combined, he has 28 RBIs on the season.
• Cubs No. 21 prospect Jacob Hannemann also went 2-for-4 with three RBIs for Double-A Tennessee, adding to the Smokies' 8-1 blowout win over Montgomery. The center fielder is hitting .200/.246/.323 with one homer and five RBIs in 16 Double-A games this year.
• Red Sox No. 7 prospect Brian Johnson earned his first win since April 27 with a 6 2/3-inning, one-run, eight-strikeout performance for Triple-A Pawtucket. The lefty improved to 4-2 with a 2.72 ERA on the year, and boasts a 39-to-16 strikeout-to-walk ratio.
• Rangers No. 10 prospect Luis Ortiz continues to shine for Class A Hickory. The 19-year-old righty blanked his opponents for the fourth time in five starts this season, and picked up his second straight win with five innings of shutout ball on Thursday. Ortiz is now 2-0 with a 0.40 ERA, good for the fourth-best mark in the Minors among pitchers with at least 23 innings.
• Yankees No. 11 prospect Miguel Andujar launched his third home run in seven games for Class A Advanced Tampa, bumping his total to four on the season. The Dominican third baseman went 2-for-3 with a solo shot and a walk on Thursday, and is now hitting .269/.308/.425 this year.
• Royals No. 9 prospect Jorge Bonifacio notched a season-high five RBIs for Double-A Northwest Arkansas. The right fielder went 3-for-4 with a double on Thursday, bumping his season line to .223/.290/.415 with six homers and 20 RBIs.
• Phillies No. 7 prospect Ben Lively preserved his undefeated record by allowing only three hits in seven innings of shutout work for Double-A Reading. Thursday was the third time in six starts this season that Lively blanked the opposition, and he still has yet to issue more walks than strikeouts in a game. On the year, he's 3-0 with a 3.06 ERA and 31-to-10 K/BB ratio.
• White Sox No. 16 prospect Jace Fry continues to churn out strong starts for Class A Advanced Winston-Salem. The southpaw gave up just three hits and one earned run in seven innings of work Thursday, but picked up the loss as the Dash fell to Salem, 1-0. Fry now has a 1-5 record to go with a 2.72 ERA.
• Astros No. 12 prospect A.J. Reed connected for a two-run home run, his ninth of the season and sixth this month for Class A Advanced Lancaster. The first baseman pushed his hitting streak to eight games, and now has 28 RBIs on the year.
Alex M. Smith is a reporter for MLB.com. This story was not subject to the approval of Major League Baseball or its clubs.