Work in cage pays off for Rivera vs. Yankees
Rays catcher homers, tallies four RBIs to power club to victory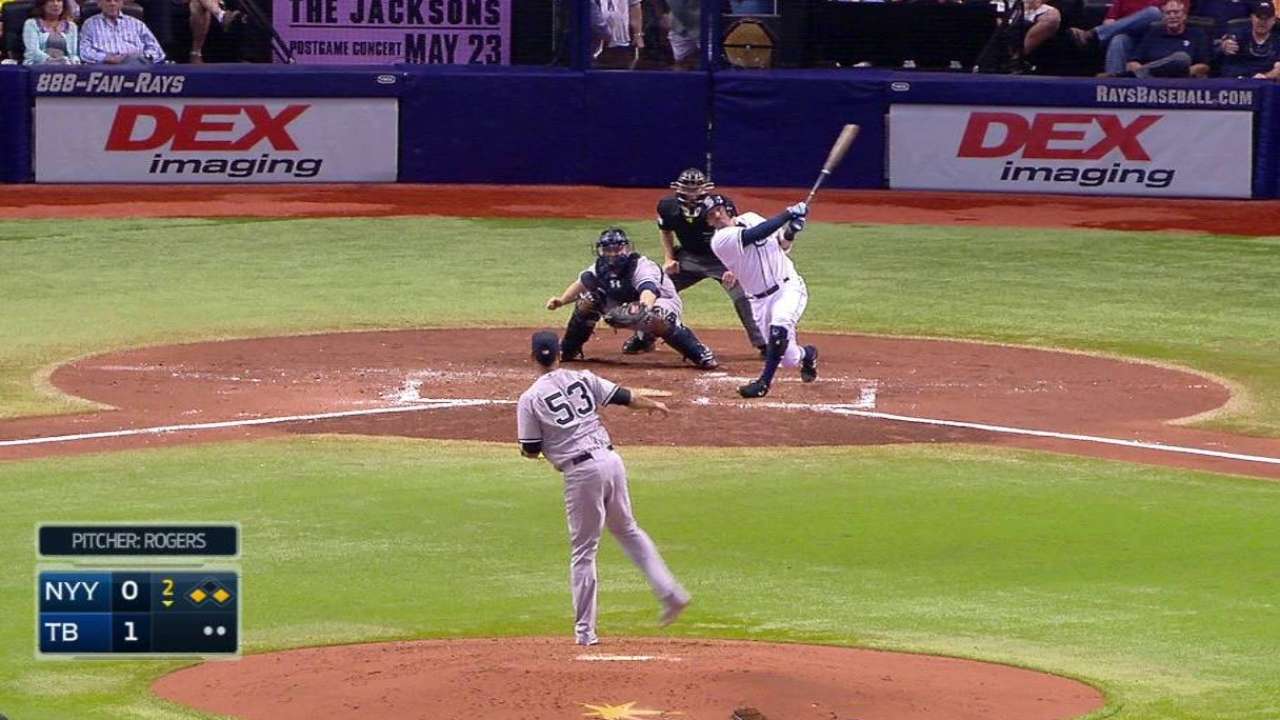 ST. PETERSBURG -- With Yankees starter Chase Whitley in the clubhouse because of a right elbow injury in the second inning on Thursday, Rene Rivera made sure incoming reliever Esmil Rogers didn't get comfortable.
On his first pitch out of the bullpen, the right-hander tossed a slider, and the Rays' catcher hammered it over the center-field fence for a three-run home run.
"I was just looking for something in the strike zone so I could put a good swing," Rivera said following the Rays' 6-1 victory over the Yankees. "I saw it pretty well, could stay back and put a good swing on it."
Two innings later, Rivera once again came through at the plate, sending a pitch from Rogers back up the middle to score David DeJesus and extend Tampa Bay's lead to 5-0.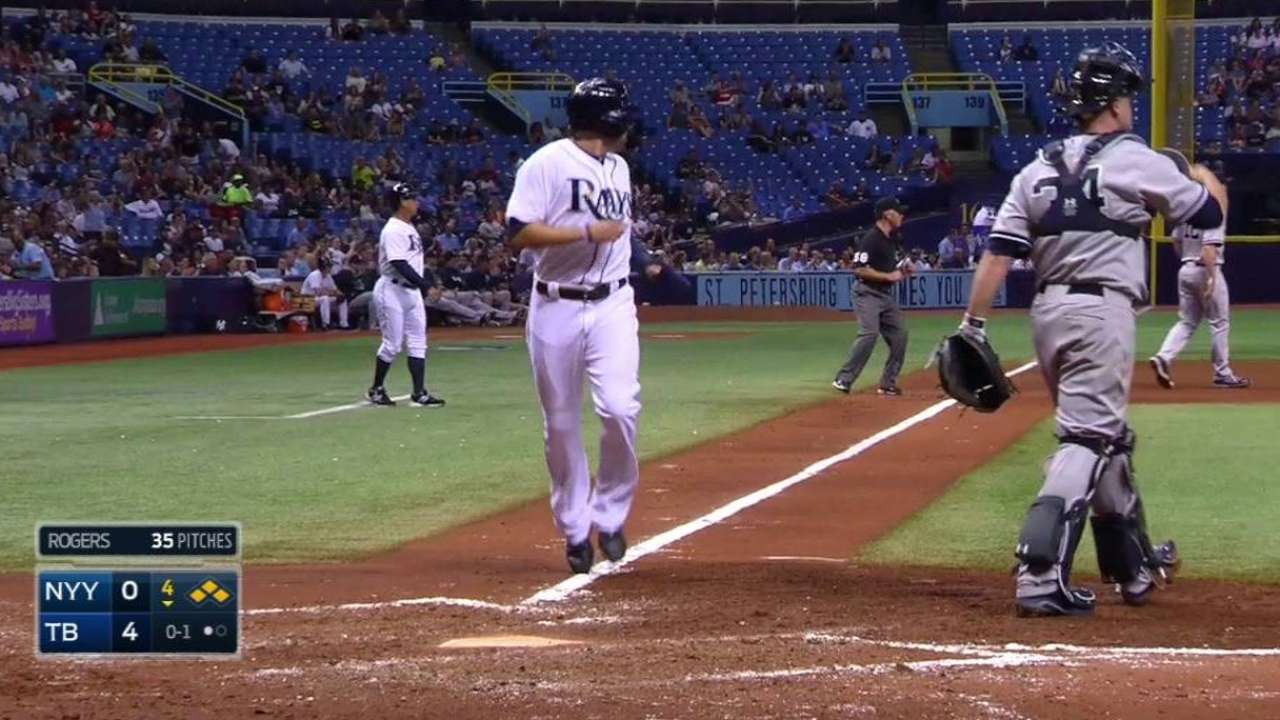 Rivera came into the game batting just .126 with five RBIs in 30 games and had been held hitless in the series, but Thursday he provided the majority of the Rays' offense with his two-hit, four-RBI performance. He nearly added a third hit in the sixth, but a sliding stop and a throw from the knees by Yankee second baseman Jose Pirela prevented Rivera from matching his highest hit total of the season -- a three-hit game against the Marlins on April 12.
"I've been working so hard in the cage to try and get my timing back and to get myself back from a hitting standpoint," Rivera said. "It just feels great that I'm seeing the ball and can put a good swing on it."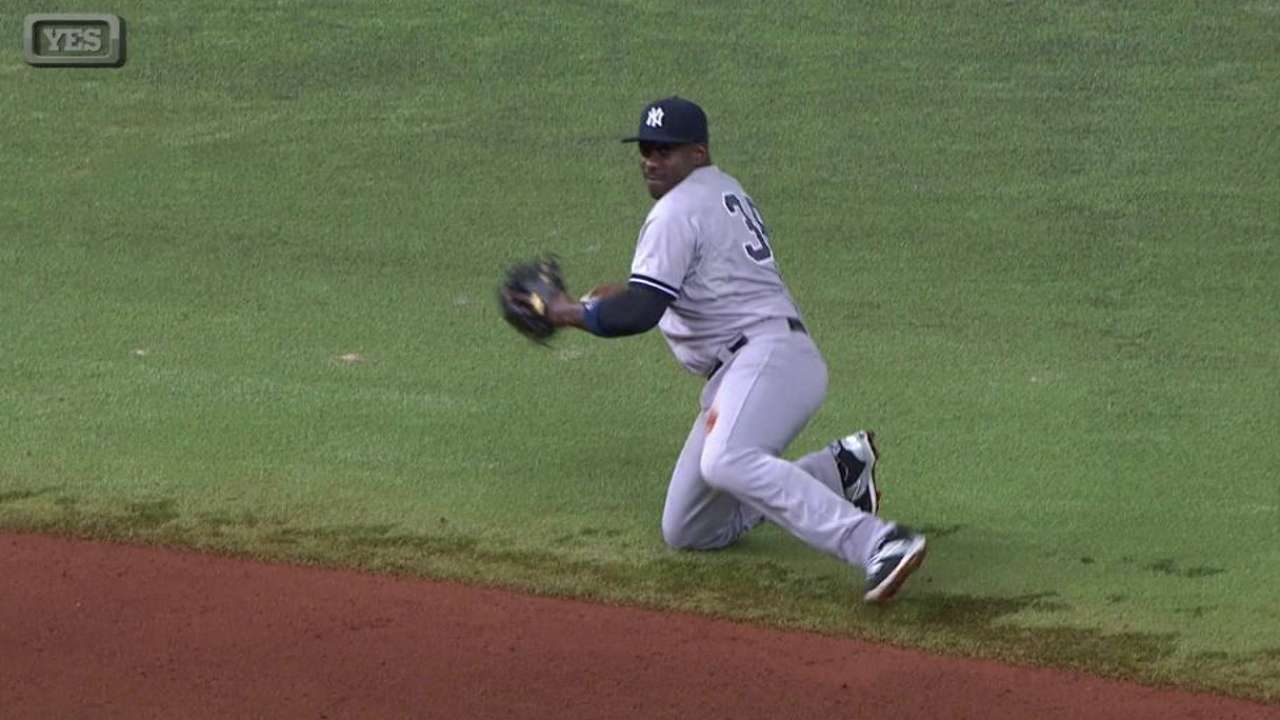 Rivera, however, did not just factor into the game from an offensive standpoint. He was also a critical part in Erasmo Ramirez's first victory of the season, in which he tossed five shutout innings, only allowing one hit while striking out four.
"[There was] good communication between the catcher and me," Ramirez said. "… I didn't shake [him off] the whole game. I just said yes, followed him and the spots he called and just tried to execute the pitch."
Rivera added: "We talked about what we were going to do a little bit earlier in the day. We had a good plan going into the game. He stuck with it and had a good outing."
Troy Provost-Heron is an associate reporter for MLB.com. This story was not subject to the approval of Major League Baseball or its clubs.