Byrd happy to justify Reds' faith in him
CINCINNATI -- As he toiled well below a .200 average in April, left fielder Marlon Byrd knew he wasn't very popular. He gathered that people were calling for him to be pulled from the lineup.
Now that he's on a tear, Byrd doesn't care much about vindication.
"No, not really," Byrd said after his eighth-inning home run and three-RBI night lifted the Reds to a 4-3 victory over the Giants.
"I have to prove the people that believe in me right," Byrd said. "This organization, for putting me out there after the April that I had. It was easy to try and go in another direction. Those are the people I'm trying to prove right."
Byrd, who went 2-for-2 with two walks, was hitting .123 on April 23, which was tough for a Reds club that traded for him in the offseason to boost the lineup. In the 19 games since, he's batting .317 with all eight of his homers and 18 RBIs.
"No one is happier, I'm sure, than Marlon, because he got off to a slow start," manager Bryan Price said. "I think he knows we made a real effort to get him in here because we felt he was a missing piece to our offense and could supply us with the things we're seeing here in May. He worked so diligently, and really labored to get everything with his swing worked out. He has definitely made a commitment to be excellent. It's paying the dividends now."
It was a 3-3 game in the bottom of the eighth, with one out, when Byrd hit Sergio Romo's 1-1 slider into the left-field seats. He has homered in six of his last 11 games.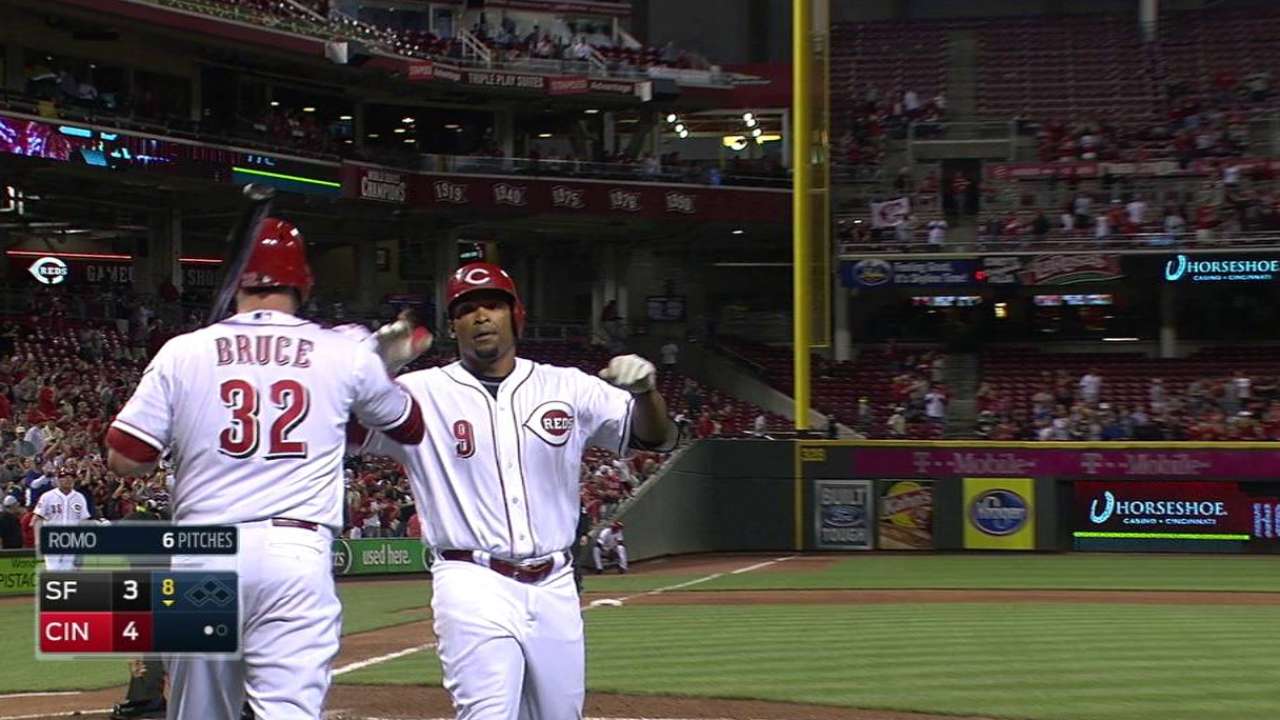 Five of the Reds' last nine home runs have been hit by Byrd, with the other four coming from Todd Frazier.
"The last at-bat with Romo, I was praying he didn't throw a fastball or that sweeping slider you just can't touch," Byrd said. "He just left it out over the plate. I put a good swing on it."
Byrd was walked by Giants starter Tim Lincecum in the first and fourth innings. In the fifth, with two outs, after Frazier was hit by a pitch to load the bases, Byrd lofted a 1-0 pitch from Lincecum for a soft two-run single to short right field that gave Cincinnati a one-run lead.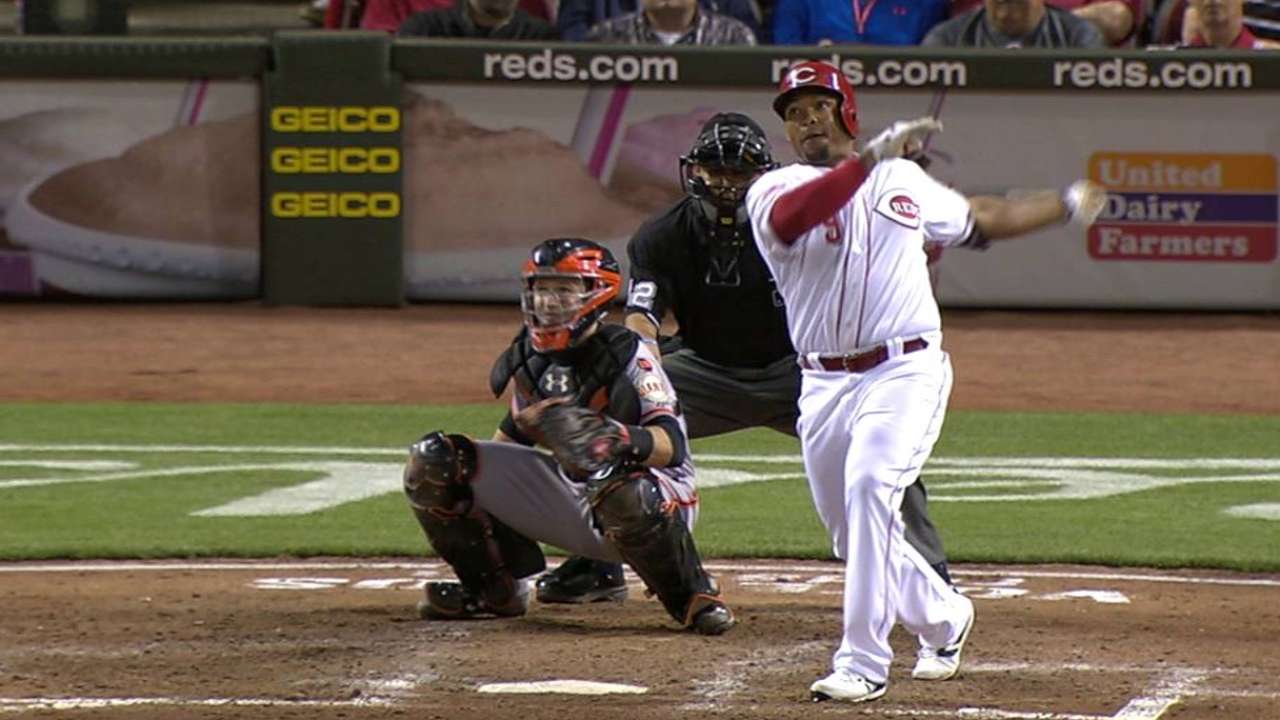 "Lincecum throws every pitch in any count, so he's always tough," Byrd said. "I think he was trying to throw a cutter down and away, and it just rode in on me a little bit and I was able to fist it over the infielder's head."
Byrd's turnaround, he says, was all about putting in the work behind the scenes.
"I'm feeling comfortable with my mechanics so I can trust an approach," he said. "I'm not sure what happened in April. There was a breakdown in my mechanics. I had to keep working. I had to figure it out. [Hitting coach] Donny Long has known my swing since 1999. That's a plus for me. We just had to keep working, and at some point I knew it was going to come around."
Mark Sheldon is a reporter for MLB.com. Read his blog, Mark My Word, follow him on Twitter @m_sheldon and Facebook and listen to his podcast. This story was not subject to the approval of Major League Baseball or its clubs.