MLB.com Columnist
Mike Bauman
Maddon wants Cubs to cut down on bad K's
Manager preaches traditional two-strike approach, less swinging for the fences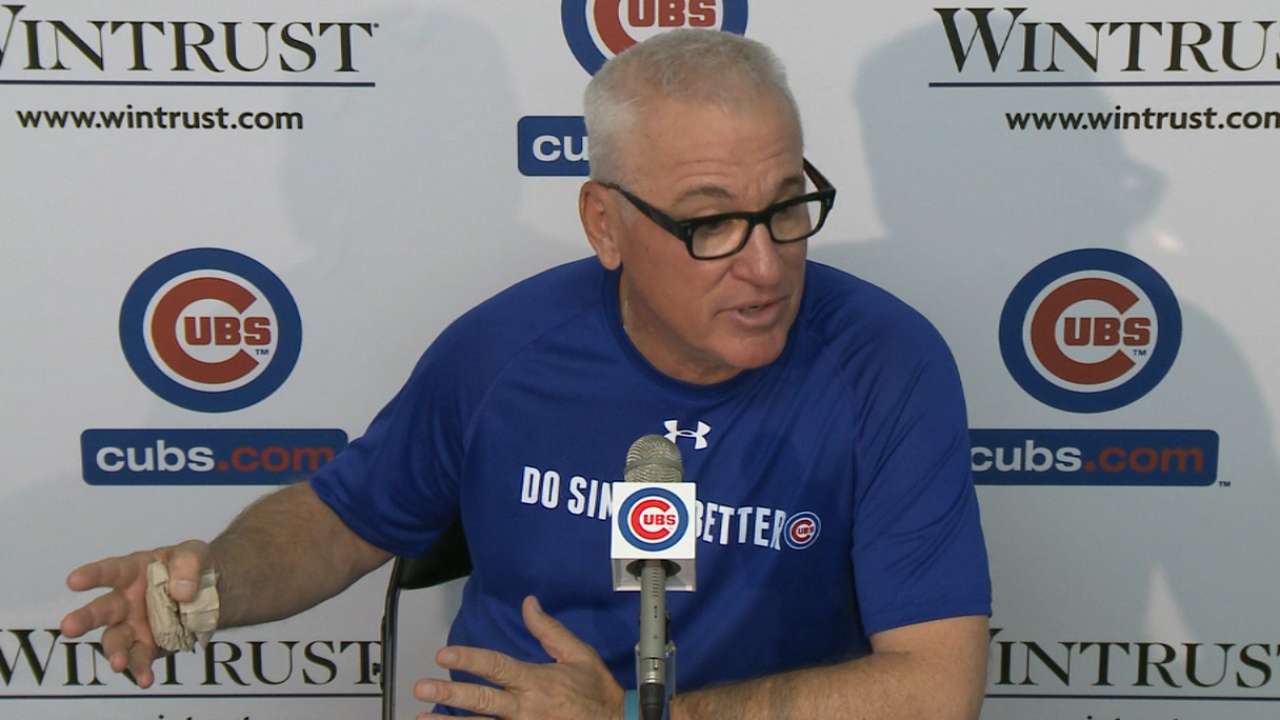 Joe Maddon, manager of the Chicago Cubs, is fully versed in cutting edge, advanced analytics. But he would like to bring back the traditional two-strike approach.
There was a time, not that long ago, when, for a hitter, there was a stigma attached to striking out.
"Right, it used to be the scarlet letter, the K or the backward K on your chest," Maddon said. "You don't want it.
"There was a time when it was awful to strike out, except for the sluggers. It was OK for the sluggers to strike out, even though Mr. [Joe] DiMaggio had more home runs than strikeouts.
"I don't know that today guys apply enough energy to [the two-strike approach]. You say [Cardinals third baseman Matt] Carpenter, but watch our boy [Cubs first baseman Anthony] Rizzo. Rizzo really applies himself with two strikes. It's a mental application. It's not physical. It's a mental application, and he does a great job with it.
"Players need to spend more time believing that it's necessary to do that. And if they do, they'll get better at it. Furthermore, look at the numbers with two strikes, whether it's pure batting average or slugging percentage or whatever, they're awful. So why wouldn't you want to do something different with two strikes? Why would you not just do something to make yourself better with two strikes? And that's not physical, man. That's what going on in your brain."
The two-strike approach, a shortened swing with an emphasis on putting the ball in play, was once a staple of the game. What happened to it?
"The homer," Maddon said. "During the 1990s and the early 2000s, it was all about homers. And sabermetrically, people will tell you that strikeouts didn't matter, it was just another out.
"But you can't put strikeouts in one bucket. There's different buckets. For instance, when is a strikeout OK? Nobody on, two out, go ahead, try to hit the ball into the gap or over the wall. That's a good strikeout. A horrible strikeout is a man on third, less than two outs. That's a bad strikeout. Runner on second, nobody out. Strikeout's not a good play. Another bucket.
"So that's where the confusion lies. Also, with more contact could come more double plays. That happened last year [with Tampa Bay]; I saw that firsthand. But I'd prefer players knowing how to move the baseball as the count gets deeper, especially in situations that permit you to score more. Even if a runner moves 90 feet on an out, I'll take it. You move closer to scoring, that's a good thing, too.
"So I think we went through that period, sabermetrically, where all strikeouts were created equal. I never bought into that. A game situation dictates different movement. But that's why the two-strike approach went away.
"I was a hitting instructor in the 1980s, and I was really big on the two-strike approach. Part of that was the influence of Bob Kennedy Sr. [then a senior baseball operations executive with the Giants]. I was sitting next to him, at an instructional league game, and he's all upset about strikeouts, the proliferation of strikeouts, even in the late '80s in the Minor Leagues. And that's pretty much when this stuff started happening -- homer, homer, homer. He put that in my head and I developed what I called the B-hack approach, the two-strike approach for the Minor League kids with the Angels to really emphasize moving the baseball, making adjustments as the count got deeper.
"If you know you're facing somebody who is really difficult, why do you want to go up there and just go all out early in the count when you don't have much of a chance? You're not seeing the ball well, the guy's really good, he doesn't match up well for you, so why wouldn't you not make an adaptation from pitch one, even before two strikes?
"Especially left on left, you know the guy's going to be tough. Why are you going up there with this ridiculously big, long attempt to hit-the-ball-in-the-seats swing, when you know it's probably not going to work? That's the part that I was really trying to drive home. So I called it a B hack. [With two strikes] look away first and choke up. That was the basic simple, premise behind it."
It is true that Cubs hitters lead the Majors in strikeouts through 34 games. But this is clearly more a matter of youth than of philosophy. And Maddon just got there. Sometimes, mixing traditional thinking into contemporary analysis takes longer than a few months.
Mike Bauman is a national columnist for MLB.com. This story was not subject to the approval of Major League Baseball or its clubs.