MLB.com Columnist
Jonathan Mayo
Correa keeps top spot for fantasy prospects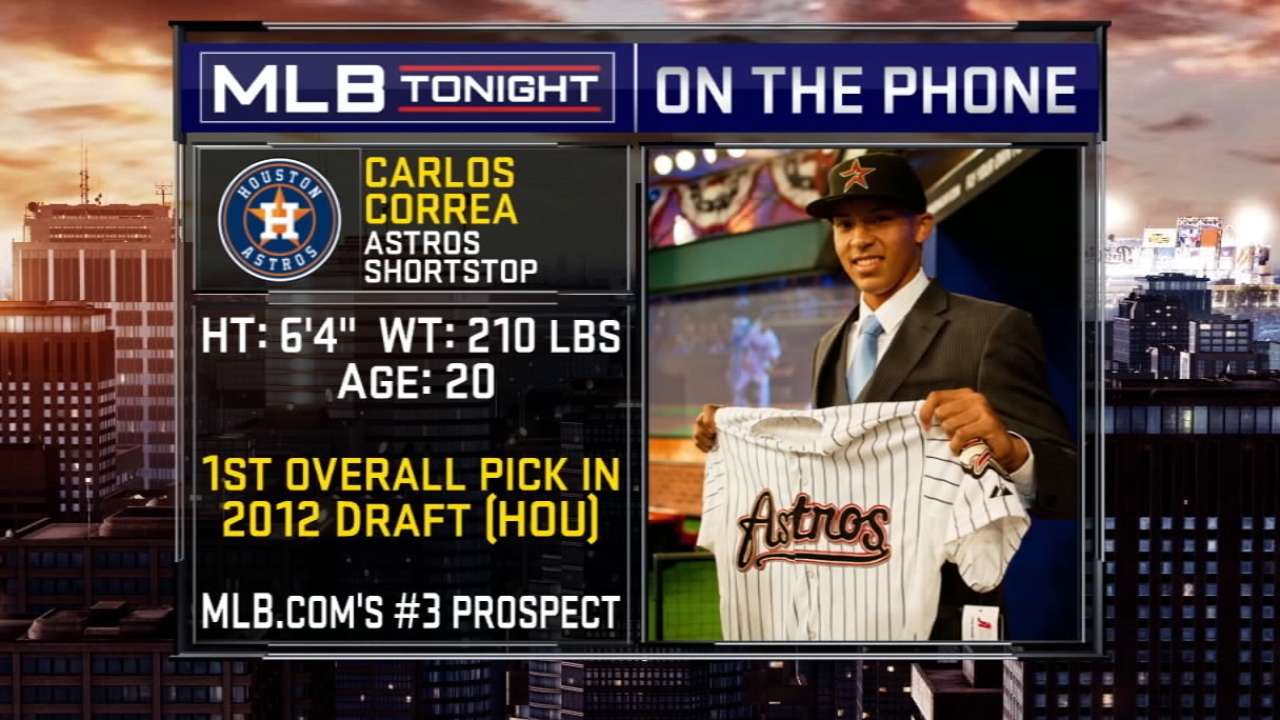 Every week, the MLBPipeline.com crew will rank the top 10 fantasy baseball prospects in the Minor Leagues. These rankings are based solely on expected 2015 fantasy production in the Major Leagues, in contrast to the MLBPipeline Top 100 Prospects list, which reflects long-term value in all phases of the game.
Another week, and more top prospects get beckoned to the big leagues. This time, we're talking about Mets top prospect Noah Syndergaard, who made his big league debut on Tuesday, and Phillies corner infielder Maikel Franco, who got the call on Friday.
Syndergaard showed the big leagues what he's capable of, and that he still has things to learn, during his first start. His first five innings of shutout ball were a revelation, and then trouble snowballed and he didn't get out of the sixth. Syndergaard missed plenty of bats, striking out six -- something that should continue as he settles in. And expect the walks to go down. This is a pitcher who has walked just 2.6 per nine (while averaging 10 strikeouts) over the course of his Minor League career. The stuff plus command will translate, so be patient.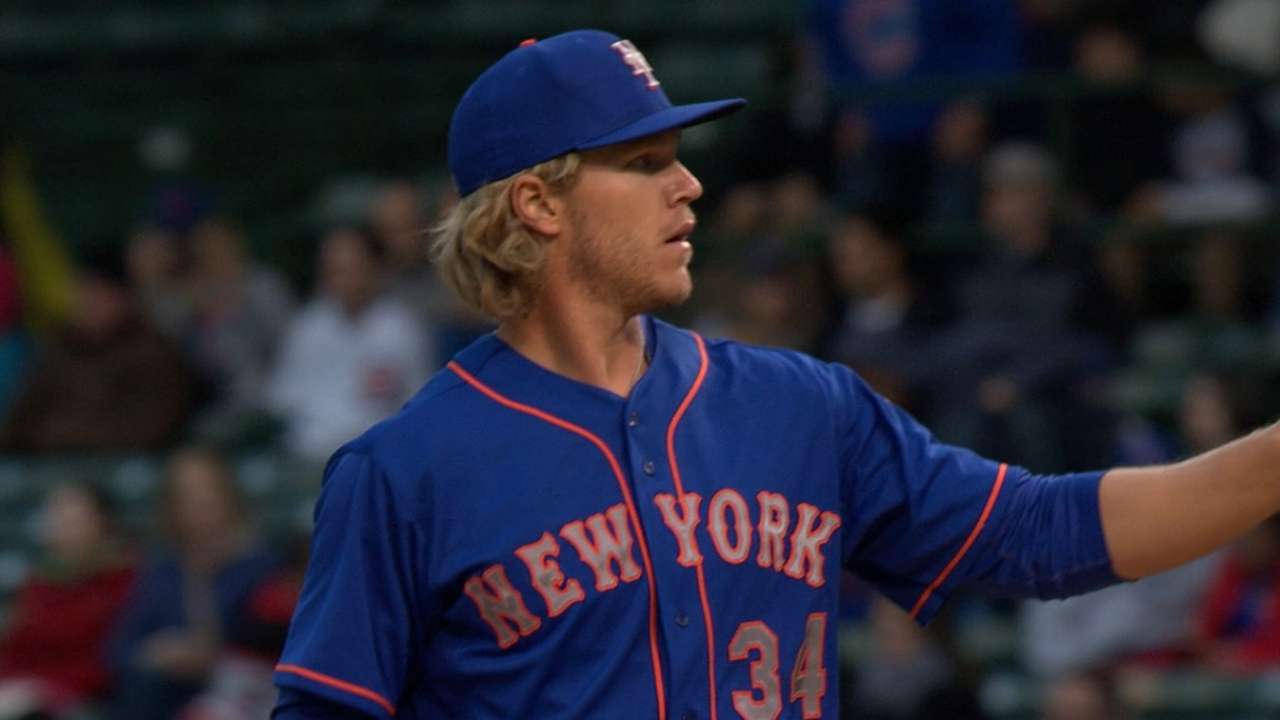 Franco could provide a fantasy owner some cheap power, and he's going to play plenty of third base. Don't expect a ton of batting average, at least not right away, but with some refinement to his approach, he has the ability to hit for average long-term.
Who might be next in this parade to the big leagues? This week's Minor League fantasy prospects top 10 is below:
1. Carlos Correa, SS, Astros (last week's rank: 1): Correa did get called up ... to Triple-A. Hitting .385/.459/.726 with seven homers and 32 RBIs while going 15-for-15 in stolen-base attempts was evidently enough to earn the bump up. He's getting his feet under him in Fresno, but he's hit in each of his first three games. At some point, Houston will realize that Correa is the short- and long-term solution at shortstop, right?
2. Rusney Castillo, OF, Red Sox (last week's rank: 2): Shane Victorino is now back, but he's hitting .178. Castillo's bat hasn't completely gotten going in his 14 games, but he has the ability to hit for power and steal bases once he gets in a groove.
3. Daniel Norris, LHP, Blue Jays (last week's rank: 6): You have to give the lefty credit for not sulking after getting demoted. He's given up three earned runs on nine hits over 12 innings in two Triple-A starts. Norris' six walks show he still needs to work on his command, but don't expect the southpaw to be down for too long.
4. Dalton Pompey, OF, Blue Jays (last week's rank: 4): After scuffling in the big leagues, Pompey took a couple of games to re-find his bearings. He's since hit in seven of his last nine games and has four stolen bases, his best fantasy category. Toronto is still a better team with Pompey in center and Kevin Pillar in left.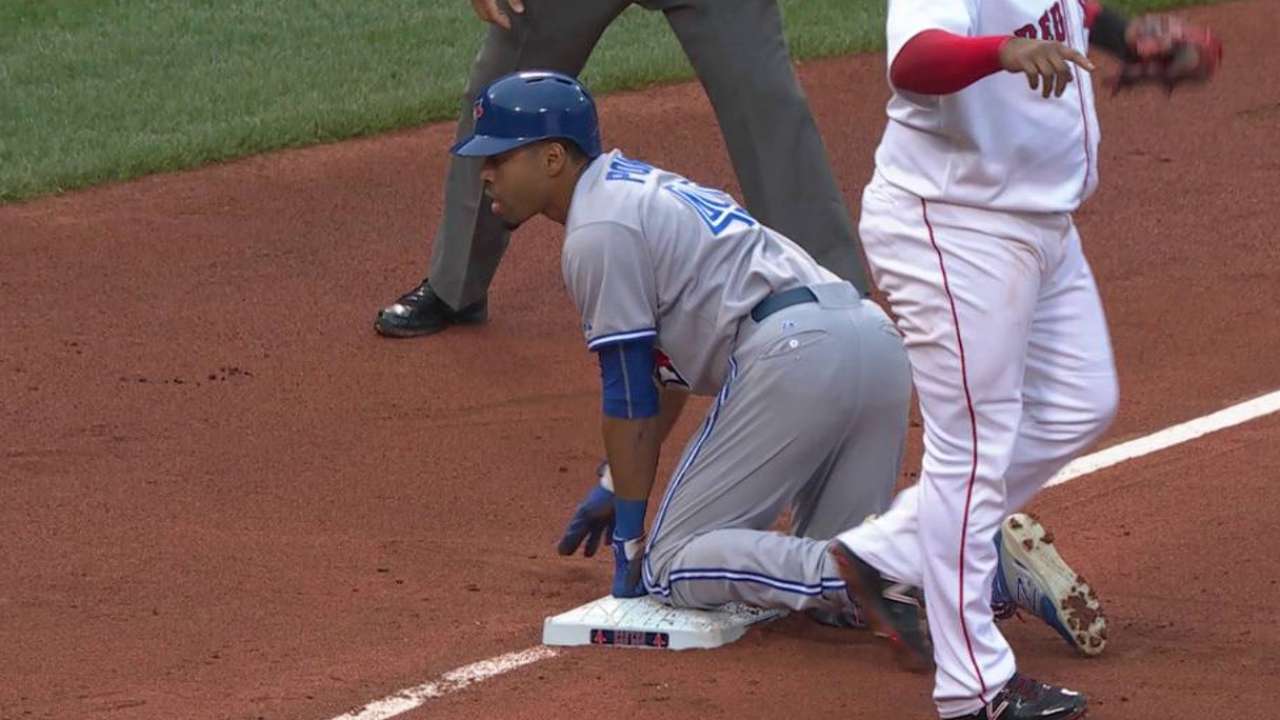 5. Francisco Lindor, SS, Indians (last week's rank: 8): We're sounding like a broken record here, but we still feel Lindor is a better option in Cleveland than Jose Ramirez. His bat is on the upswing again, with a seven-game hitting streak through Thursday. Many felt the Indians would compete in the American League Central, and Lindor could help give them a jolt of energy.
6. Corey Seager, SS, Dodgers (last week's rank: 10): Seager is getting his bearings in Triple-A, going 5-for-13 during a small three-game hitting streak. He hits for average and power, and at some point, he has to be considered an option on the left side of the infield, either to replace an under-performing Jimmy Rollins or whenever Alex Guerrero comes back down to earth.
7. Steven Matz, LHP, Mets (last week's rank: unranked): What, Syndergaard wasn't enough? Matz has been just as good as his right-handed counterpart was while pitching in Las Vegas. He's striking out more than a batter per inning, holding hitters to a .208 batting average and his ERA is under 2.00. Matz missed a lot of development time due to injuries, so a little more Triple-A time wouldn't hurt. But if there's another need in New York, he looks ready to answer the call.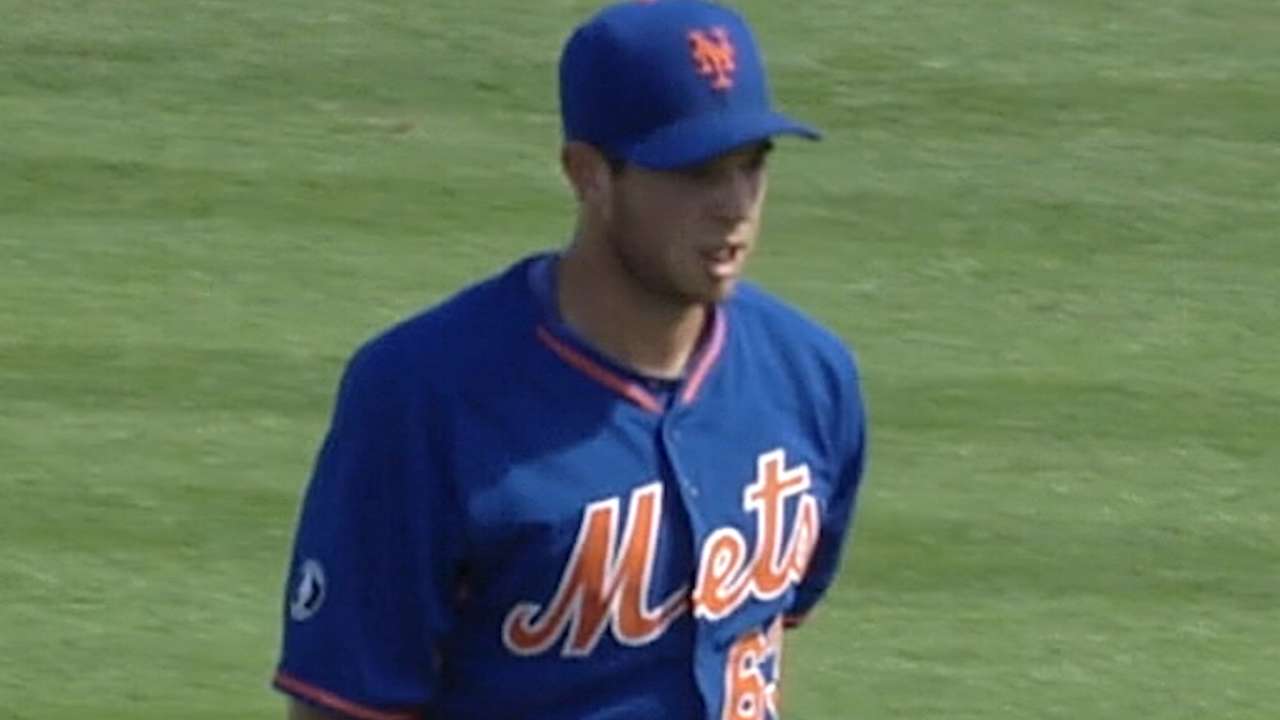 8. Andrew Heaney, LHP, Angels (last week's rank: unranked): He didn't exactly light the world on fire in April, with a 4.42 ERA over four starts. Heaney has given up just two earned runs in his last two starts, spanning 12 innings, giving him a May ERA of 2.84 in three outings. He's also struck out 18 in 19 innings, a sign that he's perhaps once again harnessing his stuff.
9. Eduardo Rodriguez, LHP, Red Sox (last week's rank: 9): The timing didn't work out right for Rodriguez to take a turn in Boston's rotation on Sunday because he pitched on Wednesday, but he's still very much in the conversation about lending help to the beleaguered big league staff. His last two starts have been a little more pedestrian, but his stuff should allow him to compete once he's up.
10. Jose Peraza, 2B, Braves (last week's rank: 7): Peraza is doing everything he can to force his way into the big league lineup, hitting .311 with 14 steals. In his way now is a productive Jace Peterson, who is hitting .342 this month. If Peterson heads in the other direction, be ready to nab Peraza the moment he gets the call.
Dropped out: Syndergaard, RHP, Mets (last week's rank: 3/promoted); Maikel Franco, 3B/1B, Phillies (last week's rank: 5/promoted)
Jonathan Mayo is a reporter for MLBPipeline.com and writes a blog, B3. Follow @JonathanMayoB3 on Twitter. This story was not subject to the approval of Major League Baseball or its clubs.