Lincecum struggles with command, footing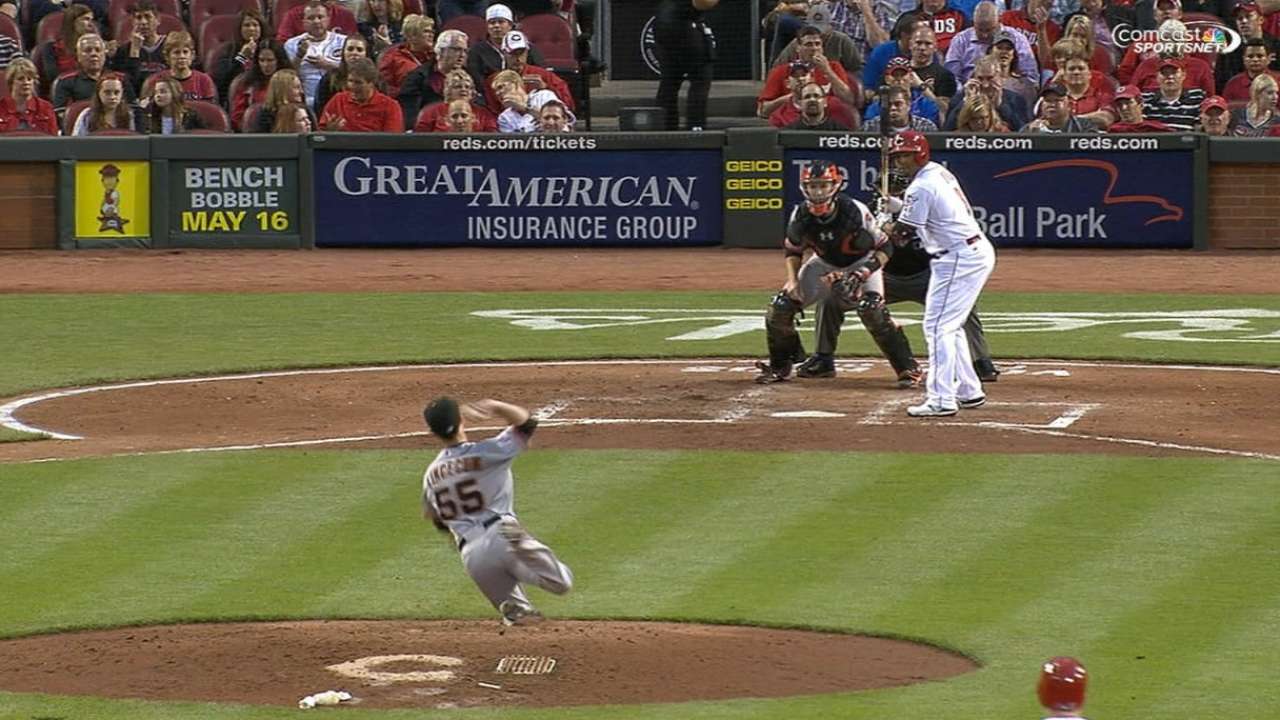 CINCINNATI -- If all good things must come to an end, even for one of the best pitchers in Giants history, why must they come to an end in Cincinnati, of all places?
Tim Lincecum's career-long struggles against the Reds continued on Thursday night, when he threw a lot of pitches early and couldn't battle out of the fifth inning of a 4-3 loss at Great American Ball Park.
"Too many wasted pitches," Lincecum said. "I wasn't attacking the zone the way I wanted. I was lucky to get out of there with what I did."
Lincecum's string of scoreless innings had reached 18 when Cincinnati's Todd Frazier scored on Brayan Pena's one-out hit up the middle in the fourth inning.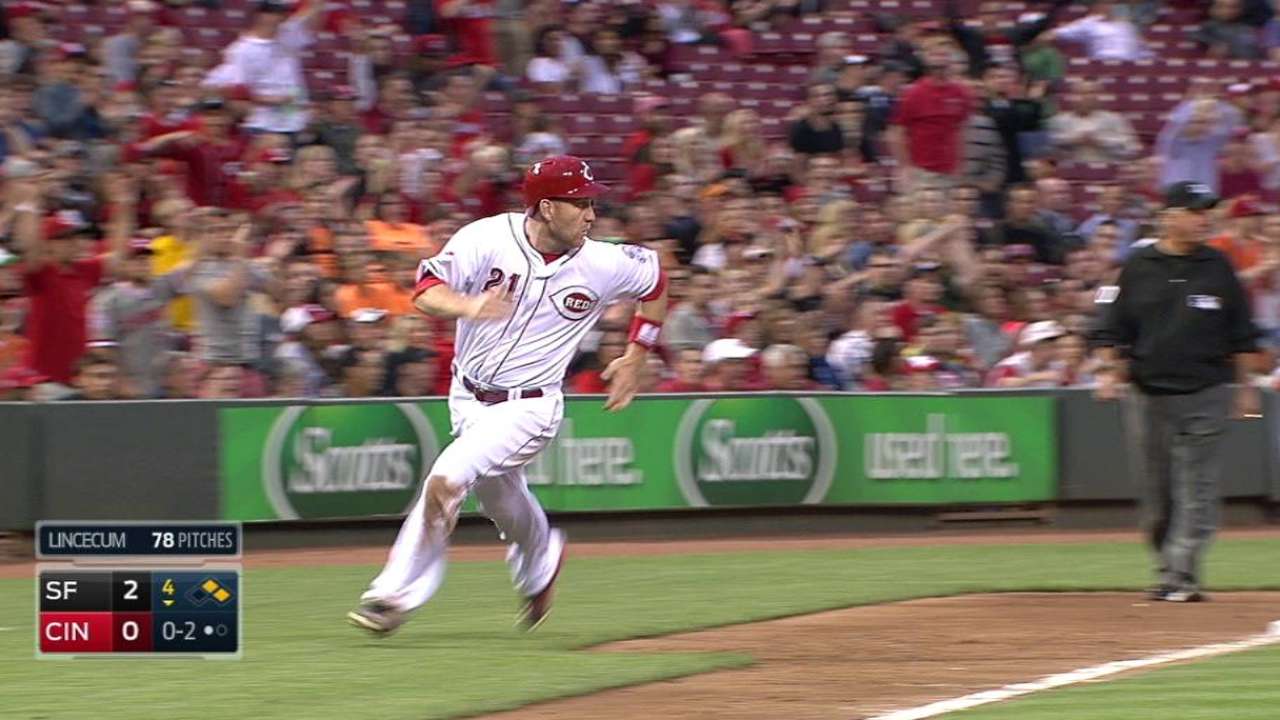 It was the first run allowed by Lincecum since April 27.
Lincecum seemed to be battling the pitcher's mound as well as the hitters at times, losing his footing and making wild throws on a few occasions
"It was a little slippery, a little muddy," he said. "I just need to tighten my focus and make better pitches."
"He stumbled a couple times; we've seen him do that, though," manager Bruce Bochy said. "This hasn't been a real good place for him anyway."
Lincecum struck out four after entering the game needing eight strikeouts to pass Carl Hubbell (1,679) and take fourth place on the Giants' all-time list behind Christy Mathewson (2,504), Juan Marichal (2,281) and Amos Rusie (1,838).
Lincecum still has no regular-season victories over the Reds. Since making his big league debut in 2007, he is 0-4 with a 9.26 ERA against Cincinnati, the only National League club he has never beaten. His ERA at Great American Ball Park is 8.41.
For a while on Thursday, it appeared that he might not make it out of the first inning.
In that frame he threw 32 pitches, walked three consecutive batters with two out and saw two of those batters steal second. Fortunately, center fielder Angel Pagan was behind him. Pagan snagged Zack Cozart's one-out bomb just before hitting the outfield wall and tracked down Jay Bruce's long drive to end the inning.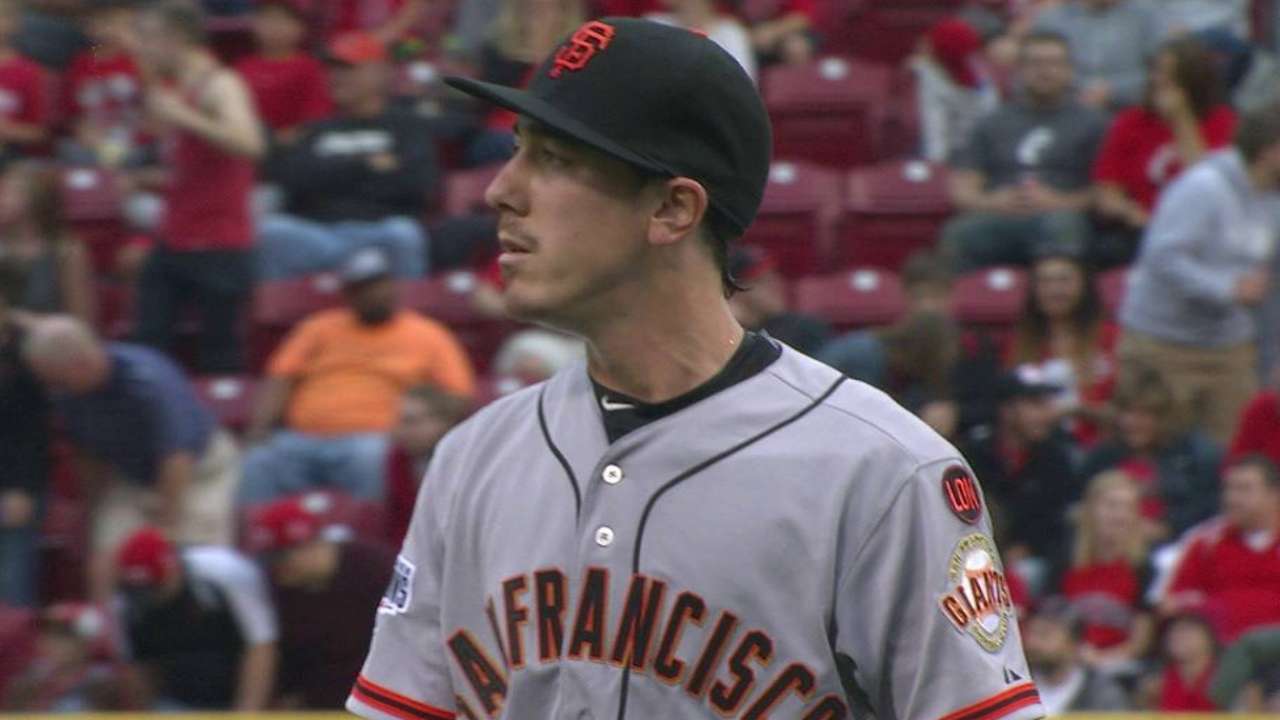 Lincecum also added a bit of levity during the inning when he fell awkwardly while pitching to Marlon Byrd.
"It's just timing, when I push off the mound," Lincecum said. "I thought a couple of those pitches to Byrd might have been strikes, but when it looks as ugly as it did, they're automatically going to call it a ball."
Lincecum sailed through the next two innings on 11 and 15 pitches, respectively, but gave up a run in the fourth and didn't make it out of the fifth.
In the fifth, catcher Buster Posey couldn't get to Johnny Cueto's chopper off the dirt. Cozart's ground ball skipped to the left of third baseman Casey McGehee, and Lincecum hit Frazier with a two-out pitch to load the bases. Byrd followed with a towering popup that fell into shallow right field, scoring two runs and giving Cincinnati a one-run lead.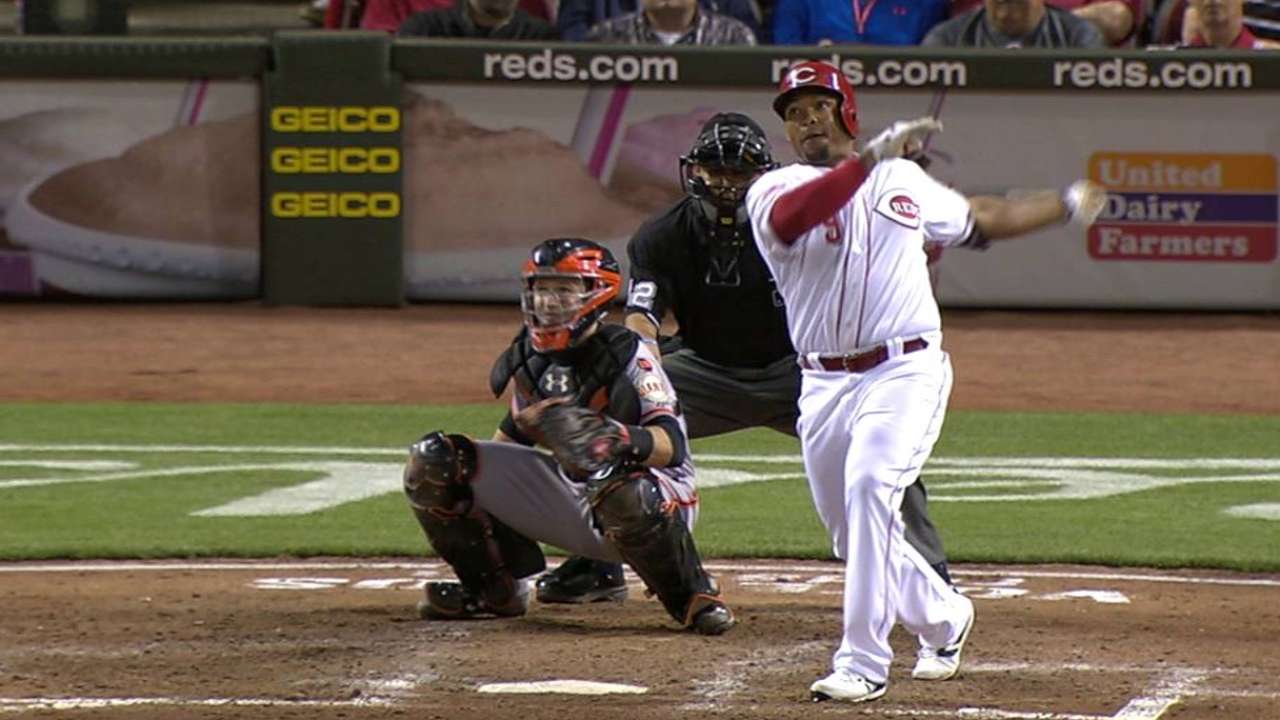 "Lincecum throws every pitch in any count, so he's always tough," Byrd said. "We worked him pretty well. I was able to fist a ball to right field. I think he was trying to throw a cutter down and away, and it just rode in on me a little bit and I was able to fist it over the infielder's head."
That was all for Lincecum, who threw 99 pitches, 53 for strikes. His season ERA rose from 2.00 to 2.43.
Andy Call is a contributor to MLB.com. This story was not subject to the approval of Major League Baseball or its clubs.