MLB.com Columnist
Richard Justice
ASG debate: Martin or Vogt behind plate for AL?
In a perfect world, every team would have a Russell Martin. If he's not the gold standard among Major League catchers, he's close. In terms of leadership and defensive work and offensive production, there are few better.
In Martin's first season with the Blue Jays, he seems headed for a 30-double, 30-homer, 70-walk season. There's also his work with the pitching staff and the leadership he brings.
As good as Martin's reputation is, he's one of those players who is even more appreciated once he has been part of a team for a few weeks. Unfortunately, there aren't that many Russell Martins, and they're not cheap. The Toronto Blue Jays lured him away from the Pirates last offseason with a deal worth $82 million over five years.
Some teams have to figure out another way to get their Martin. For instance, the Oakland A's.
In this year's All-Star Game debate, one of the most interesting ones is in the American League, where two catchers who've traveled vastly different paths find themselves at the top of their profession.
Martin vs. Stephen Vogt.
If Vogt didn't exist, Athletics general manager Billy Beane would just have to dream him up. Actually, that's exactly what he did. And then Beane went out and found the real thing playing for the Rays.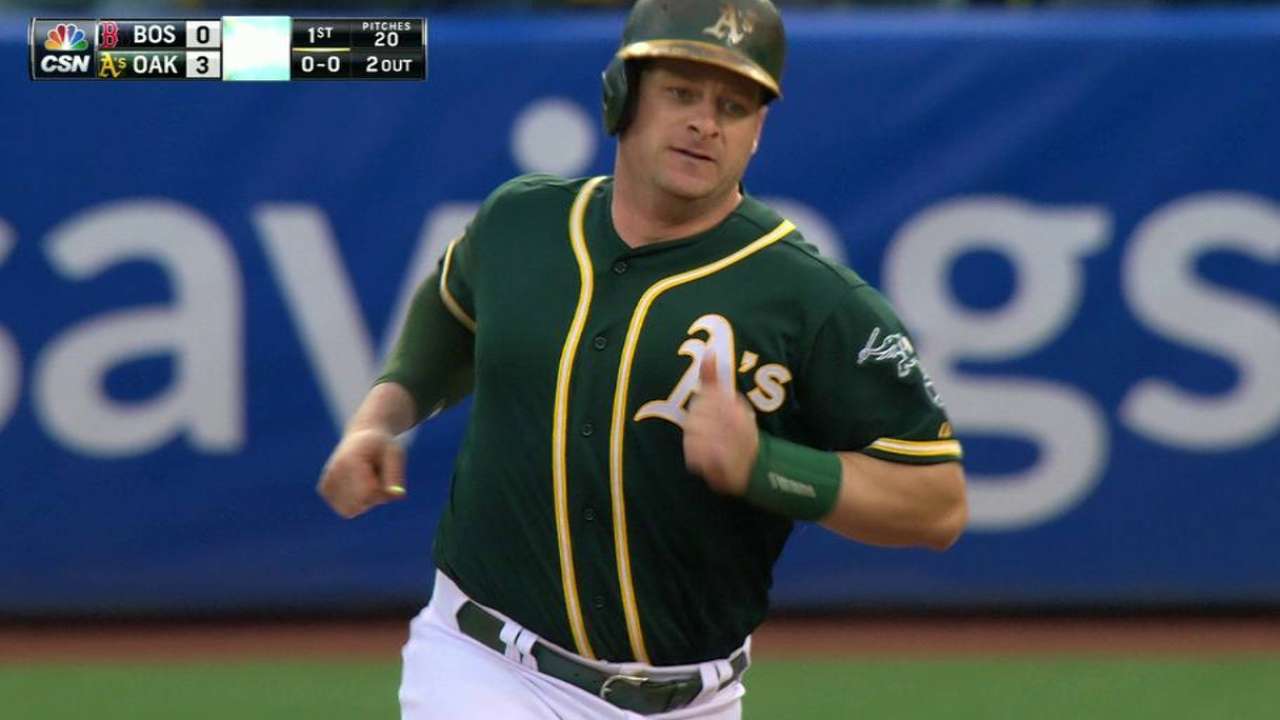 Three years later, that trade -- completely unnoticed at the time -- has added another brick in the wall of Beane's genius. Vogt is spending his first full season in the Majors at the age of 30. He's a former 12th-round Draft pick, a compact 6 feet tall, 215 pounds.
Vogt is the kind of player who throws scouts and coaches off at times. That is, they spend so much time focused on what he can't do that they overlook the things he can. These are the kinds of players who make the A's go. Other organizations might not get it. Oakland sees not just a player, but a potentially special player.
As Vogt told a reporter recently, "I'm definitely a stereotypical Oakland A."
This season, Vogt might just be the most productive catcher in all of baseball, more productive than even Martin. The Athletics also rave about his leadership and intangibles. In that way, Vogt sounds a lot like Martin. Players like Vogt are why we love the All-Star Game.
After spending eight seasons in the Minors and shuttling on and off the A's roster the past two seasons, Vogt has gotten the kind of opportunity he might have thought might never come his way.
Vogt is not just having one of the best seasons any catcher is having. His 2.3 Wins Above Replacement is second in the AL, trailing only Royals outfielder Lorenzo Cain (2.5) and just in front of 2014 AL MVP Award winner Mike Trout (2.2).
Let's take nothing away from Martin. His 1.6 WAR is 19th overall in the AL, and his defensive metrics are slightly better than Vogt's. As far as calling games and allowing pitchers to get into a rhythm, no one is better than Martin.
And this is an annual All-Star debate. Is the game for the true stars of the game, or for those players having the best individual season? In a perfect world, there'd be enough open spots for both.
Martin is a three-time All-Star and a former Gold Glove and Silver Slugger winner. That the Blue Jays would make an $82 million commitment says they believe he's a franchise-changing player.
But in 2015, there's no doubt who is better. Martin's .954 OPS entering Friday is excellent, but Vogt's 1.098 is spectacularly good. Similarly, Vogt's .337 batting average is 49 points higher than Martin's .288.
Here's hoping there's a place on the AL All-Star team for both of them, especially since Royals manager Ned Yost almost certainly will take his own -- and deserving -- guy, Salvador Perez.
But this is Vogt's year. Perez and Martin almost certainly would agree. Vogt played in 617 Minor League games, probably thinking an opportunity like this would never come. He has more than earned it.
Fans can cast their votes for starters at MLB.com and all 30 club sites -- on their computers, tablets and smartphones -- using the 2015 Esurance MLB All-Star Game Ballot until Thursday, July 2, at 11:59 p.m. ET. For the first time, voting is exclusively online, where fans may submit up to 35 ballots.
Fans may also receive the ballot by texting VOTE to 89269 (USA) or 101010 (Canada). Or text VOTA for a ballot in Spanish. Message and data rates may apply. Up to five messages. No purchase required. Reply STOP to cancel. Reply HELP for info.
Following the announcement of the 2015 All-Stars, be sure to return to MLB.com and cast your 2015 Esurance MLB All-Star Game Final Vote for the final player for each league's All-Star roster. On Tuesday, July 14, watch the 2015 All-Star Game live on FOX, and during the game visit MLB.com to submit your choice for the Ted Williams Most Valuable Player Award presented by Chevrolet via the 2015 MLB All-Star Game MVP Vote.
MLB.com will provide extensive online coverage of All-Star Week festivities.
The 86th All-Star Game will be televised nationally by FOX, in Canada by Rogers Sportsnet and RDS, and worldwide by partners in more than 200 countries via MLB International's independent feed. ESPN Radio and ESPN Radio Deportes will provide national radio coverage of the All-Star Game. MLB Network and SiriusXM will also provide comprehensive All-Star Week coverage. For more information, please visit allstargame.com.
Richard Justice is a columnist for MLB.com. Read his blog, Justice4U. This story was not subject to the approval of Major League Baseball or its clubs.