Weiss released from hospital, resting at hotel
Rockies unsure when manager will rejoin team after appendectomy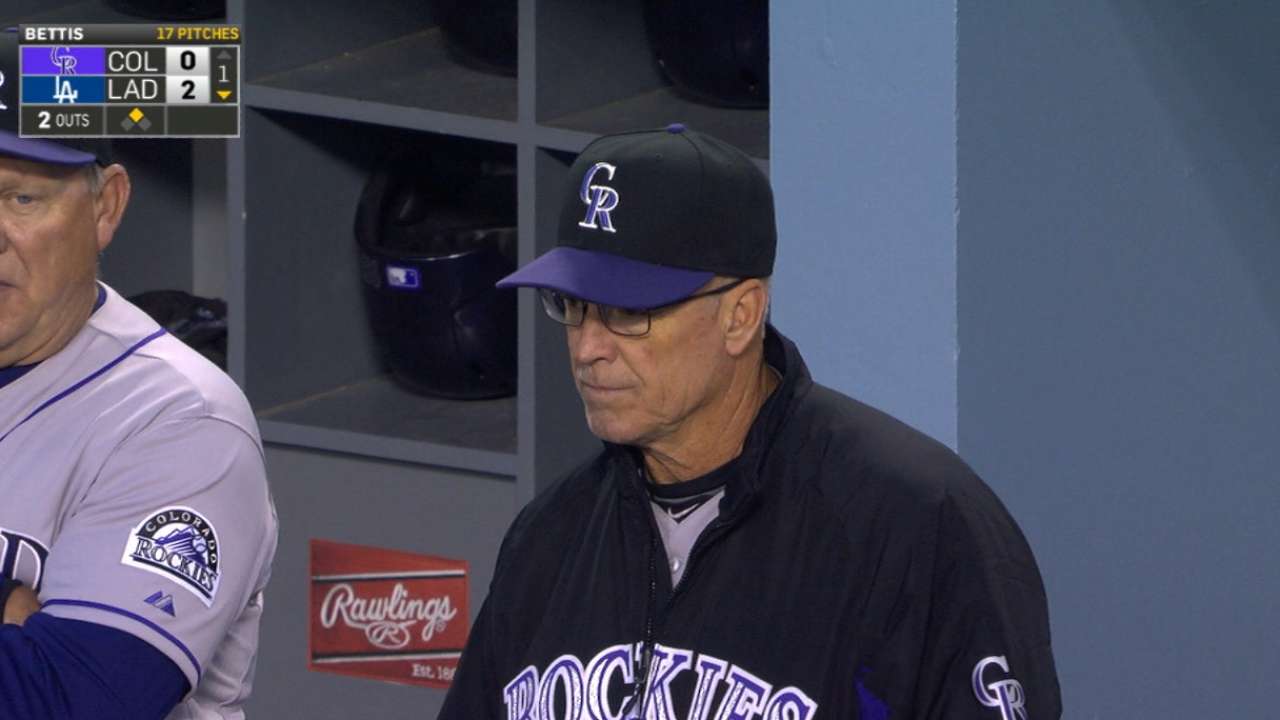 LOS ANGELES -- Rockies manager Walt Weiss was released from an Orange County, Calif., hospital Thursday, the day after an emergency appendectomy, and spent the evening at the team hotel. It is unclear when he'll rejoin the club.
Bench coach Tom Runnells, who managed the team Wednesday night during a 2-1, 11-inning loss to the Angels, will continue to run the club until Weiss returns. Rockies head athletic trainer Keith Dugger drove Weiss to the team's Los Angeles hotel.
"He was making some jokes, so he's feeling a little bit more like himself today," Runnells said. "I'm going to manage tonight. That's all I know. We'll see how he is tomorrow."
Weiss' illness was one more misfortune for a club that entered Thursday on an 11-game losing streak.
"They're great," said Runnells, who managed the Montreal Expos for parts of the 1991 and 1992 seasons. "The way they played in the series in Anaheim, we'll take that. They battled.
"The guys are playing hard. We're lacking a timely hit here and there or a key out. The attitude of the players is good. The staff is great. We're moving forward. We can't get back what's gone by."
Worth noting
• The Rockies recalled right-hander Chad Bettis from Triple-A Albuquerque to start Thursday night's game, and selected the contract of left-hander Yohan Flande from Double-A New Britain. To make room, the Rockies placed righty reliever Brooks Brown on the 15-day disabled list with right shoulder inflammation and optioned infielder-outfielder Rafael Ynoa to Albuquerque.
Flande, 29, was 5-0 with a 1.36 ERA at New Britain. Last season, making his Major League debut, Flande was 0-6 with a 5.19 ERA in 16 games, including 10 starts.
Brown (0-1, 4.50 ERA in 14 innings) hasn't appeared in a game since May 3.
Ynoa, 27, hit .241 with two doubles and three RBIs in 19 games.
• Righty Jordan Lyles, hit on the right hand by an Albert Pujols line drive at the end of the first inning of Wednesday's 2-1, 11-inning loss to the Angels, underwent multiple treatments Thursday. He hopes he will not miss a start because of the injury -- a contusion. X-rays did not reveal a break.
"If they [doctors and trainers] say long-term it's going to cause damage or I'm just not effective enough to pitch in a Major League game, I'll change my mindset," Lyles said.
Thomas Harding is a reporter for MLB.com. Follow him on Twitter @harding_at_mlb, and like his Facebook page. This story was not subject to the approval of Major League Baseball or its clubs.