Myers out 3-4 days with tendinitis in left wrist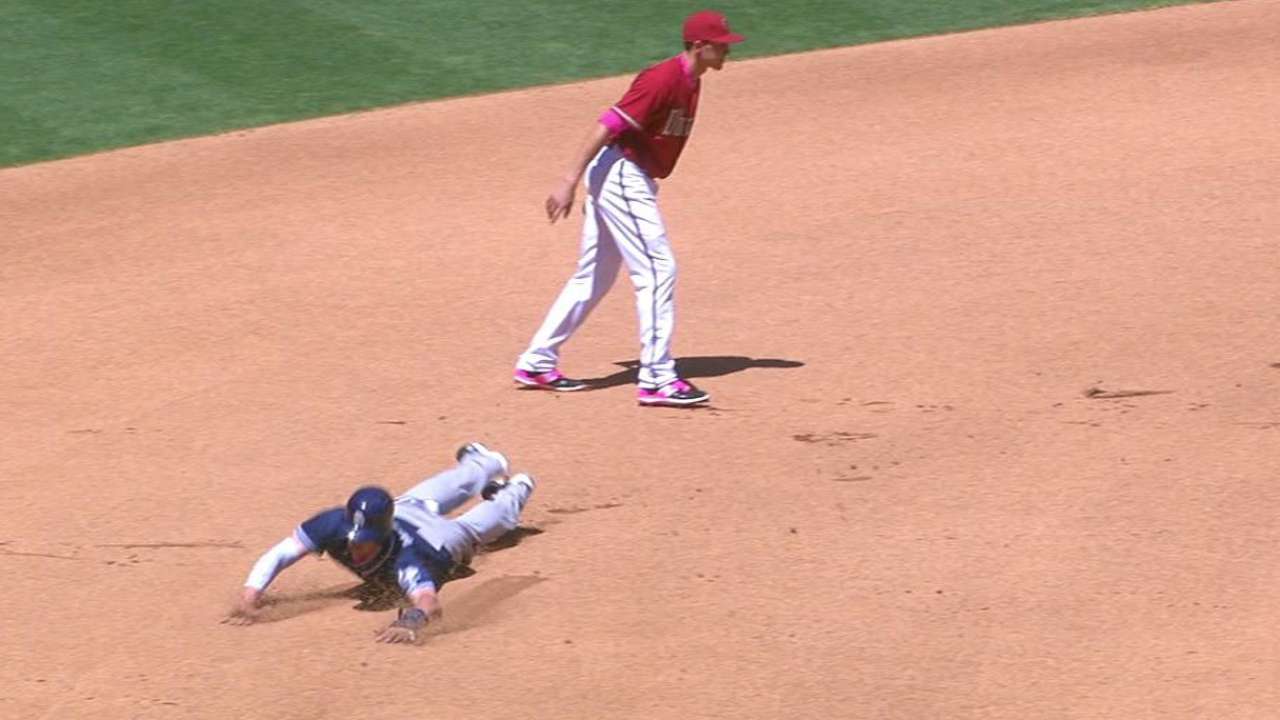 SAN DIEGO -- The prospect of losing leadoff hitter Wil Myers to the disabled list was something Padres manager Bud Black didn't want to think too much about.
For now, it appears he won't have to.
Myers, who had his left wrist examined Wednesday in San Diego, received a cortisone shot and could potentially return in three or four days, Black said on Thursday.
Myers flew to San Diego from Seattle on Wednesday to visit hand specialist Dr. Louis Pacelli and was diagnosed with tendinitis near the extensor carpi ulnaris, a muscle located on the little finger's side of the forearm that is used to extend the wrist.
"He went through a number of tests, and the reports were pretty positive," Black said. "There is quite a bit of fluid surrounding that tendon, which is causing a lot of discomfort. He's going to be down for a couple of days. We're hoping that in two, three, four days that this will resolve itself pretty quickly."
Myers was wearing a brace on his wrist on Thursday in order to minimize movement. He wasn't sure whether the wrist was feeling better because he's been told to leave the brace on until the cortisone shot takes full effect.
"I feel like I got some good news," he said. "Hopefully we can avoid the DL. I want to get on the field as soon as I can."
Myers, who leads the team in hits and runs, hurt the wrist Sunday in Arizona when he used his left hand to brace against the ground after colliding with D-backs shortstop Nick Ahmed while running the bases. He is hitting .291 with five home runs and 19 RBIs.
This isn't the first time Myers has had issues with the wrist. A year ago, he jammed it four games into the season, but that healed while he was on the disabled list after fracturing his right wrist.
"I played with it for a month and half last year, and it was something that was tough to play with," he said.
Black is eager to get Myers back in the lineup, as the Padres will play short-handed for the next few days. Myers had been playing first base with Yonder Alonso on the DL with a right shoulder injury. Myers said he has enjoyed the move to first after beginning the season in center field.
"The wrist, the hands, the fingers, it's tricky sometimes," Black said. "You don't know until he gets back out there and starts swinging. My fingers are crossed, but I think Wil feels pretty good about diagnosis, and so do the doctors."
Corey Brock is a reporter for MLB.com. Keep track of @FollowThePadres on Twitter and listen to his podcast. This story was not subject to the approval of Major League Baseball or its clubs.