By controlling zone, Angels can control stats
Organizational emphasis on throwing strikes paying immediate dividends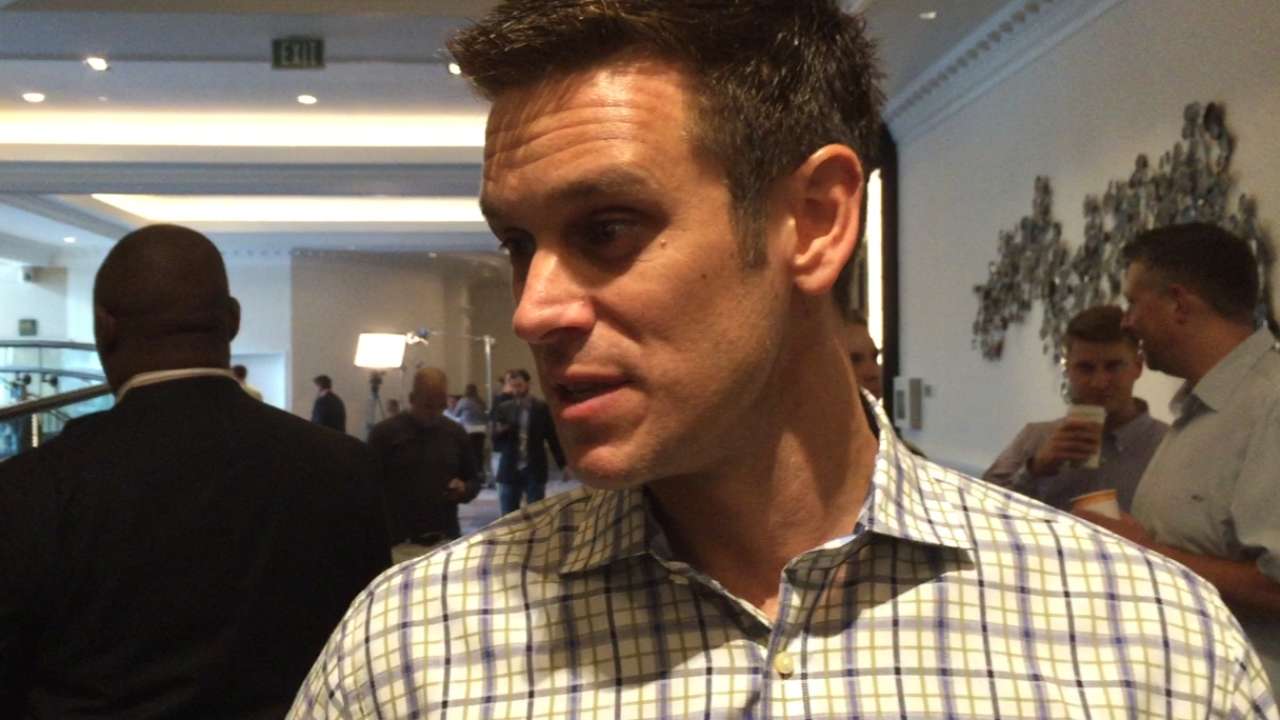 ANAHEIM -- Every time an Angels prospect throws a bullpen session during Spring Training, a coach situates himself behind the catcher, clipboard in hand, charting balls and strikes. Those numbers factor into each pitcher's overall strike percentage, and that percentage is written on a cork board inside the Minor League facility, exposed to the entire organization and subject to the most intense of scrutiny.
"We made guys aware," Angels director of player development Bobby Scales said. "When you put it on the board for everybody to see, it's amazing how much guys lock in."
The Angels' Minor League affiliates currently lead the industry in strikeout-to-walk ratio. The season is young and the statistic itself isn't comprehensive, but for an organization that has spent the past 3 1/2 years obsessing over strike-throwing ability, it's a celebrated accomplishment nonetheless.
"When I first got here and we had our first organizational meeting in the winter of 2011," general manager Jerry Dipoto said, "we really started pounding our coaches and rovers and Minor League managers that this was what we were going to be about. We were going to control the strike zone, we were going to command counts, we were going to find pitchers that could attack the strike zone and we were going to find hitters that could get into hitters' counts."
The Angels would scout differently, drafting amateur players whose skill sets could translate to the Major Leagues, avoiding what Dipoto called "the red balloon" -- the shiny, toolsy prospect with high upside but lots of risk. And they would live by this mantra:
The strike zone is baseball's line of scrimmage, and he who controls the line of scrimmage controls the game.
Angels closer Huston Street, fresh off signing a two-year, $18 million extension, epitomizes that philosophy.
Right-handed starter Garrett Richards personifies the urgency.
When Richards established himself in the Major Leagues and made a run at the American League Cy Young Award in 2014, he became the Angels' first homegrown big-name starter since Jered Weaver arrived -- eight years earlier.
"That's too long to go between starting pitchers," Dipoto said. "We needed to develop -- and we have needed to develop -- a steady flow of arms that can come through the big leagues."
After back-to-back pitcher-heavy Drafts, a trio of trades for cost-controlled starters and a top-to-bottom emphasis over three years on pounding the strike zone, the Angels are finally seeing results.
Their full-season affiliates -- Triple-A Salt Lake, Double-A Arkansas, Class A Advanced Inland Empire and Class A Burlington -- have a 2.75 strikeout-to-walk ratio in 2015. It's significantly higher than the Major League average of 2.53 and a big improvement from where they finished in 2014 (2.17), '13 (2.18) and '12 (2.01). In tune with that, the organizational ERA has respectively gone from 4.64 to 4.41 to 4.28 to 4.06 over the past four years.
It starts, of course, with talent. The Angels drafted a pitcher with 10 of their first 11 picks in 2013 and each of their first five in '14. They had the 15th overall selection last June and took Sean Newcomb, the big-bodied lefty who was just promoted to Class A Advanced. They dealt Mark Trumbo to get Hector Santiago and Tyler Skaggs two offseasons ago, traded Hank Conger to get Nick Tropeano in November 2014 and, one month later, dealt Howie Kendrick to get Andrew Heaney, their No. 1 prospect.
But the development aspect has been just as crucial.
From the start of Minor League camp, Angels pitchers are told that the big leaguers throw strikes 60 percent of the time, and they are challenged to do the same. Catchers are taught not to set up too far outside home plate during bullpen sessions and lines are painted on the grass, stretching out 200 feet, to ensure pitchers remain accurate even during long toss.
The Angels preach "productive catch play" and teach players to "hold their catch partner accountable," which means every time a ball gets away, both parties have to chase it down.
Marcel Lachemann, the longtime pitching coach and current Angels special assistant, met with lower-level pitchers on Wednesday and asked how their development was going. They started telling him about their improving changeups, sliders and cutters, and Lachemann interrupted.
"I want everybody still to know," Lachemann said, "that whether you're at the big league level or the Minor League level or in Little League, controlling the bottom of the strike zone is most important."
At their Minor League complex this spring, the Angels ran a yellow cord down their row of bullpens and right above home plate to indicate the bottom of the strike zone. The goal for each pitcher every time he stepped on a mound was to hit that string.
"The most important thing you do is you throw a ball to a target," roving pitching coordinator Jim Gott tells his prospects. "Every time you hold a ball, that is the most important goal for you."
Someday, the Angels hope, their Minor League hitters will control the strike zone as well as their pitchers have. But that will take time. The position-player talent in the Angels' farm system is sorely lacking, primarily because the last three years have been -- out of necessity -- so pitching-centric.
Asked how prideful he is of the organization's early-season strikeout-to-walk ratio, Dipoto wasn't shy to say "a lot."
"Because of how hard we've worked as an organization to get there, both in philosophy and in on-field teaching," Dipoto added. "If for even a month, we went from the bottom of the barrel to the top of the food chain in this category, that's a testament to the players on the field and all the hard work that these coaches and staff have done through the last three years."
Alden Gonzalez is a reporter for MLB.com. Read his blog, Gonzo and "The Show", follow him on Twitter @Alden_Gonzalez and listen to his podcast. This story was not subject to the approval of Major League Baseball or its clubs.