Rasmus recalls turbulent times in Toronto
Outfielder feels rejuvenated in new setting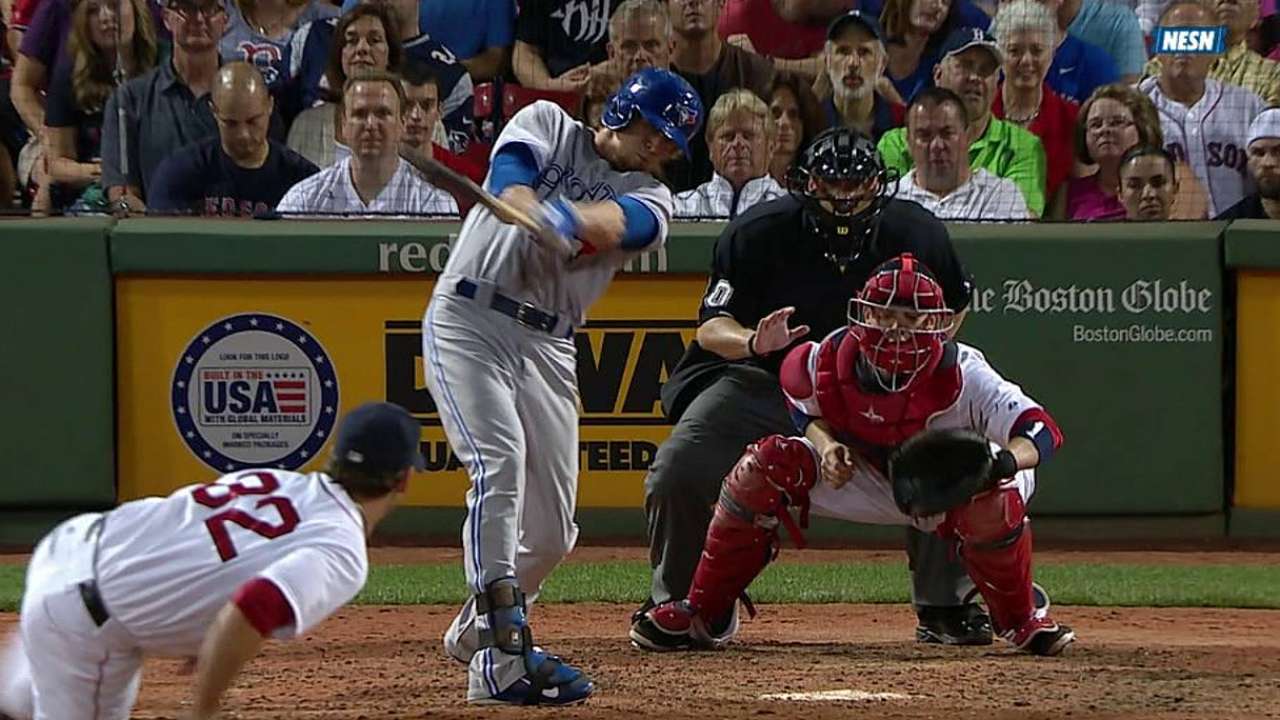 HOUSTON -- Colby Rasmus may have been a centerpiece in center field for Toronto from 2011-14, but he's not exactly sentimental about what he left behind.
The Astros' left fielder and former Blue Jay reflected on his time in Toronto before Thursday's game at Minute Maid Park, the start of a four-game set in Houston.
On one hand, he was absolutely appreciative: "It was definitely a good time, and I laid it all out on the field, beat my body up while I was there." Rasmus said. "The fans were always good to me, and I enjoyed my time."
On the other hand, he seemed dissatisfied with everything from the clubhouse atmosphere to the old turf he roamed in center field at Rogers Centre. The end of Rasmus' tenure included a benching last season after he started just 80 games, some reported tardiness and hamstring issues that limited his production.
In 2014, Rasmus struck out in one-third of his at-bats, batted just .225 and missed over a month because of hamstring issues. He only started one game in September, receiving barely a dozen at-bats down the stretch.
"That was tough, you know, not getting to play the last month. I wiped it out of my mind, that's all behind me," the 28-year-old said. "[Houston] is definitely a better place for me."
So what does Rasmus feel is different in his new digs?
"I can kind of be myself and don't have other people judging me all the time. It's more of a friendly environment, everybody gets along a little better, not poking and prodding about how much [playing] time you got and worrying about what other people are doing. I fit in better here, not having to look over my shoulder worrying about being a veteran or how many years you have or how much [playing] time you have and the pecking order of it. I'm not going to go into any details, but I feel more comfortable in this clubhouse and in this environment."
Rasmus said he didn't always feel like such an outcast in Toronto. When he first arrived in 2011 and through the next two seasons, he said he was indeed happy as a Blue Jay. When that changed, he couldn't exactly pinpoint, but he said it was noticeable.
"When I wasn't producing like I [had been], it wasn't as comfortable," he said. "[After playing] nearly 60 games in a row on the turf, I started to teeter off and my hamstrings were hurting and you're not playing up to expected, then things change. Friendly smiles aren't as friendly anymore. That's just the way it goes."
The outfielder seems renewed in Houston, hitting six home runs, hitting up local Mexican food spots and helping the Astros to first place in the American League West six weeks into the season. Part of that rejuvenation, he said, came from playing primarily on grass again.
"There's a pretty good difference between [grass and turf], and I'm playing left now, so covering less field here," Rasmus said. "Playing on some grass, legs are staying under me a little more. In the hips is probably where I feel it the most."
It wasn't all hard feelings, though. Rasmus and Blue Jays manager John Gibbons reunited on the field about an hour before the game and chatted briefly behind home plate.
This isn't the first time Rasmus has left on uneasy terms with a team. He reportedly requested a trade from the Cardinals in September 2010, among other issues, before St. Louis dealt him to Toronto in July 2011.
After playing 151 games and slugging 23 home runs for Toronto in 2012, his production and durability dropped almost across the board before parting ways with the team this past offseason.
Chris Abshire is a contributor to MLB.com. This story was not subject to the approval of Major League Baseball or its clubs.