Blossoming in May: Hosmer on hot streak
With seventh homer of season, fourth this month, Royals star showing he has power to all fields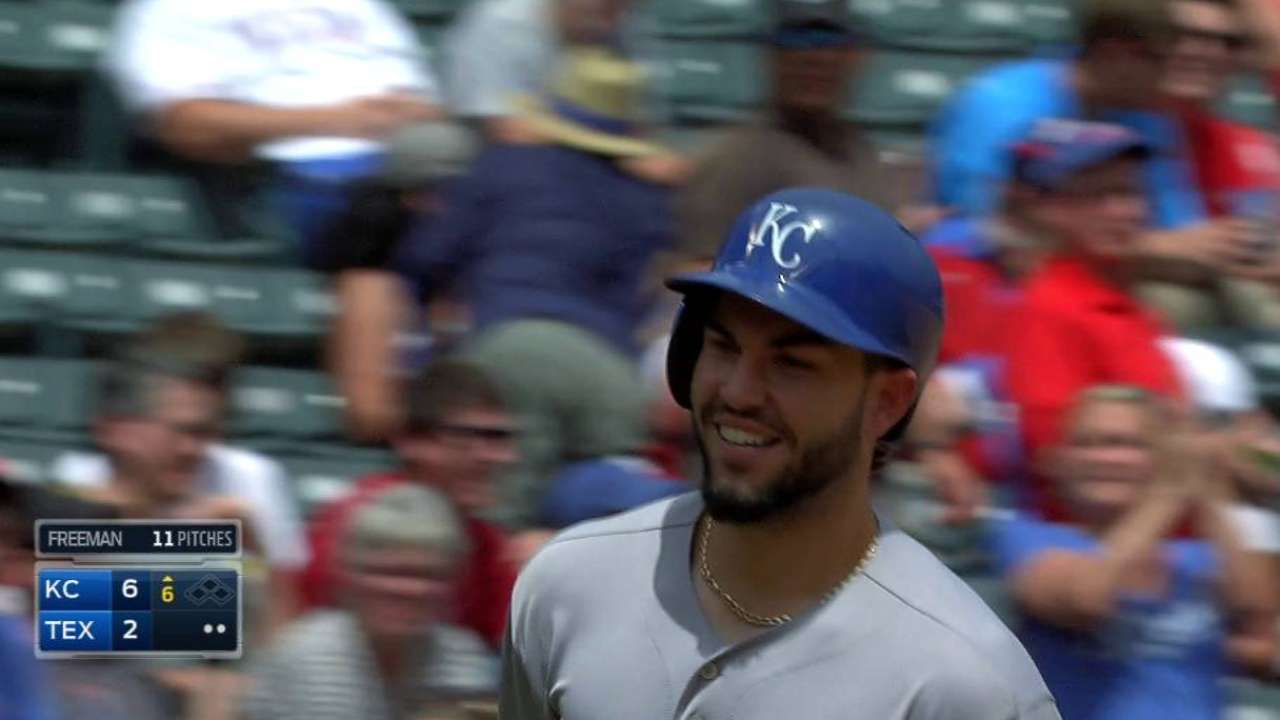 ARLINGTON -- Eric Hosmer didn't reach seven home runs last season until Sept. 12, and he finished the year with nine.
Hosmer finds himself in a different place -- and on a different planet -- after hitting his seventh homer of this season in Thursday's 6-3 win over the Rangers at Globe Life Park. Hosmer is in such a hot spot this month that when he was told when he hit No. 7 last season, he cringed.
"Come on man, don't kill my vibe," Hosmer said.
That would be almost impossible to do. Hosmer extended his hitting streak to 11 games, going 3-for-5 with two RBIs in Thursday's victory. He is batting .370 for the month, with four home runs and 14 RBIs.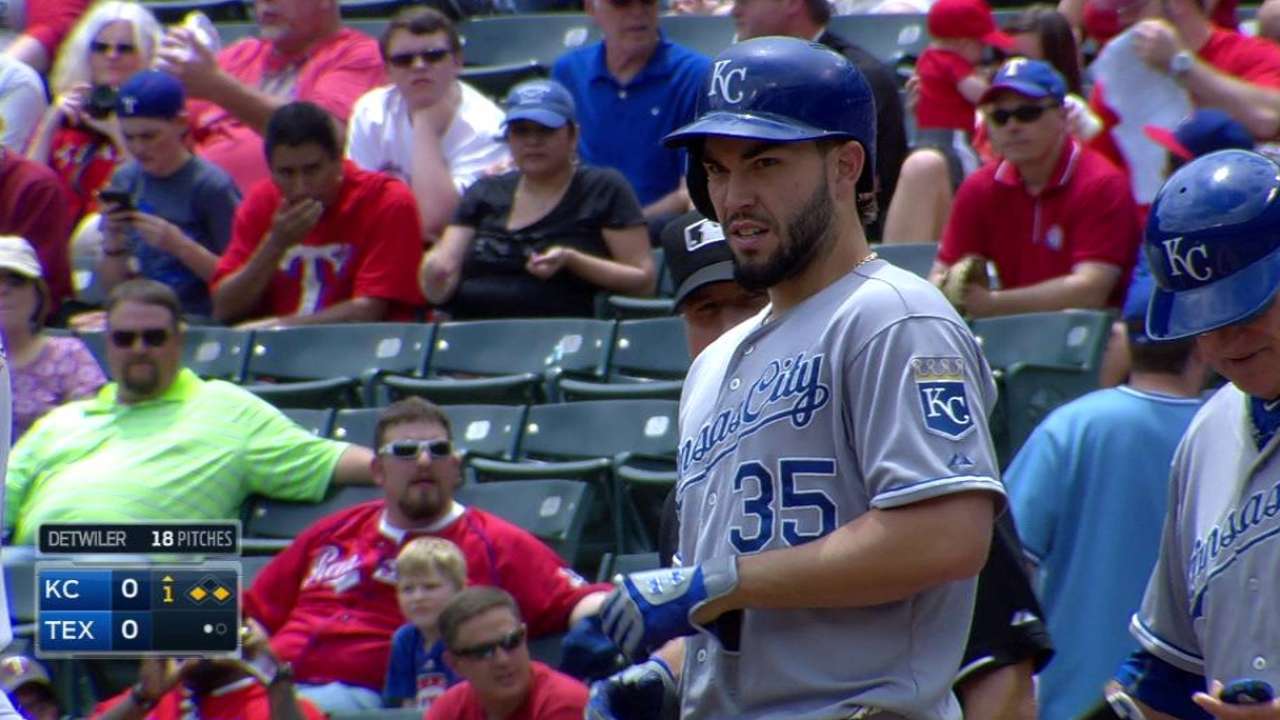 He is blossoming into a power hitter to all fields, and it's only appropriate that he's doing it in May.
"What's so impressive is his off-field power," Royals manager Ned Yost said. "Most of his home runs have come to left field or center field, the off field. That's not his pull power. He has tremendous center-field and left-field power."
Hosmer hit a home run every 33.86 at-bats in the Minor Leagues, and he's hitting one every 35.81 so far in his Major League career. He sits at a homer every 19.7 at-bats this season, including four in 54 at-bats this month.
Is he evolving into a power hitter as a 25-year-old in his fifth season in the big leagues?
"He's growing into a power hitter, for sure," Yost said.
Hosmer's approach against the first of two left-handed relievers the Rangers brought in to face him in the sixth and ninth innings was to sit back and hit the ball where it was pitched. On an 0-2 pitch against Sam Freeman in the sixth, Hosmer clubbed a towering drive over the center-field wall for a 6-2 lead.
Then, in the ninth, Hosmer won the battle against sidearm lefty Alex Claudio, lacing a single into right field.
"Just realizing the situation right there with the lefty and with the guy who has a changeup that cuts like his away, you try and shorten your swing down and just focus on going the other way," Hosmer said.
"If anything proves that, it was the last at-bat against the sidearm guy," he said. "It's really easy to go up there and try to pull the ball. The plan of going the other way is a sign of maturity right there."
Todd Wills is a contributor to MLB.com. This story was not subject to the approval of Major League Baseball or its clubs.