Miggy humbled to be 1 homer shy of Big Cat
Next long ball will draw Tigers superstar even for most by Venezuelan player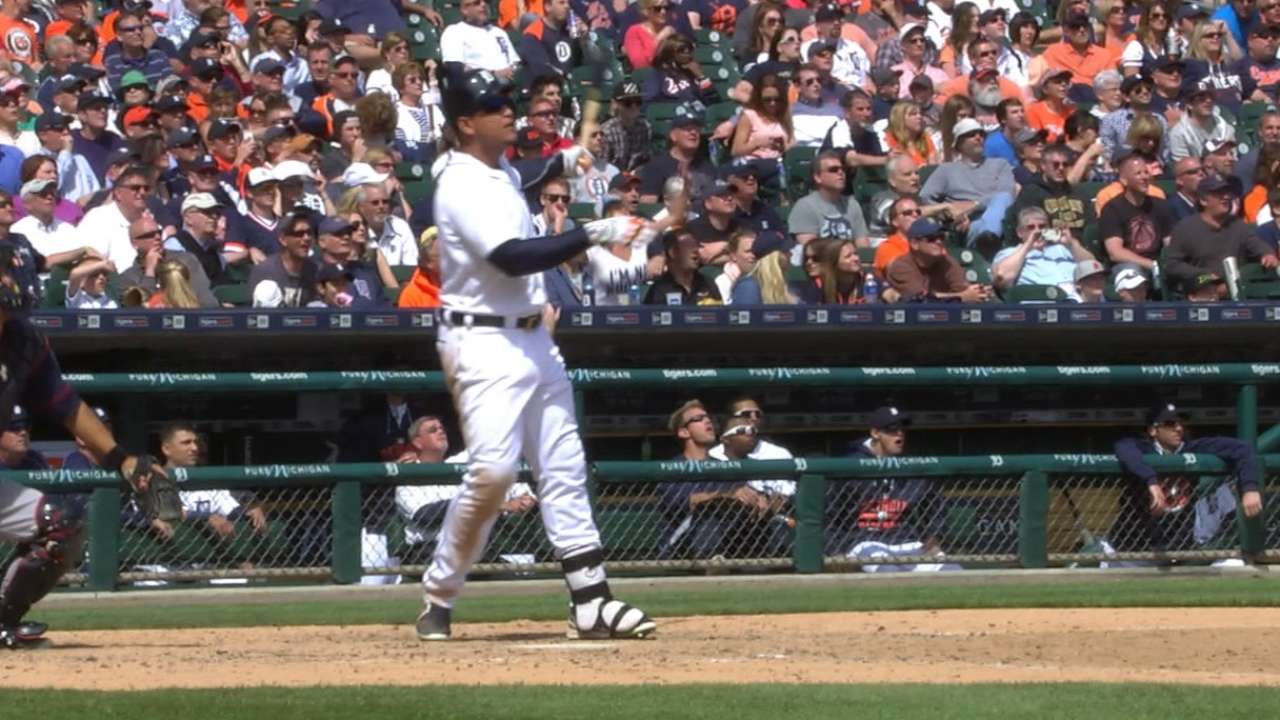 DETROIT -- One of Miguel Cabrera's earliest big-league memories with the 2003 Marlins was walking into their former home, then known as Pro Player Stadium, and looking up at a Venezuelan hero.
About midway up the upper-deck seats in left field was a different colored seat to mark where Andres Galarraga's grand slam off Kevin Brown landed on May 31, 1997. It was estimated anywhere from 460 feet to 500-plus.
"I saw where the chair was," said Anibal Sanchez, a Marlins rookie in 2006. "That's far. That's far and high."
As Marlins baseball history goes, it was historic. As Venezuelan baseball history goes, it's legendary.
"I tried to hit it over there," Cabrera said, "but I never did. In [batting practice]? Never. Not even close."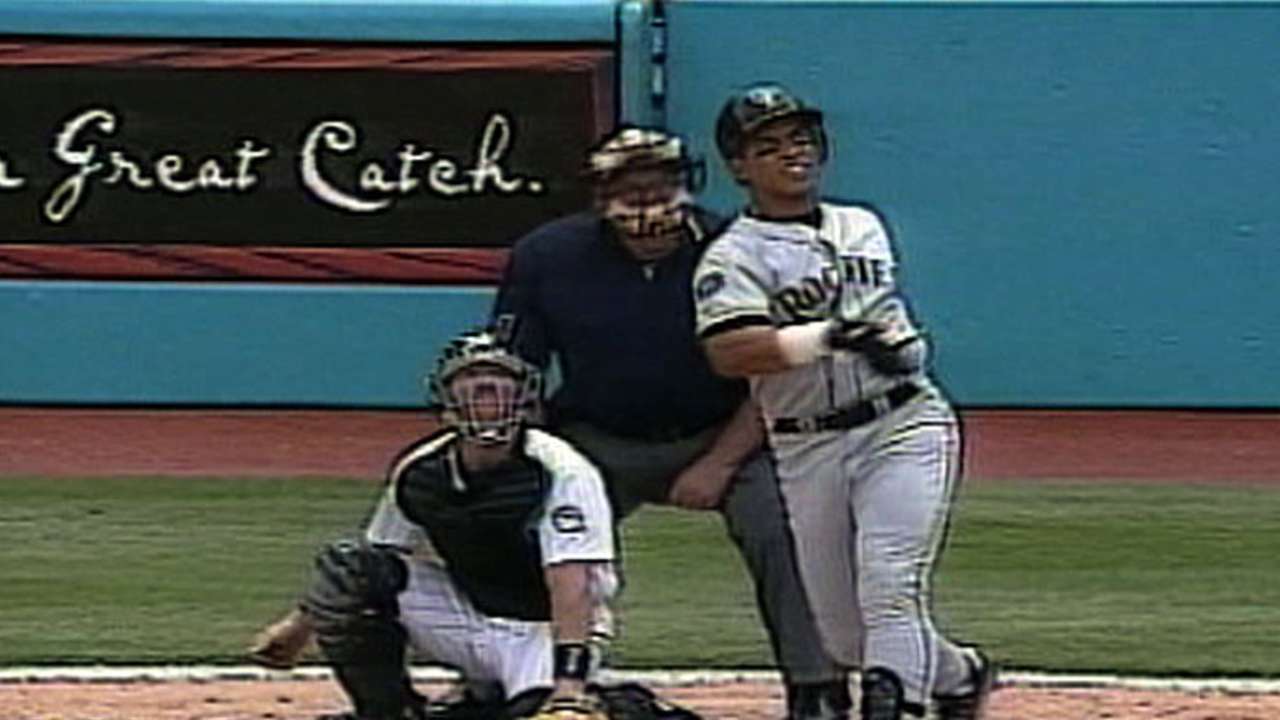 He never matched Galarraga in Miami, however many feet the ball traveled. But he's about to match Galarraga in the history books, with 399 career home runs. His two-homer game in Thursday's 13-1 win over the Twins put him one away from the record for a Venezuelan-born player.
His next shot, which will likely come either this weekend in St. Louis or next week in Detroit, will tie Galarraga. And it will be a big deal in their home country, not to mention his own clubhouse, where many Venezuelan-born players talk of Galarraga with reverence.
"He's one of the idols for a lot of people," Sanchez said. "I think Galarraga was amazing. My mom, she followed him. It's amazing when you can see one guy next to you do the same as the people you follow. ...
"I heard Miggy say something yesterday about it. He never thought he was going to be in that situation. He never thought he was going to be a big name. You know, that's why this guy is working so hard, year by year, day by day. And everything that's happened to him, he's worth it, because he's worked for this. He's a great player. I know he's going to pass Galarraga, and he's going to be one of the best hitters and players from Venezuela."
As Cabrera thought about it Thursday before taking off for St. Louis, the same emotions hit him. He doesn't play for records, he says, only wins. But the numbers are getting too big to ignore.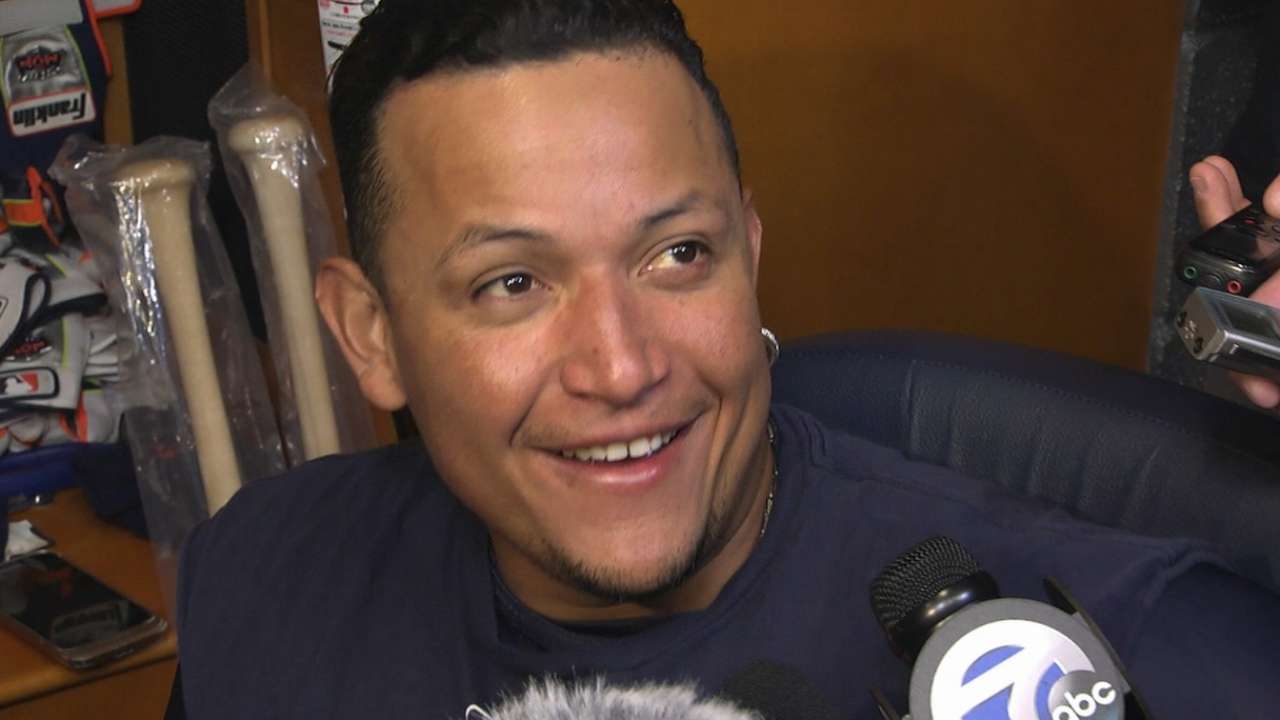 "Time goes quick," Cabrera said. "I feel like my first year was last year. Sometimes I'm scared because I don't want to stop playing baseball, you know? I just want to stop [aging] right here. I'm 32. Stop! And keep playing. Time goes too fast, man."
Cabrera looked young on Thursday. He hadn't homered since May 3, but on a sunny afternoon at Comerica Park, he sent a no-doubt drive into the left-field seats off lefty Brian Duensing in the sixth. One inning later, he hit an opposite-field shot he wasn't sure about, sending a J.R. Graham offering deep to right to put Detroit into double digits and land himself on Galarraga's doorstep.
Miggy never thought he'd be here. Even now, it's difficult for him to compare.
"He had so much power," Cabrera said. "You can't do the same thing, what he did, because he hit a lot of home runs with power, like 450-, 500-foot home runs. You don't want to say, 'I'm going to be better than him.' My home runs are pretty nice, but 400 [feet]. When he used to hit a ball, he'd hit the ball like 450 to 500 [feet]. Obviously, he's got more power than me."
Still, even if Cabrera doesn't have the distance in his mind, he's going to have the quantity. It'll be a feat in Venezuela when it happens. For Cabrera, it's going to be another step.
"I know it's going to be big in Venezuela," he said. "Everybody is going to feel proud of that. There's going to be a lot of excitement over there. But I have to stay focused on what I can do right here."
Jason Beck is a reporter for MLB.com. Read Beck's Blog and follow him on Twitter @beckjason. This story was not subject to the approval of Major League Baseball or its clubs.