Baez lands on DL as Dodgers recall Coulombe
Lefty pitching prospect replaces righty, who has a right pectoral strain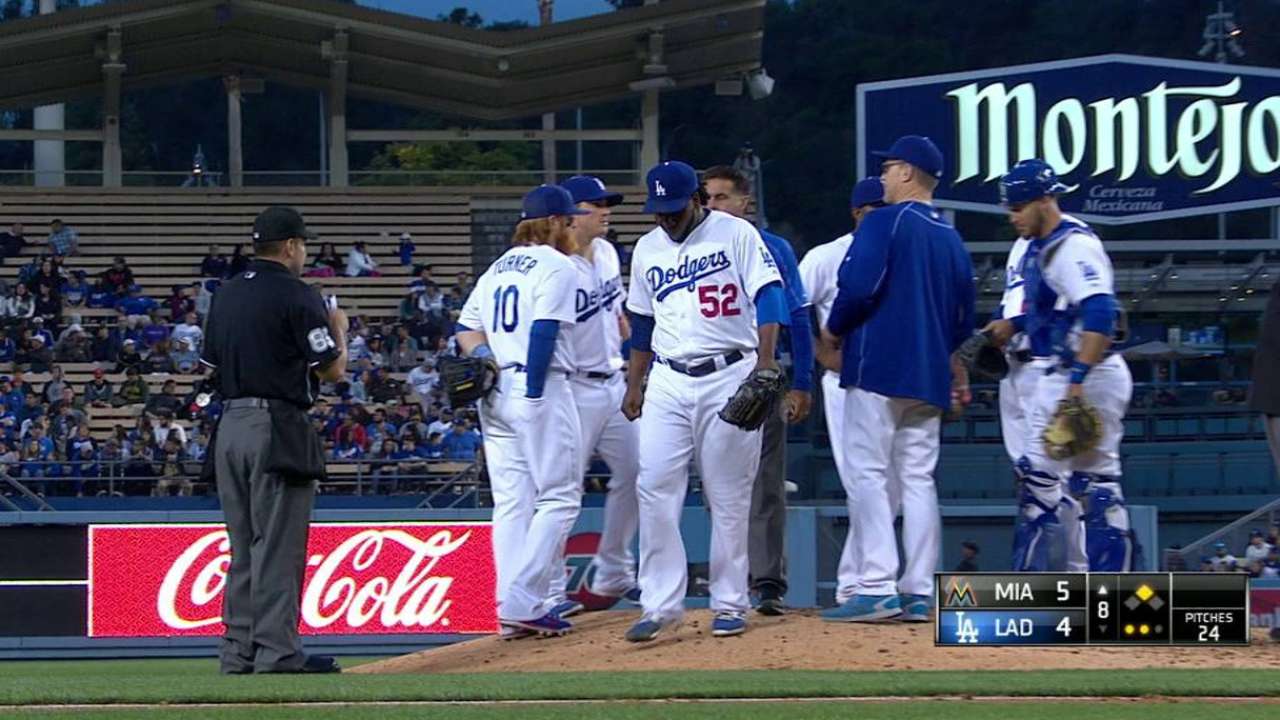 LOS ANGELES -- The Dodgers placed setup reliever Pedro Baez on the 15-day disabled list Thursday with a strained right pectoral muscle, offering no timetable for a return, which usually is a sign that it'll be awhile.
The muscle assists with movements of the shoulder, so it is essential for a pitcher, especially one who throws 99 mph, like Baez. He'll start with rest, another sign that he'll need several weeks.
Pitching to former teammate Dee Gordon in the eighth inning of Wednesday night's 5-4 loss to the Marlins, Baez said he felt tightness near his armpit and made three more pitches before he motioned to catcher Yasmani Grandal, who motioned to the dugout. The pitch Gordon hit for a double was clocked at 94 mph, four mph slower than the pitch on which Baez was apparently injured.
In between, he tried to fool Gordon with back-to-back changeups, which manager Don Mattingly said was a tipoff that something was wrong.
"That's out of his mix," Mattingly said of Baez. "It's a pitch you would use to get him out, but not one of his top two pitches. It made it seem a little funny."
The Dodgers recalled left-handed reliever Daniel Coulombe, their No. 26 prospect, from Triple-A Oklahoma City on Thursday, but possibly for only one game, as closer Kenley Jansen successfully completed his rehab from left foot surgery in a Wednesday night game for Rancho Cucamonga and said he would be ready if the Dodgers activated him Friday. The original plan was to activate Jansen on Saturday.
"The timing is never really good, but the fact that Kenley's ready makes it a little easier to swallow," said Mattingly.
Baez, a rookie who was converted from third base, has emerged as a key late-inning option for Mattingly, with a 1.76 ERA, 22 strikeouts and three walks in 15 1/3 innings. Baez said he has never had a similar injury.
Mattingly saw the "silver lining" in the injury.
"It'll take some usage off him," he said. "Innings and appearances will be down. He'll get a little break."
Ken Gurnick is a reporter for MLB.com. This story was not subject to the approval of Major League Baseball or its clubs.