Mesoraco to make decision on surgery soon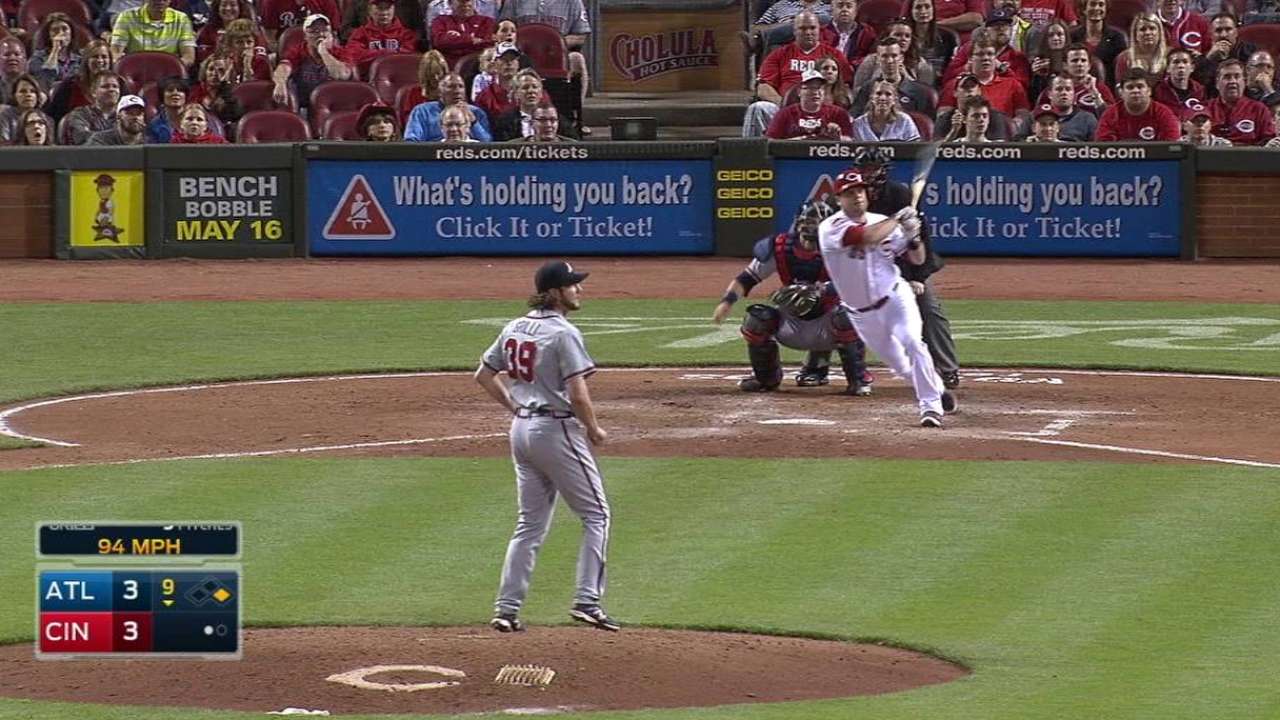 CINCINNATI -- The saga of catcher Devin Mesoraco could soon reach a resolution. Next week will be a critical juncture that could determine if he has the impingement in his left hip repaired with surgery.
Mesoraco, who has been unable to catch since April 12, expects to try catching a bullpen session sometime next week while the team is in Kansas City and Cleveland. The Reds being in American League ballparks again also affords him the chance to be the designated hitter for five games.
"That's kind of the time," Mesoraco said on Thursday. "We have to see if it's going to work out. It's been over a month [since catching]. If it's going to work, it's going to happen at that time. If it isn't, we'll know at that time. At this point, it's time to figure it out."
Because Mesoraco can still hit and run, the Reds resisted putting him on the disabled list and have primarily used him as a pinch-hitter. That paid off on Tuesday, when he delivered a walk-off RBI double in a win over the Braves. He also notched two hits as the DH on Sunday vs. the White Sox in Chicago.
Mesoraco and the club have also put off what would likely be season-ending surgery while they explore every avenue of treatment and therapy. He reported feeling much better in recent days.
"The things we have been doing have really helped," said Mesoraco, who has worked at catching balls in the outfield before games the past few days in case he's needed there in an emergency.
Surgery is still a possibility, and the catching test could be the determining factor.
"I guess I'm optimistic I will be able to catch in a relatively close amount of time," Mesoraco said. "I haven't done any catching drills for 30-some days. At some point I'll probably have to get some practice, get back there and get some work in. But I think at this point I'm going to be able to catch, or I'm going to get the surgery. We're not going to keep pinch-hitting the whole year, I know that. We have these DH games, which will help. After that, if the catching goes well, which I am optimistic it will, then we'll catch. If it doesn't, then we'll make another decision."
Worth noting:
• With reliever Ryan Mattheus added to the roster on Thursday after being claimed off waivers on Wednesday, the Reds optioned reliever Pedro Villarreal to Triple-A Louisville. Villarreal was recalled for the third time this season on Monday when Kevin Gregg was designated for assignment, but he did not pitch in the past three games.
Mark Sheldon is a reporter for MLB.com. Read his blog, Mark My Word, and follow him on Twitter @m_sheldon. This story was not subject to the approval of Major League Baseball or its clubs.