Iglesias will be sticking around for a while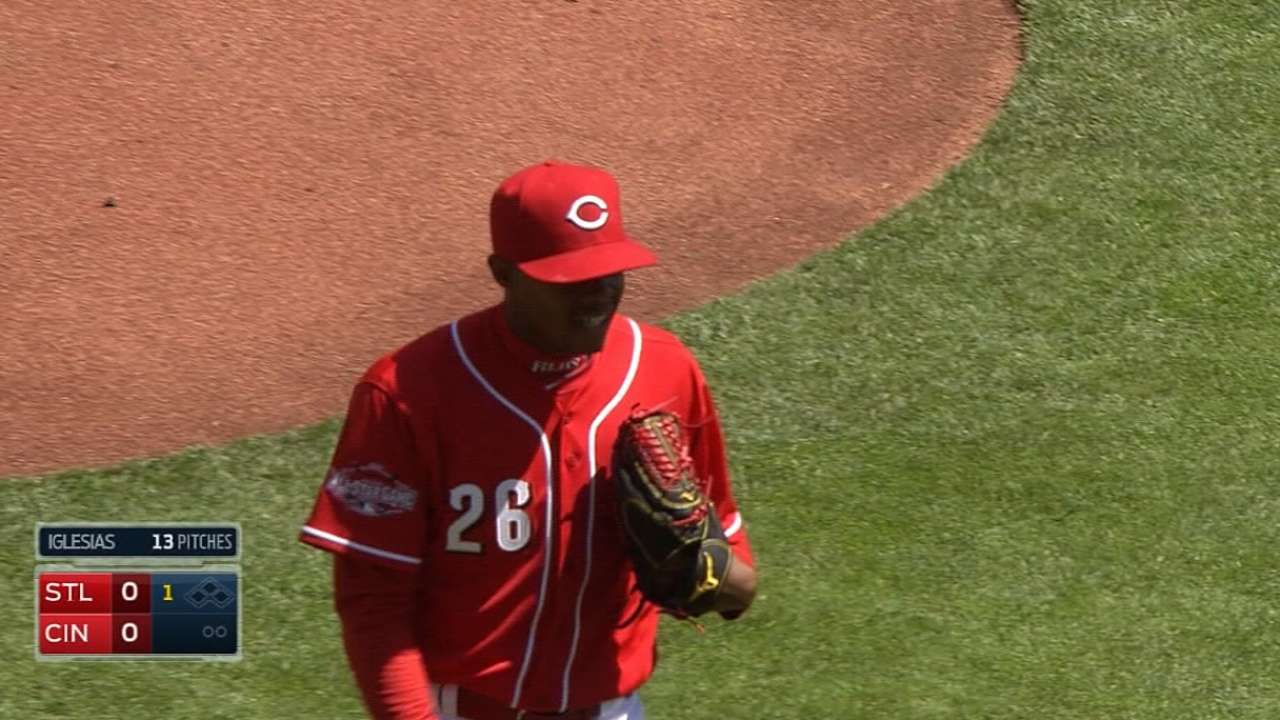 CINCINNATI -- On Thursday, the day after his dazzling eight-inning start and first big league victory, there was no directive for pitcher Raisel Iglesias to return to Triple-A Louisville. He took the field at Great American Ball Park with the rest of the team for stretching and batting practice, as he will be sticking around for a while.
After a break, Iglesias will soon be available out of the bullpen.
"I'd guess [after] a minimum of three full days off, we could look at him potentially on Sunday, if not certainly in Kansas City," manager Bryan Price said.
Fellow rookie Michael Lorenzen, who has made three big league starts since his callup, will also be going to the bullpen, and is immediately available since his most recent start came on Sunday, vs. the White Sox.
"Because we have them in our bullpen, that gives us the luxury to have Iglesias not have to be sent back to Triple-A in order to replace that spot in our bullpen," Price said. "We can go with a full seven-man bullpen starting today, even with Iglesias on our roster. He can help us in our bullpen until we can make a decision on if he's better served in our rotation or our bullpen or Triple-A."
There are two scheduled off-days next week, and four over the next 19 days. The Reds do not need a fifth starter until at least May 26, vs. the Rockies.
"It's too much rest, almost, for the starting pitchers if we were to give every pitcher the day off every time we had one," Price said.
To Price it's a win-win, and not just for these pitchers. The struggling bullpen is adding two dynamic young arms as well.
"Opportunities are created because we've needed a boost out of our bullpen," he said. "It's trying to shore up our bullpen with young guys, and it does serve multiple purposes."
Including Anthony DeSclafani, there are three rookie starters on the pitching staff, but Iglesias and Lorenzen especially need to have their innings totals monitored closely.
Lorenzen threw 120 2/3 innings last season in Double-A, his first full year as a professional starting pitcher, and he is already at 35 combined with the Reds and Triple-A Louisville in 2015. Iglesias spent 2014 in Haiti not pitching after his defection from Cuba and has 34 1/3 innings pitched between the Majors and Triple-A. Both pitchers will have limits, but having both get a mix of starts and relief appearances could give them valuable experience in the Majors that they wouldn't get in the Minors.
"Here [Iglesias] could make us a better team with his contributions out of the bullpen until we decide he needs to be back starting again," said Price. "I think it's a very positive thing. The same thing with Lorenzen -- he has history as a relief pitcher, it's not going to be foreign territory for him to know how to get loose and get ready, and it'll also give us a chance to limit his innings. Then he'll come back in our rotation."
Mark Sheldon is a reporter for MLB.com. Read his blog, Mark My Word, and follow him on Twitter @m_sheldon. This story was not subject to the approval of Major League Baseball or its clubs.