Galvis, Howard pace Phillies with 3 hits apiece
Infielders satisfied with their approach, patience in win over Bucs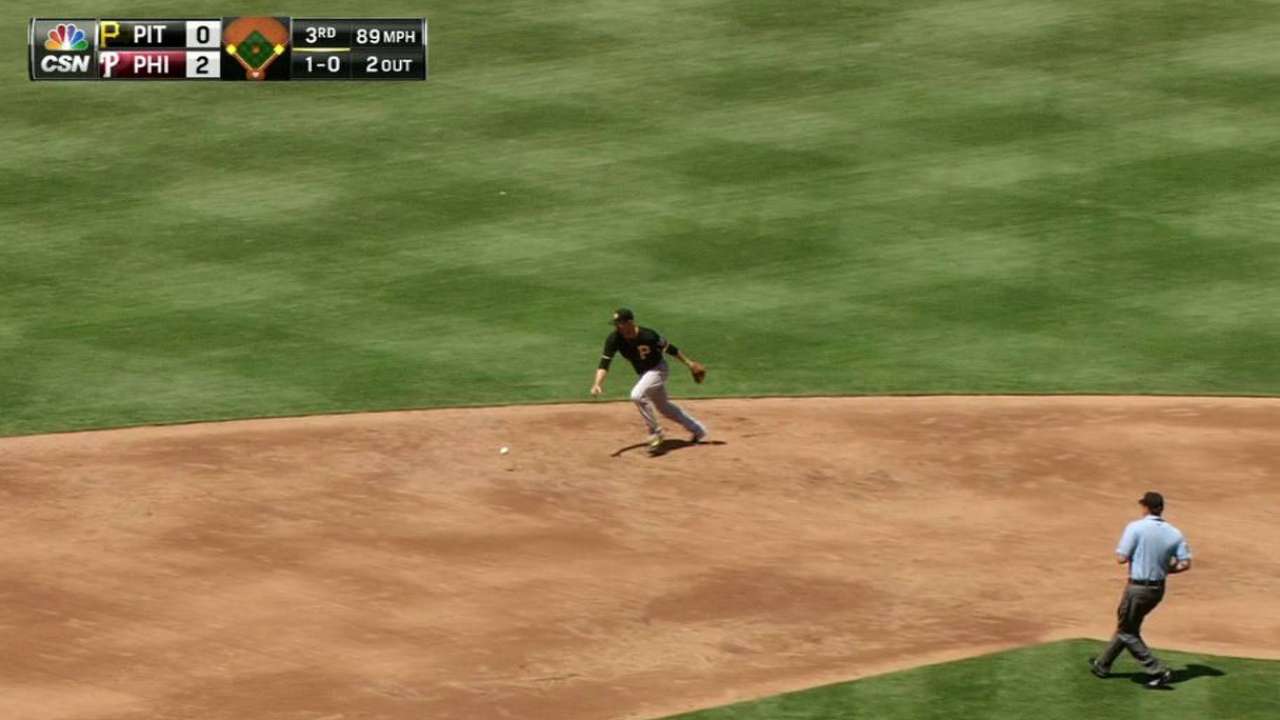 PHILADELPHIA -- Any time you ask Freddy Galvis what he's changed about his approach this season, he'll tell you the same thing: He's shortened up his swing, and this has led to more ground balls, more balls in play and more opportunities to get on base.
As was evidenced Thursday afternoon, Galvis isn't just saying the company line. His new approach is working.
Galvis finished Thursday's 4-2 Phillies victory over the Pirates 3-for-3 with a walk, two runs scored and a stolen base. This was Galvis' seventh three-hit game of the season and came in the middle of what is now an 11-for-25 stretch over the past two series.
But to Galvis, Thursday wasn't about the hits he recorded so much as it was about how he recorded those hits.
"Today I hit three grounders and three base hits," Galvis said. "I think that's the key. When I stay on the ground, I can get base hits."
The day improved Galvis' batting average to .353, a mark that is 79 points better than the next best everyday Phillie. To manager Ryne Sandberg, the fact that Galvis has been able to sustain this success this late into the season is a testament to how his approach is working.
"When you're hitting it for 100 at-bats and starting to face teams for the second time, which he has, he's just sticking with what's working for him and being real patient out there," Sandberg said. "He's just really on the ball. He's doing a nice job of really cutting down his swing and making some nice contact."
As notable as his day was, Galvis was not the only player with three hits Thursday. First baseman Ryan Howard started off the day with singles in the first and third innings before jumping on the first pitch of the fifth inning for a solo home run, his seventh of the season. No teammate of his has more than three.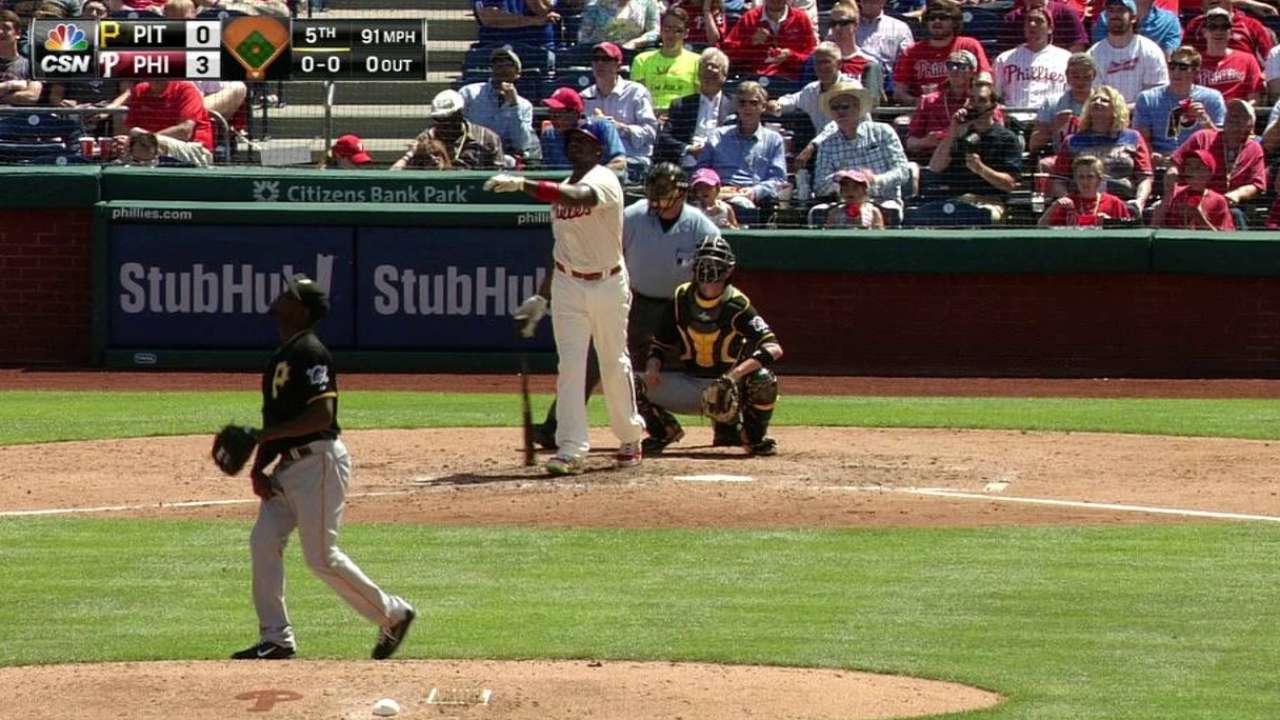 Howard attributed his success to his preparation and patience.
"I was just trying to get good pitches up, just trying to hit mistakes," Howard said. "[Pirates starter] Vance [Worley] is a guy who, he's got pretty good movement on his ball. You've just got to be patient and just kind of wait for mistakes, and when he makes them, you've got to jump on them."
Howard had been hitting the ball excellently in early May before cooling off in his past five games, hitting just 1-for-15 over that stretch. However, Sandberg said the success the big left-hander found Thursday was tied to his success in previous weeks.
"He's squaring up the ball much better," Sandberg said. "He's getting hits to go with that. I think gaining confidence comes with that. I like what he's doing. He can help us win a game. If he can get hot and be one of the guys who gets hot, that goes big with what he can do for us."
Nick Suss is an associate reporter for MLB.com. This story was not subject to the approval of Major League Baseball or its clubs.