Inbox: How high is Bethancourt's ceiling?
Braves beat reporter Mark Bowman answers fans' questions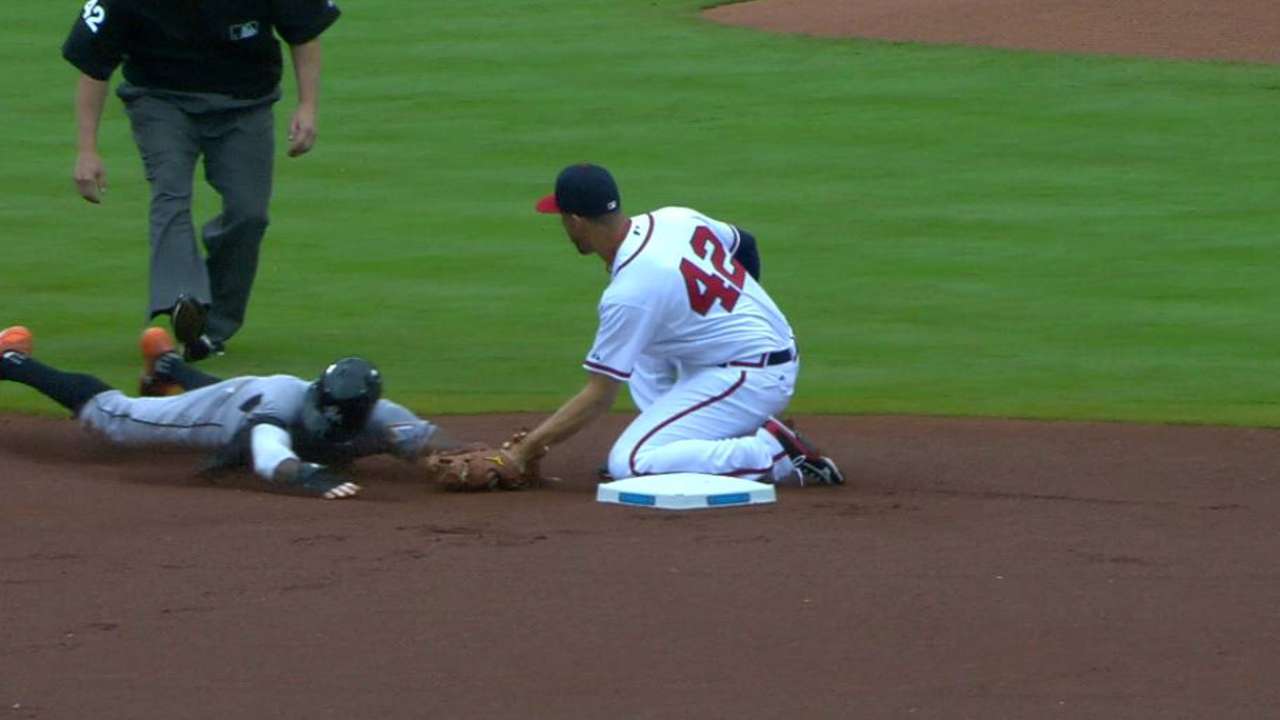 Do you see Christian Bethancourt as a legitimate starting catcher at the Major League level?
-- Rick W., Keiser, Ark.
Though I didn't initially agree with the decision to suddenly stop utilizing Bethancourt as the primary catcher just two weeks into this season, I understood why the Braves felt they needed to do something to motivate Bethancourt to clean up some of the sloppiness he displayed behind the plate late last season and again this year.
The motivational ploy worked a little longer than anticipated, primarily because A.J. Pierzynski stepped into the primary role and suddenly became Ty Cobb. But now that Pierzynski has cooled off, Atlanta needs to take advantage of the opportunity to get a feel for what the club has in Bethancourt.
Submit an Inbox question to Mark Bowman
With Kelly Johnson on the 15-day disabled list, manager Fredi Gonzalez will likely continue to play Pierzynski on a regular basis. But at the same time, you have to wonder if it is wise to expect consistent offensive production from a 38-year-old catcher who has to handle the physical rigors of the position on a regular basis.
Just as it is not necessarily prudent to ask Pierzynski to catch four out of every five games, it would not be wise for the Braves to stunt Bethancourt's development by limiting him to one or two starts per week.
Though he displayed some signs of encouragement during Spring Training, there are still questions about Bethancourt's offensive potential. There are also concerns about his glove, particularly pitch framing and the rash of passed balls charged against him late last season.
But until Bethancourt is given a chance to get a consistent feel for the game by playing at least three or four times per week, it would not be wise to make assumptions about his potential value. As of now, we have not seen enough of him to know what he might do as a starting catcher at the Major League level.
Are the Braves still thinking about using Jose Peraza as a center fielder?
-- Name withheld, Crossville, Tenn.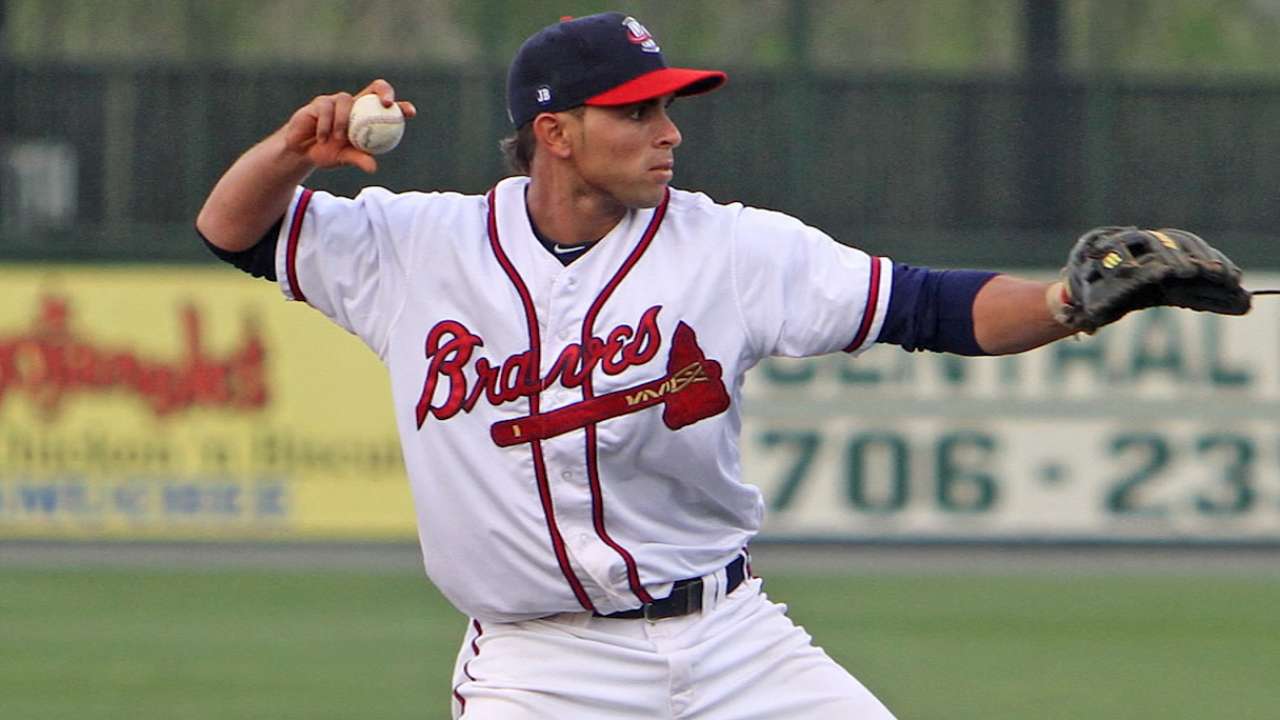 The Braves toyed with that idea during Spring Training and then ditched it once they became confident that Mallex Smith could become their everyday center fielder and leadoff hitter as soon as next year.
As the past couple of weeks have elapsed, Atlanta has made it very clear that the team does not intend to rush Peraza, ranked by MLB.com as the organization's top prospect. The Braves seem intent on allowing the 20-year-old second baseman to remain comfortable with his normal development while not being subjected to learning a position that he would fill only on a short-term basis.
Do you foresee the Braves being bigger players in the international market, perhaps exceeding their bonus pool after the July 2 cutoff?
-- Ben R., Tallahassee, Fla.
While I don't think the Braves will exceed the bonus pool that that they bolstered via multiple trades this past offseason, they will garner more attention on this year's international signing day than they have in recent memory. MLB.com's Jesse Sanchez projects Atlanta's top two targets as being Cristian Pache -- a speedy outfielder from the Dominican Republic -- and Derian Cruz -- a fleet-footed shortstop from the D.R. who is considered by some to be the most athletic player on the market this year.
When will the Braves see what they have in Todd Cunningham and some of Triple-A Gwinnett's other players?
-- Aaron K., Cumming, Ga.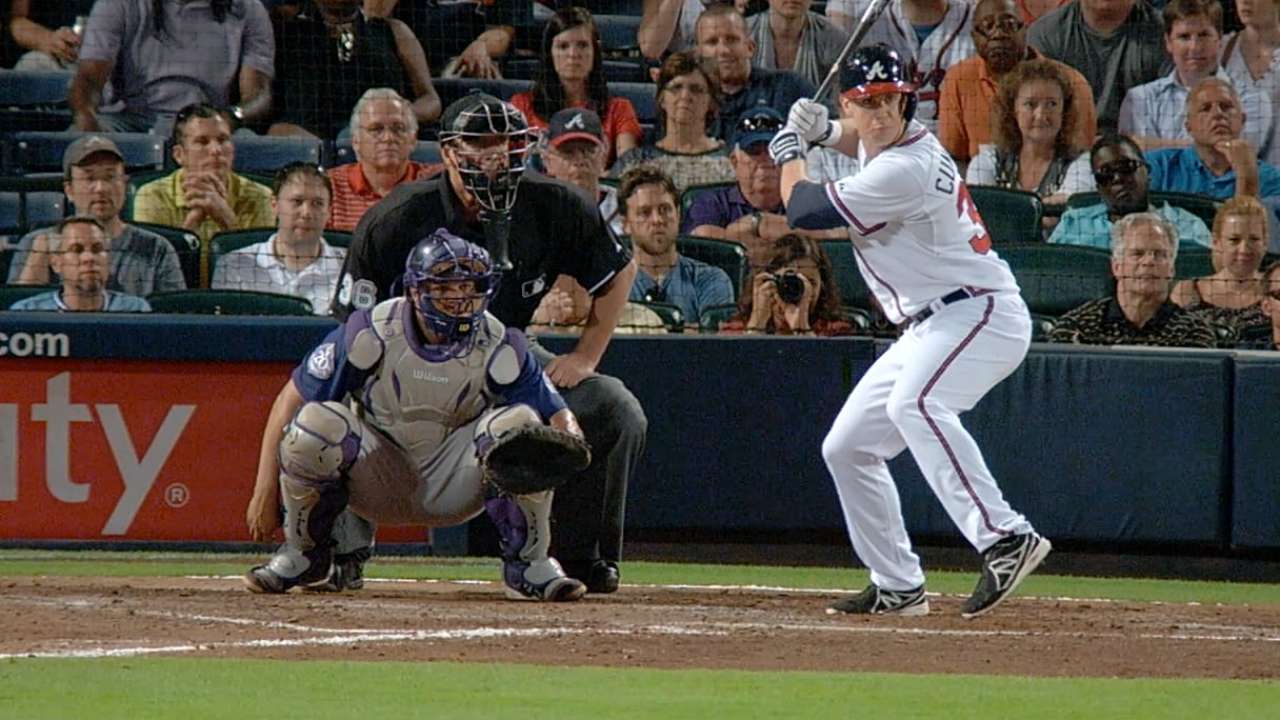 This question was asked before it was learned that Cunningham would be promoted to fill the roster spot created when Johnson was placed on the DL on Wednesday night. But the heart of this query was focused on the patience the Braves have continued to show with Eric Young Jr., who has batted .171 (12-for-70) with a .237 on-base percentage in 27 games. Along with losing his platoon role in center field, Young has lost his presence as the club's leadoff hitter.
There might be some desire to keep Young around while Johnson is sidelined, but if Cunningham performs well over the next couple of weeks, E.Y. Jr.'s days with Atlanta might be numbered.
Mark Bowman is a reporter for MLB.com. Listen to his podcast. This story was not subject to the approval of Major League Baseball or its clubs.