Veteran Harang shows value with scoreless outing
Right-hander notches another strong start with eight shutout innings vs. Bucs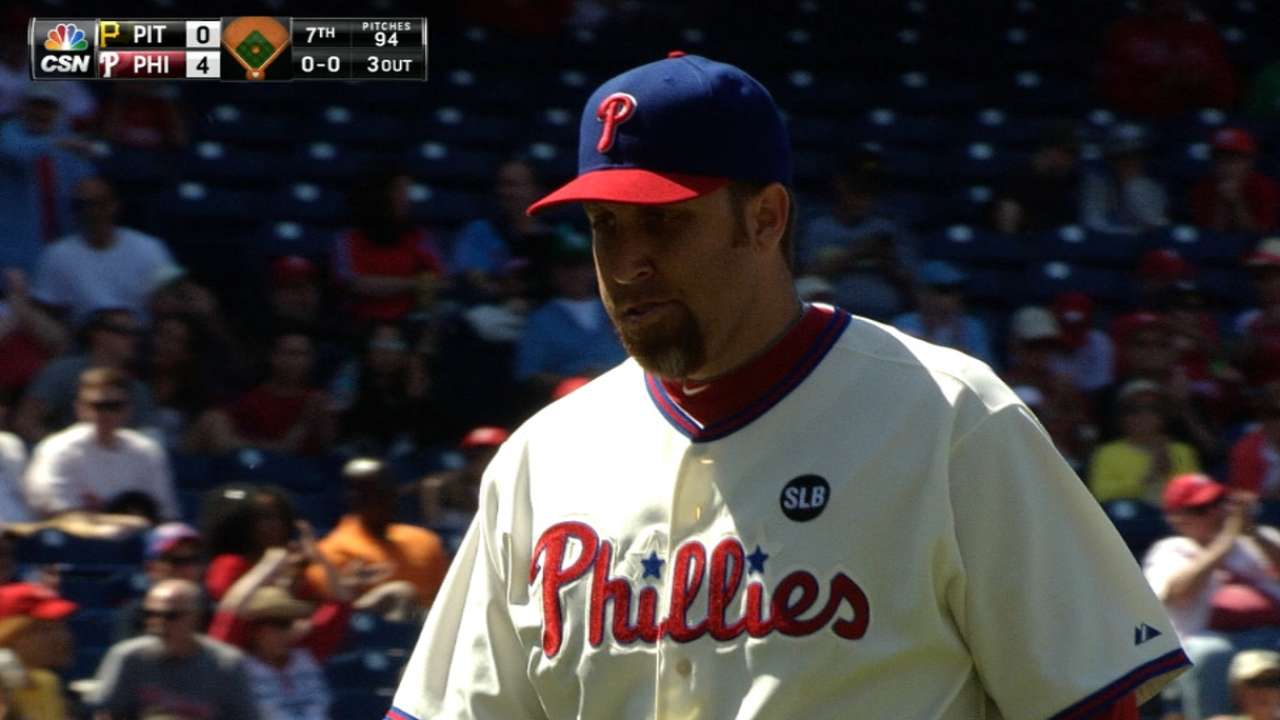 PHILADELPHIA -- If Cole Hamels is a little too rich for a contending team's budget, Phillies right-hander Aaron Harang is pitching like a pretty solid substitute.
He threw eight scoreless innings in Thursday's 4-2 victory over the Pirates at Citizens Bank Park to improve to 4-3 with a 2.03 ERA. He has pitched six or more innings in each of his eight starts this season, allowing one run or fewer in five starts and no runs in three starts.
"That's something I can't dwell on," Harang said about the possibility of being traded before the July 31 Trade Deadline. "I have to think about what I will do five days from now and what I will do to help other guys by watching bullpens and paying attention to things in case I notice anything. I think that's the biggest thing -- being there and being accessible to try and help younger guys go through ups and downs to get them in the right direction."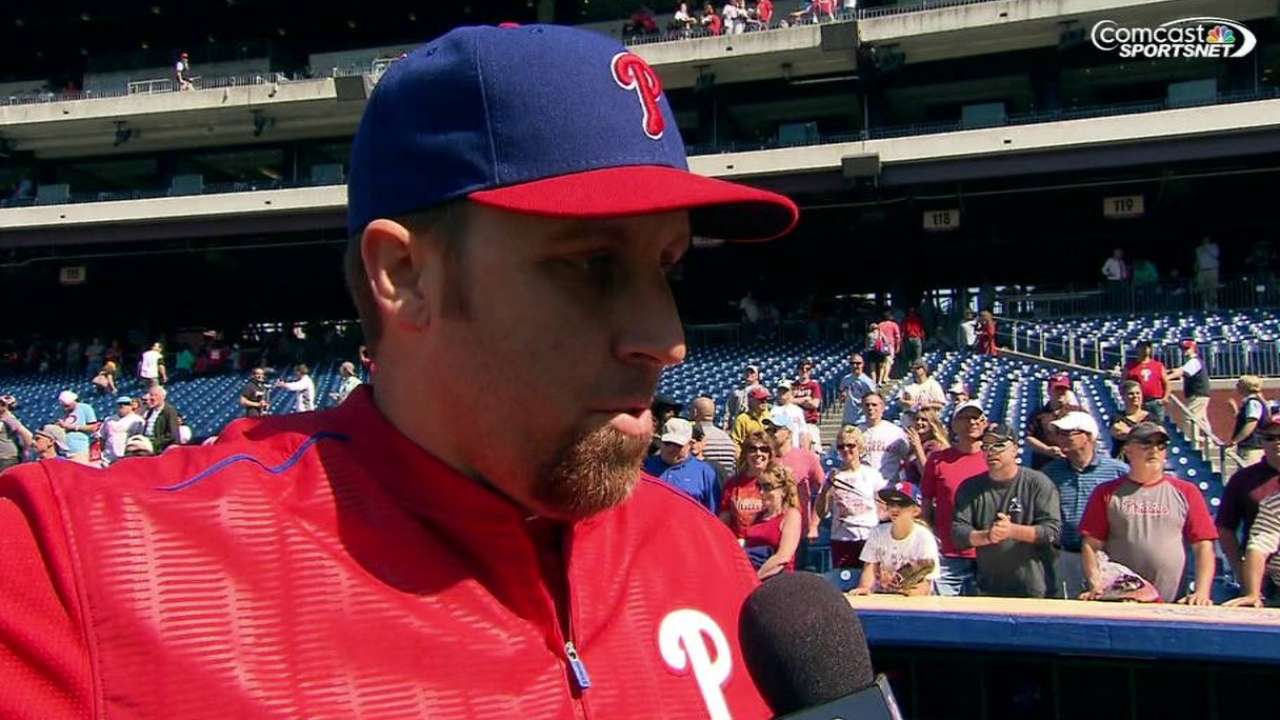 It would not hurt the Phillies to have Harang hang around a little longer, and maybe impart a little more wisdom on some of their younger pitchers.
Harang is 37, but he is pitching like he could succeed for a few more years.
"I'm having fun," he said. "I know what I can do, and I know my limitations. And I know that I have to control myself and get through tough situations and trying to stay positive. Younger guys make an error and get down on themselves. I've got to be like, 'Don't worry, I'll get you, and we'll get another one. The next time, go get me a big knock or get an RBI.' Just trying to be a positive attitude to get through the rough stuff."
Harang had runners on second and third with two outs in the first inning but got out of the jam. He allowed hits in the third and fourth innings, but Phillies catcher Cameron Rupp caught both baserunners trying to steal second base.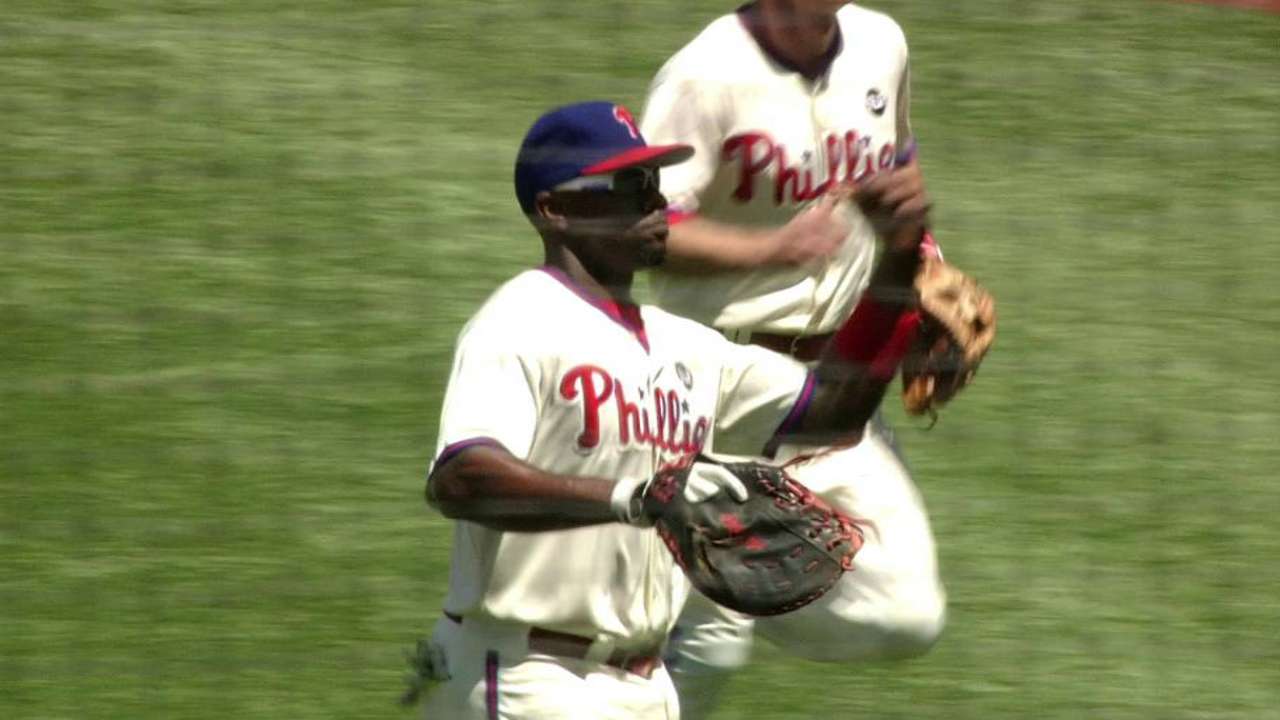 Harang allowed just one more hit after the fourth inning.
"He just hits his spots," Phillies manager Ryne Sandberg said. "He makes the pitch he wants to make. It seems when he misfires a little bit, it's not over the plate to get hit. He stays away from trouble with that. He's got deception out there with his size, and the ball comes out of his shirtsleeve a little bit. He changes speeds and really studies the game. He's really good with attacking the lineups. A lot of knowledge there."
And that is part of what makes Harang so attractive. He is a veteran with a successful track record, playing on a one-year, $5 million contract. There is very little not to like right now.
Todd Zolecki is a reporter for MLB.com. Read his Phillies blog The Zo Zone, follow him on Twitter and listen to his podcast. This story was not subject to the approval of Major League Baseball or its clubs.