MLB.com Columnist
Hal Bodley
Yankees' success has a familiar feel
Betances-Miller 1-2 punch brings back memories of dynasty teams of '90s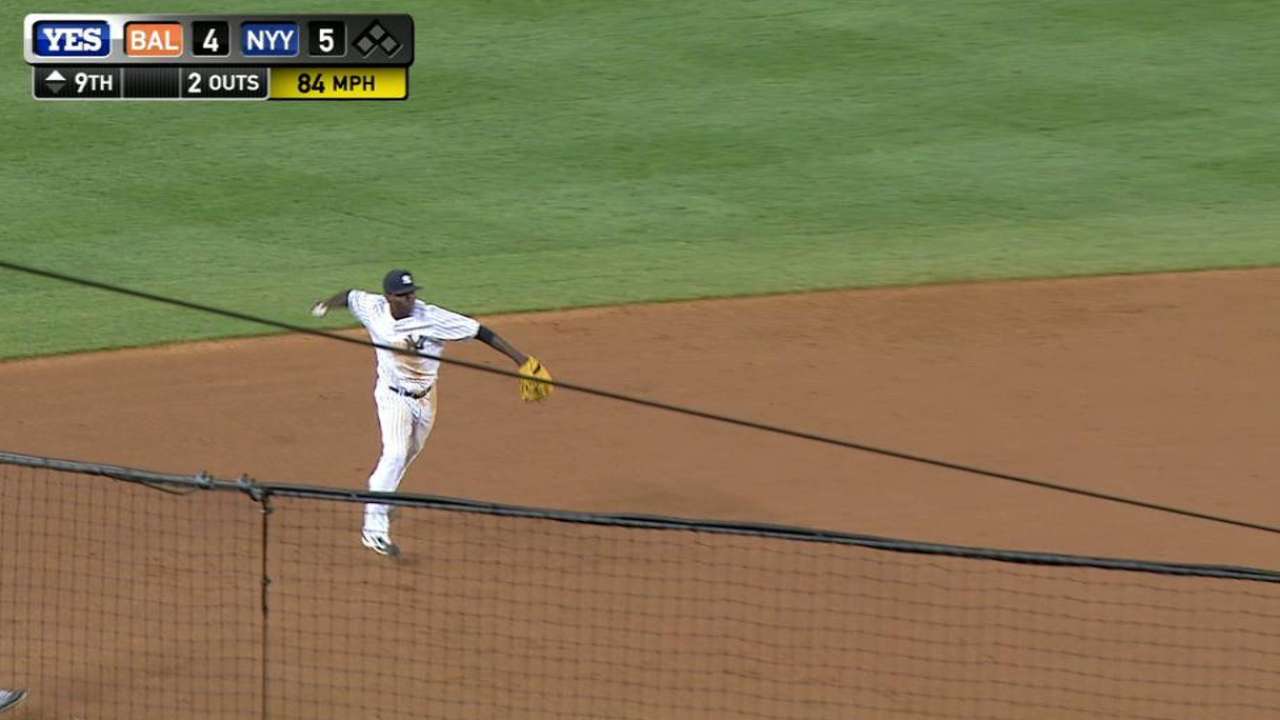 ST. PETERSBURG -- Back in the 1990s, when Joe Torre's Yankees were winning everything in sight if opponents didn't get them in the first seven innings, forget it.
First, it was Mariano Rivera working an inning or two, then John Wetteland slamming the door. After Wetteland left following the 1996 World Series championship, Rivera moved in as the closer and etched his Hall of Fame career.
That the 2015 Yankees are atop the American League East and one of the season's biggest surprises is reminiscent of the formula that made Torre's teams so successful. Now it's Dellin Betances setting up for hard-throwing Andrew Miller, who's been lights out. He's converted all 13 of his save opportunities and has yet to allow an earned run.
According to Elias Sports Bureau, since the inception of earned runs in 1912 in the National League and 1913 in the AL, Betances and Miller are the only two teammates to throw 15 or more innings through their team's first 32 games and not allow an earned run.
"Yes, this has been a big part of our success," said manager Joe Girardi, a Yanks catcher from 1996-99. "For a long time, the Yankees have been able to shorten games [because of a strong bullpen]. The first time I ran into it was in 1996, when Mo would pitch sometimes two-innings plus and then Wettleland in the ninth. We still had Jeff Nelson and the other guys, too."
Kevin Cash, whose Tampa Bay Rays have been playing the Yankees during a four-game set this week at Tropicana Field, says their one-two punch in the bullpen is similar to the script of Torre's teams.
"They're very close to that now," the rookie skipper said. "You have to be very mindful of the guys they have in the bullpen -- Betances and Miller. They're extremely difficult late in the game when they have the lead."
Bullpen aside, not only are the Yanks the surprise club of the flawed AL East, they've become the team to beat. Before the season's first pitch, Boston and Toronto were division favorites. But after six weeks, the Red Sox and Blue Jays have more holes than New York. And who would have thought the Rays would be in second place?
Now the Yankees' rotation appears stronger than their four division foes. Michael Pineda struck out 16 Orioles in a 6-2 win on Sunday. He's 5-0 with a 2.72 ERA. CC Sabathia, after an 0-5 start, won his first game on Monday. Nathan Eovaldi (3-1), Adam Warren (2-2) and Chase Whitley (1-1) have filled in at the back end of the rotation.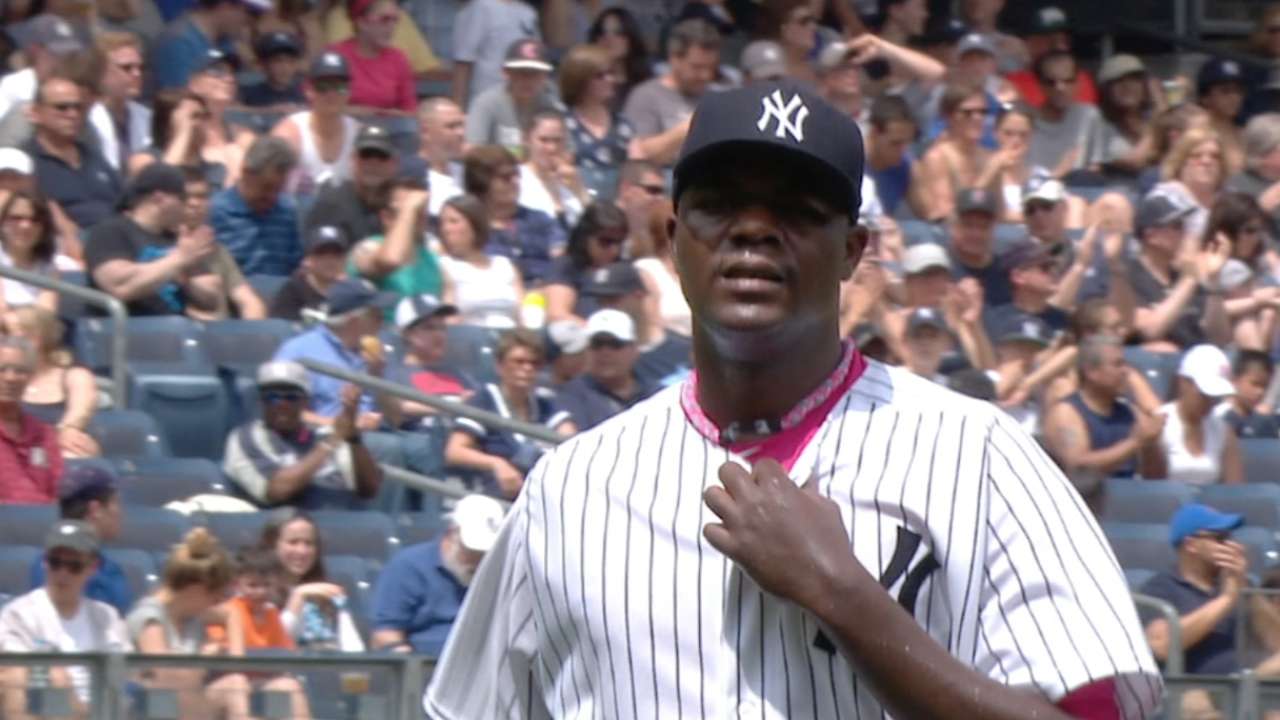 Admittedly, the Yanks have rotation problems, but not nearly as many as other AL East teams. And their outlook brightens with the prospect of Masahiro Tanaka, Chris Capuano and Ivan Nova eventually rejoining the rotation from the disabled list.
Without any setbacks, Capuano might be back this weekend. Tanaka hasn't pitched since April 23 and was expected to be out at least a month.
If Tanaka comes back healthy, general manager Brian Cashman says with him and Pineda "at the top of the rotation, no one in the division can match those two starters."
Nova, who underwent Tommy John surgery April 29, 2014, is in an extended spring camp rehab regimen. He could return in June.
"The one thing is, you cannot rush him and hurt him if he's not ready to be here [in the Major Leagues]," said Girardi. "You're asking him to compete at a high level, which is unfair to him, but I think he's on a pretty normal progression. It's been just over 12 months, and I think he's doing pretty well.
"He's obviously going to have to throw some starts [in the Minor League games] where he throws a lot of pitches and needs to bounce back in five days to see how he's doing."
When the Yankees were beaten, 3-2, by the second-place Rays on Wednesday night, it was the first time they had lost back-to-back games since April 14-15 at Baltimore. After that 7-5 loss to the O's on April 15, the Yanks were in last place with a 3-6 record. They then swept Tampa Bay in a three-game series and won three out of four at Detroit before cooling the Mets with two wins in a three-game series.
Since the low point of the season, they've won 18 of their last 26 games.
Few expected Alex Rodriguez, 39, to play as well as he has after being suspended all of 2014. His eight homers and 20 RBIs are second to Mark Teixeira's 11 home runs and 28 RBIs.
"I'm just so grateful to be playing baseball," A-Rod said at the Trop the other night.
Rodriguez recently passed Willie Mays on the all-time list with his 661st career homer and hit No. 662 against the Rays on Monday night.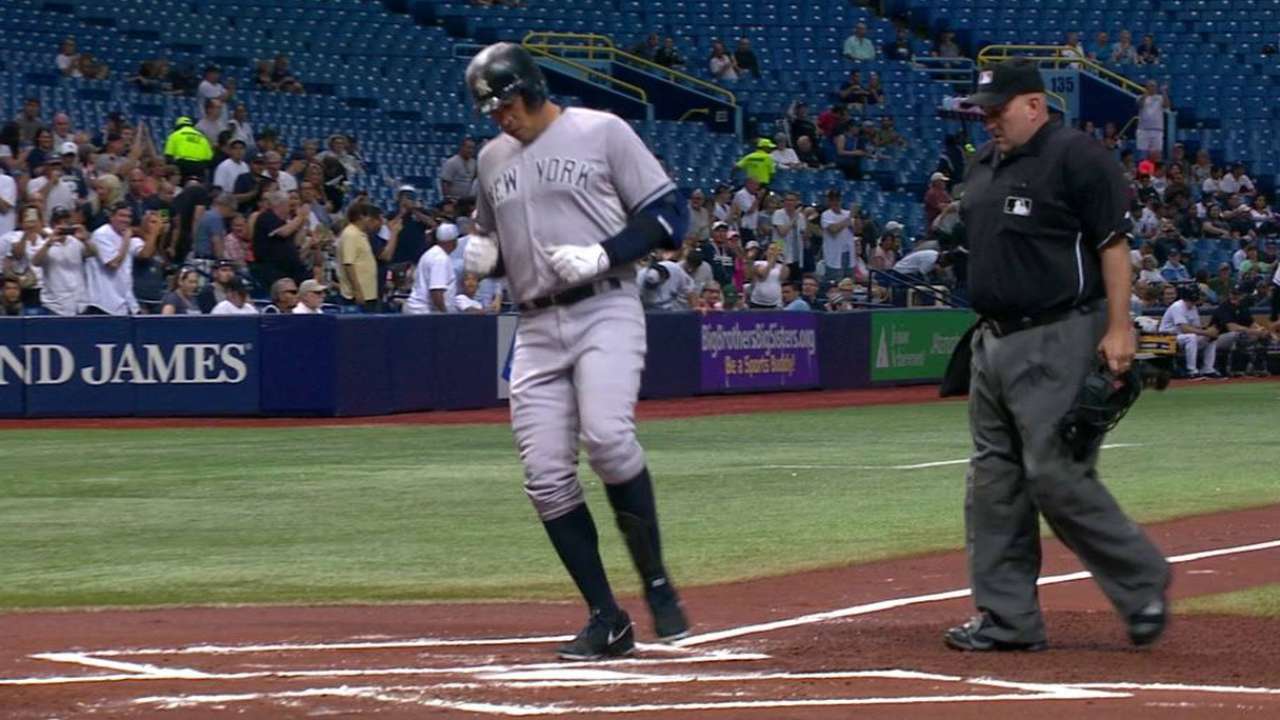 Only Seattle's Nelson Cruz, who has 15, has homered more among AL players than the 35-year-old Teixeira, who says his swing is back to normal after two seasons when he suffered from wrist ailments.
Skeptics have said age has caught up to the Yankees and the younger Turks of the division will prevail.
But like flowers, they're in full bloom this month, proving experience counts. And they just might not wilt.
Hal Bodley is the senior correspondent for MLB.com. Follow him @halbodley on Twitter. This story was not subject to the approval of Major League Baseball or its clubs.