Venable hits in four straight as starter
Shields now 5-0 and averaging 11.9 strikeouts per nine innings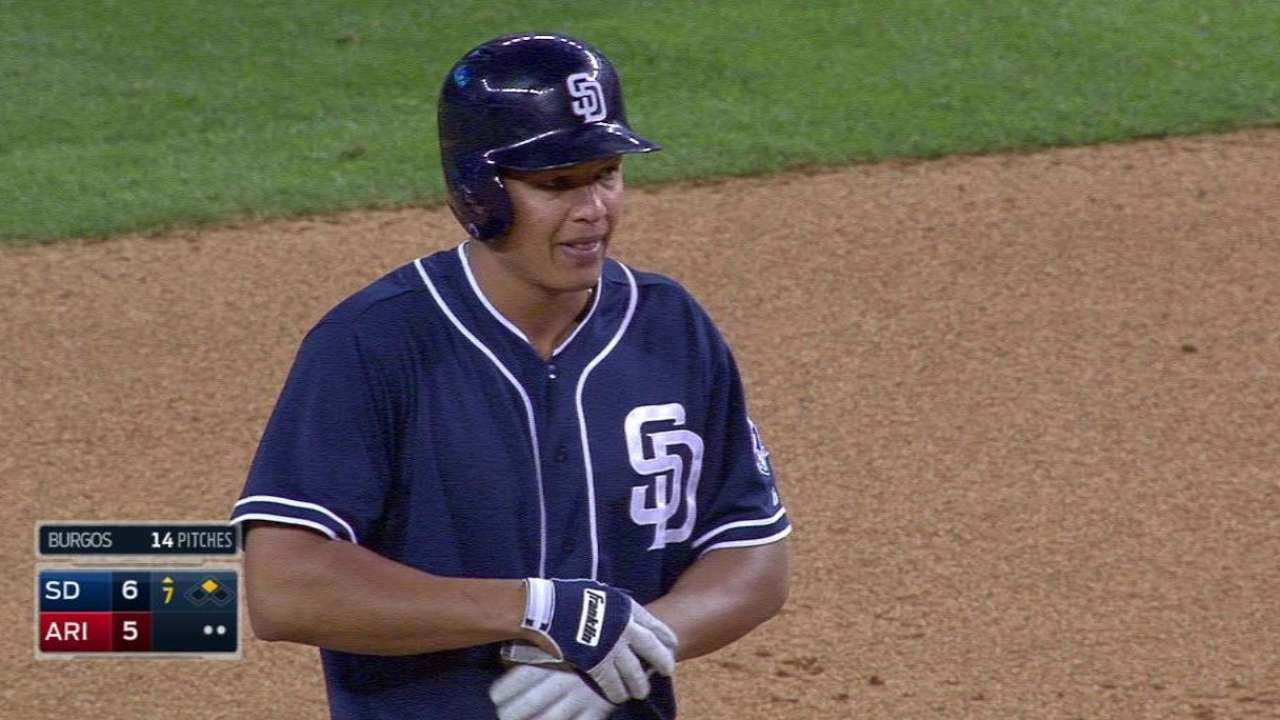 Bill Center, longtime sportswriter for U-T San Diego, is an employee of the Padres.
The loss of first baseman Yonder Alonso and Wil Myers to injuries has opened the door for veteran outfielder Will Venable.
Last December's acquisitions of Myers, Matt Kemp and Justin Upton -- along with Venable's disappointing 2014 season following his Padres Most Valuable Player campaign of '13 -- had dropped Venable to being San Diego's fourth outfielder.
But Venable -- a 32-year-old left-handed hitter -- returned to regular duty last Friday, when Myers was shifted from center field to first base when Alonso went on the 15-day disabled list with a bone bruise of his right scapula. And with Myers at least temporarily sidelined with a left wrist injury, Venable's place in center field became more prominent.
Since returning to the starting lineup last Friday, Venable has hit in four straight games, going 8-for-16 with a triple, a homer, three walks, two RBIs and four runs scored in four starts. The only start he missed was Tuesday night in Seattle when switch-hitting Abraham Almonte started in center against a left-handed starter.
Before he returned to the starting lineup, Venable was hitting .133 and had been hitless in 16 straight at-bats. Venable is now hitting .261.
Venable hit only .224 last season with a .288 on-base percentage. He had 13 doubles, eight homers, 11 steals, 33 RBIs and 47 runs scored, with 107 strikeouts in 406 at-bats.
In 2013, Venable was the unanimous selection as the Padres' MVP after he set career highs in nearly every offensive category. He hit .268 with 22 doubles, eight triples, 22 home runs, 53 RBIs and 64 runs scored in 151 games. Venable also stole 22 bases.
San Diego's outfield defense is probably stronger with Venable in center. But the Padres' offense is weakened with the absence of Alonso and Myers.
From the scorebook
• Right-hander James Shields had his third-best start of the season Wednesday night in Seattle while picking up his fifth win without a loss. He also struck out nine Mariners in six innings, giving him 64 strikeouts in 48 1/3 innings this season -- or 11.9 strikeouts per nine innings. Shields has also allowed 12 homers in those 48 1/3 innings -- or 2.23 per nine innings. Fourteen of the 24 runs he has allowed this season have come on home runs.
• Infielder Cory Spangenberg is hitting .323 (10-for-31) with seven walks this month, for a .447 on-base percentage. He has four steals and six runs scored in 11 games (nine starts).
• Second baseman Jedd Gyorko, who drew a walk as a pinch-hitter Wednesday, is 5-for-11 with two doubles and an RBI in his past three starts. He has reached base seven times in his past 13 plate appearances.
• Right-handed reliever Brandon Maurer has not allowed a run in his past six appearances covering 6 2/3 innings. He has allowed two hits and a walk during the run, with three strikeouts.