Yost sees rotation on verge of big improvement
Track record of struggling starters, injury recoveries bolstering Royals manager's faith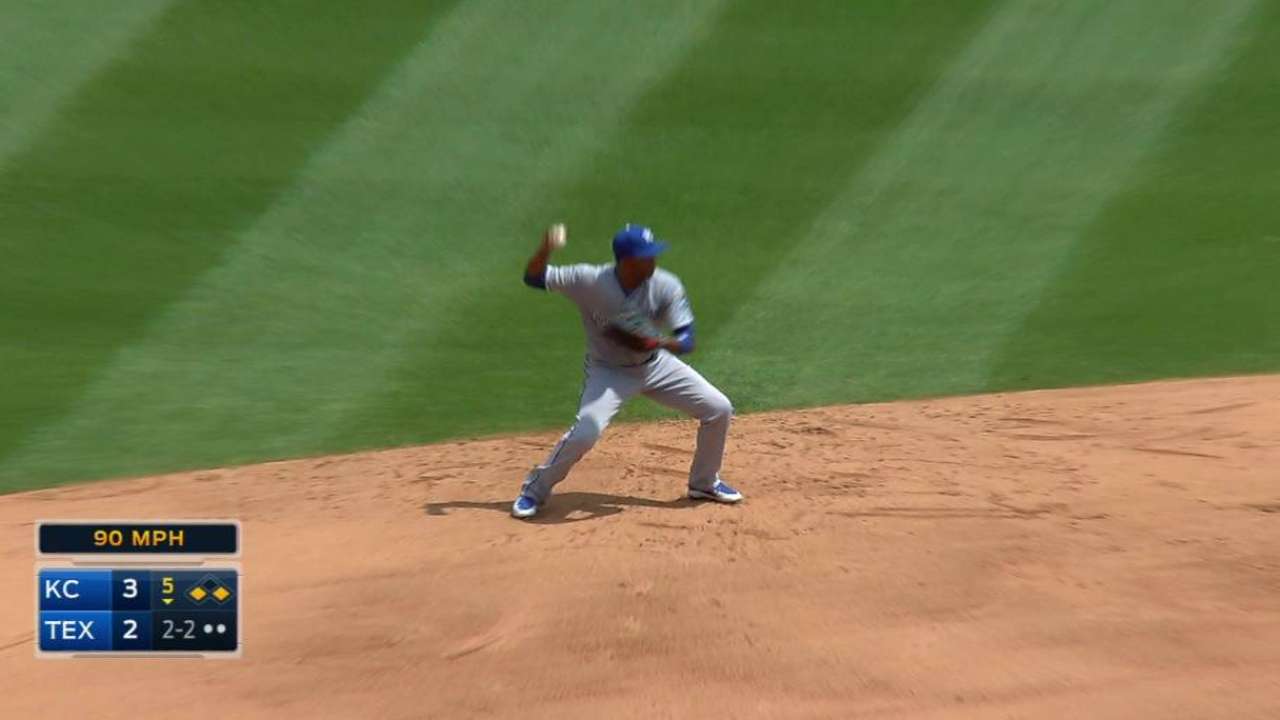 ARLINGTON -- Manager Ned Yost is firm about his confidence in a Royals rotation that has been up and down so far this season.
He's not concerned -- at all. The Royals' starters began Thursday ranked 23rd in the Majors with a 4.67 ERA. Yost, whose team is tied with Houston with the best record in the American League -- 21-13 -- said the rotation that features veterans Jeremy Guthrie, Edinson Volquez and Chris Young and young starters Yordano Ventura and Danny Duffy will improve. Kansas City also hopes to get Jason Vargas back soon.
In Thursday's 6-3 win over the Rangers, Guthrie won his second straight start with a solid five innings, allowing two runs on six hits and getting out of jams.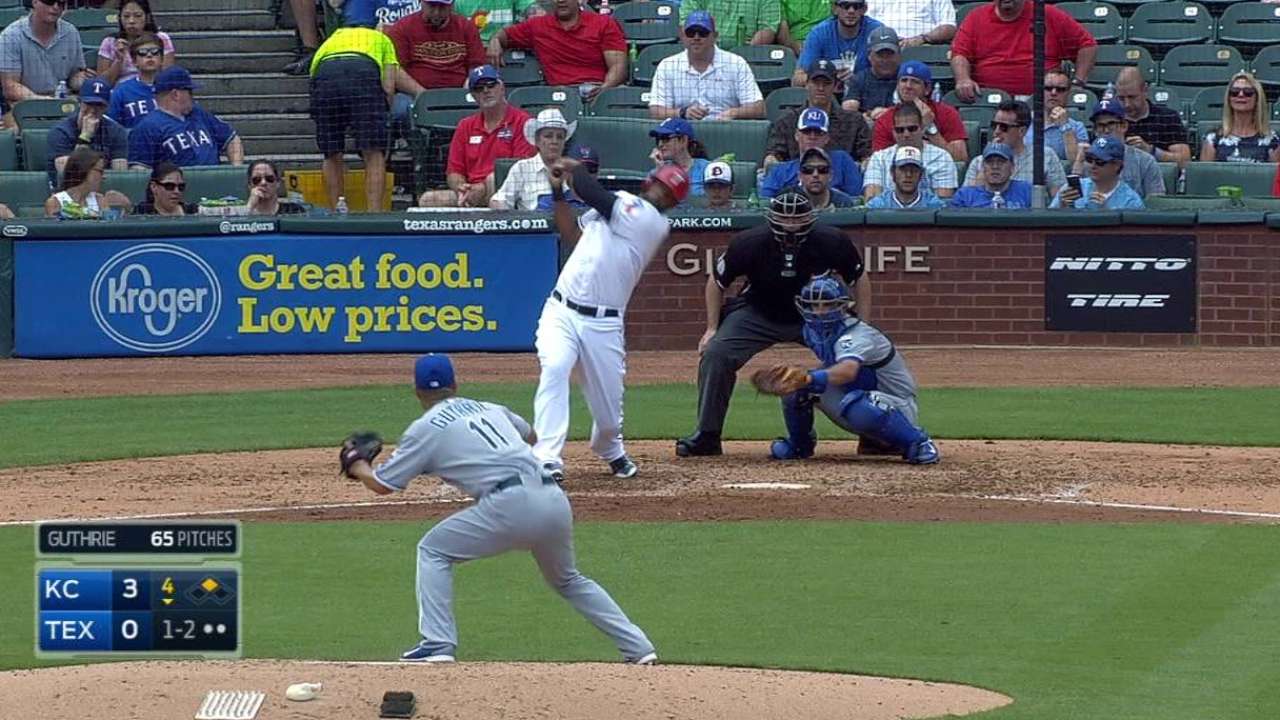 "Duffy, Ventura, Guthrie, Vargas, they were all fantastic last year, at the end of the year," Yost said. "And the reason we went as far as we did was because of them. So, you've got a track record to fall back on. It's not, 'Jeez, I've never seen it before.' We have seen it before. When you're in this game as long as I've been in the game, you understand that guys have ups and downs, but you grind it out. You know how talented they are. You know that they'll get it together, and when they do, they'll go on a nice run."
Yost points to outings like Ventura's in Wednesday's 5-2 loss to Texas as an example. The 23-year-old right-hander struggled so much in the first inning that the bullpen was stirring. He was down, 4-0, in the second after giving up a two-out, two-run home run to Prince Fielder. Ventura still managed to pitch seven innings, as only Kelvin Herrera, who finished serving a six-game suspension Tuesday, pitched out of the bullpen.
"[Yordano] told me he wanted to go out in the eighth," Yost said. "And I said, 'No.' We needed Herrera to go out, because he hadn't pitched in six days. But he understands. He takes that role of innings-eater seriously."
Duffy, who has allowed 10 earned runs in 4 2/3 innings in his last two starts, said he worked on an adjustment in his bullpen session Wednesday that he didn't want to reveal, one that he said will help him in Saturday's start against the Yankees.
Volquez's blister on his right thumb is improving, and it didn't bother him much in Tuesday's start against Texas.
It's all going to get better, Yost said.
"A lot better," Yost said. "I see games like [Wednesday night], and you can see Ventura is on the brink from getting over the hump. And Duffy is going to get better. Vargas, when he gets back. We've already seen Guthrie getting better. Volquez is getting over his blister issues. I've got no concerns with the starting rotation right now."
Worth noting
• Outfielder Alex Rios (fractured left hand) has started fungo-hitting the last few days as he continues his rehab. "It's still sore, but getting better," Rios said. He has started long toss, but is not catching a baseball yet.
• Vargas (left flexor strain) played catch Wednesday and is feeling better. He can come off the 15-day disabled list May 21.
• The Royals and FOX Sports Kansas City are again offering fans across the Midwest a chance to enjoy games at Kauffman Stadium with the "Forever Fan Express." Saturday is the first opportunity, when the Royals play the Yankees at 6:10 p.m. CT. The Fan Express is taking fans from Topeka, Kan., to the game.
Todd Wills is a contributor to MLB.com. This story was not subject to the approval of Major League Baseball or its clubs.