After duel, Cards win series on Carpenter's HR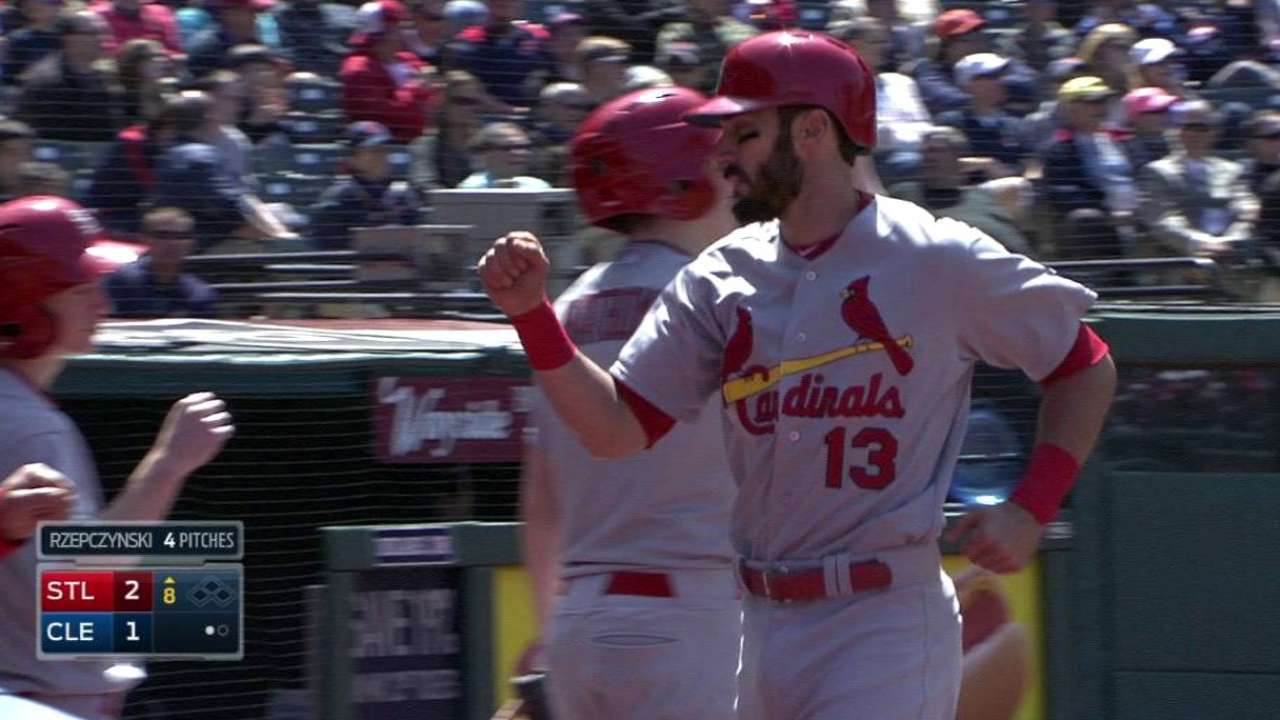 CLEVELAND -- Cardinals third baseman Matt Carpenter launched a two-run home run off lefty Marc Rzepczynski in the eighth inning on Thursday, spoiling a strong start from Indians starter Trevor Bauer and helping St. Louis claim a 2-1 victory at Progressive Field.
Following a one-out walk to Peter Bourjos in the eighth, Bauer was pulled in favor of Rzepczynski, who had not given up a home run to a left-handed batter since June 12, 2012. That streak came to a close when Carpenter lifted a 2-1 pitch to deep center, where it just cleared the wall beyond the reach of a leaping Michael Bourn.
"Honestly when I hit it, I thought I hit it way out," Carpenter said. "But then I saw the wind, and I knew that there might be a play on it. Bourn was running after it and had a shot to rob it, but just missed it. It was close."
The late homer allowed St. Louis starter Michael Wacha to walk away with a no-decision -- maintaining his 5-0 record to start the season -- after relinquishing just one run over his five-plus innings of work. Wacha's lone blemish came in the sixth inning, when Michael Brantley belted a leadoff home run. The righty scattered five hits and finished with seven strikeouts and two walks.
One day after Tribe ace Corey Kluber tied a nine-inning club record with 18 strikeouts against the Cardinals, the 24-year-old Bauer piled up 10 strikeouts in 7 1/3 innings in a no-decision for the Indians. It represented the third career double-digit strikeout showing for Bauer, who walked three and allowed four hits in the victory.
"I got back to doing things that I know work for me," Bauer said. "[That's] being aggressive, the intent I throw the ball with, pitching a more [effective velocity], efficient game plan -- stuff like that. I was happy to see it turn out that way. It's unfortunate that we came out on the losing end again." More >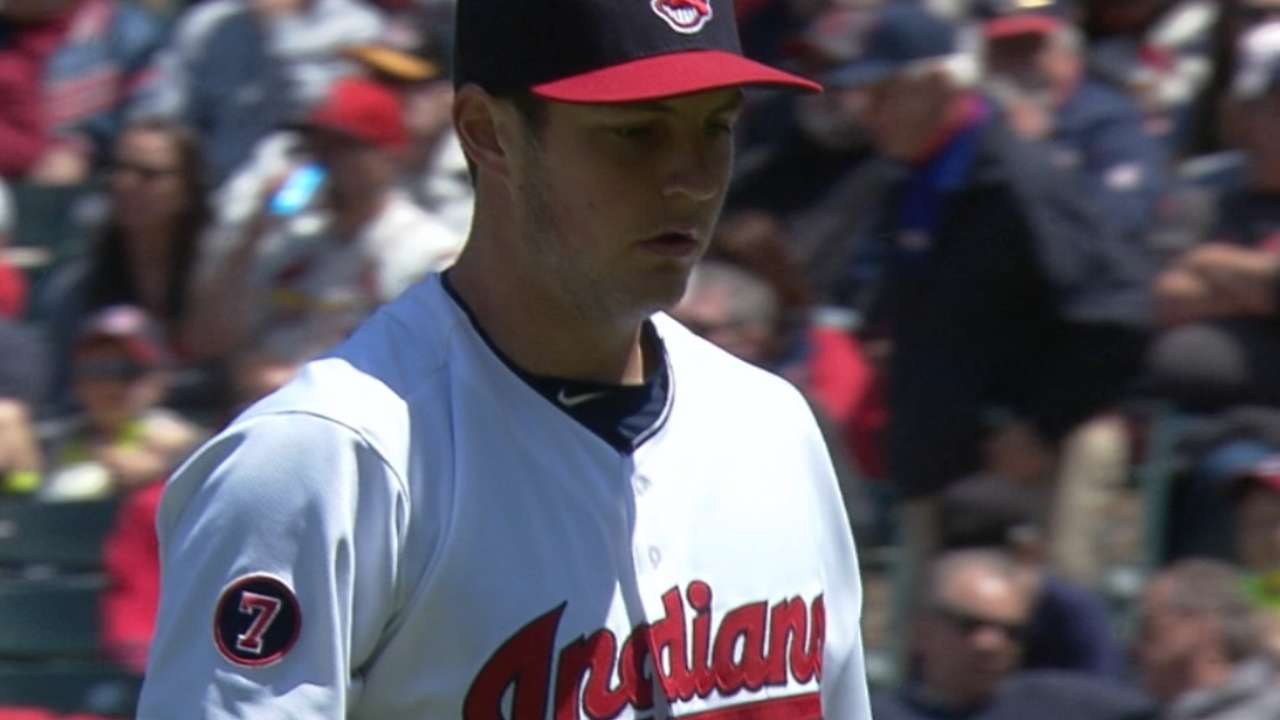 MOMENTS THAT MATTERED
Smooth shot: Following five shutout innings from Wacha, Brantley put Cleveland on the board with his fourth home run of the season. The Tribe's All-Star left fielder drilled an 88-mph fastball on a 1-2 count, sending it over the wall in right field for a leadoff shot in the sixth.
"We had chances early and made him work," Indians manager Terry Francona said. "[We] just didn't have much to show for it, if anything, but at least we had the pitch count up. And Brantley hits that ball, so it looks like maybe we can make it stand. … It didn't work."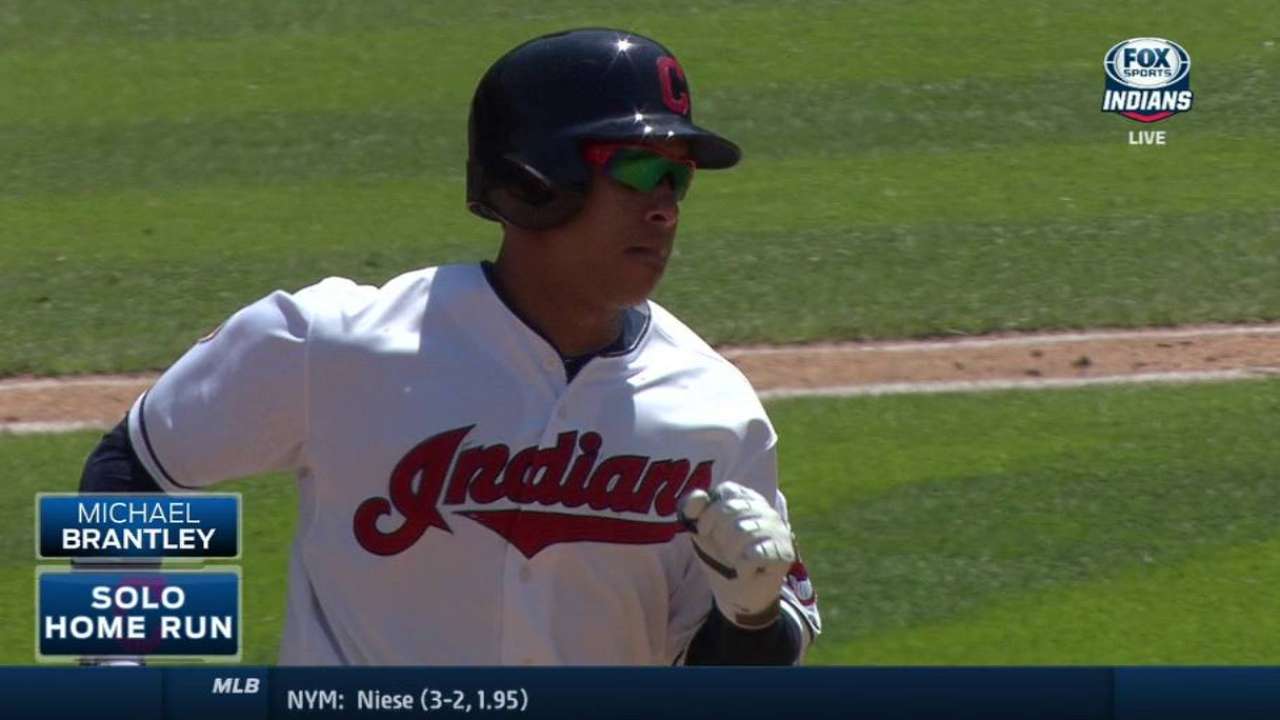 Wacha working: Wacha had worked into at least the sixth inning in each of his six starts this season, and he wasn't going to let a 35-pitch first inning change that. Wacha was removed after allowing a solo homer and a double with no outs in the sixth. Following a second-inning triple by Bourn, Wacha retired 11 consecutive batters.
"The guy threw 35 pitches in the first and almost 60 after two and still managed to stay in the game," Cardinals manager Mike Matheny said of Wacha. "You don't see that many pitches in the first two innings without a crooked number on the board somehow. And he was able to really make quality pitches to get out of trouble."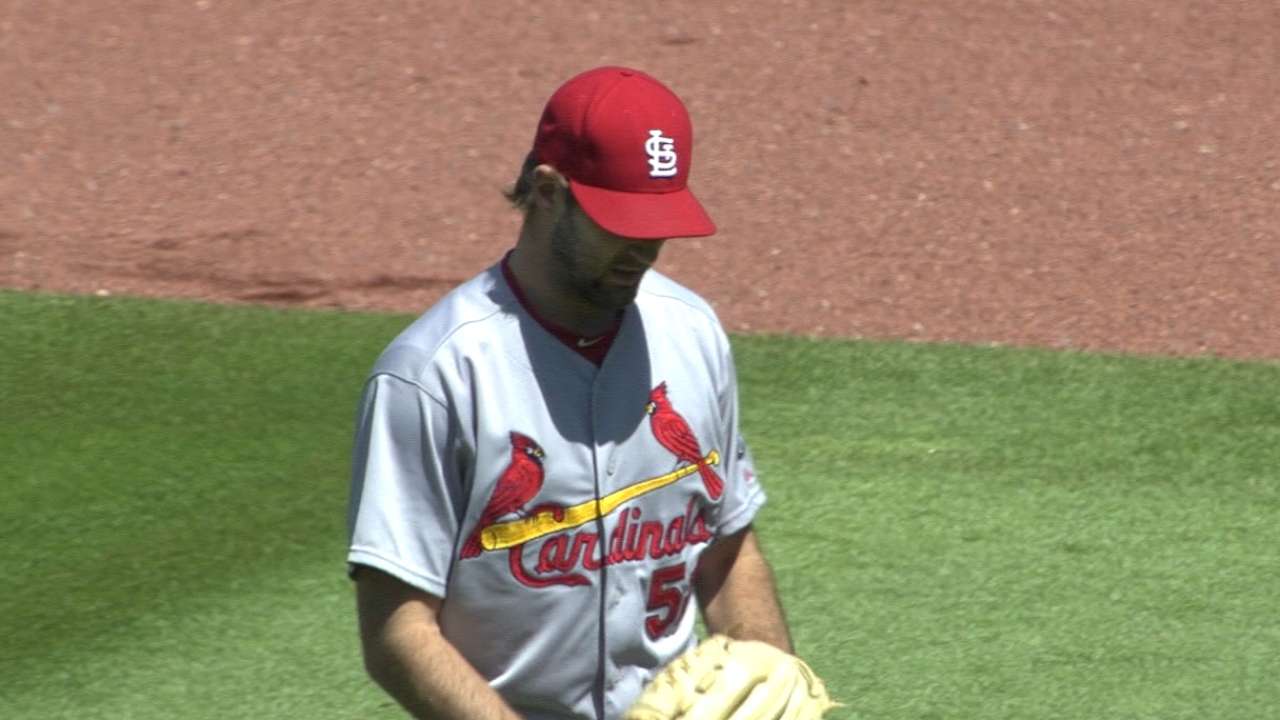 Falling for fakeouts: Cardinals catcher Yadier Molina halted an Indians run-scoring opportunity in the sixth inning with a crafty move. The Indians had runners on first and third with two outs, and there was an 0-1 count to Roberto Perez. Perez took strike two, and Bourn broke for second base. When Molina pump-faked to second, Lonnie Chisenhall broke for home, and Molina tagged him out in no-man's land. It was the third out Cleveland made on the basepaths after a pair of poorly-executed bunt attempts led to outs at third and home earlier in the game. More >
"He got a little overaggressive," Francona said of Chisenhall. "They had that long mound visit there. Bourny took off, and he got a little too aggressive, and they handled that very well."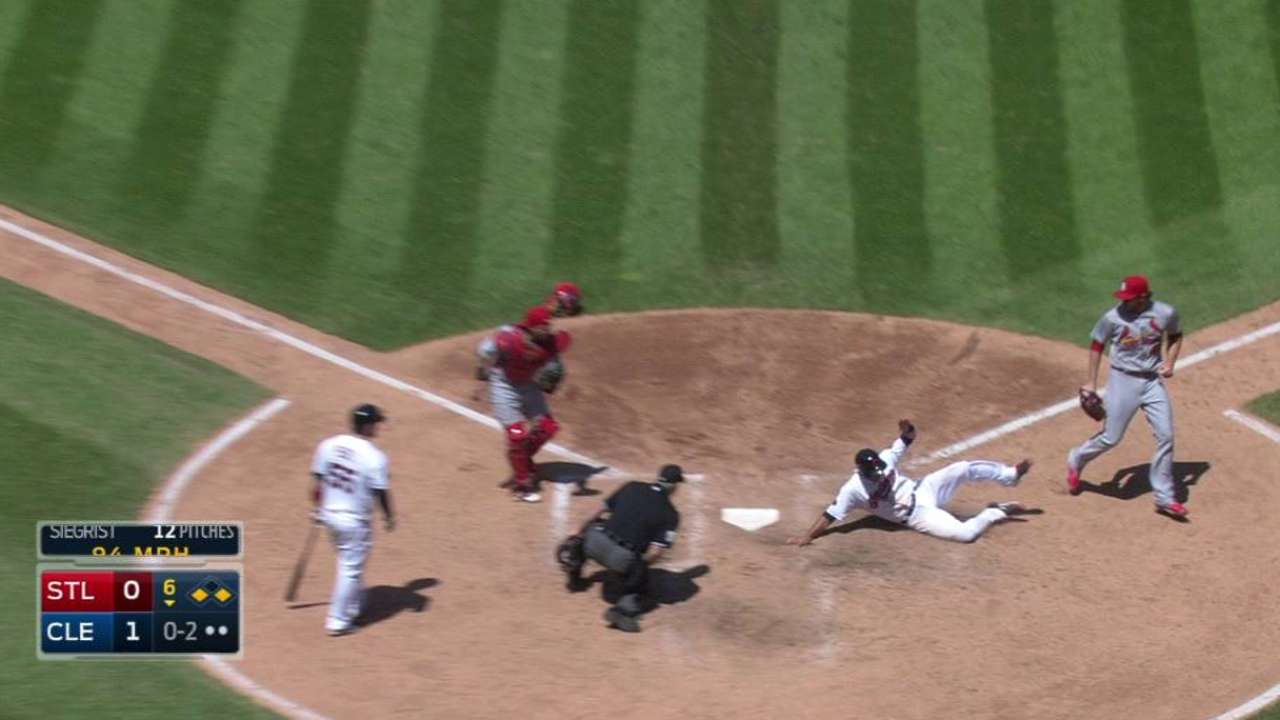 QUOTABLE
"My job is to get that guy out. I fell behind with a couple good sinkers that he laid off. And then I tried to go again, and it's probably the straightest ball I've thrown in a long time. I tried to go sinker, and it stayed straight. If you leave a ball middle up to a lefty, he's usually going to hit it pretty good." -- Rzepczynski, on Carpenter's home run
REPLAY REVIEW
With runners on the corners and one out in the fourth inning, St. Louis' Kolten Wong attempted a steal of second base. It was initially ruled that Wong narrowly beat the tag from shortstop Jose Ramirez, but Francona challenged the call. Following a review lasting 57 seconds, the call was overturned and catcher Perez was credited with his fourth caught baserunner of the season.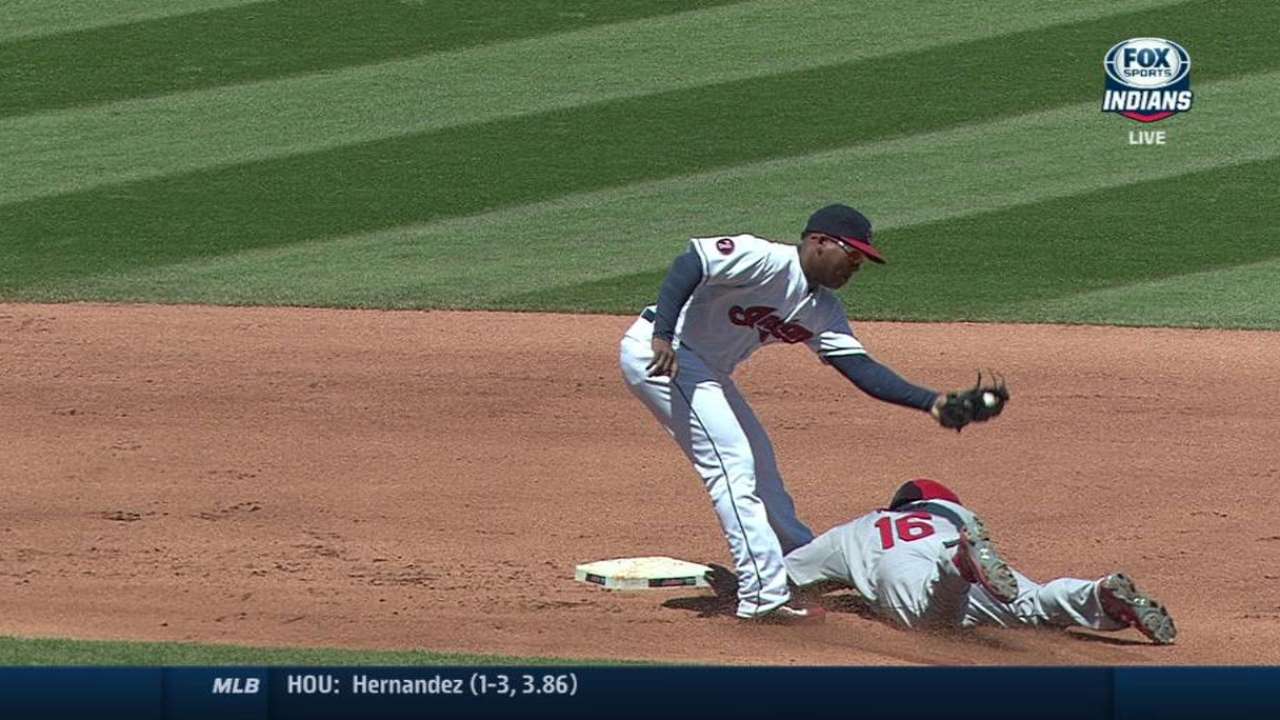 WHAT'S NEXT
Cardinals: The Cardinals head back to St. Louis for a three-game series against Detroit before getting back on the road. Carlos Martinez will start on Friday at 7:15 p.m. CT for the Cards. He's looking to right the ship after a pair of ugly outings in which he allowed seven earned runs in each. Martinez has not faced the Tigers before.
Indians: Veteran left-hander Bruce Chen labored in his season debut with the Indians, but the club wants to give him another chance as its fifth starter. Chen will take the mound for Cleveland on Friday at 8:05 p.m. ET in the opener of a three-game road series against the Rangers. The 37-year-old lefty gave up six runs on 10 hits in four innings on Saturday vs. Minnesota.
Jordan Bastian is a reporter for MLB.com. Read his blog, Major League Bastian, follow him on Twitter @MLBastian and listen to his podcast. August Fagerstrom is an associate reporter for MLB.com. This story was not subject to the approval of Major League Baseball or its clubs.