Tribe unveils new Feller exhibit at Progressive
Widow, sons attend ribbon cutting; showcase has artifacts from HOF pitcher's life, career
CLEVELAND -- Anne Feller walked slowly through the new exhibit honoring her late husband on Wednesday, looking over the artifacts both from his life and Hall of Fame career with the Indians. She stopped at a large photo on the wall of Bob and placed a hand on his forehead.
Mrs. Feller was impressed by the display.
"It's absolutely wonderful," she remarked.
After the Bob Feller Museum fell on hard times in the pitcher's hometown of Van Meter, Iowa, the Indians worked with Feller's family to create the new exhibit at Progressive Field. Following months of planning, the Indians unveiled the collection in the third-floor Terrace Club on Wednesday, and Anne cut a ceremonial ribbon. Bob Feller's sons, Steve and Bruce, were also at the exhibit's opening ceremony.
Anne, 85, then stayed for Wednesday's game, during which Indians ace Corey Kluber equalled Feller's 1938 club record for strikeouts (18) in a nine-inning game. Kluber donated one of the strikeout baseballs and loaned the jersey he wore to the exhibit.
"Any time that you throw your name in there with Bob Feller," Kluber said, "that's obviously very humbling and a great accomplishment."
The exhibit is overflowing with artifacts and memorabilia from throughout Feller's life and 18-year career with Cleveland. Feller won 266 games and struck out 2,581 batters in his time with the Tribe, who signed him when he was only 17 years old. The Heater from Van Meter made eight All-Star teams and missed parts of four seasons (1942-45) while serving in the Navy in World War II.
"People can know about his life," Anne said. "And, particularly, know about his service on a battleship for four years during World War II. Those were some of the best moments of his life."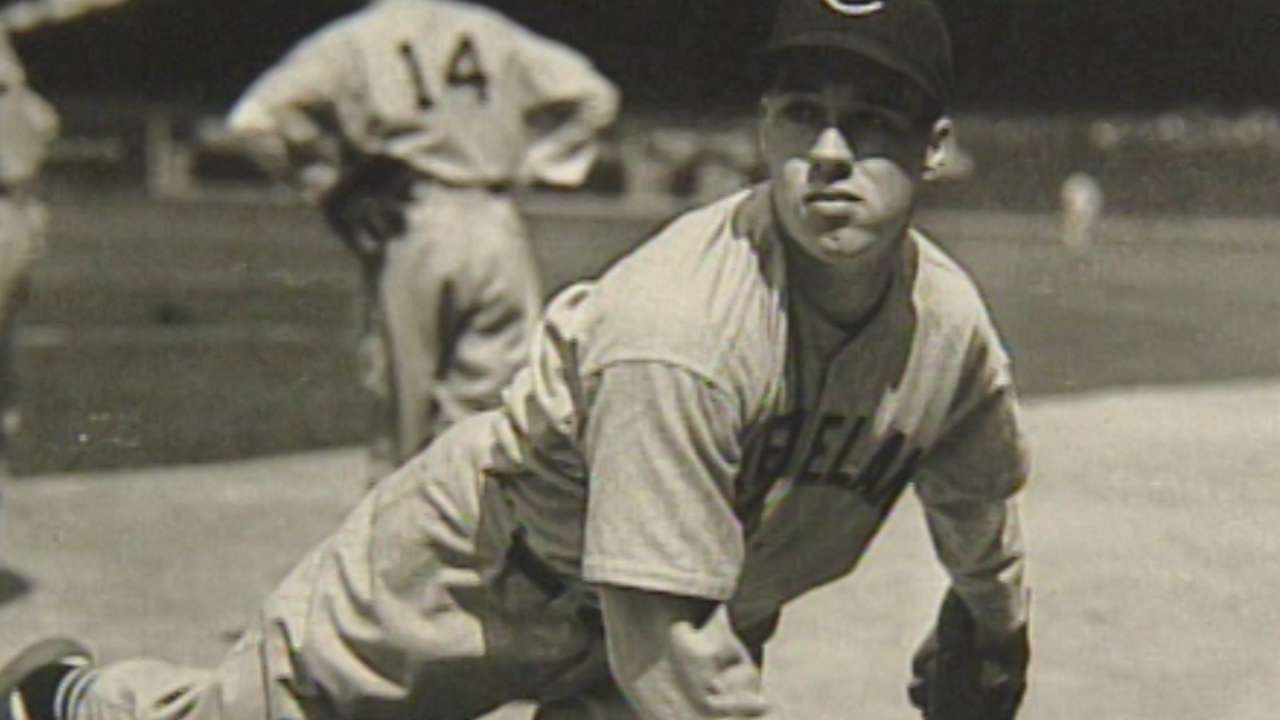 One of the signature items in the collection in Cleveland is one of Feller's bats, which was used as a cane by Babe Ruth on June 13, 1948, when the Yankees slugger -- battling cancer -- addressed the crowd at Yankee Stadium with the Indians in attendance. The bat is in its own display case with a large mural of the famous photo of Ruth as a backdrop.
Among the other items on display is the glove Feller wore during his no-hitter against the White Sox in 1940 -- the only Opening Day no-hitter in baseball history. The glove of Feller's father, William, is also on hand from the pitcher's childhood. There is the key to the city that Feller earned in 1951, the home plate from his no-hitter against Detroit that same year and various items from his youth in Iowa.
The Indians also installed a touch-screen video board, which has a handfiul of clips from Feller's career. One piece of footage shows the time that Feller -- dressed in street clothes -- tested his fastball against a motorcycle.
The former Bob Feller Museum is now the city hall in Van Meter, though Bob DiBiasio, the Indians' senior vice president of public affairs, noted that there is still a section of the building that honor's the pitcher's life.
"With Bob's passing [in 2010]," DiBiasio said, "we struggled and had a challenge with the business model of the museum being in Van Meter. We realized we had to figure out a plan of attack that was a win-win for both Van Meter, Iowa, and for continuing to foster the legacy of Bob here in Cleveland, a place that he called home for many, many decades.
"We wanted to make sure that we honored that incredible legacy here at Progressive Field."
Jordan Bastian is a reporter for MLB.com. Read his blog, Major League Bastian, follow him on Twitter @MLBastian and listen to his podcast. This story was not subject to the approval of Major League Baseball or its clubs.