For O's prospect Dosch, simplicity brings results
Lob-toss drill has helped third baseman unleash torrid hitting stretch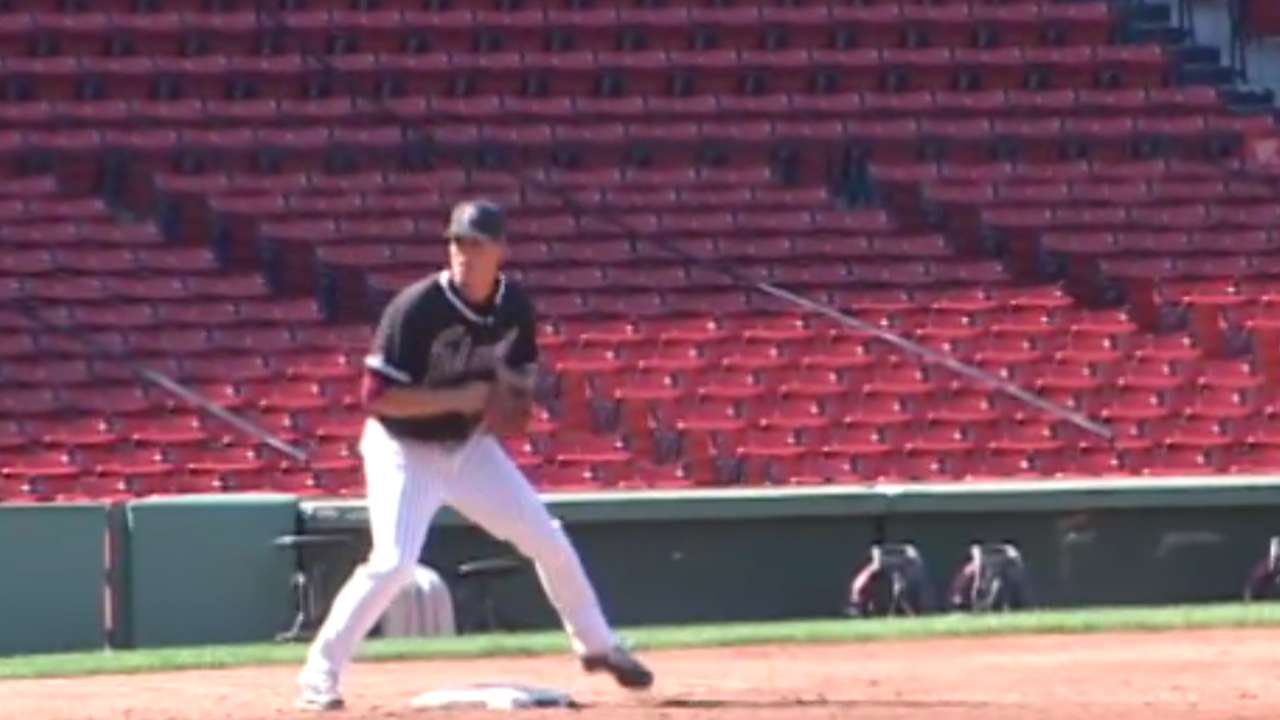 When Drew Dosch, the Orioles' No. 14-ranked prospect, began this season in a slump for Class A Advanced Frederick, he knew he needed to slow things down.
Dosch felt himself jumping at the ball and chasing pitches instead of staying back and letting them travel, so he turned to a drill that gave him no choice in the matter. In lob toss, a coach floats soft pitches to a hitter, who concentrates on getting into the proper position and seeing the ball before finally uncorking his swing. That way, he establishes good habits he can repeat against 95-mph heat. Dosch "fell in love" with the drill and made it part of his daily routine.
"It helps me stay calm and keep everything simple," Dosch said before a recent game at Potomac.
That work has gotten the 22-year-old third baseman back to doing what he has done throughout his baseball career -- hit.
On April 16, Dosch struck out in all four of his at-bats to fall to 4-for-32 on the year. The next day, he busted out, going 4-for-4 with a double and three RBIs. That ignited a 26-game stretch, through Wednesday, in which Dosch has hit .351/.411/.485 with nine extra-base hits and 21 RBIs, raising his season average near the .300 mark. In the process, he was named the O's Minor League Player of the Month for April.
The Ohio native's last serious struggles with the bat came when he was a freshman at Youngstown State. Since then, Dosch produced averages of .353 and .338 in his final two collegiate seasons, .326 in the prestigious Cape Cod League (where he made the All-Star team) and .314 in his professional debut last year for Class A Delmarva. In both 2014 and '15, the left-handed hitter has topped .300 against southpaws.
"He has a very consistent swing and a very simple approach," said Frederick hitting coach Paco Figueroa, who held the same position at Delmarva last season. "His swing is kind of like Joe Mauer's swing. There's not a lot of movement, and he stays in the zone and through the baseball very well."
The Orioles got Dosch in the seventh round of the 2013 First-Year Player Draft, taking a chance on a player who recently had torn the ACL in his right knee, undergoing surgery two days earlier. Some interested teams backed away, but not Baltimore.
"It was kind of a crazy couple of days for me," Dosch said. "The low of getting hurt, getting surgery, but then also the high of getting drafted and seeing your name on the screen is pretty cool."
The injury prevented Dosch from beginning his professional career right away, but he was 100 percent by the following Spring Training. And with the knee now no longer a concern, he can work on solidifying his future at third base by adding power and refining his defense.
For all of Dosch's production, he has hit six home runs in nearly 700 pro plate appearances, though he also has collected 29 doubles and six triples. But Figueroa sees more pop in his future as he adds strength to his 6-foot-2, 200-pound frame and makes adjustments.
"He's going to get the power," Figueroa said. "He's going to start driving the ball. He's got the pop in that bat."
Dosch began playing third base in college but never gave the defensive part of his game his full attention until he went to the instructional league last fall, after making 21 errors in 120 games for Delmarva. Because he had hurt his wrist near the end of the 2014 season, Dosch was not allowed to pick up a bat, leaving him to play only in the field.
An offense-first player, Dosch compared the experience to a "timeout," but he learned a lot in the process. The biggest lesson had to do with getting himself in the proper position, a requirement at the hot corner, which demands lightning-quick reactions. Figueroa, who believes Dosch has the glove and arm to play third, has noticed the difference this season, though the process is ongoing.
"I think I'm making big strides at third base, but I know I have a long way to go," Dosch said. "That's going to be my biggest thing I have to improve on in this game as I go forward and move up, and it'll never stop."
Andrew Simon is a reporter for MLB.com. Follow him on Twitter @AndrewSimonMLB. This story was not subject to the approval of Major League Baseball or its clubs.